My proposal to experience a night out at the new Brooklyn restaurant, Do or Dine, was accepted as part of Foodbuzz's 24×24 program. I had a really incredible experience and even if I hadn't received the $250 stipend, I would gladly have spent my own dolla dolla bills to eat at this restaurant. I try to keep that in mind when I receive free samples and such – would I spend my own money on this? Yes? Well, then I'll blog about it. If not, I'll either give an honest review and say I wasn't a fan or I won't even bother mentioning it. Anyway, on to the restaurant recap!
If you're familiar with Brooklyn neighborhoods, fine dining might not be what comes to mind when you hear Bed-Stuy. The neighborhood is better known for producing hip hop legends such as the Notorious B.I.G. (he grew up 3 blocks from my apartment!). However much like it's neighbors to the north, Williamsburg and Bushwick, the area has been undergoing a wave of gentrification. Whether this is good or bad isn't something I feel I can sufficiently discuss on the blog right now, but I can say that the changes to the neighborhood are certainly interesting. Do or Dine, a new restaurant on Bedford Avenue was founded by guys whose lack of formal cooking experience is made up for by a love of food and more than a little creativity. Although it should be noted that two of the founders did wait tables at The Modern and the chefs in the kitchen have some impressive pedigrees (i.e. Moritmoto and DBGB). Per Do or Dine's Facebook page, the owners say they came up with the idea because "We got tired of stumbling home drunk and eating bodega food and crown fried chicken…" At least they're honest. From the moment you approach the restaurant, you know you're not going to be having a stuffy, formal dinner. From the outside, Do or Dine could be mistaken for a fast food spot or bodega, but if you look closely, you can see the logo underneath the awning and above the security gate.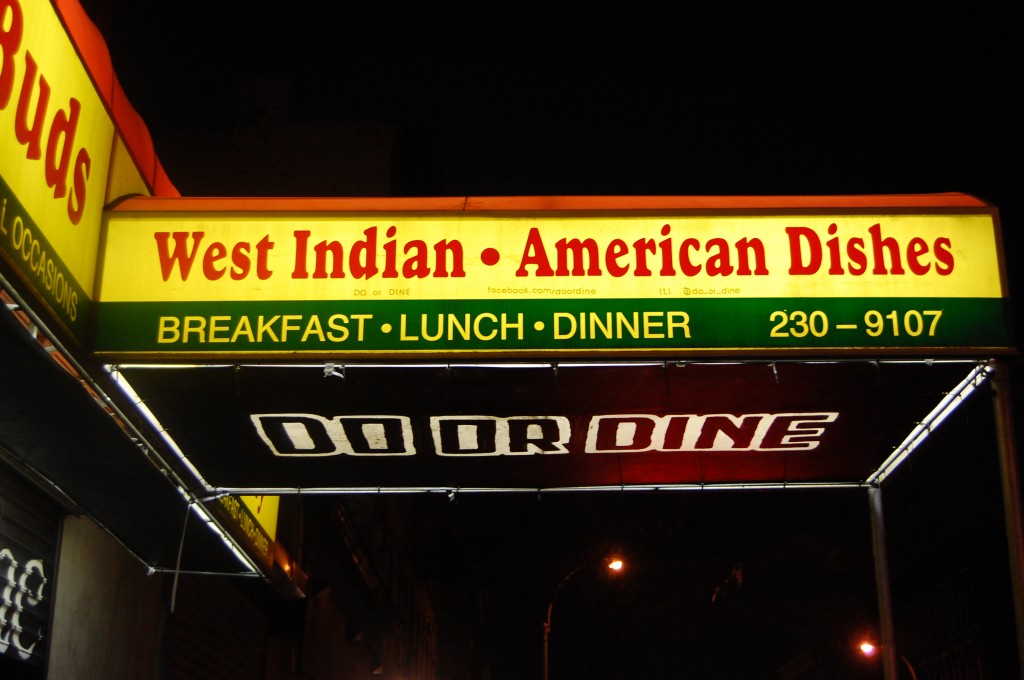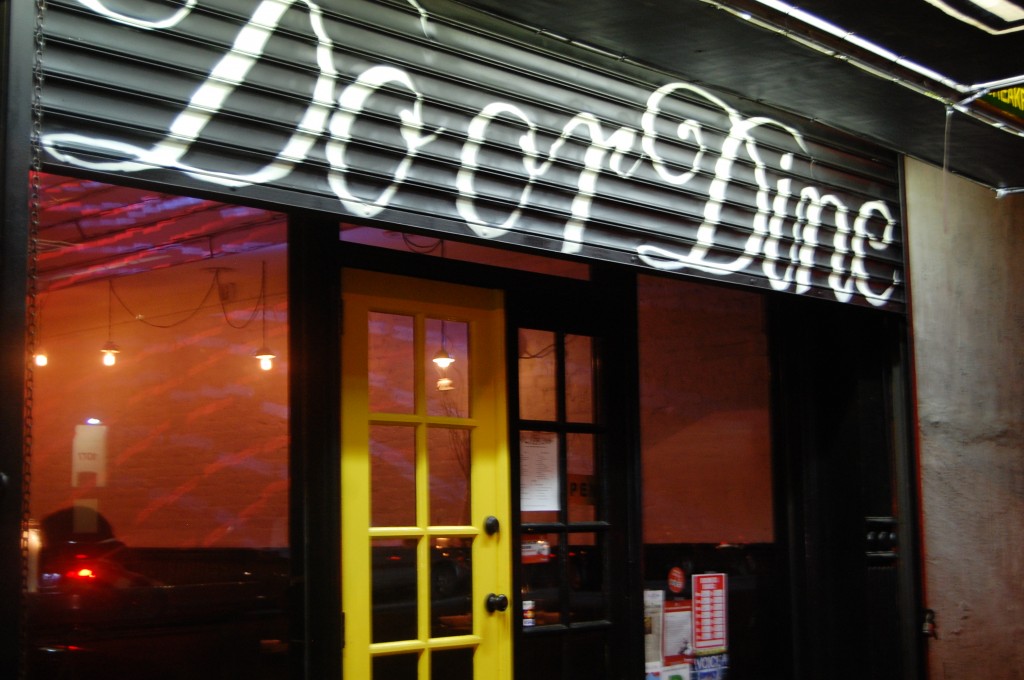 Inside, the walls are covered with what looks like recycled subway tiles, a spinning disco ball hangs from the ceiling, and a playlist featuring Pitbull and Sean Kingston sets the mood. It's clear that the owners curated an atmosphere that lends itself to having fun. I would go back to this place for the music alone! Upon arrival, Leslie (my date for the evening!) and I perused the cocktail list. I mean, let's be honest, decisions are best made with a strong drink in hand. I chose a libation made of Tennessee whiskey and house-made ginger beer as my first drink and later on moved to a spicy tequila cocktail. The drinks definitely paved the way for the spread of food that we were about to order. I had questions about nearly everything on the menu (I didn't even know what half the terms meant!), but our server was very patient and offered suggestions and explanations throughout the night.
To begin, Leslie and I decided to split two items from the snack menu and two small plates. I'm not usually a super adventurous eater (especially when it comes to meat and seafood), but I figured that if there was ever a time to stretch my boundaries, it was now.
The nippon nachos have been getting a lot of press, so we had to try them. The "nachos" were actually vegetable gyoza covered in gouda, cheddar, tomatoes, and sour cream. These were probably my favorite starter of the night.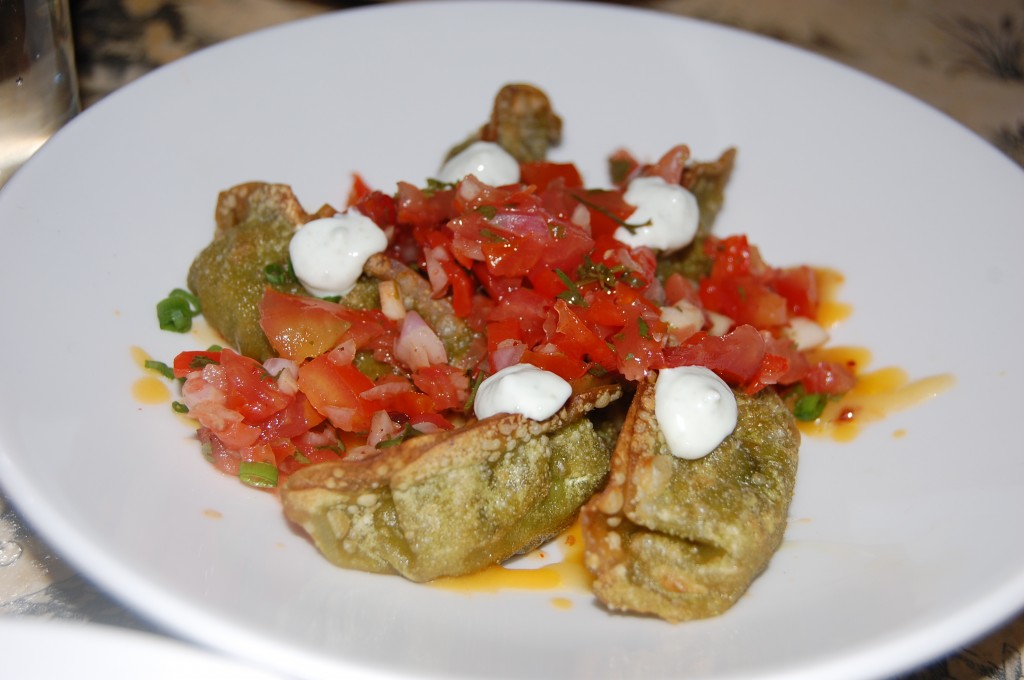 We also ordered a plate of shishito peppers with four flavored salts (hickory, yuzu, wasabi, and green tea). These were good, but the peppers were a Russian roulette of sorts – most were mildly spicy, but one left my mouth absolutely on fire!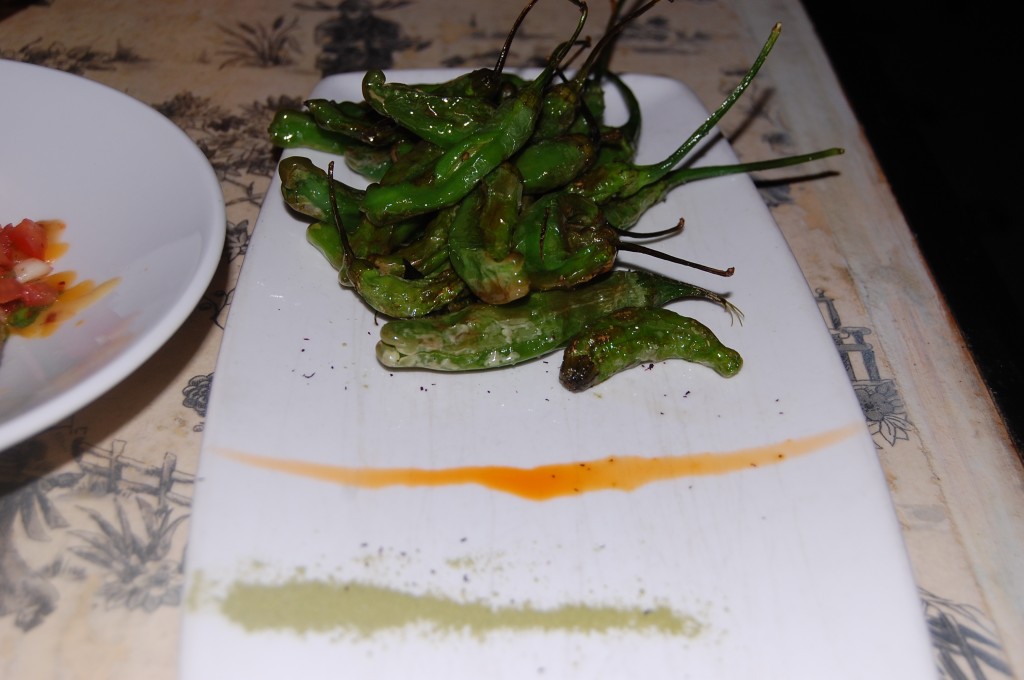 The E666S were deviled eggs stuffed with baby octopus and ume (Japanese plum). Baby octopus?? Could I actually eat this? As someone who wouldn't eat any form of seafood (even fish sticks) up until a few years ago, this was a major step. But I took the plunge and gobbled up an entire deviled egg. The octopus was mostly just chewy, it didn't taste fishy at all. And I really liked the little Japanese plum – it seemed to be marinated in something like soy sauce.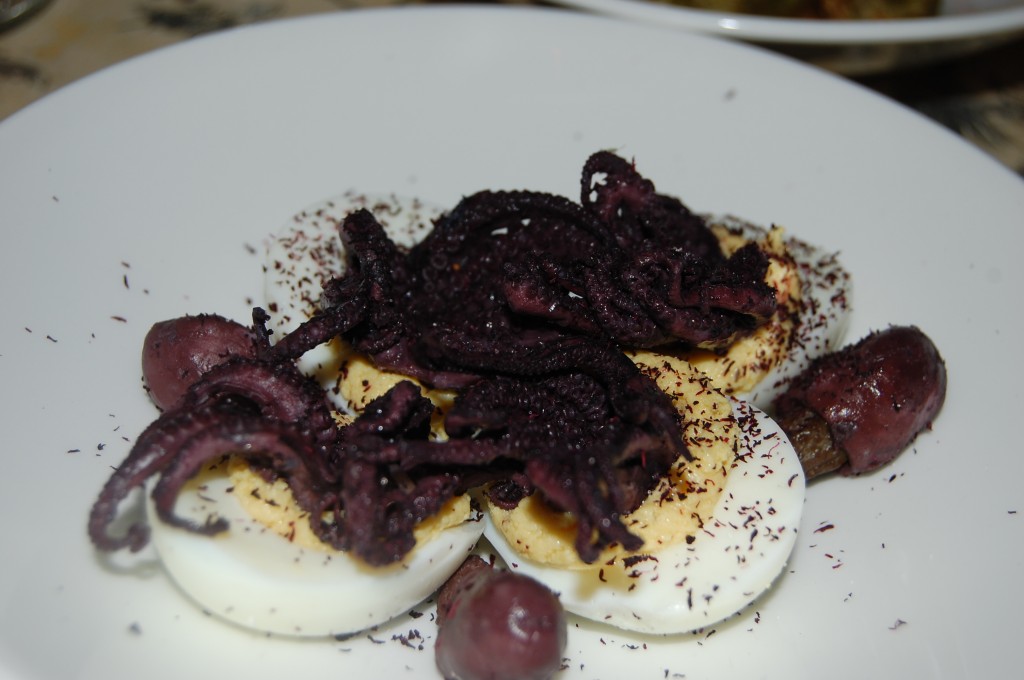 Our final appetizer was a bowl of pumpkin peanut soup with a butterscotch & bacon compost. Both Leslie and I really liked this dish and would love to have the recipe (hint, hint Do or Dine…). The butterscotch "compost" was unexpected and made the soup almost like a dessert. YUM.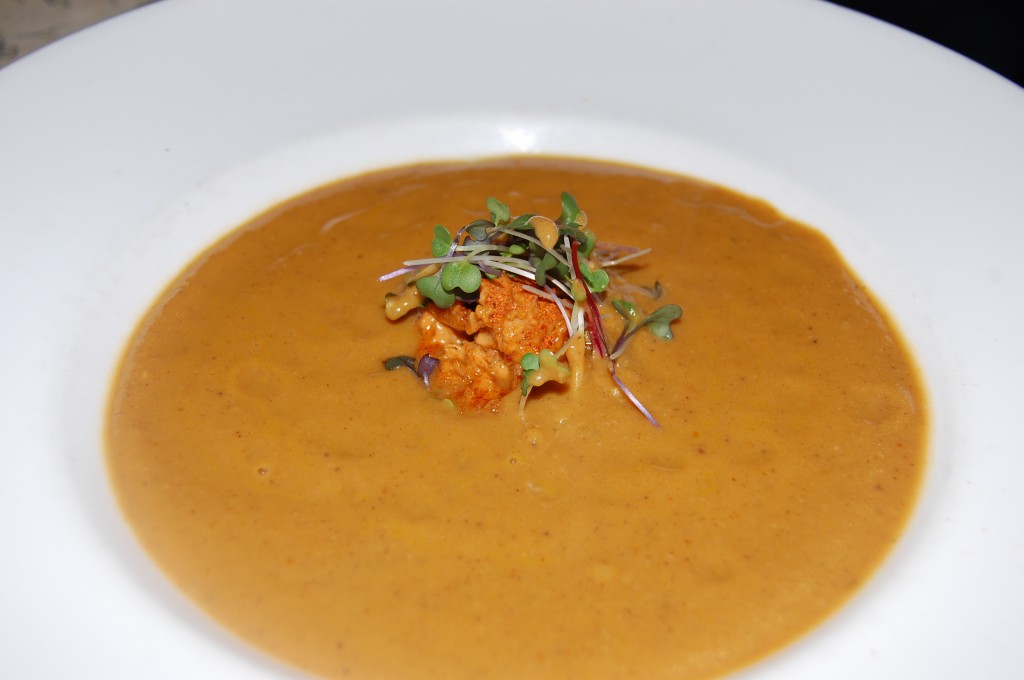 When Leslie and I decide to eat, we EAT. After four appetizers, we moved on to our entrees – pork tenderloin with duck fat, wasabi-apple gratin, and choucroute for me and New Zealand duck breast with sansho, kiwi, and fennel for Leslie. The wasabi apple-gratin recipe was posted online a few days before Thanksgiving and despite not being a wasabi fan, I loved it. I'm not even sure I offered Leslie a bite. Whoops. I did snag a bite of the duck though and it was cooked to a perfect medium-rare and very tender.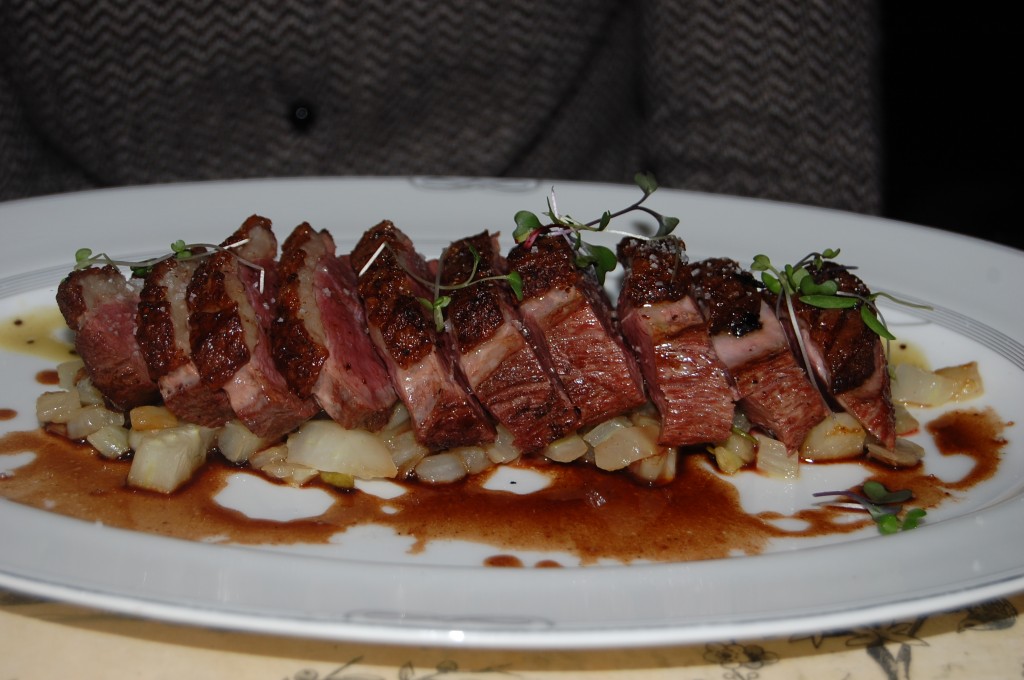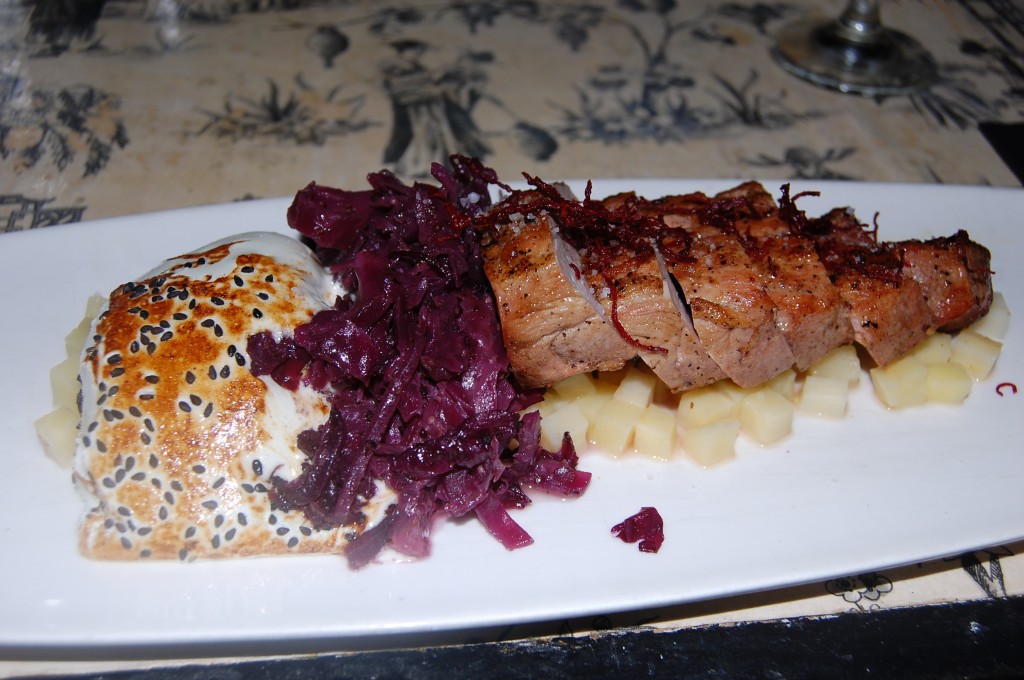 By the time we worked our way through our dinner, we were pretty full, but not full enough to turn down the infamous foie gras doughnut that caused a stir among animal activists. I'm pretty sure this was the first time I've eaten foie gras and while it's not really my favorite thing, I'm glad I was adventurous. A yeast raised doughnut from nearby Dough was filled with foie gras and jam. The sweet and savory combo reminded me of a grown up play on PB&J. Glad we tried it!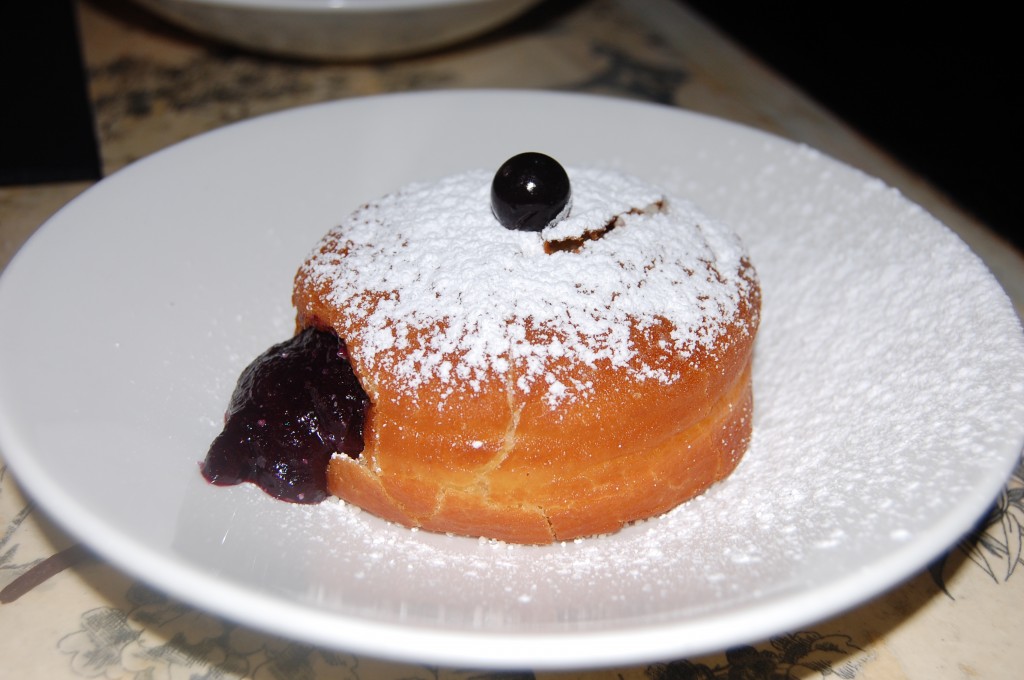 And nearly 3 hours after we arrived, Leslie and left sated and impressed with Do or Dine. The menu would turn heads no matter where it was located, but the fact that it's on a desolate street in Bed-Stuy makes it that more intriguing. The cozy bar tucked into the corner of the restaurant looked promising and the reasonable prices mean I'll most likely be back. The menu is constantly changing, so you never know what you'll get!
This has been a veryyyy good week of eating for me and the running has been relaxed and enjoyable. I'm still feeling a little tight in my glutes, so I'm taking it easy, but I was able to log four days of mileage this week.
Monday, November 21 – OFF
Tuesday, November 22 – OFF
Wednesday, November 23 – 4 miles, hilly
Thursday, November 24 – 7 miles, hilly
Friday, November 25 – OFF
Saturday, November 26 – 7.5 miles, easy
Sunday, November 27 – 11 miles, easy
Total: 29.5 miles
I'm still not sure what my plan is for the next few weeks. I'm just playing it by ear, evaluating how I feel day-by-day. I have a lot of fun holiday parties and events coming up, so I wouldn't be too surprised if those take precedence over mileage. And I'm totally okay with that and even looking forward to it.
Question: What's the craziest thing you've ever eaten? I'm STILL thinking about those baby octopi…