Planning out a race can be a fruitless exercise. I might get boxed in at the start, I might have a stomach ache, my legs might feel dead when I tell them to run 6:52 pace…any of these things could throw off my carefully laid plans. However, I like to plan things, make lists, and be prepared, so that's what I'm going to do. To be honest, I am really nervous about this race. Even more nervous than last year's NYC marathon. Why you ask? I've laid a pretty concrete goal (1:29:xx) and while I think I have the potential to run that time, I have no idea how difficult it's going to be or if it will actually happen on Sunday. Maybe I will feel awesome and run well under my goal time, but it's also possible that when things get painful and hard (and they will), my confidence will falter and I'll slip into a slower pace. I'm scared of failing, of letting myself down.
Anyway.
In attempts to stave off panic attacks, I've formulated my race weekend plan.
I'm staying with my Mom and Sister in a hotel on Saturday night which is clutch because I know they will love me no matter what. Even if I babble on about race splits and corrals for hours on end and then make them turn off the lights and go to sleep at 10pm. The hotel is only about a mile from the starting line, so it will be the perfect warm up for Sunday morning. Race day weather is also looking favorable albeit warm for late November! I'm guessing the temperatures will be in the high 40's for the 7am start. My plan is to wake up around 5am, drink coffee ASAP, eat a honey stinger waffle, and banana, and then leave for my warm-up a bit after 6am. Arriving at the starting line around 6:10am should hopefully give me enough time to wait in the porta-potty line and get corralled. I'm not checking a bag, so that should free up a few minutes. This also means I won't have my phone after the race, so uhhh….hope I can find the family!
The Race Day ensemble (CPTC jersey, nike sports bra, New Balance split shorts, Nike dry fit socks, Saucony Kinvaras)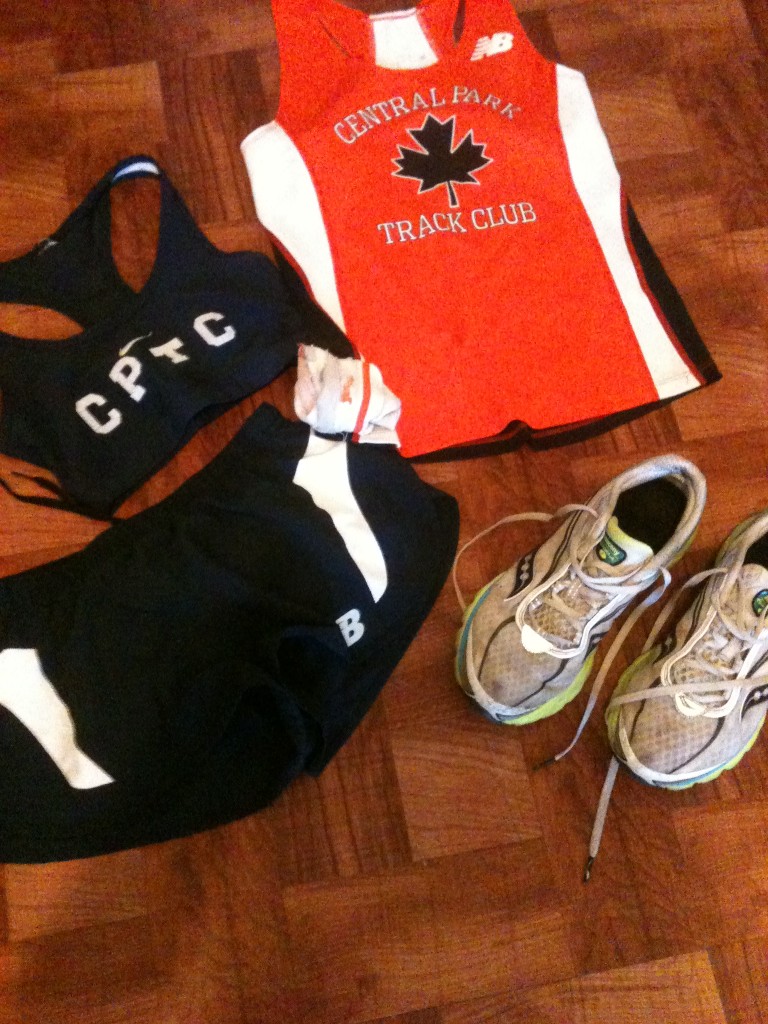 I've already talked about my pacing plan – 7:00 pace for the first 3 miles and then dropping down to 6:55 or 6:50 for the remainder of the race. Ideally, I'd finish up with some 6:45 miles to make up for the slow start….I've found that I need to stay comfortable for the first 3-5 miles of the half-marathon in order to have a good race. If I start feeling like I'm in the "red zone" too early on, I freak out and all racing confidence flies out the window. Luckily, I've never had a problem with getting excited and going out too fast. Negative Splits are my middle name.
Some other things to note –
1) I'm not going to wear my Garmin. The first 7 miles of the race weave through Downtown Philly and while it would be nice to have data after the race, I've found that wonky satellite reception and mile splits that are "off", just stress me out. I really like the digital watch/pace band combo, so that's what I'm going to go with. Plus, calculating when I need to be at the next mile marker can be a nice distraction. Especially since my math skillz are less than stellar. Heh.
2) I'm not wearing headphones/ipod. I'm nowhere near elite, but do you ever see elites racing with ipods? Nope. Their focus is on running fast and racing well. I occasionally use an ipod on an easy run or treadmill workout and I admit that it IS motivating, but I don't want to risk distraction for this race. I want to be completely in the zone, focused on the task at hand. My goal isn't just to finish, it's to run a time that I previously thought was outside the realm of possibility. That being said, if you run with an ipod, please don't be offended! I'm just letting you guys know what I need to do to have my best race.
3) On race week fueling – remember when I said I wasn't going to drink this week? Hah, just kidding. I've had a lot of delicious beer and while I'm not going to say it was the best decision, I don't regret it. You only live once and while this race is important to me, my M.O. is to not get too crazy about anything. I love running, I want to be fast, but I also want to be a normal 20-something who has fun with her friends. So on that note, I'm going to recommend that you drink some Southern Tier Pumpking (9% abv, whoa) ASAP.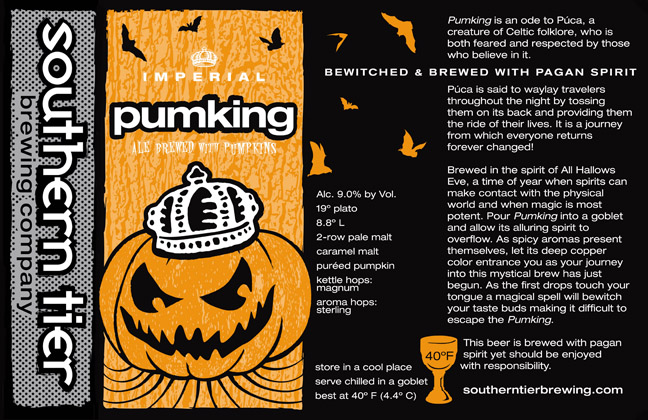 So. There's been a lot of beer, but I have also been eating HUGE salads for lunch everyday (seriously, I cannot believe how many vegetables were crammed into this bowl). That totally makes up for it..
If you're interested, you can track me during the Philly half. Note to self: Don't screw up, people might be watching your splits.
Alright friends, I'm out. I'll be back on Sunday with a PR. Or a bottle of gin and self-wallowing (Mom, I am kidding! Mostly).
So, tell me – when things start to hurt during a race, what mantra or motivational thought keeps you focused?