On Saturday, I ran the Grete's Gallop 1/2 marathon for the fifth year in a row. This race, named in honor of the late running legend Grete Waitz, holds a lot of special memories for me. It was my very first NYRR road race and first race as a New Yorker. When I ran the event way back in 2007, I had just moved to Manhattan and was still trying to figure out my post-college running goals.  In 2007 I ran the course in 1:47:10 and was super excited to have finished my second ever half marathon. My first 13.1 was the Danbury Half Marathon in April 2007. I was still in college and it was held the day after a track meet. My running buddy and I registered under pseudonyms because we were afraid our coach would find out. Running 13.1 miles the day after racing a 5k was not the best idea. Don't do that.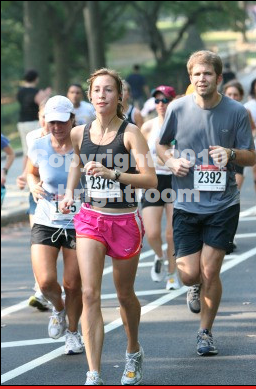 In 2008, I was gearing up for my first marathon (NYC!), so I ran Grete's as part of a long run. I finished the 13.1 race in 1:41:57 and ended up running about 17 miles total that day. During the race I also met my future roommate of two years (hi Alma!). This race was a PR for me at the time and I remember being really pumped to run sub-8:00 pace!

In 2009, I was coming off many many months of injury and had just started running regular mileage again. Being able to finish 13 miles was a really big deal and I was so so happy to run 1:54:35 (see the big smile on my face?!).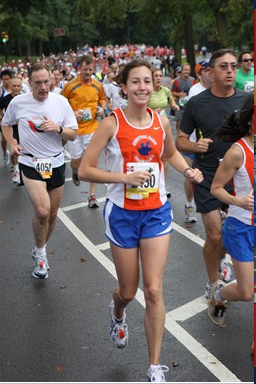 Last year I was mending a calf strain (note the compression socks), so I used the event to practice marathon pace. I totaled 21 miles for the day and ran Grete's in 1:38:07 (~7:30, marathon pace). Damn, I was in good shape!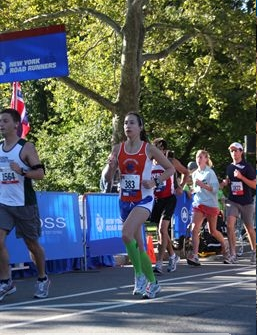 Since I raced the Philly half just 2 weeks ago, I wasn't planning on running Grete's this year, but then I was able to get a free NYRR race entry (because a 5k I was registered for back in August was cancelled…). I had to do a long run anyway, so why not do it with company and have Gatorade provided for me?
When Meggie said she was looking to practice running her marathon pace (8:12), I offered/begged/asked nicely if I could run with her. When it comes to my long runs, I've been trying to make a conscious effort to run closer to 8:00 pace vs. 9:00 pace. The later feels nice and easy, but I know I should (and can) be pushing myself a little more.
We started off nice and relaxed (8:55 and 8:45 for the first 2 miles) and then gradually brought down the pace. The bulk of the miles were between 8:15-8:00, but we finished up at sub-8:00 pace and ended up running 1:46:47. This definitely wasn't an easy jog for me, but I was conversational and comfortable the whole time. I tacked on some miles before and after the event and finished with 17 miles for the day.
Big ups to Meggie who PR'd by over 2 minutes for this distance – I have a feeling she's going to rock the full marathon next month!
I don't have any official coaching certifications and I don't have a degree in sports science or nutrition or anything like that. The only thing I have to offer is what I've learned and experienced throughout my 12-ish years of training and competing. I don't consider myself an expert on running – I've made a lot of mistakes and I'm STILL figuring out what works and what doesn't – but when I feel like I've helped or motivated another runner…well, that's a really cool feeling. Helping Meggie run a PR was really the highlight of my week and when I get emails or tweets from blog readers who tell me I motivated them to go out and run, it makes me really happy. I'm not sure being a full time (or even part time) running coach is feasible right now, but I do know that I enjoy motivating and encouraging runners to meet their goals. I guess I have a lot of figuring out to do, but I suppose knowing what makes you happy, what excites you, is half the battle.
In other news, I've been trying  veryyy hard lately to save $$ and cook dinner at home. Over the weekend I cooked up an eggplant creation that was pretty delicious and very easy to make.
Eggplant and Mozzarella Stack (serves 2)
Ingredients:
1 large eggplant, cut into 1″ slices
lots of kosher salt
cooking spray
4 oz fresh mozzarella, cut into thin slices
1 1/2 cups tomato sauce (I used leftover homemade sauce)
salt and pepper, to taste
Directions:
Place a wire rack (i.e. cooling rack) over a baking sheet. Lay eggplant slices on top and sprinkle generously with kosher salt. Allow salt to sit for about 10 minutes, then flip over the eggplant and salt the other side. After another 10 minutes, rinse the eggplant and pat dry. Note: salting the eggplant prevents it from tasting too bitter – especially important if you're using a larger eggplant.
Spray a large pan with cooking spray, heat to medium, and cook the eggplant slices until tender. I covered my pan with a lid for a few minutes to steam the eggplant and speed along the cooking process.
Meanwhile, heat tomato sauce until warmed through. Once eggplant is finished cooking, layer the slices of eggplant with slices of mozz and top everything with a generous ladle of tomato sauce. Salt and pepper to taste.
**The second night I had this, I added a veggie burger to the mix. You could also add some beans or chicken sausage to the sauce if you're looking for more protein.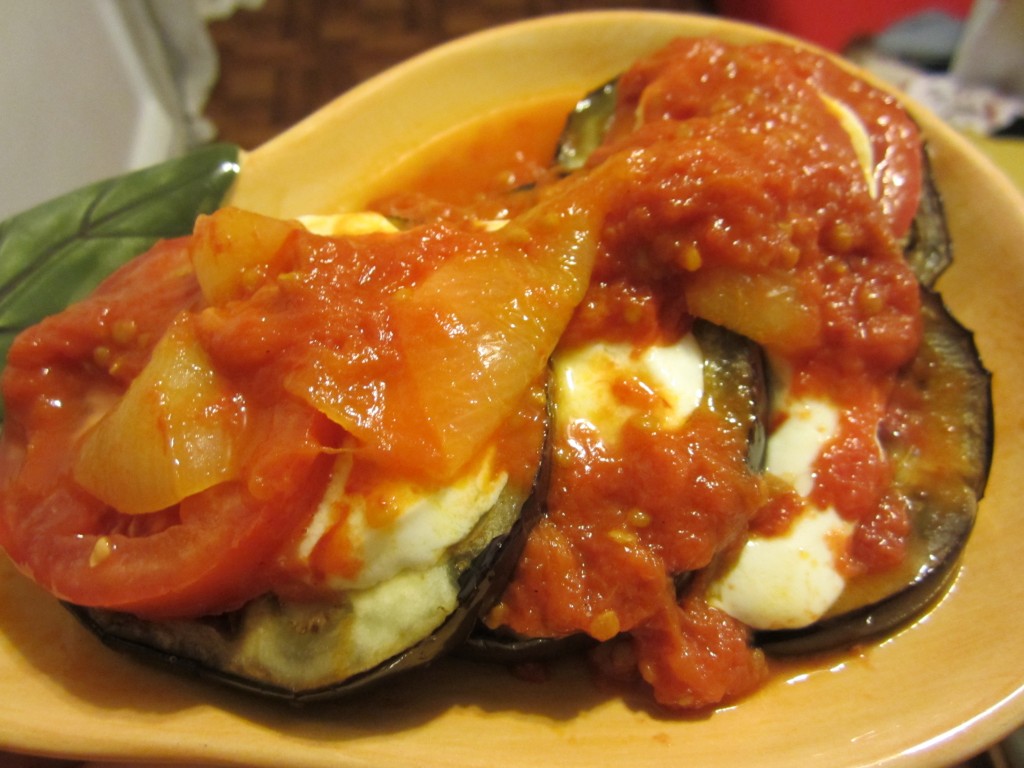 Is there a race that you've done many years in a row? It's fun to be able to look back at pictures from years past! Kind of like a scrapbook…