When they find out how much time and energy I devote to training, friends and family (and sometimes strangers) often ask why I'm running xx miles a week, why I'm trying to run 1:29:xx in the half-marathon. Will anything special happen if I run a lot of miles? Will I win a prize for setting a PR? Nope, probably not. In fact, assuming I actually run sub-1:30, I'll probably already be thinking about what I can do to become better and faster for next time.
In running and in life, too, I think the most satisfying aspect of achieving your goal is actually the process of self-betterment (is that a word?). How many of us have run a PR and said "Well, I'm glad that's done! Hanging up my running shoes now!" Not too many of us, I would think. Of course, achieving something feels good and I'm usually able to savor the moment, but I'm also left wondering how much further I can push myself, how much more I can do.
Before I even started training for marathons, the thought of merely finishing the distance left me awestruck. To run 26.2 miles without stopping seemed like the ultimate accomplishment. And then I started training…and I began thinking that maybe I could run 3:40 and qualify for Boston…
And I did! I ran my first marathon in 3:38:41 and it was (and still is) one of the proudest accomplishments of my running career.
Vintage Megan Alert! November 2008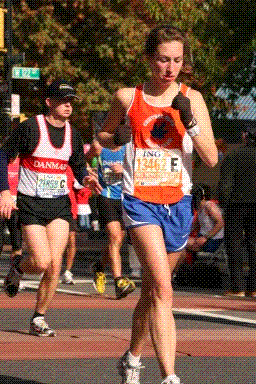 By fall of 2010, I had a new goal – sub 3:30. The combination of training, good weather, and a lot of luck helped me to beat that goal and run 3:18:17.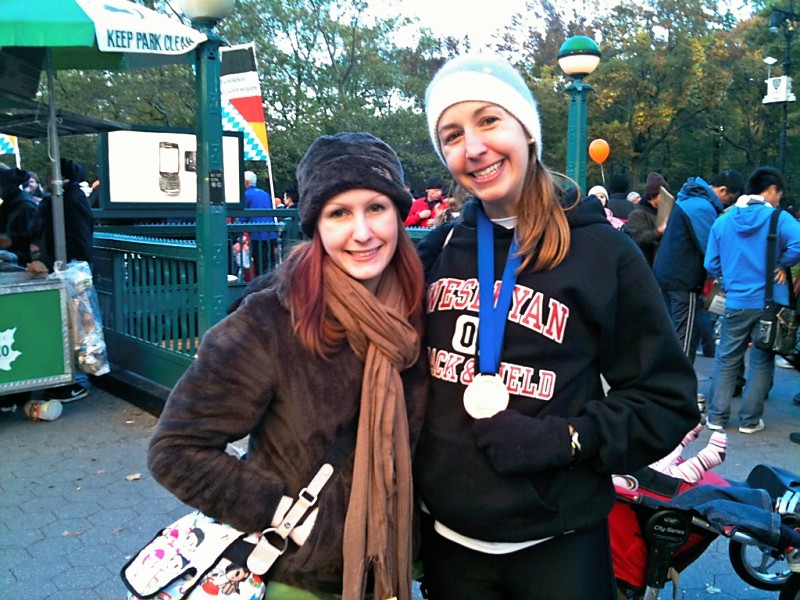 I'm not sure what my time goal will be for Boston in April, but I would be lying if I said I didn't want to PR. The same thing can be said for the Philly half next month…I want to run sub-1:30, but even then I won't be finished. Next, I'll want to run 1:28 or 1:27. The thing about running is that it provides such a concrete way to measure the process of self-improvement. Every time I PR, it's like getting an A on a test. Proof of my hard work.
My running goals are probably less practical than many 20-somethings goals. What's the point of running 80 miles a week? Of running a fast race? Shouldn't I be using my time to study for the GRE's? To climb the corporate ladder? To start thinking about a family? Those are all worthy goals too, but they're just not mine. Thinking about going back to school or being promoted or getting married doesn't excite me right now, but running does. Sure, it would be easier (and probably make my parents happier) if I had more practical aspirations, but I don't think you can always choose what fulfills you and makes you happy. Sometimes it chooses you.
On a similar note, I also think that your goals will correspond to how high or low the bar has been set. When I first thought about qualifying for the Boston Marathon back in 2008, the standard was 3:40:59, so that was my goal. Certainly, no faster. If the standard had been 3:35 or 3:30, I most likely would have tried to run that.
Just this week, the New York Road Runner's announced new qualifying standards for the NYC Marathon (beginning in 2013). The standards are drastically faster (too fast if you ask me) and will likely put guaranteed entry out of reach for many people. I think that's unfortunate. I also suspect that NYRR races will become more and expensive and close out earlier (with more people trying to do the 9 races + 1 volunteer event for guaranteed entry).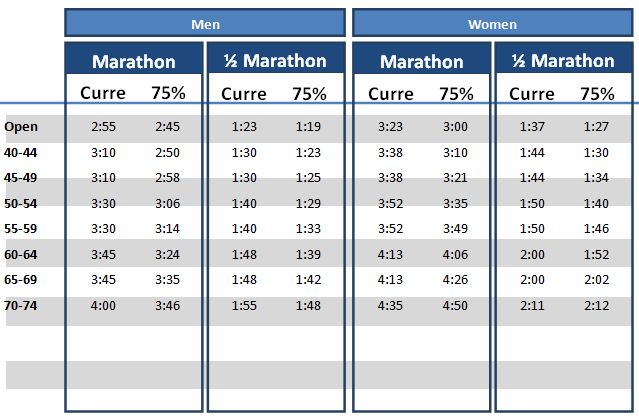 However, I do think that setting the bar high will result in a shift in goals. And that's a good thing. Having tougher standards, means that it will take a lot more effort to meet them. Until now, I had never even considered the possibility of running a 3:00 marathon (or a 1:27 half), but now that the bar has been set…the wheels are turning. Could I do it? What would it take (and how many years) to get there? And if I never run a 3:00 marathon or get into the lottery for NYC again… Well, I've had my chance at running it (twice). It's a great race, but if the goal is to race a marathon, well – there are plenty of awesome, cheaper, and less crowded 26.2 mile races that I wouldn't mind signing up for.
What are your goals for the next 6 months? The next 5 years? Are they running related? 
And what does everyone think of the new NYC marathon qualifying standards? Ahhh!