First up, the winner of the Stonyfield Oikos give-away is….
This is really boring, but toast with peanut butter and banana never fails. I really like super-seedy multigrain breads (my mom bought me a loaf of "seed-uctive" bread from Whole Foods and it was delicious!) and it's so satisfying after a chilly run to eat that with melty peanut butter and banana. Also oatmeal. Lately I've been stirring pumpkin puree into my oatmeal. Delicious!  P.S. I'm glad your foot is feeling better! I get totally worked up and anxious every time I feel the slightest twinge of pain in my legs or feet, so I can imagine how nice it must be not to feel worried any more. I'm sure you're going to rock the Philadelphia Half!                                                                                                                                                                   
Congrats Sarah! Email me your shipping info – runnerskitchen [at] gmail [dot] com
In case you haven't noticed, it's fall. And it's dark for over half the day. Everyone struggles with something, but for me, I always have a really hard time around daylight saving time. It's dark when I wake up for my morning runs, it's cold, the sun is setting well before I leave the office, and time I spend outdoors greatly diminishes. All of this makes me want curl up in bed and watch gossip girl re-runs or eat homemade cookies instead of running or meeting friends after work. I'm pretty sure this is classic case of S.A.D. (seasonal affective disorder), although strangely it's worse in November and March as opposed to December or January. It happens every year and while it doesn't prevent me from doing the things I need to do (like go to work), it's not very much fun. Luckily, over the years I've collected some things that make this time of year bearable (yes, perhaps I have a penchant for being over dramatic…).
1. Lower expectations (or cut myself some slack). Case in point – the other day I planned on getting up early to run some 800m's at a nearby track. Total mileage for the morning should have been 8-10. Did that happen? No. I slept in. Part of me thought "Well, that's a wash! I didn't do my planned workout, so why even bother running at all?" That's not a positive way to think about the situation, but still, it happens. Luckily I was able to coax myself out the door later in the afternoon and ended up running a pretty speedy (and fun!) 6-miler. Sometimes I set such high expectations for myself that I end up feeling overwhelmed. Note to self – do what you can. Even if it's a lunchtime walk or a pre-dinner 3 miler. It's better than nothing.
2. Morning runs.
Yeah, it kind of sucks to wake up before 6am and head out into the dark and cold, but I always feel really good about myself when I make it happen. Making running dates with friends helps keep me accountable. And one of the best things about running super super early is that I don't have time to be wishy-washy or procrastinate – I just GO! I love my new run-commute ritual and this just changed everything – the
Gregory Dipsea 6 daypack
.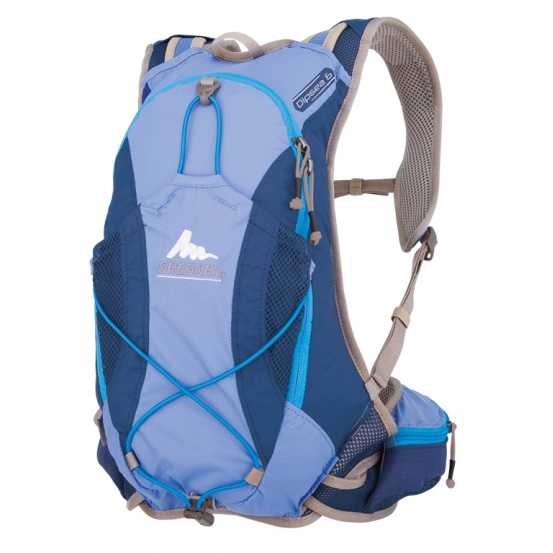 Previously I had been running to work with a drawstring backpack, but this day pack (about $60 on Amazon) is amazing. It has enough room for my phone, work blackberry, wallet, keys, a snack, and a sweater (I keep actual work clothes in my desk). I wore it today for a 10-mile run-commute and experienced absolutely NO bounce or chafing. And if I ever want to use it as hydration pack, I can purchase a water bladder. Seeing the sunrise while running over the BK bridge = instant good mood
3. Omega 3's. Quite a few studies have shown a connection between consuming enough omega-3's and less depression. I've been reaching for Salmon whenever it's offered on the office salad bar and I also have a bottle of omega-3 supplements that I'm trying to remember to take.
4. Sunshine. The sun makes me happy. Unfortunately I have to spend most of the daylight hours in my cubicle. So what do I do? I try to soak it up during the weekend and take a little walk during my lunch break. And if I can occasionally finagle a quick lunchtime 3-miler outside? Even better.
5. Healthy meals. The cold and dark makes me crave macaroni and cheese, cupcakes, hot chocolate with lots of whipped cream, and meatballs. These are all delicious things, but sometimes I end up feeling way too full and sluggish. Luckily I really do like vegetables and whole grains – I just have to remind myself of that every time I try to reason that a Crumbs Bakery cupcake makes an acceptable dinner. Last night I picked up my second-to-last CSA vegetables for the season and made my go-to dinner. It's a good thing I don't post all of my meals – I eat this combo for dinner at least 4 nights a week. It's quick, it has vegetables, it has protein, and I happen to really like the way it tastes. Last night I washed and chopped a head of mizuna (yeah, I don't really know either….) and tossed it with some carrots, croutons, and TJ's spicy peanut vinaigrette. I topped all that with a cooked veggie burger and some grated Grana Padano cheese.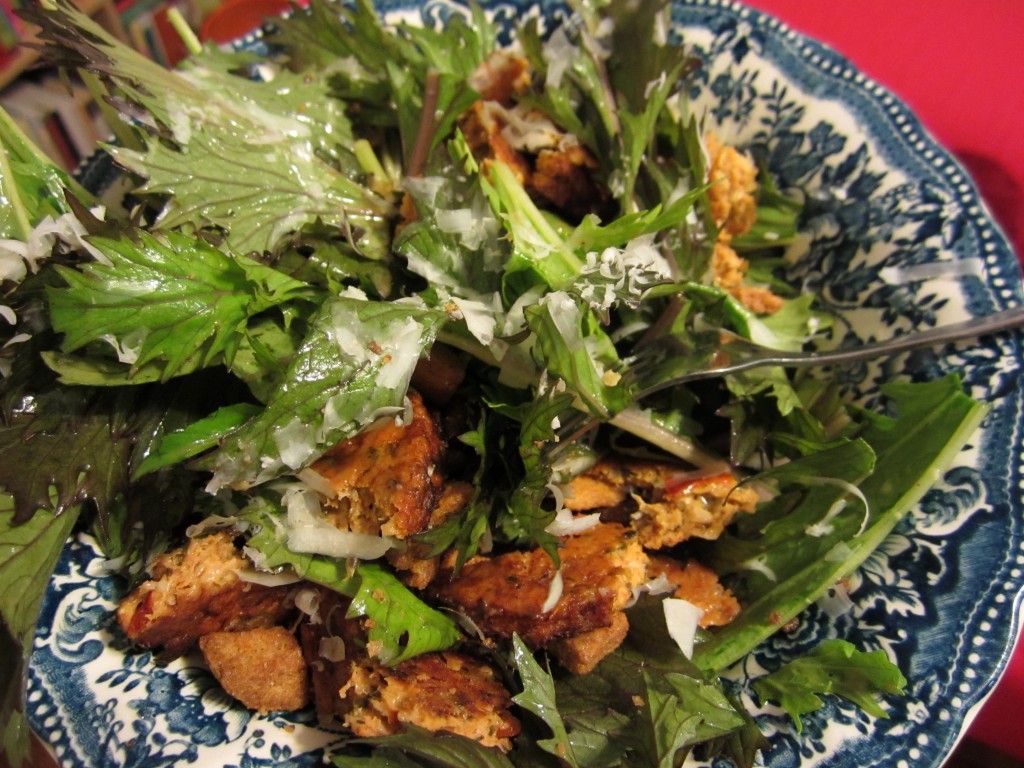 Speaking of Grana Padano cheese, this stuff is amazing! Very similar to Parmiggiano-Reggiano and I've been putting it in EVERYTHING. They're one of the NYC marathon sponsors this year and will probably have a booth at the expo – you should check them out!They also sent me some pretty sweet swag. <3 Cheese.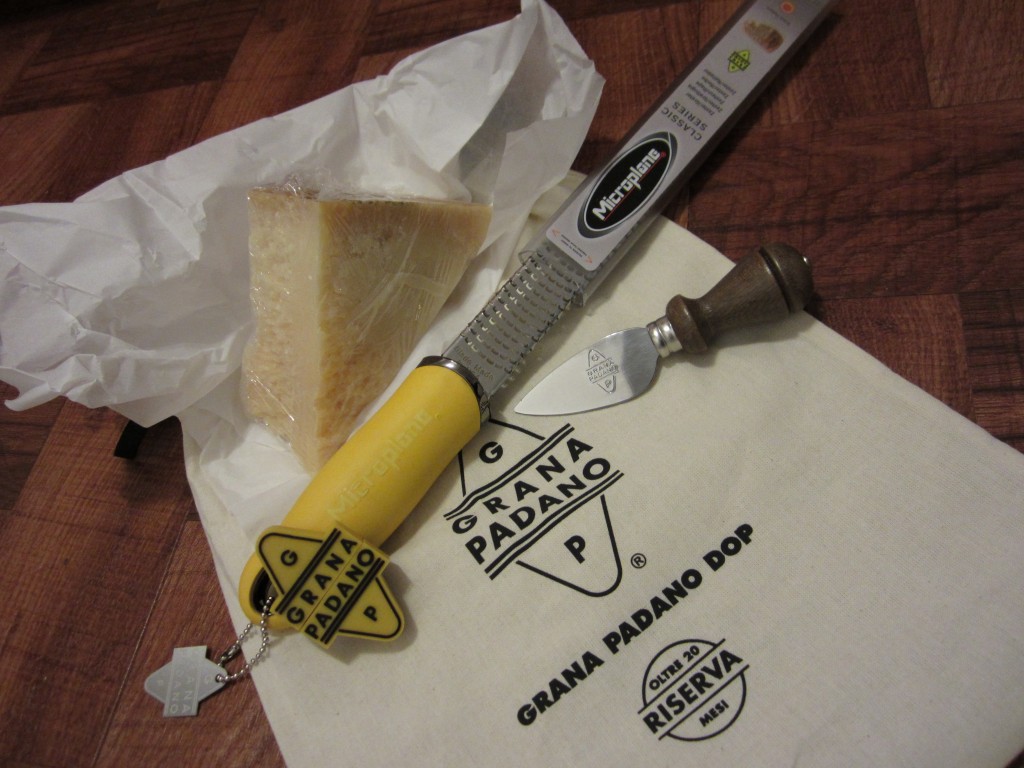 6. Plans with friends. This is super important – even if I want to go home and snuggle in my bed and be a hermit, it's good for my soul to get out and be with people. Sometimes this means a run, sometimes it's an after work drink, sometimes it's a potluck. And that's where I'm headed tonight with my gal pal Sofia a.k.a. Insightfulappetite After work, I am going to a vegetarian potluck dinner where I only know one person. This is a littttttle intimidating, but also exciting! My contribution for the evening is a Fall vegetable frittata. I almost burnt down my apartment last night while making it (think: stuck broiler door, stove nearly being yanked from the wall). It was good times.
Carrot and Leek Frittata (inspired by this NY Times Recipe)
Ingredients:
2 Tbs butter, divided
1 bunch of leeks, washed and diced
1/2 bunch of mini carrots (or about 3 big carrots), washed and diced
3 cloves of garlic, minced
1 bunch of parsley, chopped
8 eggs
2 Tbs milk
Salt and Pepper, to taste
pinch of cayenne
Grana Padano cheese (optional)
Directions:
Heat 1 Tbs of butter in a 9″ frying pan and saute the leeks and carrots for about 5 minutes until soft
Add the garlic and saute for another minute, remove from heat
In a large bowl, whisk together the eggs, milk, salt, pepper, and cayenne (to taste). Add the cooked vegetables and chopped parsley.
Add the remaining Tbs of butter to the pan and heat to medium-high. Slowly pour in the egg-veggie mixture and cook covered for about 7 minutes. Every so often gently lift up the edges of the egg mixture and allow the raw eggs from the top/middle to move underneath.
Pre-heat the broiler. Grate some cheese on top of the frittata and then stick the pan under the broiler for about 2 minutes. You want it to get golden brown and puffy – be careful it doesn't burn!
Remove the frittata from the broiler, allow it to cool in the pan for a few minutes, and then gently slide out onto a plate. Ta-da!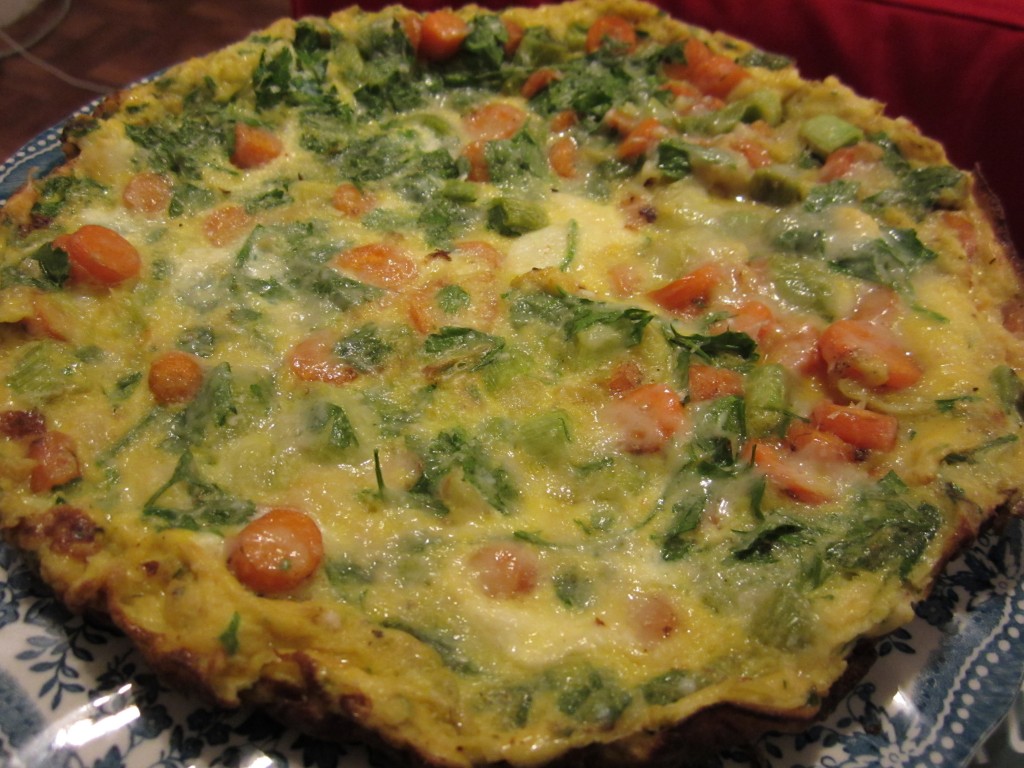 Of note: For the entire month of October, Planet Gear has pledged to donate $1 for every new member or Facebook fan to fight Breast Cancer. Check out their Facebook page to stay up to date on sweet discounts on sporting goods and athletic gear.
And remember Lollihop? The snack/gift box company is still going strong (and got mad love from Vital Juice yesterday). If you're interested in sending a friend a box for the holidays, now's the time to do it! Bonus – they have a limited number of vegan boxes available. If you end up ordering a box, use the code MEGAN-RUNNERSKITCHEN! A little birdie told me that they might be offering discounts in the near future….
Do you ever get the Fall and Winter blahs? How do you motivate yourself to run and be social when it's dark and cold?