Indian Summer, Fake Summer, Global Warming…I'm not sure what's going on with the weather in NYC, but it felt more like June than October this weekend. I started the weekend off with a long run with Meggie. I took her on a tour of the Manhattan Bridge, DUMBO, Brooklyn Heights, Brooklyn Bridge, and then we headed back into Manhattan to run around Battery Park and up the West Side Highway. I felt surprisingly good and ended up running 17 miles in a bit over 2 1/2 hours. I decided to wear compression tights to give my muscles some extra support – it was a little warm, but not uncomfortable.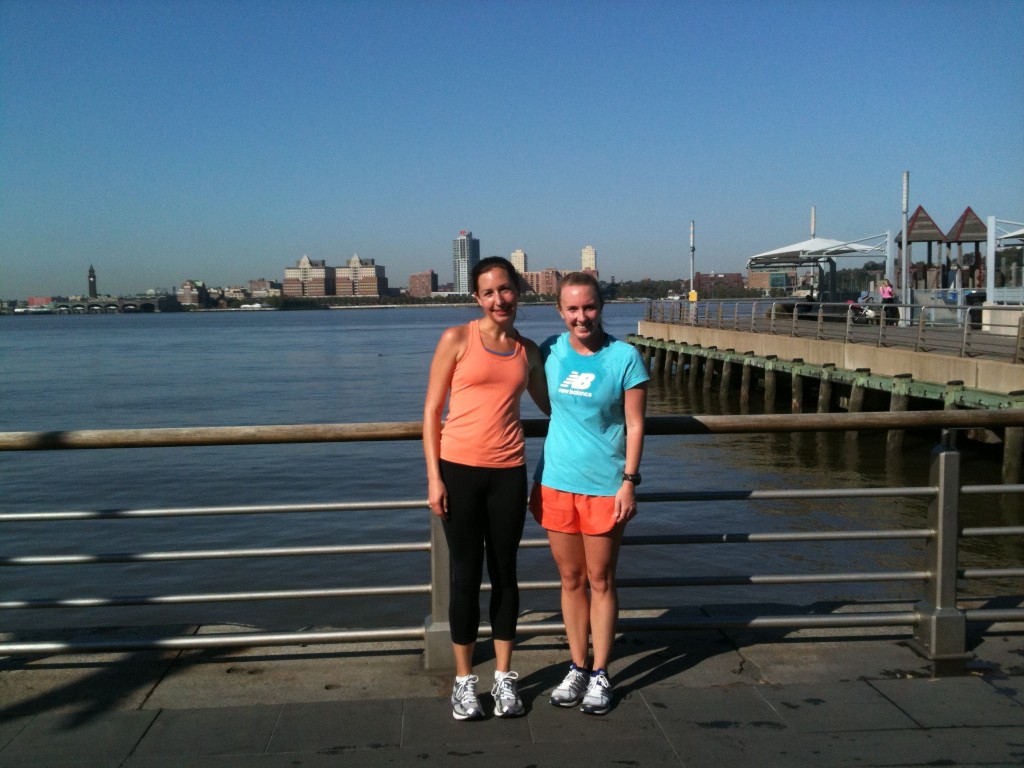 This morning, I ran about 7.5 miles with a friend who was visiting for the weekend (hi Hannah!) bringing me to 81.5 miles for the week. Huzzah! I did it. I've been paying close attention to how my legs responded to the mileage increase and I think I can call the "experiment" a success. Physically, I felt very good this week. My butt and hips were sore on Wednesday morning (post-track workout) and my legs were a little tired today (post 17-miler), but other than that, everything felt like normal. I have no aches and pains and never felt overly tired. I did, however, struggle sometimes with the mental aspect of running so much and often. When you need to average 11-12 miles a day, that doesn't leave much room for spontaneity. If I woke up some morning and didn't feel like running my planned mileage, I had to do it anyway. Running this much takes a lot of planning and so by the end of the week, it was wearing on me a bit. That being said, I did enjoy challenging myself and I think after a lower mileage week or two, I will try running 75-85 miles again. I want to make it clear that I'm not just chasing mileage for the sake of running x amount per week – after a lot of research, I believe that increasing volume will help improve my fitness levels and result in a half-marathon PR. Putting in these many miles is a means to an end, and hopefully that end will be 1:29:xx (or faster!).
Anyway, besides cracking 80 (in both temperature and miles…) this weekend involved a lot of other fun stuff! I'm in love with my new neighborhood and I know I've babbled on and on – but I enjoy living in Brooklyn so much!
Before heading out on Saturday night, my friend Hannah and I made some homemade pizza. I roasted some butternut squash and caramelized onions and then stretched a ball of store-bought pizza dough onto my fancy schmancy pizza stone (thanks Dad!). The pizza stone preheats in super hot oven for 30-40 minutes before you add the dough and it results in a professional, crispy crust. YUM. On top of the dough, I added dollops of fresh ricotta cheese, the butternut squash, the onions, and some grated gruyere. This is a good combo – I highly recommend it!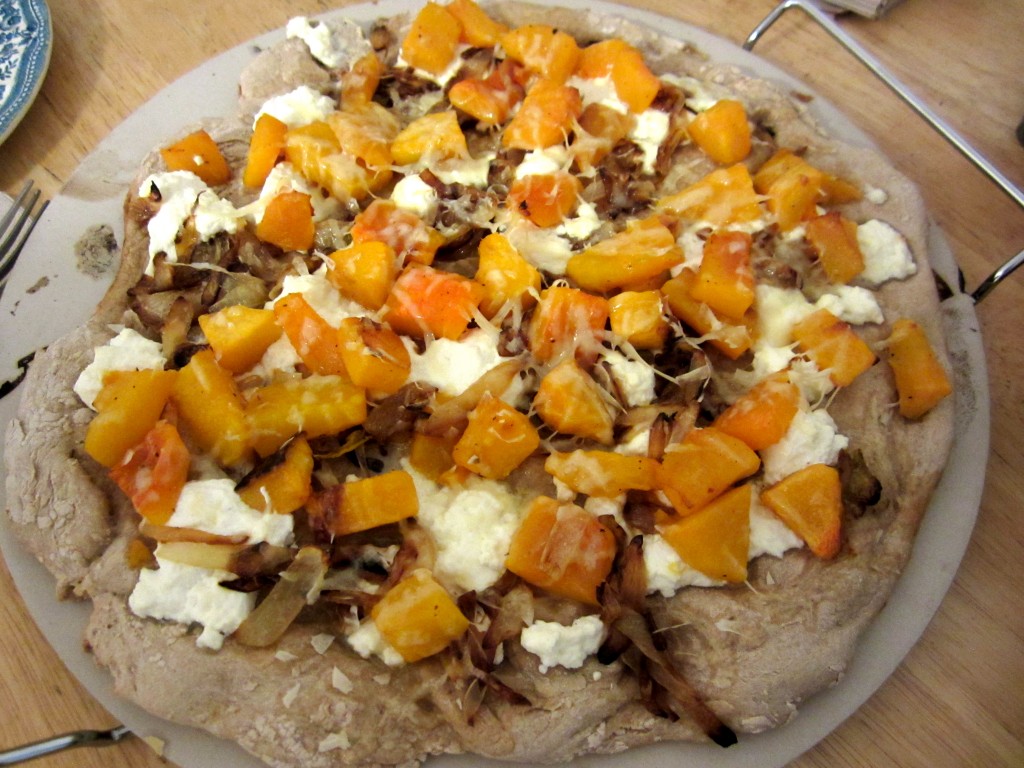 With salad, homemade maple-tahini dressing, and a Sam Adam's Octoberfest beer! Second (and third) helpings of the pizza were devoured.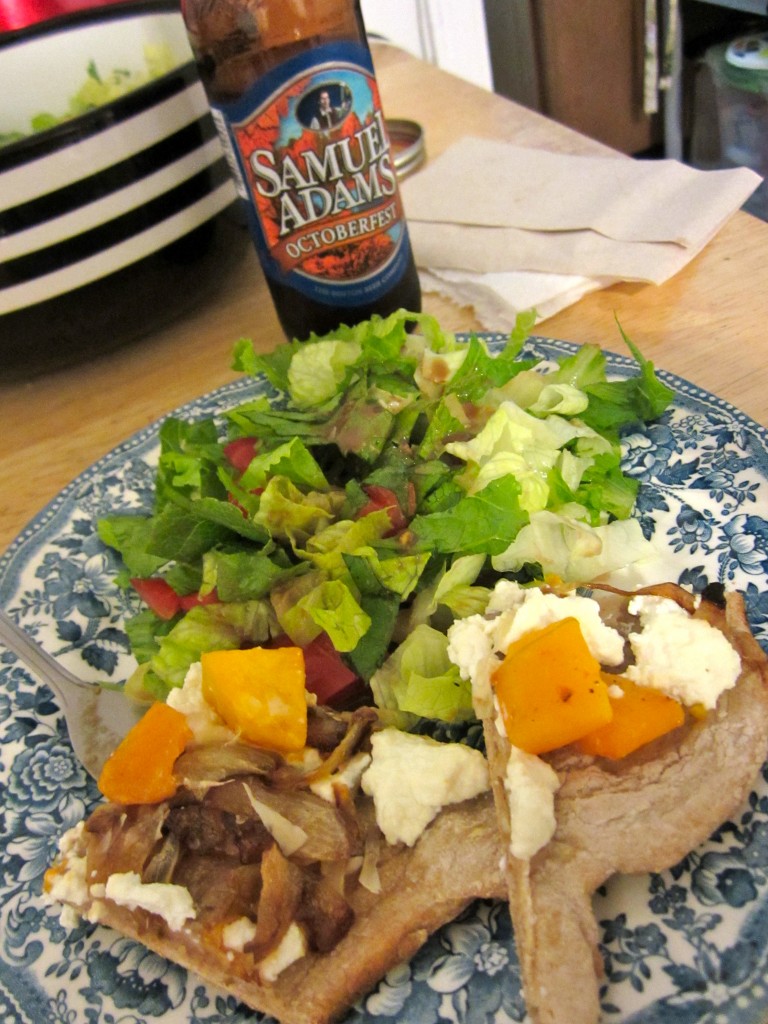 Later on, I met a group of friends at a bar I've been wanting to try for awhile. Hot Bird (the bar) used to be an old auto repair shop, but now it's hipster central! There's a decent beer selection, a grill with bratwursts and tofu sausages, and a sweet outdoor courtyard with tons of picnic tables. I want to go hang out there every night.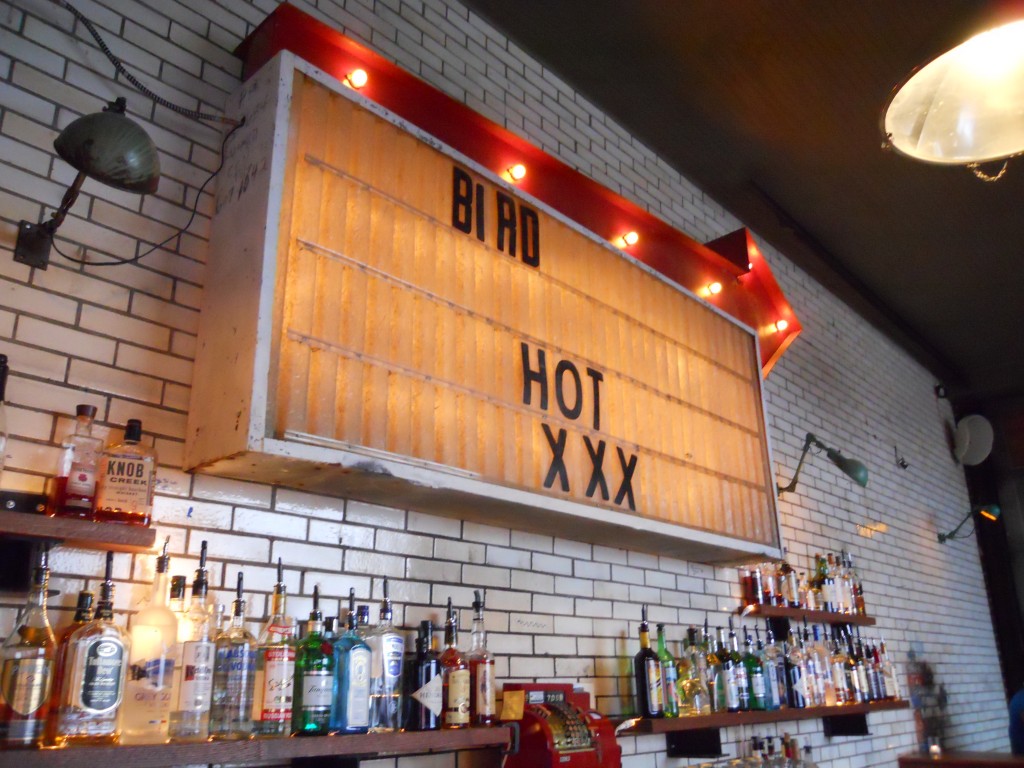 Photo Source: http://functionalbeer.com/2010/06/01/hot-bird-a-mystery-comes-full-circle-into-a-magnificent-bar/
The next morning, I was able to cross another neighborhood "to-do" off my list – Tom's Diner! My friends and I got there early because if you arrive after 11am, the line can be 30 people deep! It's super small and kitschy inside, but the food is solid. I ordered the eggs florentine, but I already have my eye on the lemon ricotta pancakes for next time.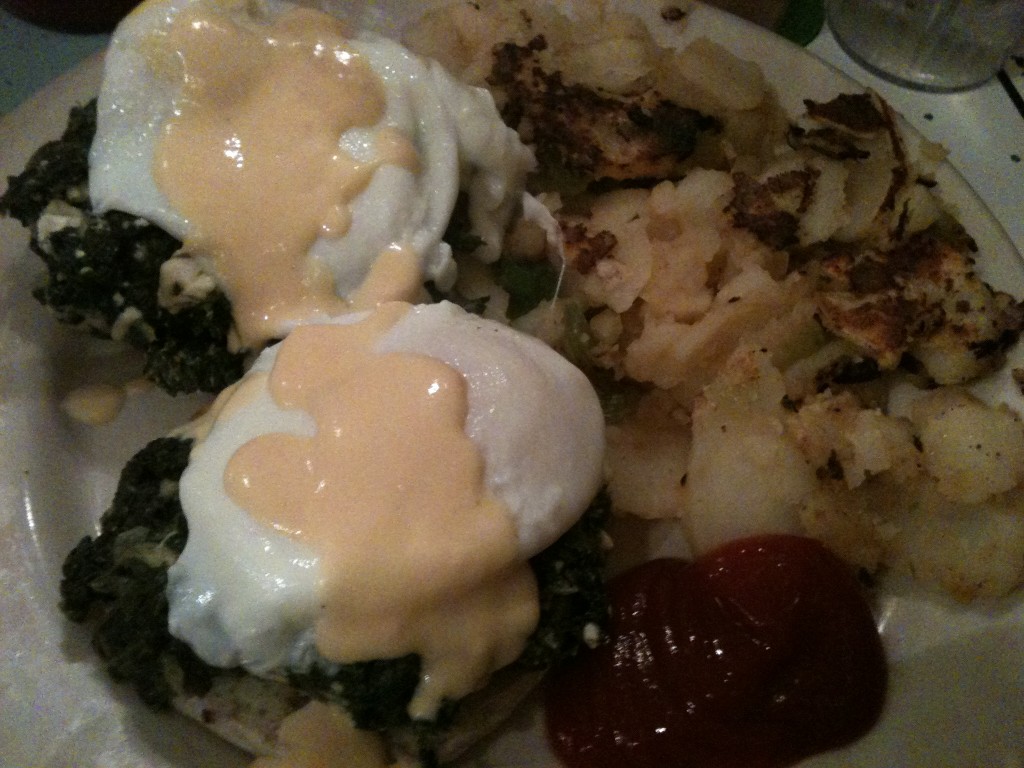 Since it was basically Summer, part II I made plans to meet Leslie, Shayne, and Daniel for some afternoon ice cream. Despite the hot temperatures, I still decided to go with a scoop of the seasonal pumpkin ice cream (with marshmallows and graham cracker crust pieces), plus a scoop of Mexican Chili Chocolate. Ample Hills Creamery makes the best ice cream I've ever had. And I've had A LOT of ice cream.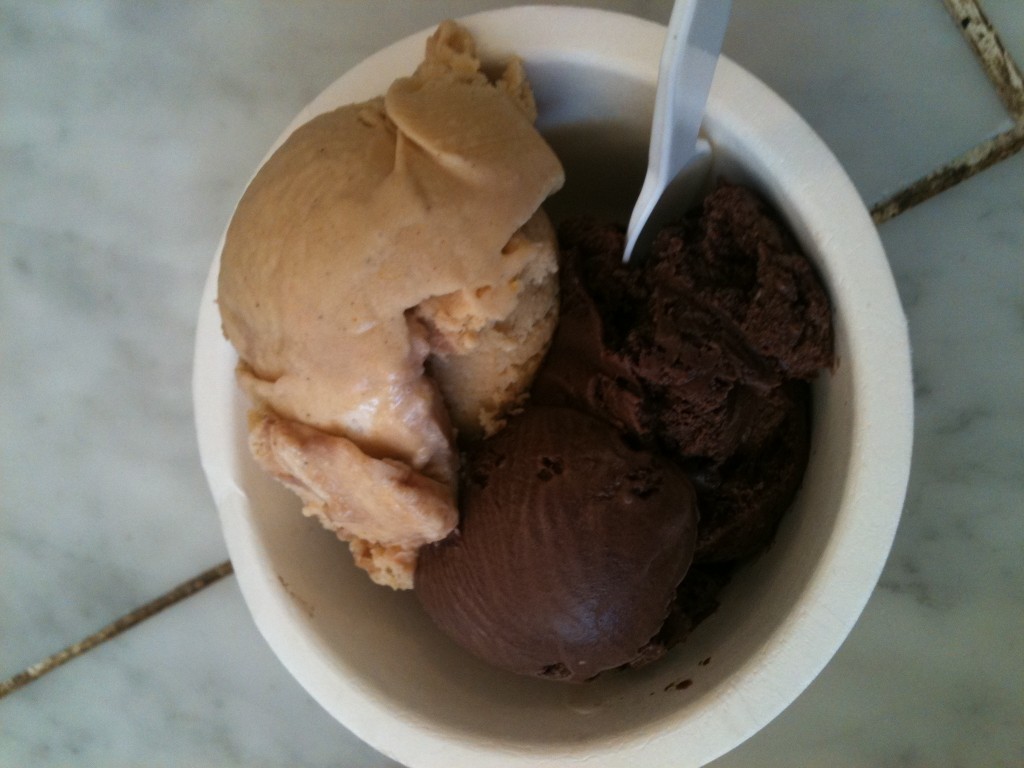 Andddd afternoon of frolicking would not be complete without an afternoon beer in the courtyard of Washington Commons (another cool neighborhood spot).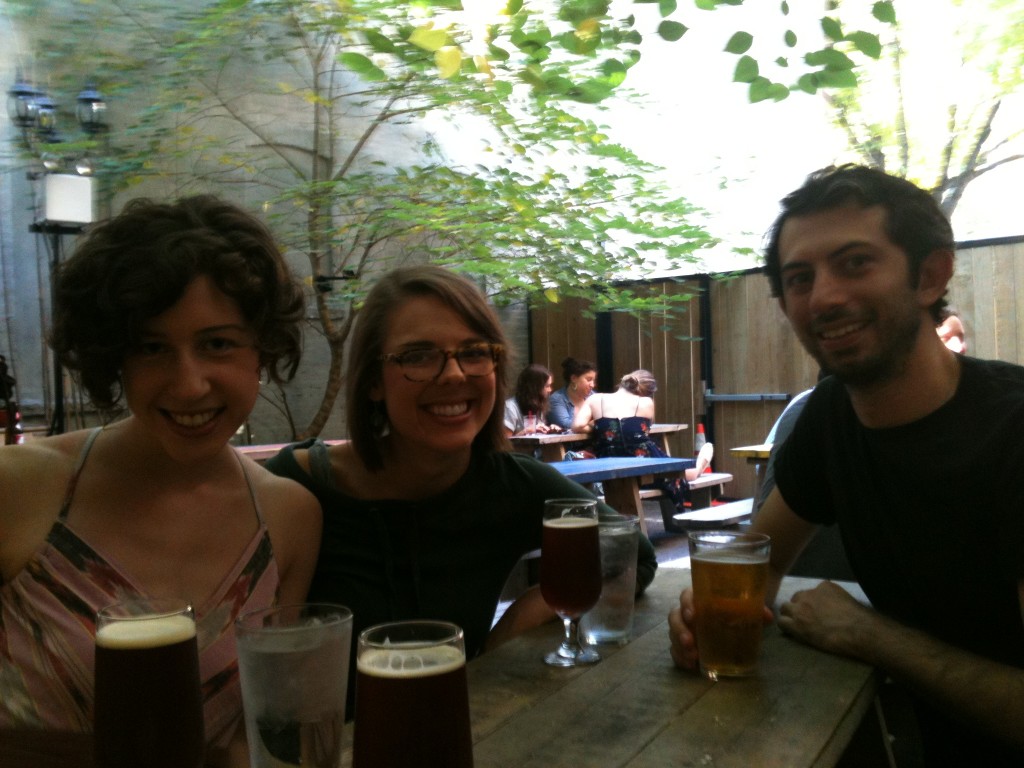 I am pretty sure this was one of my best weekends of the year. And I'm pretty sure the food, the friends, (and neighborhood!) had something to do with it.
And nowwww, it's time to start another work week (nope, I don't have Columbus Day off…).