First up – congrats to Laura (LunaChickRuns) for winning the cookbook give-away! Laura – email me your shipping info at runnerskitchen [at] gmail [dot] com
Laura's comment: Hope your foot feels better soon! My all time favorite cookies are Ranger Cookies! It is a recipe that my mom cut out of the newspaper probably in the 80's so I can't link to it. But they involve oats, rice krispies, chocolate chips and coconut. So good!
Anyone have the recipe for these Ranger cookies?? They sound awesome!
As far as running goes, I have good news – whatever the heck was wrong with my foot last week, seems to have gone away. I still have some weird twinges every now and then, but I'm able to run normally, so I'm trying not to stress out too much. Last week was much lower in mileage than I anticipated (40 miles vs. my planned 60 miles), but in the end, I know it's not a big deal. As much as I like to have a training plan and follow it 100%, sometimes my social life or a sore foot or work take precedence. And that's OK! Running is important to me, but it's not the only thing that's important.
That being said, I was super pumped to run long with Meggie and Susan on Saturday. I started off from my apartment, ran up through Williamsburg, into Manhattan and met them at 59th & 1st Ave. This is mile 16 of the NYC Marathon and their goal was to run the last 10 miles of the course (yay, race day visualization!). I hopped out a little early, but ended up running about 15 1/2 (maybe 16?) miles for the day. I've been running sans-Garmin for weeks now and I don't miss it at all. I'm sure I'll still use it occasionally, but I can usually figure out how far and fast I've gone simply by feel (and my Timex stopwatch).  The run felt nice and easy and I was glad to be able to run without foot pain. I've been doing a good job with mileage, but I really need to log some tempo runs and speed workouts. Must do a workout this week – no excuses. T-minus one month till the Philly half!!
Later in the day, I met some lady friends (Ali, Meggie, Kelly, Susan, and Lindsay) for yummy yummy pizza at Pala on the Lower East Side. The decor was super cozy with lots of wood and candlelight and if you're vegan or gluten-free, this place has a dedicated menu. We chose four regular crust/dairy cheese pies to split and they did not disappoint!
Pizza #1 – lamb sausage, scallion pesto, pecorino cheese, and mozzarella.
Pizza #2 – Butternut squash puree, pecorino cheese, balsamic reduction (whoa! my fav)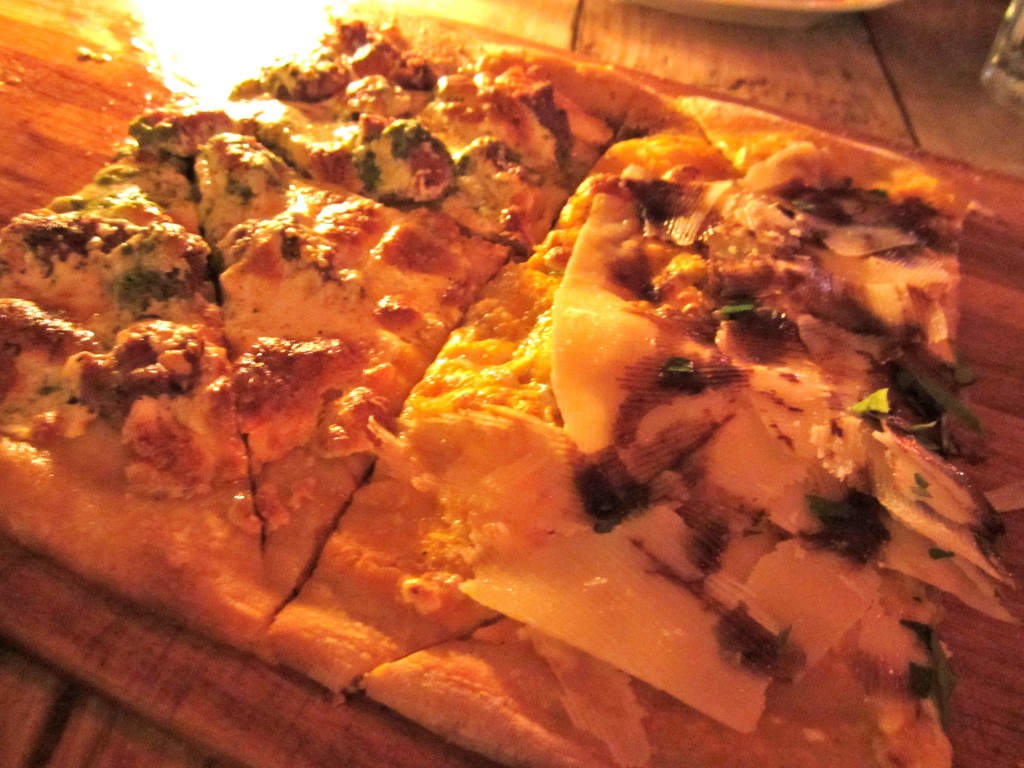 Pizza #3 – spinach, parsley pesto, garlic, ricotta, and mozzarella
Pizza #4 – marinated zucchini, goat cheese, cherry tomatoes, mozzarella, and rosemary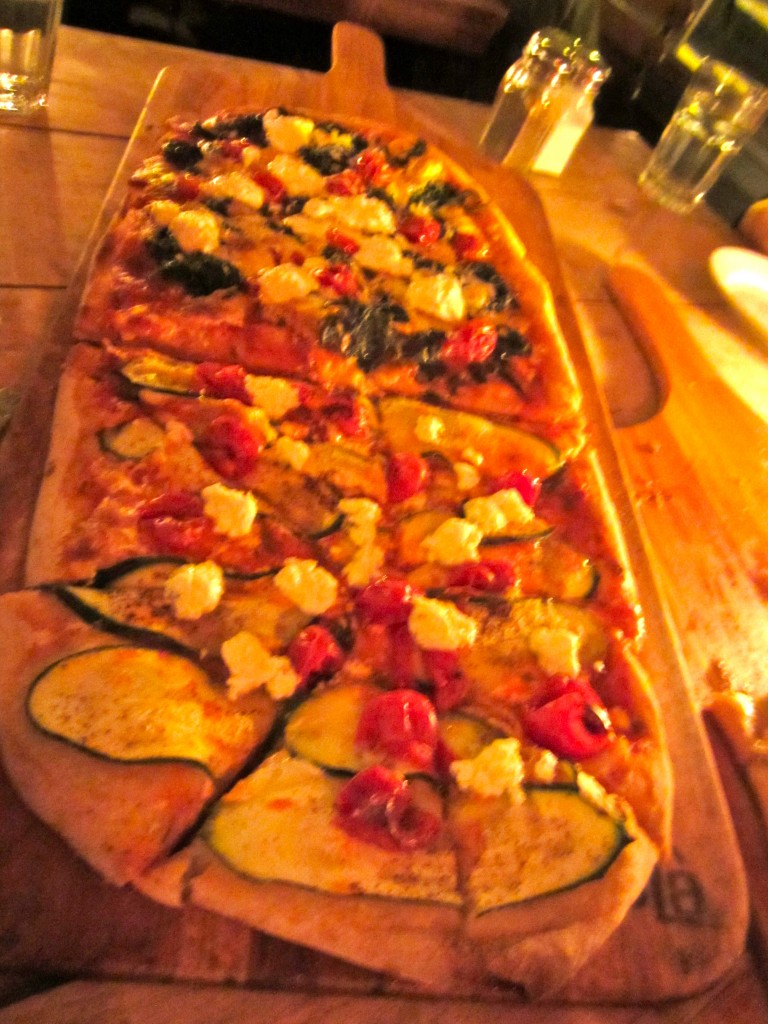 And thennnn, I led everyone on a wild goose chase through Chinatown. The end goal: free cones from The Chinatown Ice Cream Factory!! ScoutMob ( a food and drink deal site) was giving out free ice cream if you downloaded their app. I like free. And I liked the zen butter flavor (sesame seeds and peanut butter combined!) that I devoured post-pizza.
Photo source: Serious Eats
These foods prepared me well for a late night out in Brooklyn and a 5:08am bedtime. Happy Birthday Leslie! I'm sort of glad you're only turning 26 once. Hehe. Needless to say, Sunday was a very chill day. I ran 5 miles, roasted some squash, and caught up on Gossip Girl. My first lazy Sunday in wayyy too long. I loved it.
The plan for this week is to run 60 (ish) miles. As long as the foot keeps feelin' good, here's the plan:
Monday, Oct 24 – 9 miles in the a.m.
Tuesday, Oct 25 – 8 miles in the a.m.
Wednesday, Oct 26 – 10 miles run commute to work
Thursday, Oct 27 – CPTC tempo workout, 10 miles total
Friday, Oct 28 – 6 miles easy
Saturday, Oct 29 – 12 miles, including a 5k race (possibly)
Sunday, Oct 30 – 6 miles easy
Total: 61 (but subject to change!)
And now I have  another fun give-away for you! The other day, I received 2 packs of the new drinkable Oikos greek yogurts. Organic, full of protein and calcium, delicious! What's not to love? I've already tried the vanilla flavor and it makes a great post-run recovery snack (especially if your stomach isn't quite ready for solid food)!  The prize is a shipment of Oikos drinks, plus coupons to purchase more at a later date. The product is currently in limited markets (like Whole Foods), but you can print out a request form and give it to your local grocery store.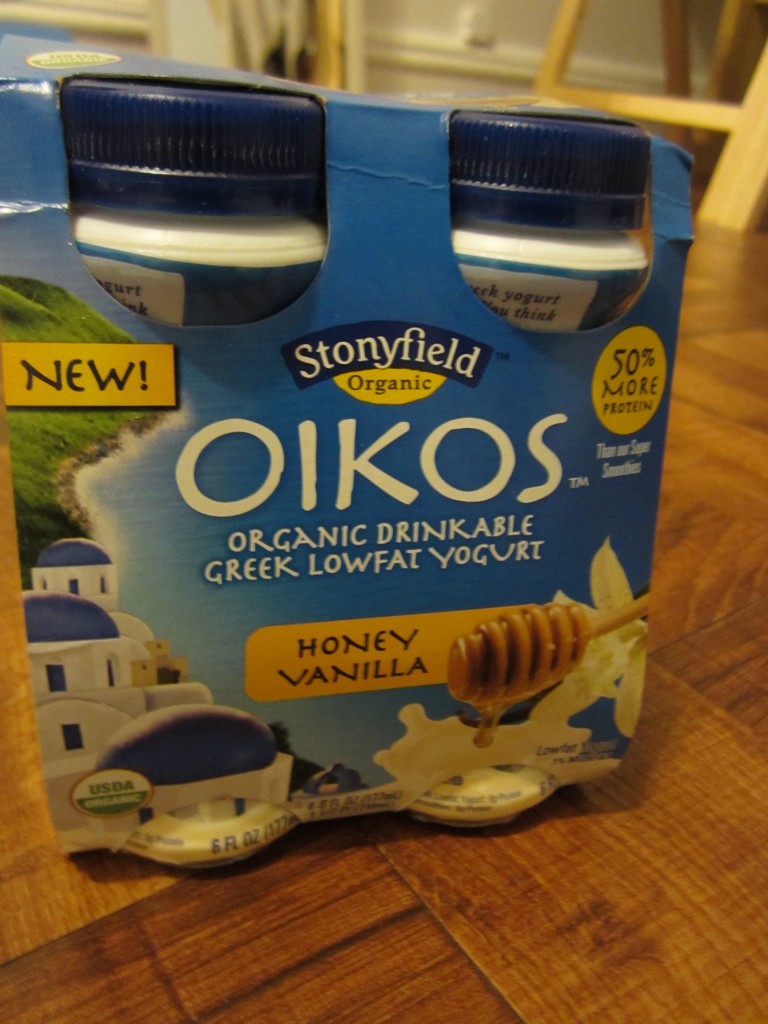 To enter the give-away, leave a comment telling me your favorite thing to eat after a workout and I'll choose a winner on Wednesday, October 26.