I normally don't take extraneous cell phone photos of myself, but I looked pretty ridiculous after my run last night. I banged out an 8 mile tempo run on the treadmill and by the time I finished, my face was nearly as red as my shirt. The girl reading US Weekly on the elliptical next to me asked if I was "going to be alright". Heh. Seriously.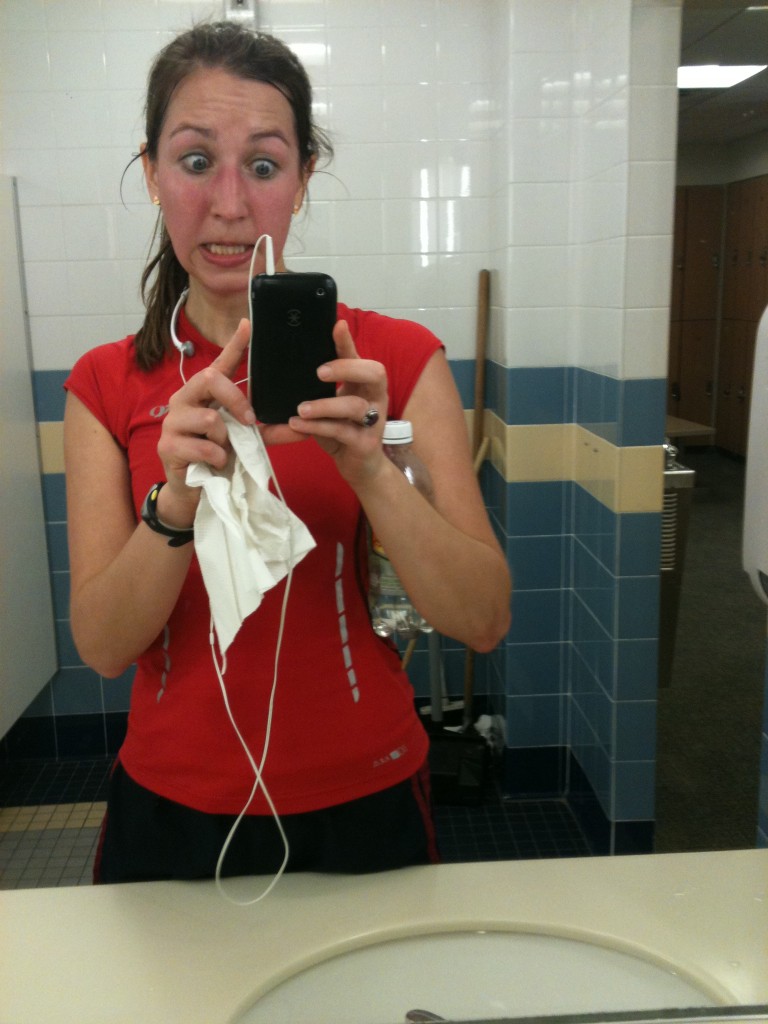 I'm not sure what I was thinking yesterday when I packed clothes for my evening tempo run. Shorts and a lightweight t-shirt are not exactly ideal for a rainy, 40-degree night. I guess I could have sucked it up, but I'm pretty temperature sensitive and rain + cold = numb, painful hands. Thanks Reynaud's phenomenon! While not ideal, I actually (sometimes) really like doing solo workouts on the treadmill. I can start exactly when I want to, run exactly what pace I want to, and rock out to Selena Gomez without getting hit by a car. Obviously, running on a flat treadmill belt isn't quite the same as running on the hills of Central Park, but sometimes you gotta make do.
The workout:
1 mile warm-up (8:30 pace)
2 miles at marathon pace (7:30 pace)
4 miles at half marathon pace (6:59, 6:54, 6:54, 6:40)
2 miles at marathon pace (7:30 pace)
9 miles total
I don't want to be super annoying, but damn…I felt good during this workout. The 4 miles at half-marathon pace were not easy, but I definitely wasn't in the red zone. And by comparison, the final 2 miles at 7:30 pace felt very relaxed. For a girl who usually averages 9:00 pace for everyday runs, that was a pleasant surprise. Every so often, I'll have an experience that I would liken to a runner's high. Last night's run was one of those times. Did I feel like I was actually on drugs or something? No. Did running sub-7:00 pace feel like a walk in the park? Nope. But I did feel intensely in the zone and really happy to be doing exactly what I was doing (running fast!). For every awesome-feeling tempo run, there are probably dozens of slow, "when is this going to be over" every day runs, so I'm trying to appreciate last night's effort as much as possible.
After the Philly Rock 'n Roll half in September, I was super pumped to do train for the November half, but over the last 2 weeks I've lost a bit of steam (a road trip, an ache-y foot) and was kind of getting down on myself for not training hard enough. Sure, I'm running decent mileage, but speed workouts and tempo runs? Eh, I could do better. But you know what? I'm always going to think that. There's always going to be something else, something more that I could be doing. Instead of focusing on the could haves or should haves, I need to stay positive and focused for the next 3 weeks. My training isn't going to be perfect, but if I can fit in a few more long runs, a few more tempos, and keep the mileage at 55-65 mpw, I should be alright.
In other news, my landlord controls the heat in my building and he hasn't turned it on yet, so it's cold. Yay, NYC apartment living! I've been baking and cooking a lot to warm up the kitchen. Last night I baked some Ranger Cookies based mostly on this King Arthur Flour recipe. The only changes I made were 1) cutting the recipe in half because lolz I do not need 60 cookies and 2) adding some dried cranberries to the dough.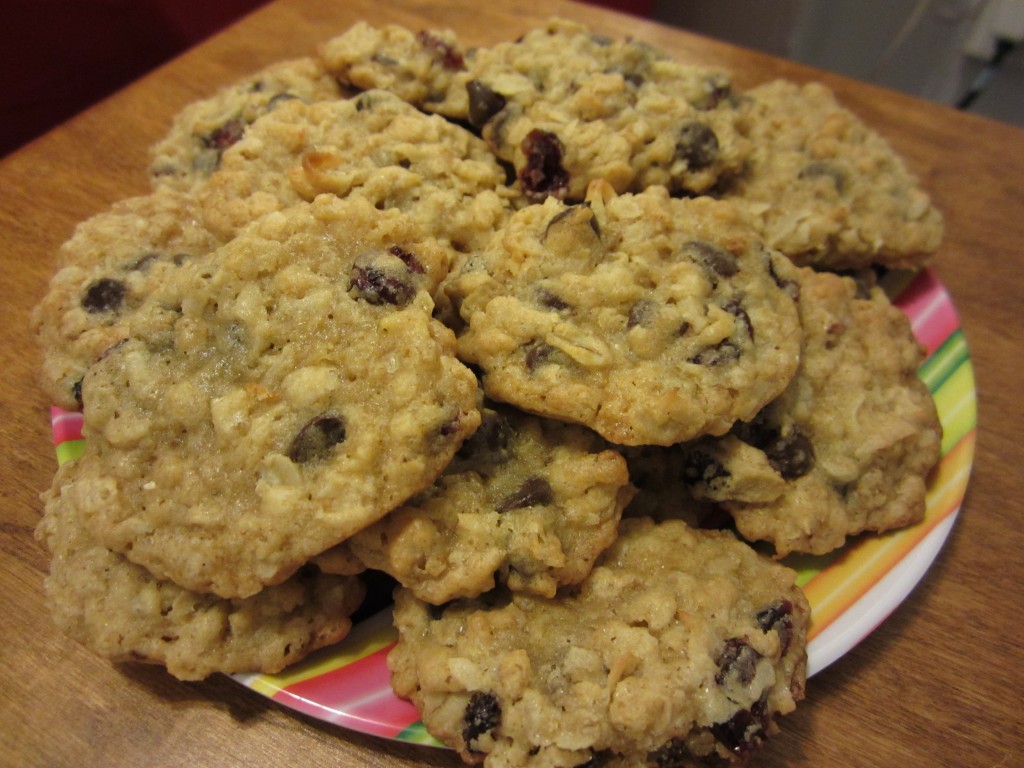 This morning after about 5 hours of sleep (ugh, not enough!) I braved the dark and cold to run before work. I logged about 7 miles with my Prospect Park running buddy and finished just as the sun was coming up. I arrived home by 7am and had over an hour before I needed to leave for work. Even after a shower, I was still chilled, so I decided to make some soup. Inspired by the celery I picked up from my CSA on Tuesday, I made a variation of 101 Cookbook's Chunky Celery soup. I followed her directions, but changed up the ingredient list a bit.
Chunky Celery (and other vegetables) Soup (makes about 3 servings)
Ingredients:
2 small red onions, diced
2 medium watermelon radishes, chopped
4 small carrots, sliced into coins
8 medium celery stalks, chopped (save some of the celery leaves – these make a great addition!)
2 tablespoons extra-virgin olive oil
1 garlic clove, chopped
2 cups of vegetable broth, 2 cups of water
Salt and Pepper, to taste
1 cup of cooked bulgur wheat
Directions:
Basically, I just sauteed all of the veggies (minus the garlic) in a stock pot for about 10 minutes or until softened. I added the garlic, cooked for another minute, and then poured in the broth, water, salt, pepper, and cooked bulgur. I let this simmer for about 10 minutes and then added some of the celery stalk leaves and let them wilt. I plan to serve this with grated grana padano cheese and crusty bread. I bet it would be good with beans, too!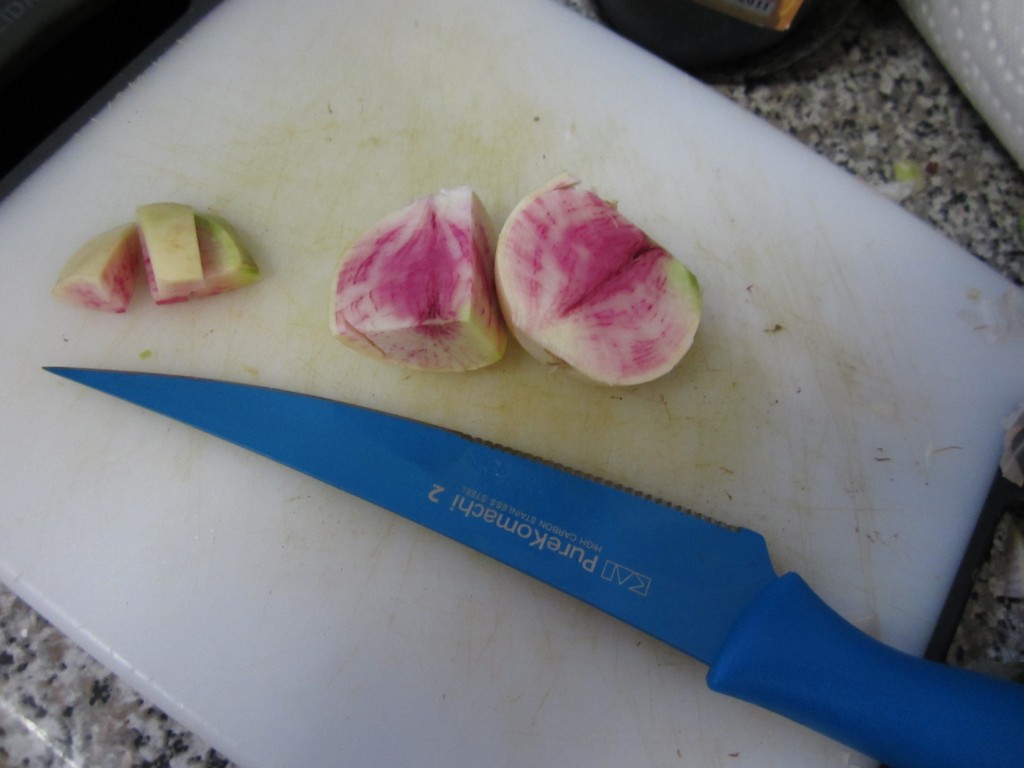 Totally normal for 7:30am, right?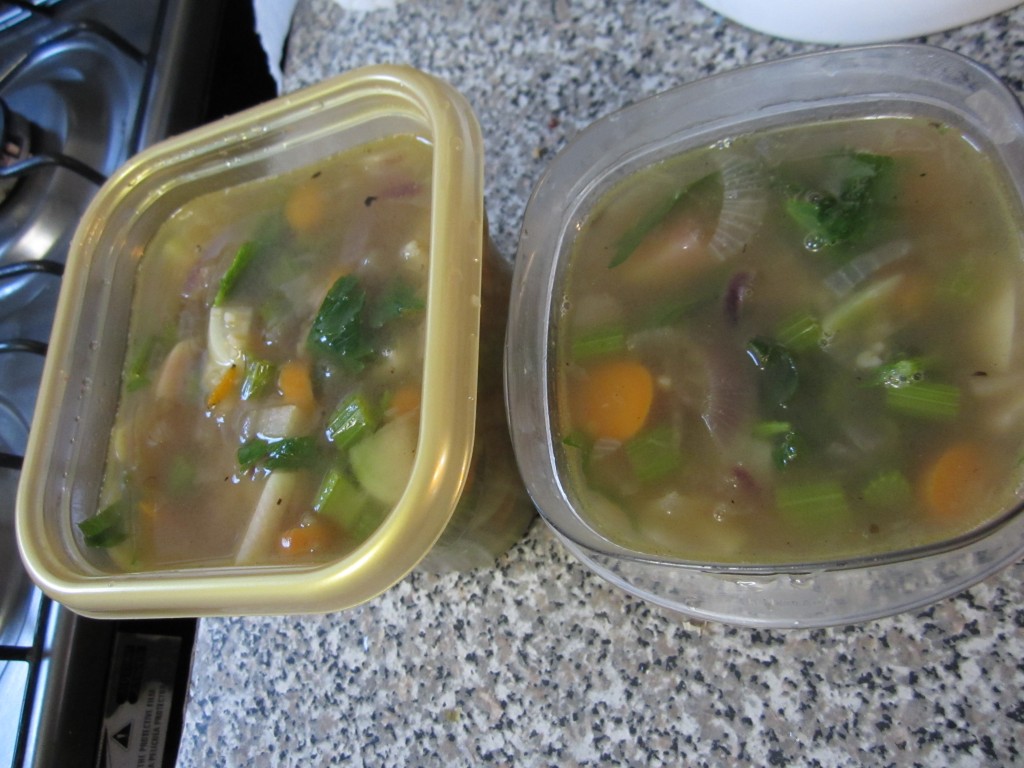 Okay friends, that's all I've got. Here's hoping I survive the cold snap that is set to grace us tomorrow night. How am I supposed to dress up as a scantily-clad cat for Halloween if it's going to SNOW? Gah.
So, tell me: Have you ever experienced a "runner's high"? What was it like?
p.s. Dear Mom – when someone experiences a "runner's high", it does not actually mean they are doing drugs. Just, FYI.