In about 40 hours, I'll be on the starting line for the Rock and Roll Philly Half Marathon. I decided not to run the New York Marathon this year in order to focus on the half marathon distance. This mid-September race was intended to be my big goal race. Training didn't go exactly as planned (I skimped on speed work earlier in the summer and failed at doing core work as usual), but I still put in a decent amount of miles over the last few months. I have a good endurance base, the course terrain is favorable, and the weather should be near perfect (58 degrees at the start). There are always going to be things that I could have done differently, but for now I need to focus on the task at hand.
I'm excited about this race (it's been awhile since I've been able to say that!) and I'm ready to dig deep and leave everything I've got on the course. PR or no PR, that's all a runner can ask of herself.
I didn't taper too much this week in terms of mileage, but I kept the pace on all of these runs very relaxed – no track work or tempo runs.
Monday, Sept 12 – 9.25 miles a.m. +  3.5 miles p.m. with Lindsay and Sofia at the Athleta fun run
Tuesday, Sept 13 – 5.5 miles a.m. + 3.75 miles p.m. (ran from work to my CSA pick-up, faster than the subway!)
Wednesday, Sept 14 – 8 miles a.m. with a fellow Brooklyn newbie Rebecca 🙂
Thursday, Sept 15 – 4 miles a.m.
Friday, Sept 16 – 7 miles a.m.
Saturday, Sept 17 – super easy 2 miles + a few strides
Sunday, Sept 18 – Philly Half 13.1 miles + 1 mile each of warm-up/cool-down
Total:  58 miles
The legs are feeling pretty good this week. I'm a bit tired today, but it's (hopefully) nothing a good night's sleep can't fix.
I was up around 5:45am this morning to get in some gloriously crisp sunrise miles with my new neighbor (hi Marie!). Running before the sun is fully up is so much easier when you have a buddy.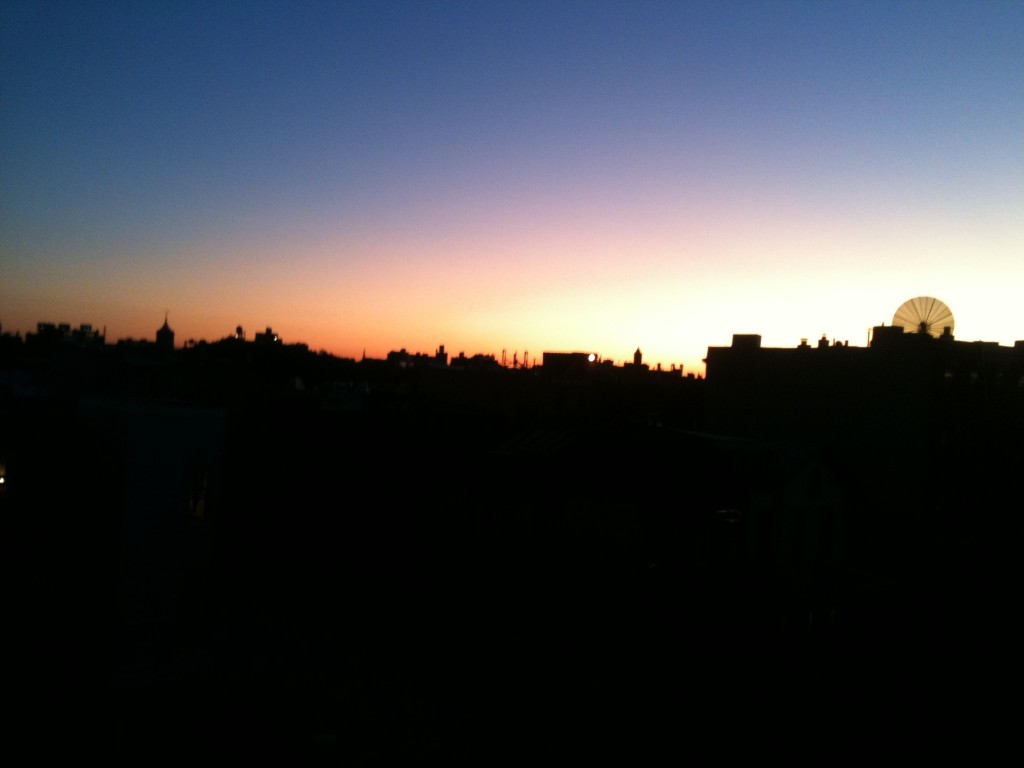 I finished up the run at my favorite coffee shop in my new 'hood and treated myself to a cappuccino. Hot espresso, whole milk, chilly morning, nothing better! I'm a firm believer in rewarding yourself for ridiculously early runs – the thought of a fancy coffee is honestly what gets me out of bed some mornings. At least I brought lunch from home today…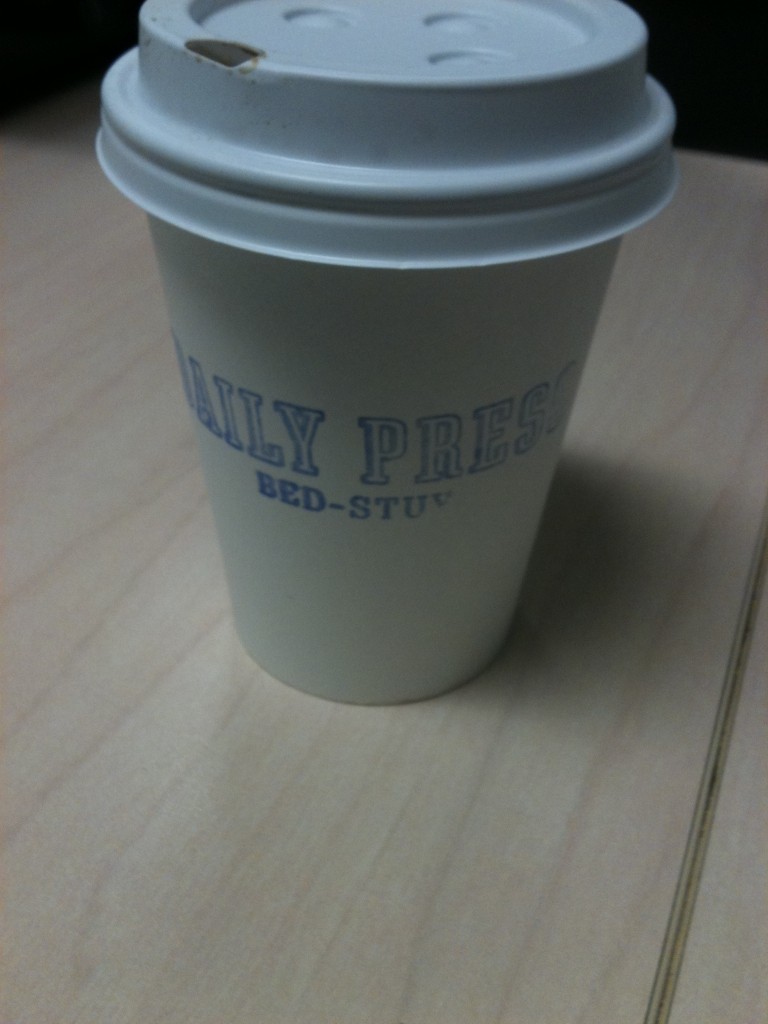 I've also made the decision to go sans-Garmin on Sunday. There are a lot of reasons why the Garmin and I don't get along. It takes foreverrr to load satellites in the city (Philadelphia included), the pace and distance aren't 100% accurate (let's talk about the how the distance goes backwards when I'm in Times Square…), and most of all – it distracts me. When I wear the Garmin I find myself obsessing over every little change in pace. 6:45 pace? Whoa, better slow down! 11:00 pace? HOLY SHIT, I'm never going to PR. I want to be able to focus on racing by feel and for me, the Garmin takes away from that experience. That being said, different things work for different people, so if you love your Garmin, please don't be offended.
As for me, I'll be rocking an old school pace bracelet. Printed this morning and laminated with packing tape. And yes, I'm already wearing it. The original goal for this race was 1:30, but I think that's too ambitious right now and I don't want to set myself up for a crash by going out too hard. I feel like I'm probably in 1:32-1:34 shape, so I decided to make a pace band right in the middle of that range. You can make your own FREE pace band on marathonguide.com – http://www.marathonguide.com/fitnesscalcs/PaceBandCreator.cfm
They don't pay me to say that. I just think it's cool! Remember to cover it with tape, otherwise it will get all sweaty and probably fall off.
I'm trying my best to get enough sleep, rest my legs, and eat well this week….sometimes I am successful. Mostly I've been obsessively checking the hourly forecast on weather.com, eating lots of dark chocolate, and buying things I don't need (but really want!) online.
Speaking of dark chocolate…As a FoodBuzz "tastemaker" (i.e. my ad company sends me free foodie samples!) I received a package of Ghiradelli dark chocolate. My favorite so far? The sea salt soiree. See that bag? It arrived on Wednesday. It's now empty. I love the combo of sweet and salty! Salted caramel mochas from Starbucks, pretzel M&M's, kettle corn…lately I just can't get enough. And I checked the ingredient list on this dark chocolate – it's pretty clean: sugar, unsweetened chocolate, cocoa butter, milk fat, soy lecithin, vanilla, almonds, and sea salt. No weird artificial flavors or colors or preservatives, yay.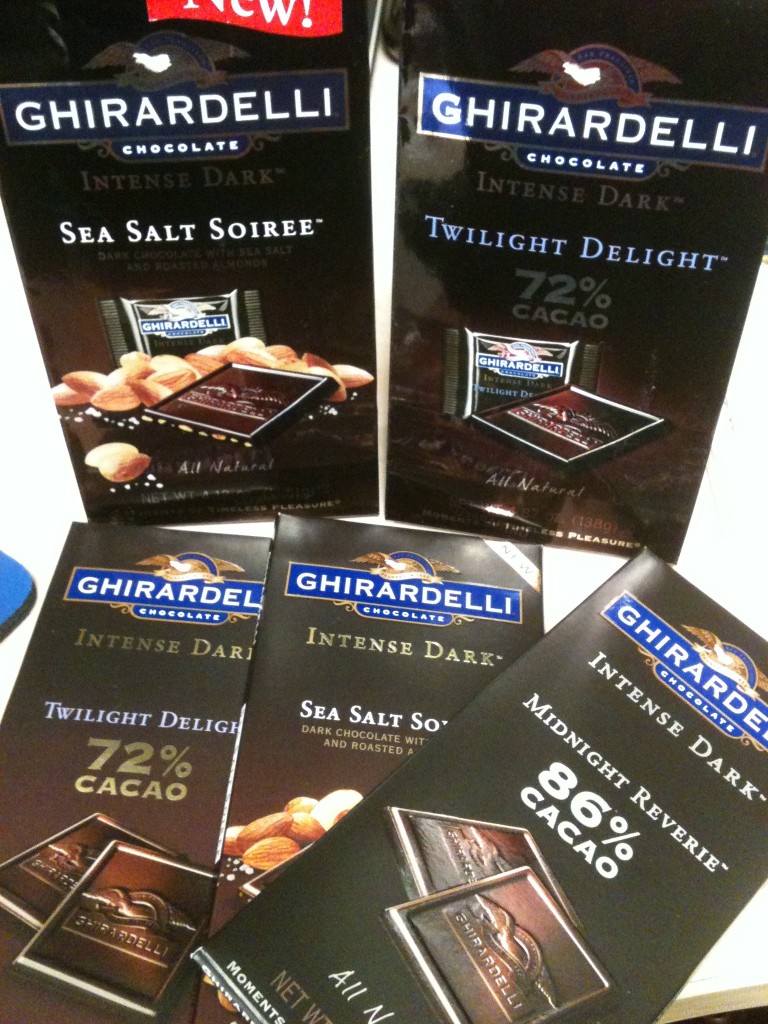 Oh yes, I also bought some shoes. Because clearly brown snakeskin pumps will ensure that I run supa fast on Sunday.
Alright blog-friends, you'll hear from me post-race, for better or worse… If you're in Philly for the race (running or spectating) let me know either through comments or twitter. I would love to say hi!