Yesterday's Plan A was to leave work "early" i.e. 6:15pm and run my coach's assigned tempo run by myself, finishing in time for a reasonable dinner hour with the man-friend.
At 6:45pm, I was just leaving the office, so I moved on the Plan B – drop my stuff off at the gym and meet the CPTC crew in Central Park for the tempo. Workouts are always easier with company. Unfortunately, when I got to the gym I was planning on using…I realized it was closed for construction. Harumph! At this point it was already close to 7pm and there was no way I was going to be able to get to another gym location, change, and run the 1 mile+ to the meeting spot.
So I moved on to Plan C – I headed to a gym location near Times Square and decided to do the workout solo on the treadmill. Treadmill running sucks, but running and weaving through the crowds of Times Square is even worse. Trust me.
I recently switched gyms to save some $$ and my new spot is a lot less cushy than Equinox. I wasted about 10 minutes hopping on and off different treadmill trying to find one that had a working TV. No dice. At this point I was pretty frustrated. I had missed the workout with my team, I was behind schedule, and wasn't looking forward to running for an hour + on the 'mill without TV or music.  I thought about giving up. I sometimes have an all or nothing attitude – if a run or a workout or a race isn't going to go well, why even bother? Wouldn't just be easier to bag the workout and drink a beer? Yes, yes it would.
But then I thought – there will always be reasons for NOT sticking to a training plan. It's raining, I had to work late, I'm tired, I forgot my socks, etc. But if something is important to you, you've got to find a reason that trumps everything else. A reason that will silence all of the other voices that tell you to sleep in, that you don't have time for a run.
I somehow managed to pump myself up, so instead of bailing on the tempo, I channeled my frustration and turned it into a pretty good workout.
1 mile warm-up
3 miles @ marathon pace (7:41, 7:35, 7:30)
3 miles @ half-marathon pace (7:05, 6:58, 6:55)
2 mile cool-down
9 miles total (and about 3 gallons of sweat)
Post-workout, I took a quick shower and headed into Brooklyn to meet the man-friend for a late dinner. Unfortunately, there were some subway delays. At 9:30pm, I was still on the C train and starving. Like, almost ready to bite my arm off hungry. Luckily, a co-worker had given me a bushel of homegrown tomatoes. I ate one (unwashed) and it held me over until I arrived here –
Habana Outpost, I'm pretty much obsessed.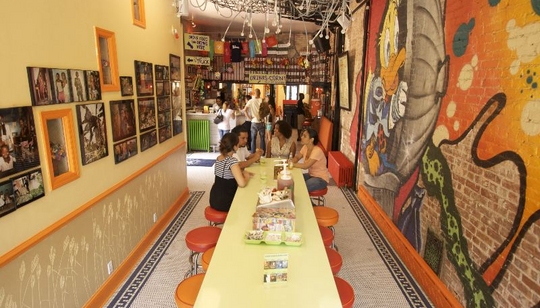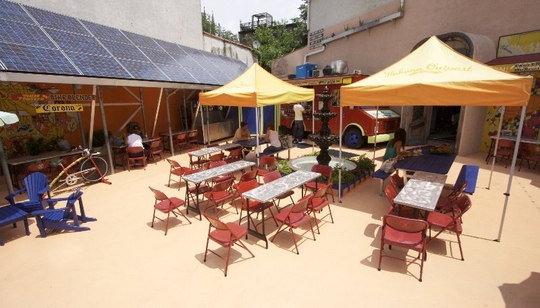 Ok, so I was here at 10pm last night and obviously these photos are of the daytime (photo source), but you get the idea. Habana Outpost is a super cute environmentally sustainable restaurant/bar in my 'hood. Check the solar panels on the roof! They serve a good mix of Cuban and Mexican food and the beer is local and cheap! $2.75 for 12oz of Sixpoint or Kelso Brewery beer. I definitely recommend this place – even if you don't live in Brooklyn!
A very, very hungry Megan devoured Mexican corn on the cob (mmm covered in lime and cotija cheese) and a two tacos (catfish and roasted vegetables). Washed down with a Kelso nut brown lager, which after running 9 miles, made me a little tipsy. Ah well, the NY Times says beer is a good recovery drink, so it's all cool. Right?….Right?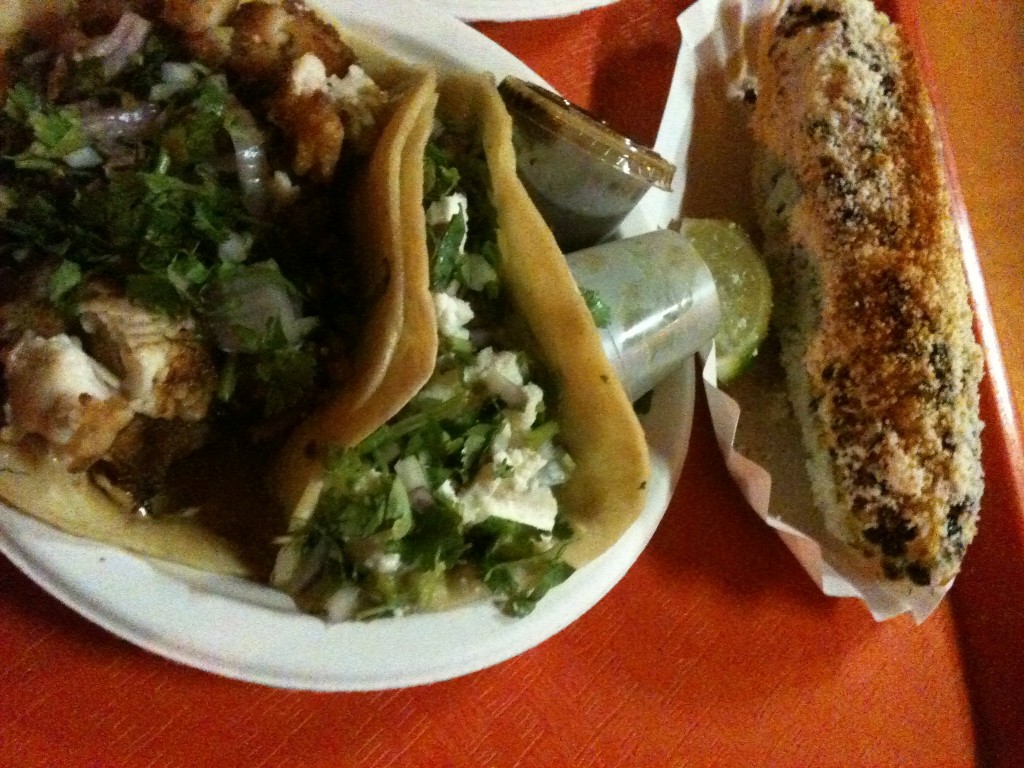 This blog post is about running obviously, but I think the idea of pushing past the excuses and remembering your reasons for doing whatever you do is transferable. Whether it being eating healthier, studying for the LSATs, training for an Ironman – whatever – there will always be obstacles. And it probably won't be easy. But most worthwhile things aren't easy. The sacrifice and hard work is what makes it that much more meaningful. I sometimes complain about painful track workouts. Early morning runs. Expensive race entry fees. Skipped happy hours. Sore knees. Becoming a better runner takes sacrifice for sure, but the enjoyment I get out of a PR or the sense of accomplishment from a sweaty tempo cancels out all those times when I feel like giving in.
As I began writing this blog post, I wasn't sure what my intention was. To provide inspiration? Well, that seems a little pretentious. To complain about the events leading up to my workout? Probably. Mostly, I wanted to convey the idea that even if you really want something, even if you enjoy what you're doing, it's still going to be difficult sometimes. So tell the excuses to hush and go out there and do it anyway.