On Monday, I ran the New Haven 20k. Just getting there felt like a marathon in itself. I'm sure signing up for a race that started at 8:30am in another state seemed like a good idea at one point in time, but when I woke up on Monday morning, it did not.
3:30am – I wake up to pee. I decide to check email on my iphone. Damn it. It's 4am before I know it.
4:10am – alarm goes off, I gather up my stuff, and head out the door. Not much "getting ready" needs to be done because I sleep in my running clothes. Mmm, spandex.
4:20am – I strap on my drawstring back-pack and run 1.25 miles to the subway stop that will get me to Grand Central Station in the least amount of time.
4:45am – I sip my Dunkin' Donuts pumpkin iced coffee (verdict: delicious!) and ride the subway to Grand Central.
5:15am – arrive at the station, find my train, settle in. Get a call from my bank. Apparently buying a train ticket at 5:15am is cause for "suspicious account activity". Nope, I'm not suspicious, just crazy.
5:45am – eat my usual pre race/long run breakfast. Bagel thin, dark chocolate dreams peanut butter, banana. I like Thomas' bagel thins as pre-run fuel because they're lighter on the stomach.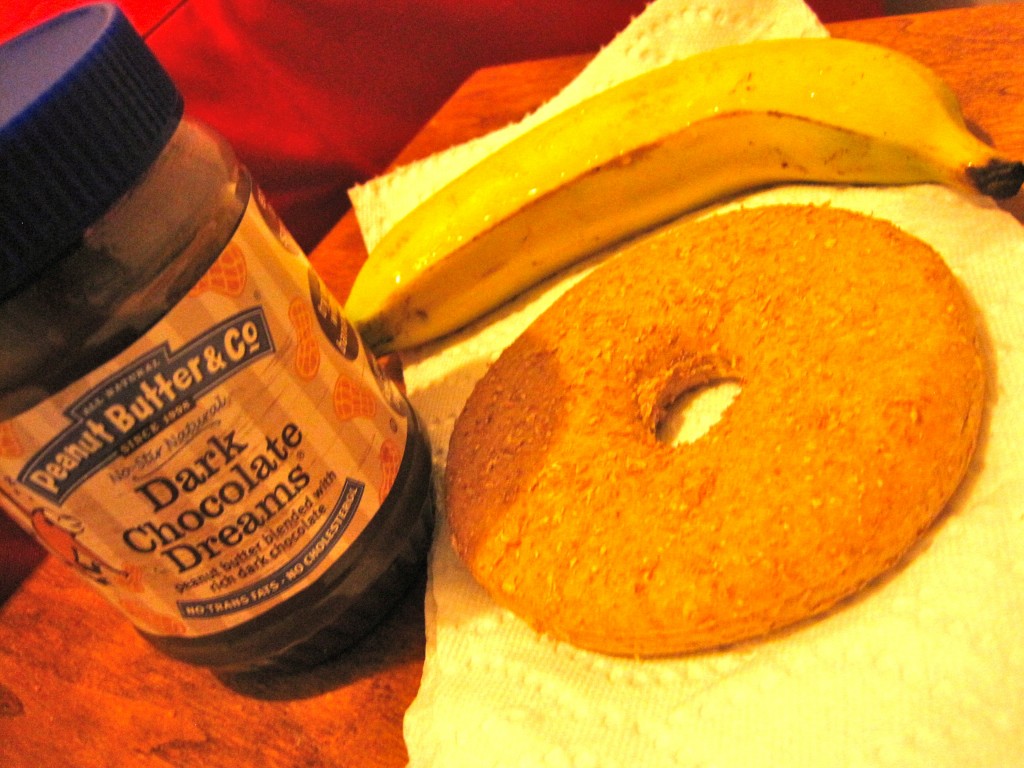 7:45am – train arrives in New Haven. I jog a mile to the start, collect my bib number, check my bag, meet up with Meggie, use the porta-potty.
8:40am – Race begins. Andddd I've already been awake for 5 hours.
The plan was to run the first 10k easy (like a regular run) and then complete the second 10k at half marathon goal pace. There were many problems with this plan. 1) HM goal pace (7:00) is hard for me. I always try to trick myself into thinking I can run 7:00 pace easy-peasy. Nope, I can't. 7:00 is fast and it will feel that way. Especially when I've already run 8+ miles that day.  2) It's realllly hard to put your game face/race face on after you've been chillin' for the first 6 miles.
Megan: "Come on legs, let's drop the pace! Time to go fast!"
Legs: "Lolz, no thanks. 8:00 pace feels pretty nice."
Uh yeah. So while I DID manage to negative split the 20k (12.4 mi), it wasn't nearly as close to race pace as I had hoped. Also, I did a horrible job of running the tangents. Mr. Garmin was right on target with the course mile markers till the halfway point and then I apparently ran .12 miles extra. Hmph.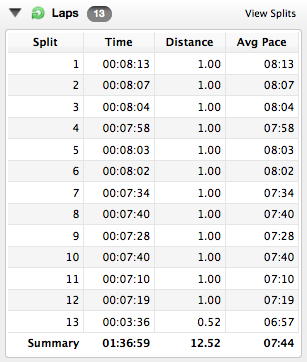 But not all is lost. Here are my thoughts on what might have affected the workout/race: First, I've increased my mileage lately (55-60 mpw) and ran a tough workout last Thursday, so I'm going to assume that my legs were tired. Hopefully they'll feel better after a week of tapering. Secondly, I felt like I was running whilst wrapped in Saran wrap. It was THAT humid in New Haven. Yum. And finally, while the latter half wasn't as fast as I would have liked, it was still a decent tempo effort. The main take-away from this race: do not expect race pace to feel easy. Even if you're only doing it for a few miles.
I wallowed a little bit on Sunday night/Monday morning, but then pulled myself together. I had a dinner party to prepare for! About a month ago (um, yeah, before I even moved…) I planned a housewarming-dinner get together. Wishbone salad dressings had sent me some free samples and I thought it would be a good excuse to whip up some creative salads. Generally I'm not a bottled salad dressing fan, but they have their place (i.e. they're handy to stash in the work fridge). My favorite variety is the Greek Vinaigrette (that's why it's half empty!), but all are decent. I also like that they contain Omega-3's. Fat in your salad dressing is good, people. It helps absorb nutrients from the veg!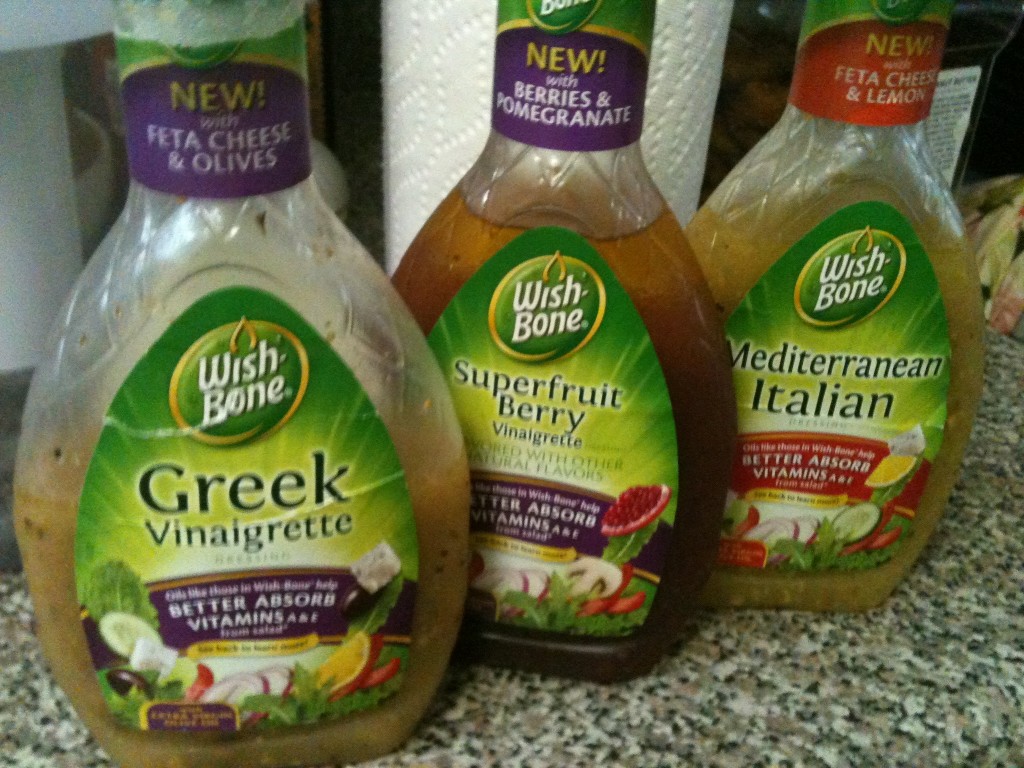 So anyway. I had six lovely lady friends schlep through the heavy rain, to my new Brooklyn apartment after they had all worked long days. That is friendship! Ali wrote a fabulous recap – there may or may not be photos of tipsy Megan in her post. The wine was free flowing…I could not resist.
On to the salads!
#1 Fruit and Nut salad – mesclun greens, sliced figs, chopped plum, goat cheese and pecans tossed in Wishbone Superfruit Berry dressing.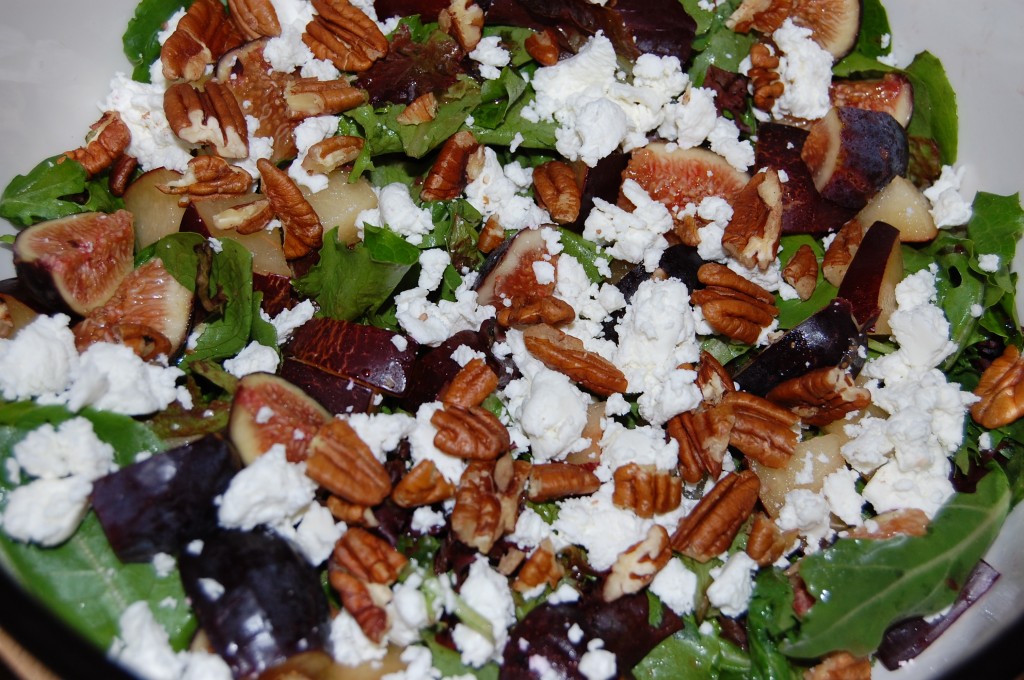 #2 Mediterranean Vegetable Salad – Shrimp sauteed in Wishbone Mediterranean Italian dressing and then piled on top of mesclun greens, roasted zucchini, tomatoes, and onions, and topped with goat cheese.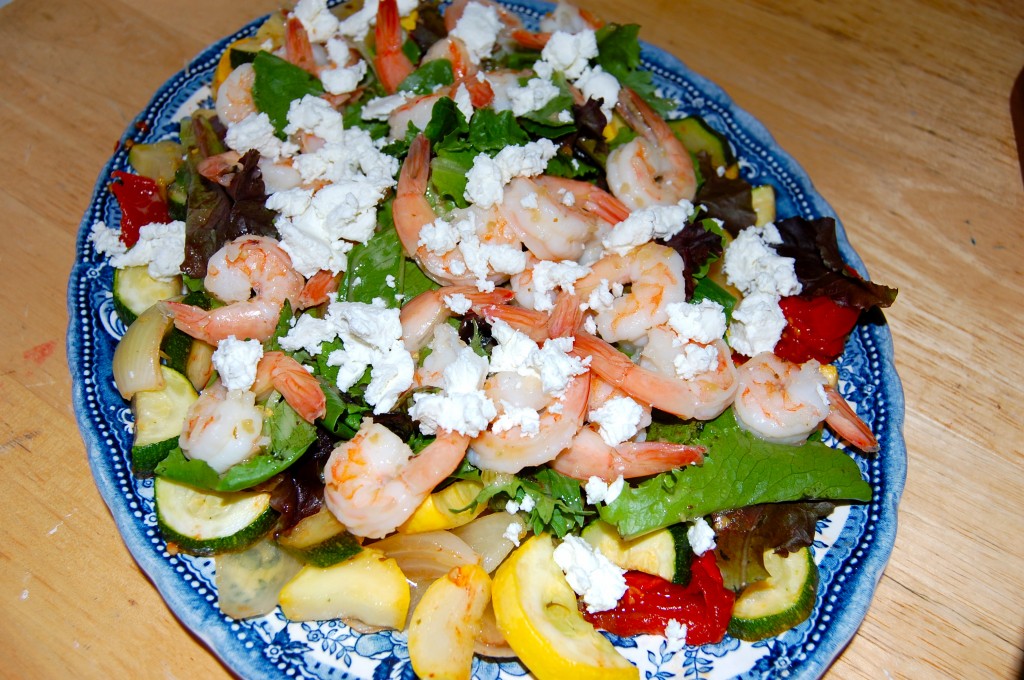 #3 Greek Salad – Arugula, tomatoes, black olives, chickpeas, and feta tossed in Wishbone Greek Vinaigrette.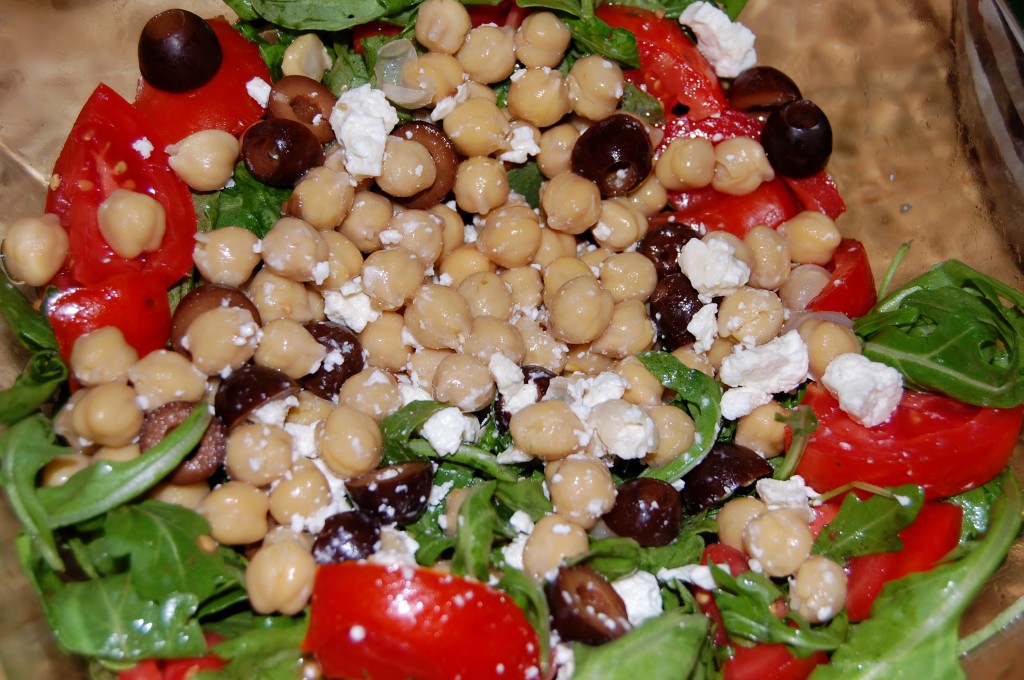 There was also bread. And cookies. And peanut butter filled pretzels. And chocolate. And wine. Because although I love me some salad, it definitely needs company.
Thank you ladies for warming up my apartment with nearly 5 hours of chatting, laughter, and wine. It made me forget all about my sweaty, grouchy, early morning 20k in New Haven and focus on life's more important things.
Andddd I'm about to get another big shipment of CSA veggies, so how about you tell me your favorite salad combo?