I'm usually not big on birthdays – I tend to get embarrassed by the extra attention. However, this year was pretty amazing and I feel very grateful for all of the texts, phone calls, facebook messages, presents, and (surprise!) parties. Thanks friends!
I started off the big 27 with a 2-mile shake out run and an iced coffee from my favorite spot – The Daily Press. I like to do shake out runs on the morning of evening workouts. It gets the blood moving in my legs and puts me in a good state of mind for hard running later on.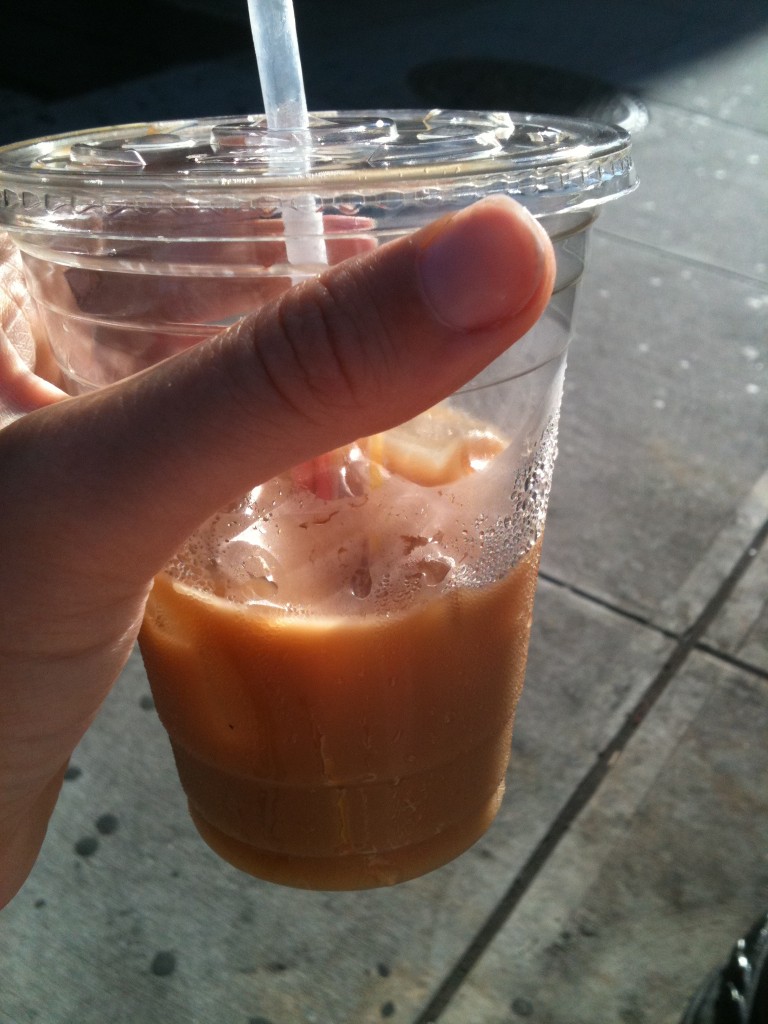 My co-worker/running buddy baked me carrot cake cupcakes with cream cheese frosting. Perfect size for snacking and I had enough to share! Thanks Elise : )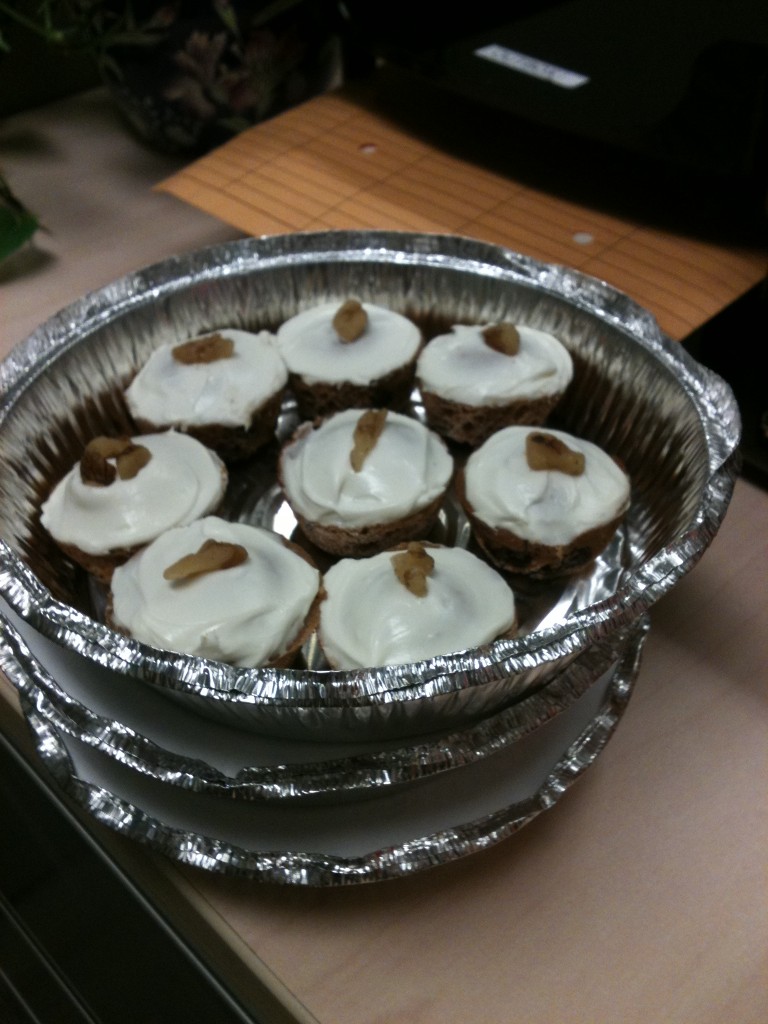 I also received a beautiful floral arrangement small tropical forest from the man-friend. This definitely brightened up my workday!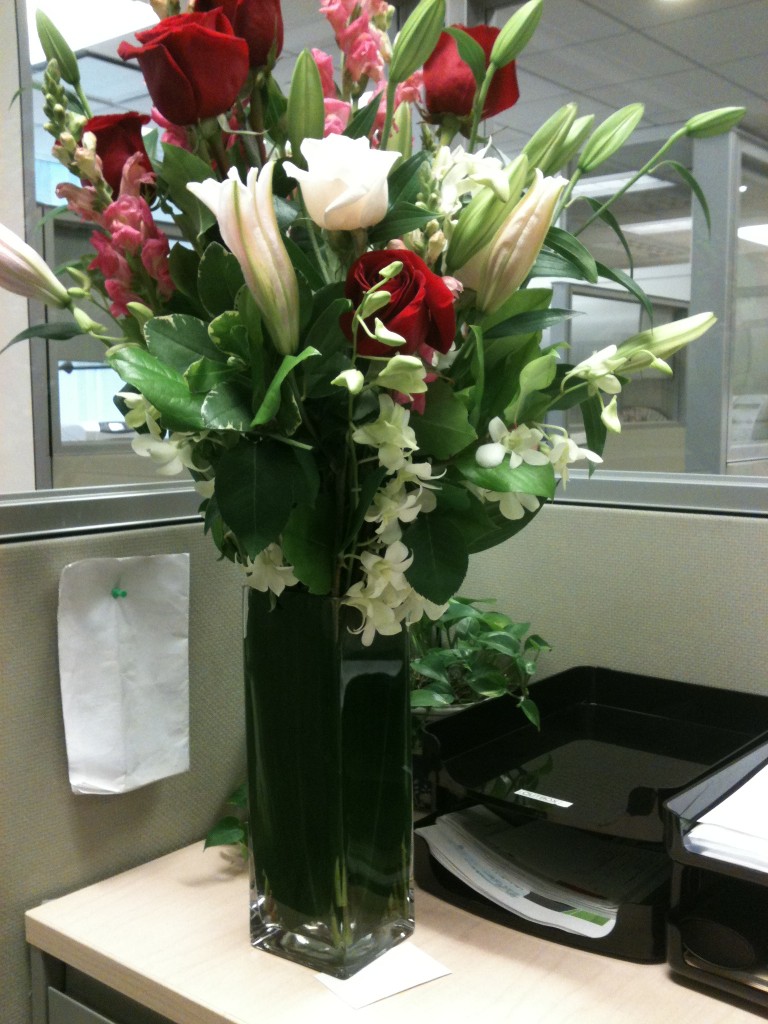 I hit up Chopt for lunch and used my frequent customer card to score a free salad – romaine lettuce, jalapenos, tomatoes, corn, roasted shrimp, and Smoky Bacon Russian dressing (so good!). I always get the full fat dressings from Chopt – if I'm going to eat a huge bowl of vegetables, I want them to taste delicious! Plus, studies show the nutrients in veggies are absorbed better when combined with fat.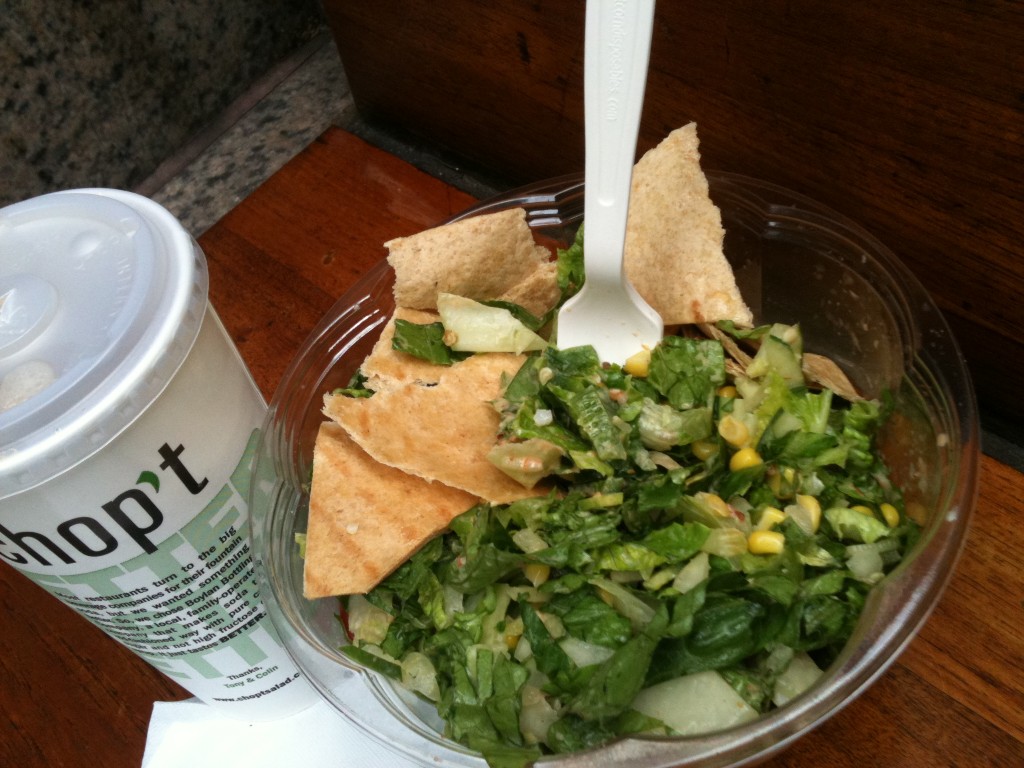 A lot of people asked me how I planned to celebrate my birthday evening and even though it sounds kind of weird, going to the CPTC tempo workout was exactly what I wanted to do. (Apologies to the man-friend who wanted to take me out for a drink that evening….). As I finished up my cool-down with a teammate, we discussed what our 8-year old selves would think about spending our birthday's running instead of having a party….20 years ago or even 10 years ago, I don't think I could have fathomed how important running, training, and racing would become to my life. Meeting up with my running buddies and finishing a tough workout was exactly how I wanted to start out the year, a present to myself.
The workout itself went pretty well although I'm always conflicted about using a Garmin for workouts in the city. The coach's mile markers are always a bit off from my Garmin's, so which should I follow? I ended up basing my times on the Garmin stats even though they ended up being a bit slower. For example, the coach's official 2 mile mark only showed up as 1.98 mi on my watch. Not a huge difference, but since I waited until 2.00 exactly to hit stop, it added a few seconds to my time. But I figure – as long as I'm putting in a good effort, a few seconds here or there won't matter much.
The deets:
1.25 mi warm-up
3 × 2 mile repeats (set #1 7:06/6:54) (set #2 7:04/6:47) (set #3 7:05/7:06)
.82 recovery after 1st repeat and .32 recovery after the 2nd repeat
2.61 cool-down
11 miles total (+2 miles shake out in the a.m.)
Legs felt no bueno on the warm-up (I've increased my mileage lately and my legs were feelin' like lead and/or tree trunks), but I loosened up okay for the actual workout. The terrain for the repeats varied and that shows up in the times – the sub-7:00 miles were downhill and the last, slower mile was uphill (Cat Hill). It would have been nice to run 6:5X pace for all of these miles, but I can't be too upset with a 7:00 average pace. If I can run that for 13.1 miles in 2 weeks, it would still be sub-1:32 and a big PR. I can't believe the Philly Half is in TWO WEEKS. Yikes.
I ate a peanut butter and banana sandwich on the subway ride home and then treated myself to wine and some leftover birthday cake. I was exhausted, my legs felt trashed. But I was content.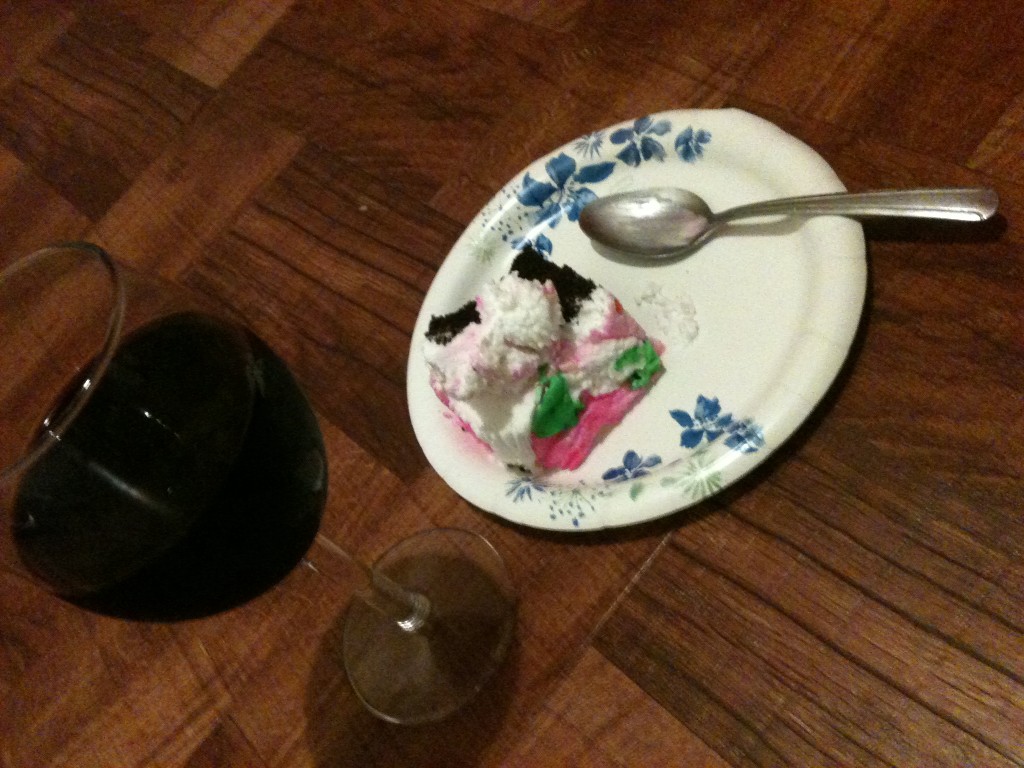 Thursday was low-key, but I definitely made up for it on Friday. The man-friend had been planning a special birthday dinner for weeks. After hearing about my friend Leslie's Eleven Madison Park experience, he made reservations for the two of us. This restaurant dinner was like nothing I've ever experienced. For 3 hours we received superb attention and delicious food – if you're looking to celebrate a special occasion in NYC – this place is it! The menu is a bit unusual, you're given a piece of paper with 16 ingredients listed. From those 16 ingredients, you choose 4 (appetizer, main, side, dessert) and then the chef creates special dishes just for you. You can also say what you like (i.e. spicy) and don't like (i.e. eggplant). Everything was super seasonal and delicious. Quite possibly the best (and fanciest!) dinner of my life. Thank you man-friend!!
I just can't believe restaurants like this exist. After the post-dessert cookies (yes, really), they sent us home with a homemade chocolate bar and a jar of their granola. We were pretty full at this point and I was tipsy due to the generous pours that came with the wine pairing. But the night was beautiful, so I suggested we walk for awhile. Before I knew it, we were starting to walk across the Manhattan Bridge. In case you're unfamiliar….it's a LONG bridge. And once you're on…there's no getting off till the other side. Long story short, we ended up walking from Madison Sq Park all the way to my apartment (~6 miles). Thank god I wasn't wearing heels. I arrived at home quite the tired lady. But it was a night I won't soon forget.
Since I'm running (racing?) the New Haven 20k on Monday, I don't have a super long run planned for this weekend. Instead I met some friends for 8-ish miles in Prospect Park this morning and then headed to the South Street Seaport for MOAR birthday festivities. The man-friend and I hopped aboard a sailboat for a 2-hour cruise around the harbor. And the best part? The cruise included tastings of six Sixpoint Brewery beers. Drinking beer at noon? Yes, please.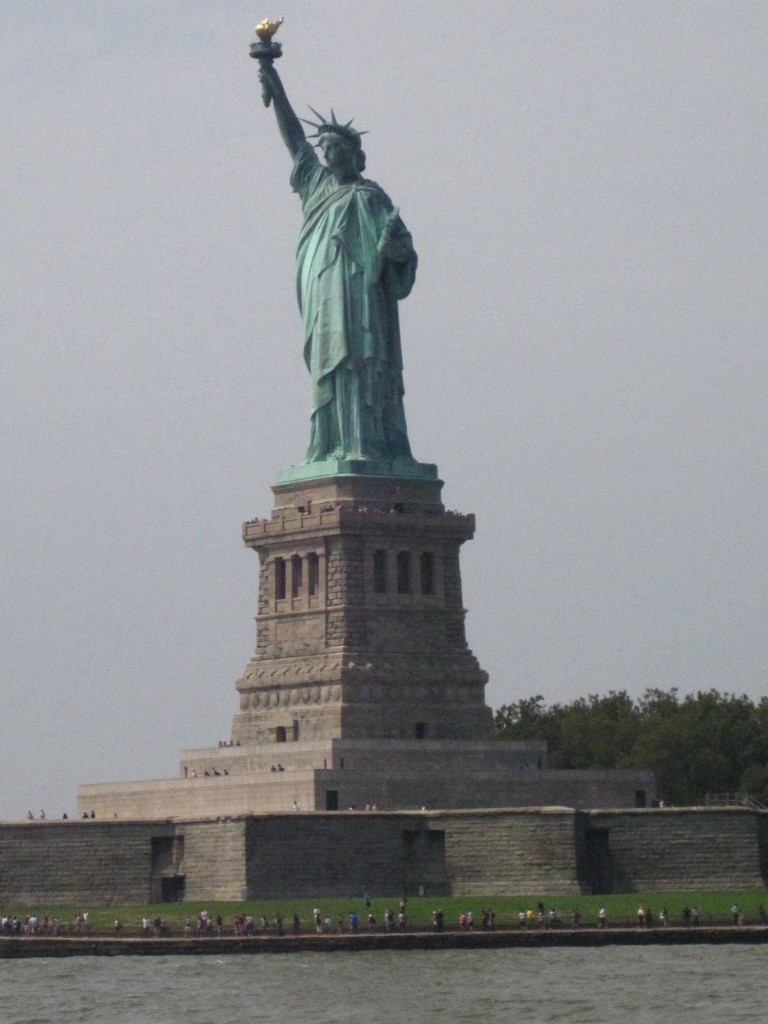 After we drank our way through 6 (generous) beer samples, the man-friend suggested we get some lunch at nearby Keg 229. He seemed pretty adamant about going to that specific spot, so I went along with it.
We walked in and I was greeted by a chorus of surprises from some of my favorite peeps. Big thanks to Sarah, Sofia, BT, Shayne, Daniel, Kelly, Sara, Agnes, Kristan, Will, and MOST ESPECIALLY man-friend who made this surprise lunch happen : )
There were also cupcakes. Including a banana cupcake with butter cream frosting from Billy's Bakery. THE BEST.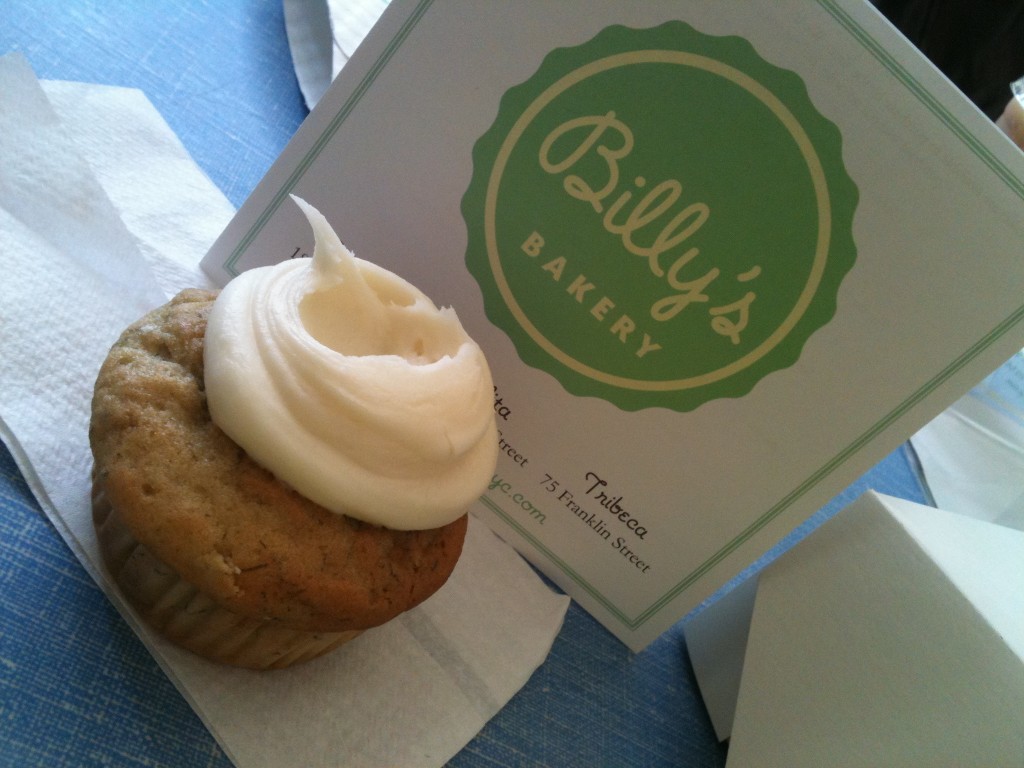 If you've made it through this unreasonably long recap – you deserve your own cupcake. I have some pretty big shoes to fill when man-friend turns 28 in November…now tell me – what was your best birthday experience? Would you ever do a workout or race on your birthday? Or are you all about the wine and cake?