At 8am Saturday morning, I was supposed to be getting pumped up for the annual 5-mile Club Champs race in Central Park. However, with t-minus 1 hour to go, I was still sitting in my bed, dreading the fact that I had to toe the starting line. I should have been warming up, visualizing a positive and strong race experience, doing strides. Instead this is what was going through my mind…
"I wonder how much a zip car would cost? I could rent it for the day…escape on a solo mini-roadtrip! Maybe I could do a long run in Harriman State Park….or go blueberry picking at a Pick Your Own Farm in New Jersey?"
Yeahhh, not exactly the mindset I was hoping for on race morning….
I just was not excited about this race, I don't like the 5-mile distance (actually, I don't like anything less than a 10k….), and I didn't feel physically or mentally prepared. BUT, as a member of the Central Park Track Team, I knew that this race was about more than getting a PR – it was about spending time with my teammates, wearing the uniform with pride, and prepping for my future focus races.
The thing with running is that, sometimes you have to push yourself to do things you really don't want to do at that moment, because you know it will serve a greater purpose down the road. I knew deep down that I wasn't as well-trained as I was last year and a PR wasn't going to happen. But I also knew that I needed to do a long run, I needed to get in some quality fast miles, and I needed to show support for my team. So, I resisted zipcar research and instead, put on my uniform and warmed-up about 2 miles to the starting line. Hey, at least I had sweet new uniform shorts to wear!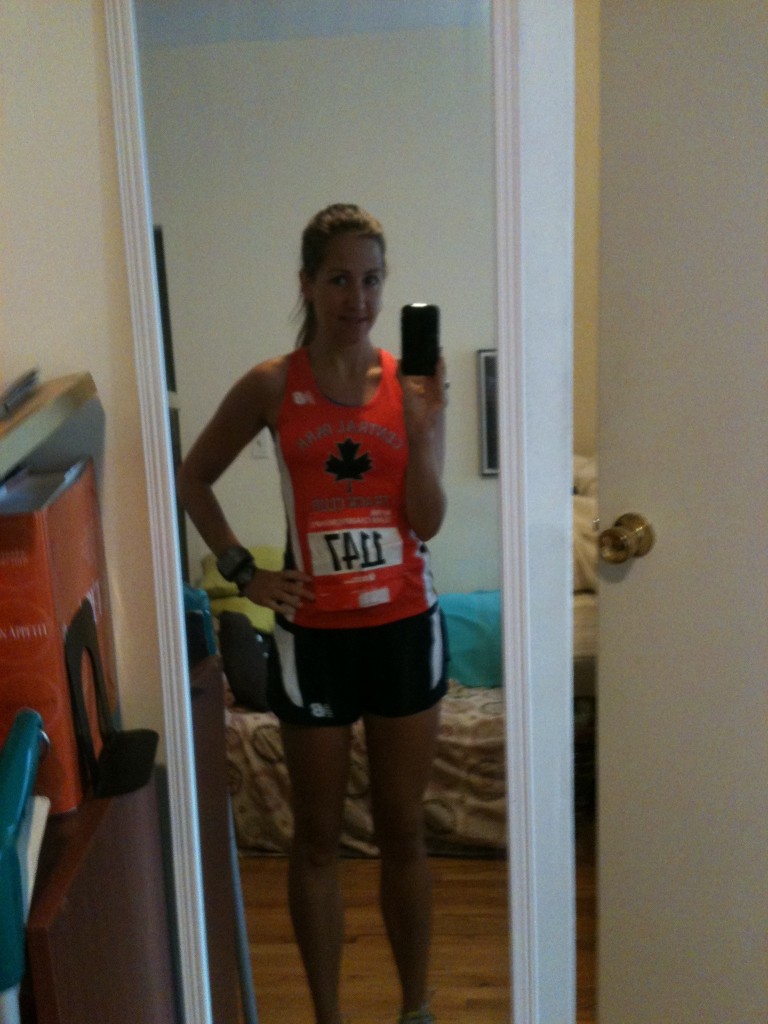 However, when all was said and done, the race was like so many others this year, "meh".
I finished the 5 mile course in 34:42 (~6:57 pace). Nothing particularly bad happened. I didn't drop out, I didn't collapse, I'm not injured or ill. I know this is not a slow time for many people. But yet, I finished the race feeling disappointed and frustrated with myself. "How the hell do I expect to run 13.1 miles at this pace (faster, actually) when I can't even manage 5 miles?" "Why are you so slow?? You should be stronger, faster, tougher!" I am my own worst enemy. When something doesn't go as planned, I am harder on myself than any coach could ever be.
The one redeeming factor is that I raced this race. As much as I would have liked to say I was "tempo-ing" this run, that I wasn't actually "racing", that would be untrue. I battled against thoughts that told me not to start, I refused to let girls from other teams pass me simply because I was tired. Throughout the entire 34 minute race, I used everything I had to remain focused, to reel in the competitors in front of me, to not give-up.
But all races can't be PRs and so the only thing I can hope to do in a situation like this, is learn. Today I learned that even if you don't run "fast", you can still race honorably. Not giving up when you feel like it most is perhaps better than a PR. It is the crappy races, the ones that leave you frustrated and dejected, that will help you to appreciate the good days that much more. One of my favorite commercials is from Saucony – specifically at the 00:16 second mark when the voiceover asks: "What is strong? Is it your best time? Or your worst day?"
I am a sucker for inspirational commercials like this and yeah they're a little cheesy, but I think it does ring true. As runners we're going to have peaks and valleys. We're going to have days when we can't wait to run and race, but we're also going to have days when it's a struggle to get out the door. Recognizing that you can still have successes and learn things, even on your worst days, helps put it into perspective.
There were some positives about today and now that I've got all my whining out of the way, I'm going to focus on the good things.
**If nothing else, I have 5 speedy miles under my belt. 12 miles total including cool-down. That is 12 more miles than I would have done if I went blueberry picking…
**This was not a focus race for me – much better to feel unmotivated and blah for a race you don't care about than for one you do care about (I'm talking about you Philly half!).
**I was able to spend the majority of the day with teammates and friends. Many of them had similar blah races today (hello August and your humidity – not ideal conditions!) and so I know I'm not alone.
**Just 2 years ago, I was too injured to even run 5 miles without pain, let alone race Club Champs. I am thankful to be healthy.
**Finally, the best news of the day – I'm going to see AR next weekend at a mutual friend's wedding. There's going to be an open bar. How can I be too upset when I have something like THAT to look forward to??
Okay, I hope you're all having great weekends. Tell me something awesome/fun/exciting that you did – I need some positivity!