Way back in December, our fearless team captain started organizing our entry into the 2011 River-2-Sea relay. I knew the event (a day long relay across the state of NJ) would be fun, but I didn't know it would end up being the highlight of my summer. Sure, I run to push myself, set PRs, and stay fit, but I also do it to have fun. Maybe running 89 miles across the state of NJ in the blazing summer sun doesn't sound like "fun" in the traditional sense, but the combination of good company and crazy antics (think: 20-something ladies hanging out car windows, blasting Rihanna, cheering for teammates as they ran by) definitely gave me a weekend-long runner's high.
The forecast for Saturday was 100% summer: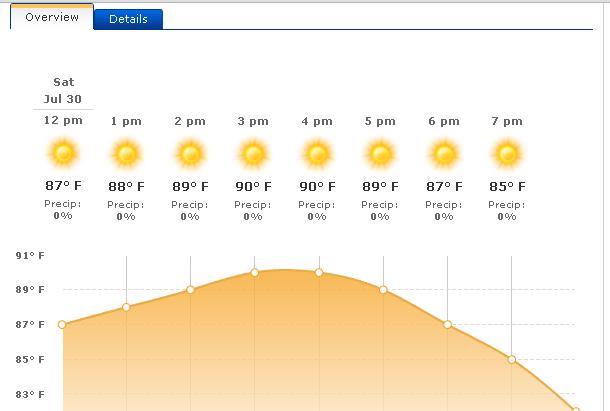 We spent Friday evening at hotel in Flemington, NJ (near the Pennsylvania border). After discussing the following days logistics, we decorated the cars, tried on the SWEET team t-shirts that Sarah made, and attempted to go to bed early. (Big ups to Shelby and AR for not only driving 6-10 hours each way, but also letting us use their cars!)
What's a vodka heist you ask? Check out this TMZ story for the deets….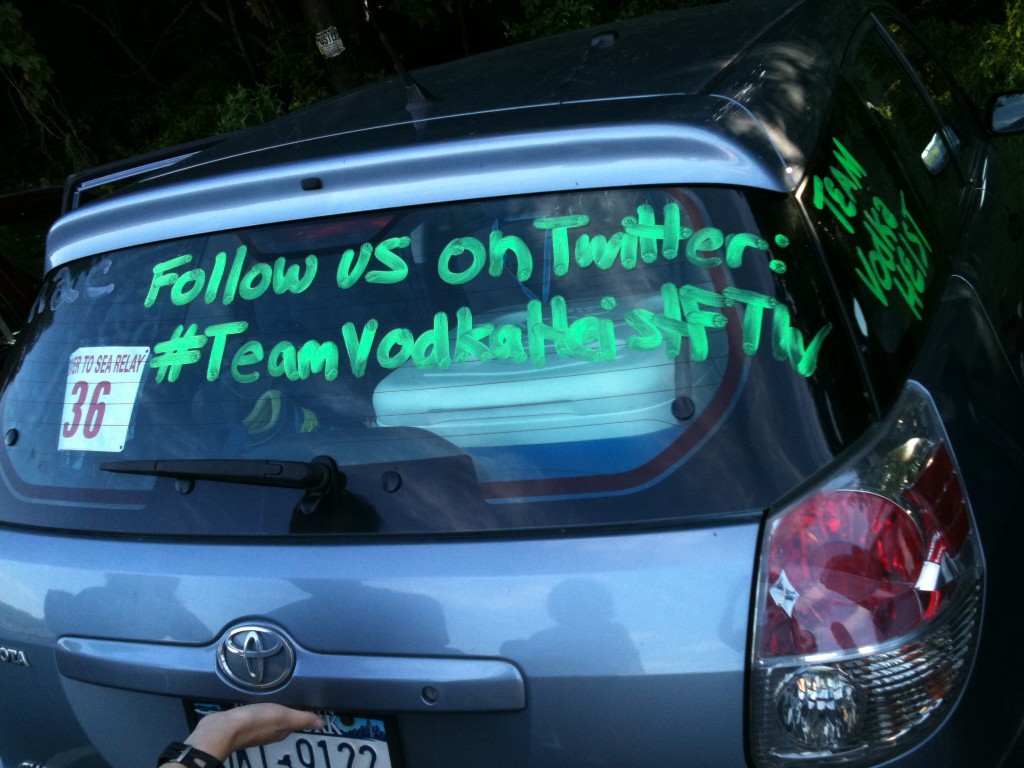 There were 140 teams overall and your start time was determined by the team's average 5k time. So, if your team was slower, you started earlier, and if your team was faster, you had a later start time. I roll with some pretty quick ladies, so we started at 8:30am, about 2.5 hours after the first teams began running. The point of this system is that any team could theoretically "win" – as the faster teams start catching up to the slower teams, the competition heats up.
Throughout the day, many bananas with peanut butter were consumed.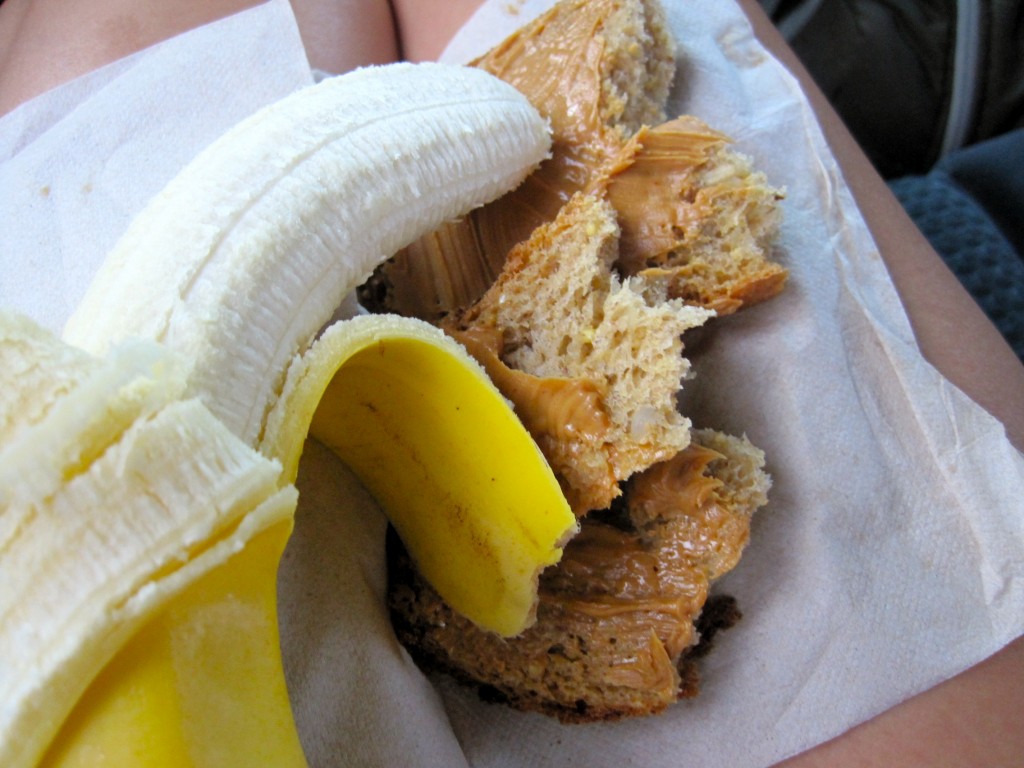 No joke – I think I ate this combo at least 3 times.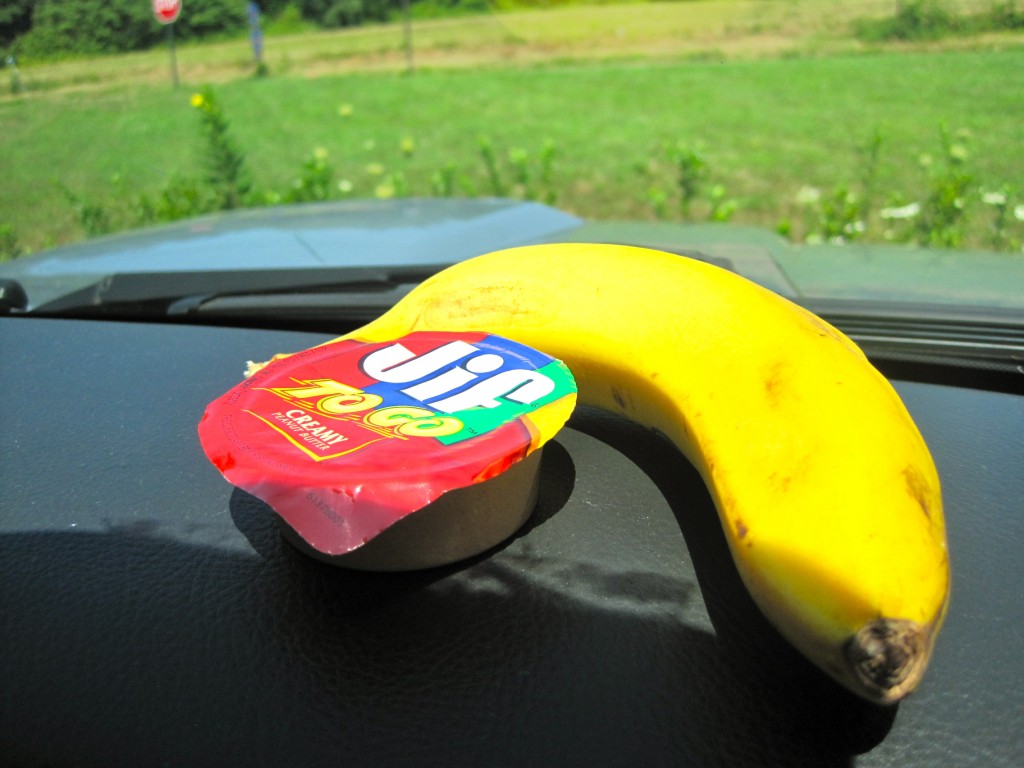 We also had a sweet team Gatorade cooler – so clutch for the hot and sunny weather!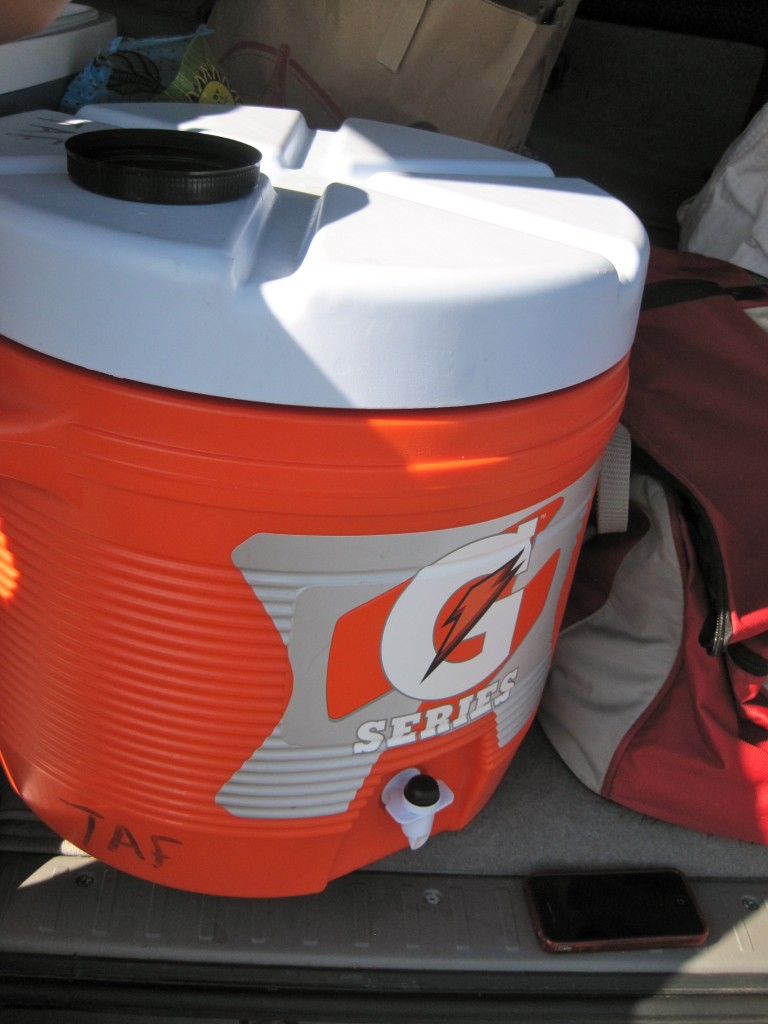 There was a lot of sweat between the 7 of us. We tried to get creative with airing out our clothes (J is a genius), but the poor car upholstery may never recover.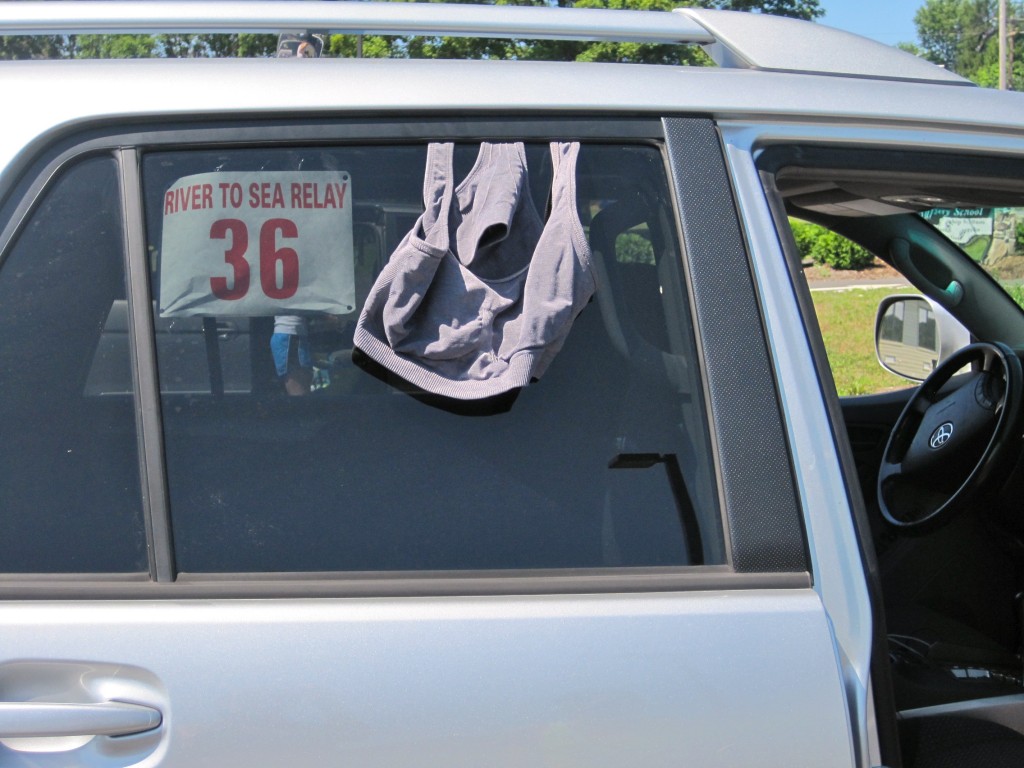 I ended up running 14 miles total, divided up into 2 legs – a flat and fast 4.9 miler in the morning and a 9.1 miler around 2:30pm (OMG). For my first leg, I toed the line with another running blogger (unbeknownst to me at the time) and later received some serious hatin' on her blog re: my sports bra choice. Listen up ladies – they are my boobs, they are small, and I will cover them as I see fit. Just because I'm trying to have a little fun with my attire, doesn't mean I'm not taking running seriously.
And for inquiring minds, the one-shouldered bra held up fabulously over 14 miles. No bounce or support problems whatsoever (huzzah for small chests!).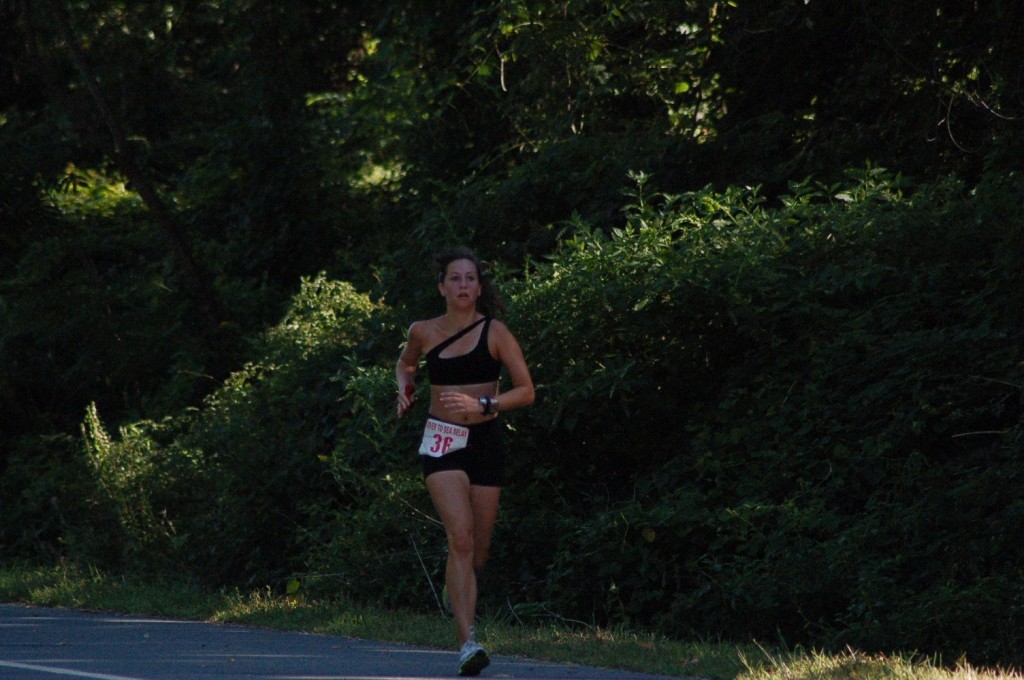 Leg 1: 4.9 miles in 35:20 (~7:12 pace) – it takes me awhile to get my legs movin' in the morning, but I generally felt good for this leg. The course was flat and shaded and I kept a pretty steady pace. The only downside – knowing I was going to be running 9 hot miles just a few hours later.
Leg 2: 9.1 miles in 1:12:30 (~7:58 pace) – holy f*ck this was a tough run. Hot, un-shaded, completely on asphalt, at 2:30pm. I must have poured at least a half-gallon of water on myself and drank quite a few cups of Gatorade and water. I hardly ever take walk breaks while running, but I needed them for this. I took about 5 x 1 minute walk breaks on uphills and am not sure I would have made it with out them. Sub-8:00 pace with walk breaks isn't too bad, but if it were cooler I know I could have run faster. But the extreme weather is all part of the relay fun!
The BAMF award of the day goes to Kristan and Sarah. Legs 10 and 11 were relay legs – two teammates completed 11.3 miles total,  switching off as often as they liked. These ladies took turns running 800-1200m repeats for 11.3 miles. And they ran these intervals at 5:30/6:00 pace.
Picture this: sprinting 800 meters, slapping your teammates hand, jumping in a car, driving down the road, and doing it all over again. FOR 11 MILES. Beasts.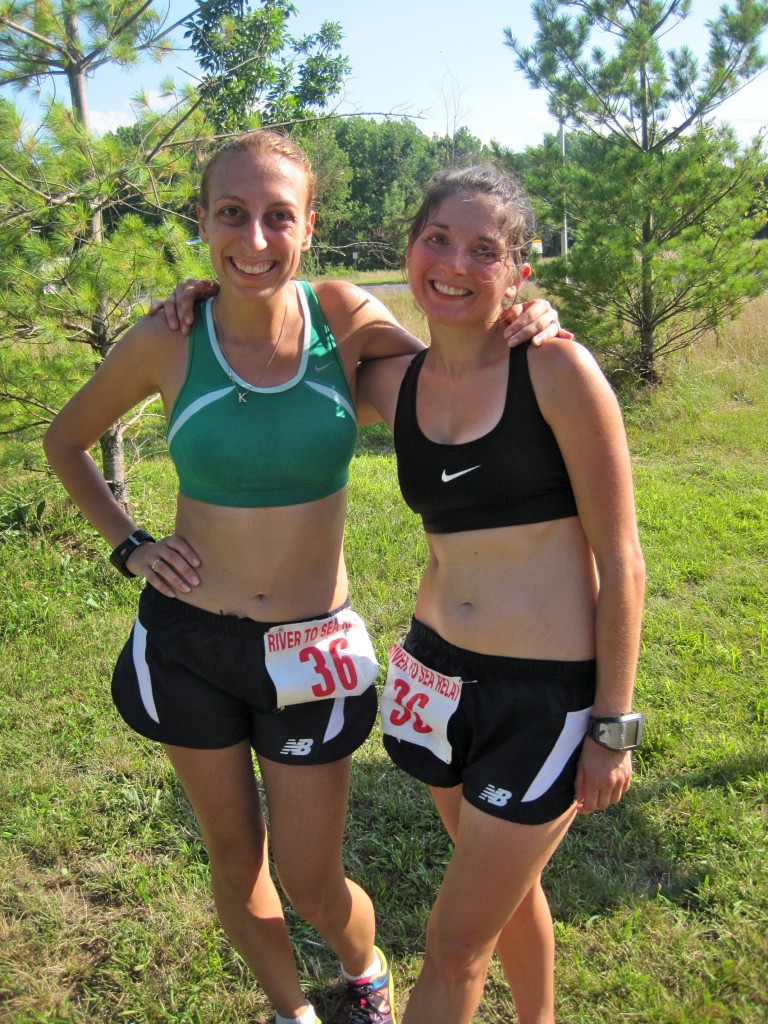 10 hours and 37 minutes after we started, our anchor leg sprinted into the finish. Our reward? Pizza on the beach! We didn't win as the fastest female team (there must have been some speedy ladies out on that course), but we averaged 7:09 pace for 89 miles. And that included about 5-7 minutes of mandatory stopping at traffic lights and rail road crossings.
Team Vodka Heist reaches the beach!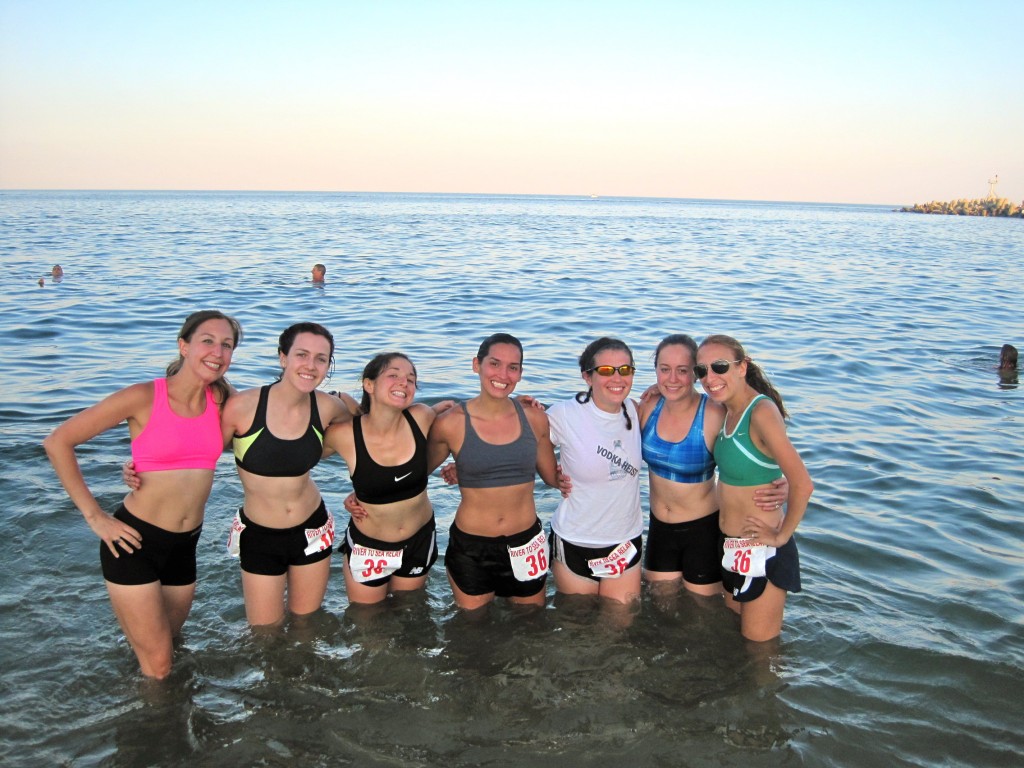 Mandatory jumping in the water photo!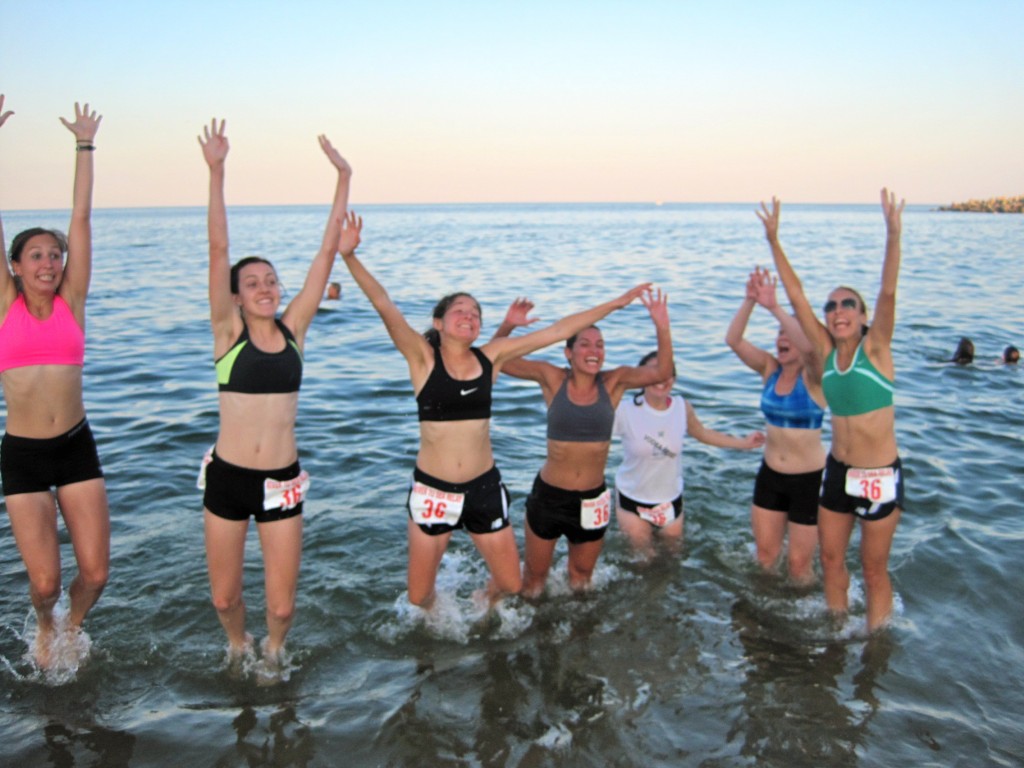 We spent the remainder of the weekend celebrating at our friend Will's beach house (Will = awesome spectator/host!!). Our Saturday night celebration  included recovery sox and whipped lightning.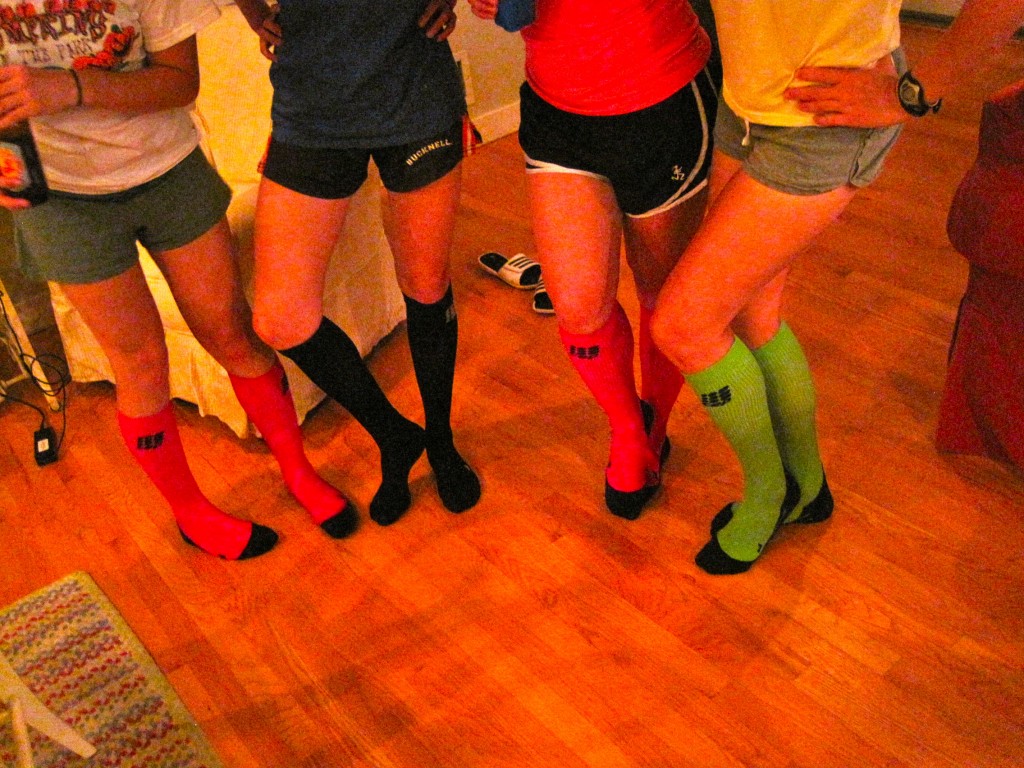 Best, sweatiest weekend ever.
Have you ever judged a runner based on what they were wearing? I'll admit – I wouldn't want to be passed by someone in yoga pants or converse sneakers, but in general I think wearing something that's unique can make you feel like a BAMF (for example Kara Goucher paints skulls and cross bones on her running gear – love that!)