TGIF. It's finally Friday!
I really enjoyed reading all of your awesome comments re: motivation. Responses like that are what keep me blogging. The winner of the FitActivewear one-shouldered sports bra is Sesa – congrats! Email me your mailing info at runnerskitchen[at]gmail[dot]com and I'll work on getting it shipped to you.
Big thanks to Zeudy Mars for designing the bra and sponsoring the give-away!
I've tried to keep most evenings this week low-key since the next few months will be jam-packed with moving (!), races, travel, and weddings. I got a bunch of vegetables from my CSA on Tuesday and made it my mission to eat them up.
A recipe that I had my eye on called for canned, diced tomatoes, but with a huge  heirloom tomato staring me in the face, I couldn't bring myself to buy canned tomatoes. Instead, I quartered the tomato and put it in a saucepan (dry), covered it up and let the tomato cook on low for about 15 minutes. Once the tomato was soft enough, I ran my knife through it a few times. Voila! Homemade cooked and diced tomatoes. This is perfect as a base for a pasta sauce or soup.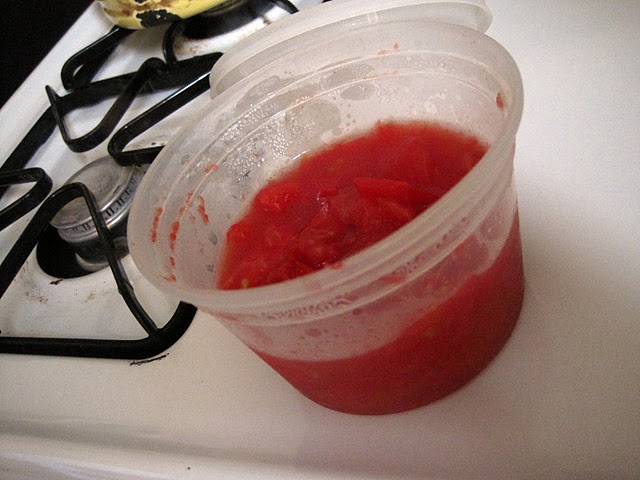 Sometimes I make fancy dishes like vegan paella or homemade oreos, but most of the time I only have the time/energy for something simple. Something that I've been loving this week is oven-roasted corn. All you've gotta do is pre-heat the oven to 350 F and put your un-husked corn directly on the rack. Let them roast for about 30 minutes, remove, and eat with a squeeze of lemon juice and a sprinkle of salt and cayenne.  And the husk makes a great handle. So good!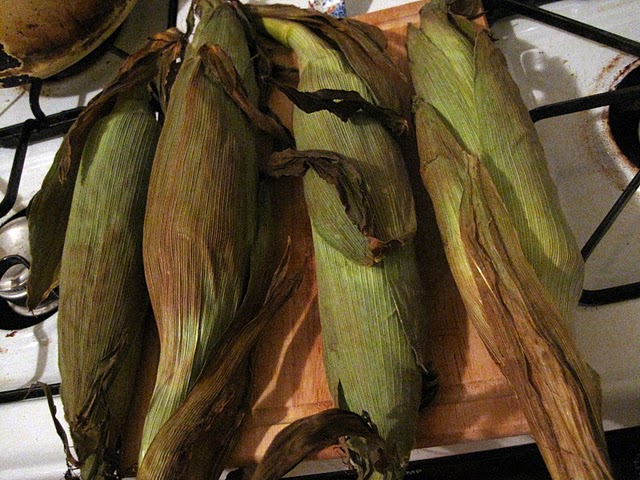 Corn with cayenne, salt, and lemon juice.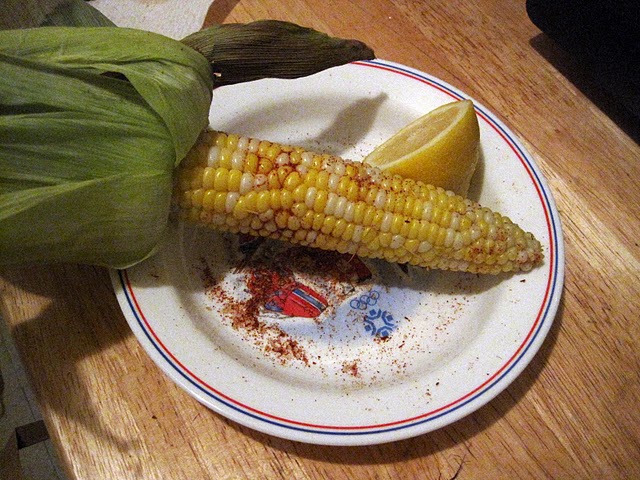 I have one more CSA veggie pick up before I move, but besides that I'm going to *try* and avoid any further grocery shopping.  I need to use up what's in my pantry and freezer! On Wednesday, I made my final visit to the grocery store and picked up some of my favs: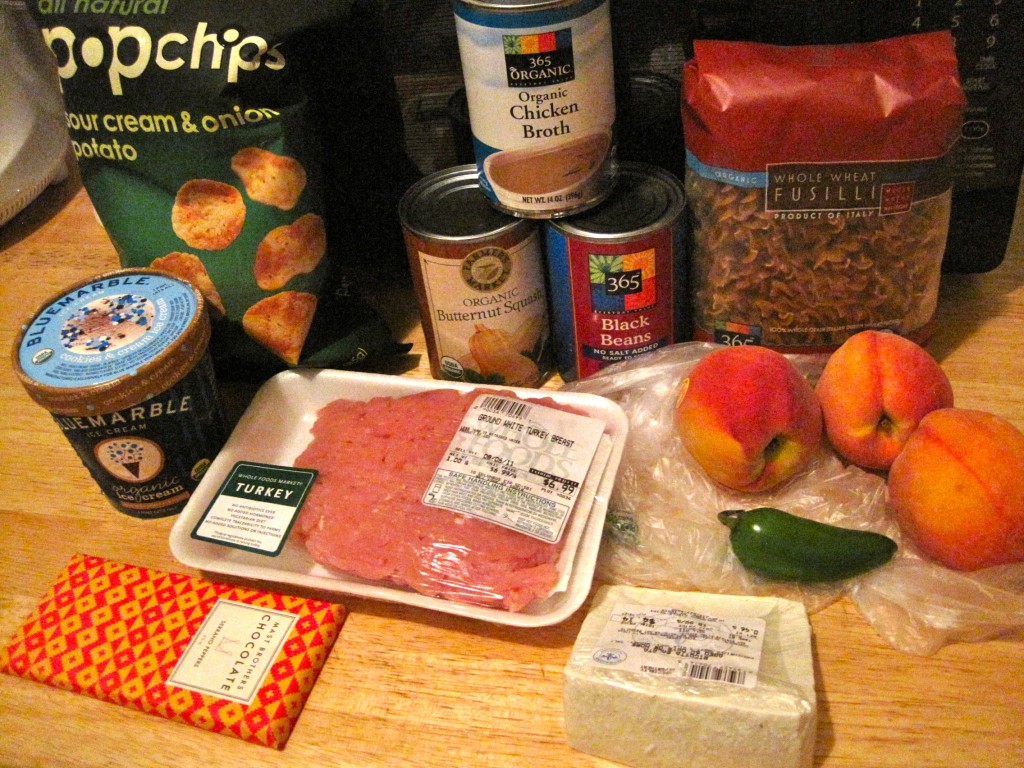 That red and yellow wrapped chocolate bar is from Mast Brothers chocolate, based in Brooklyn. I am in love with their Serrano Dark Chocolate bar (and I usually prefer milk to dark chocolate!). Another treat I picked up was a pint of Blue Marble cookies 'n cream ice cream. Organic, Brooklyn-based. Yum!
On Wednesday night, I cooked a simple dish made of pasta, zucchini, onion, corn, and ricotta salata. It's based on a Robin Miller recipe and was perfect for a summer night. It came together fast and was good both hot and cold (for lunch the next day).
I'm usually not a big white wine drinker, but in the summer a chilled glass of white can be a nice way to end the evening. This particular wine is a 2009 Keuka Village white from Ravines Winery (from the finger lakes in Upstate NY). I don't know a ton about wine, but it was refreshing, fruity, and not too sweet. I liked it! (Excuse the water droplets on the glass….I had just rinsed it out).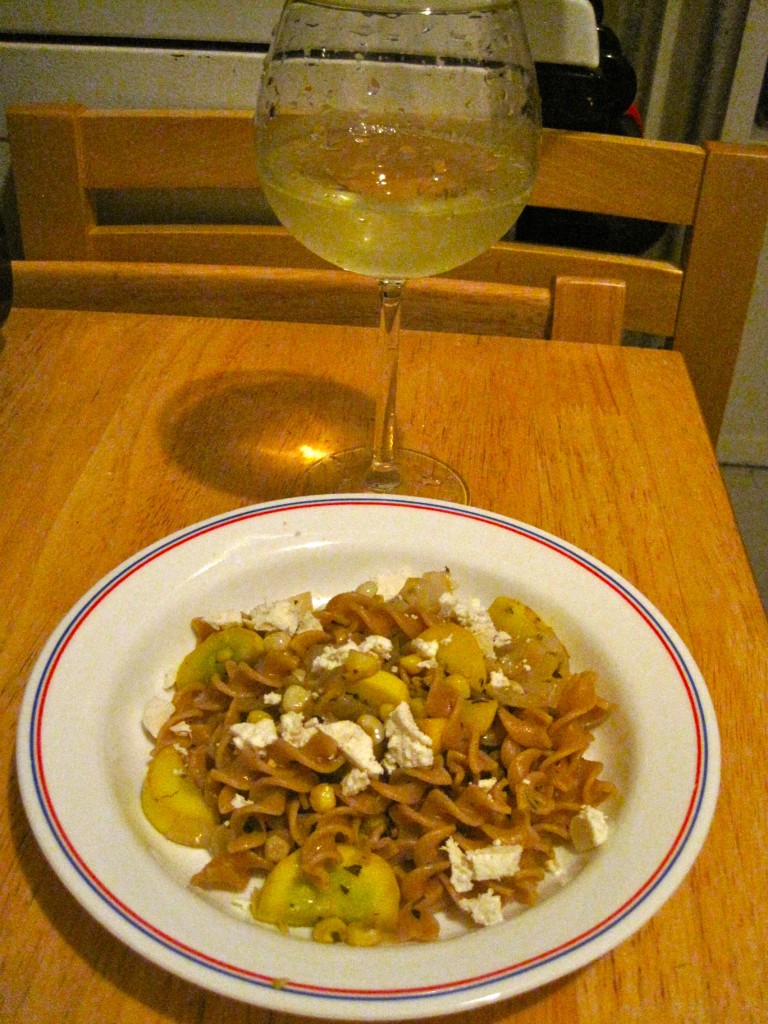 My Thursday night dinner was turkey-butternut squash chili based on this awesome Whole Foods recipe. I've made this dish before, but this time around I had to use canned butternut squash because there appears to be a canned pumpkin shortage at the moment. This chili has a ton of fiber and protein and it used a bunch of the veggies I had on hand – tomatoes, corn, squash, and onion. As the seasons (or your tastes) change, you can alter the ingredients to utilize what you have in your fridge. I swapped out bell pepper for summer squash because that's what I received from my CSA this week.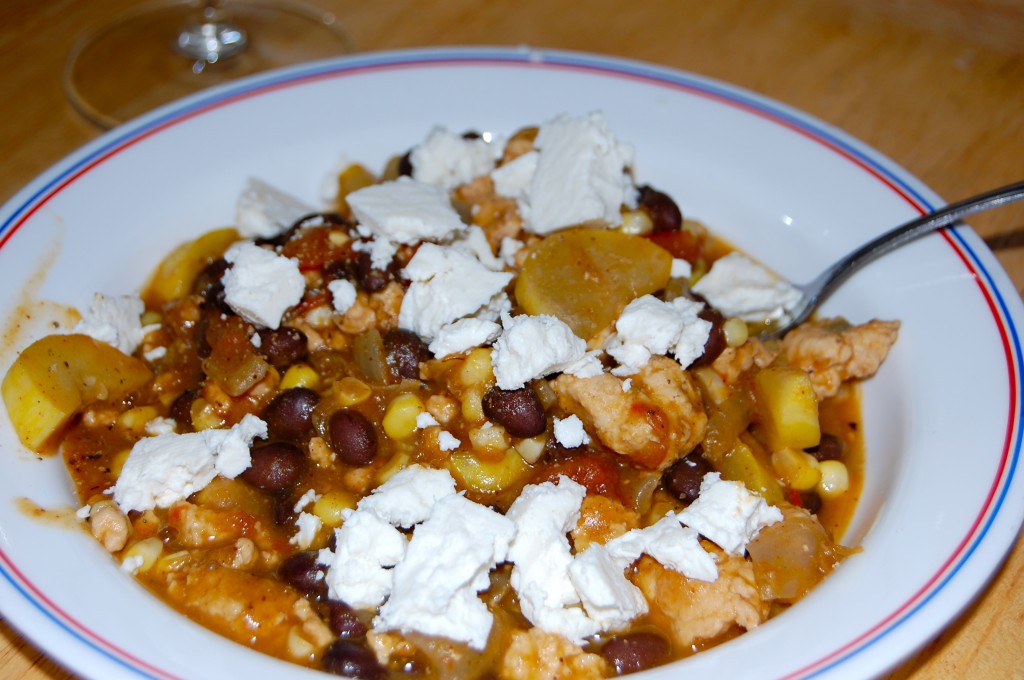 We all know how much I would love to subsist on wine and ice cream for dinner, but I have a race tomorrow (NYRR Club Champs – 5 miler), so I'm trying to be a little more conscientious of my fueling. I'm feeling rather nervous about this race. I ran it in 33:09 last year, when I felt like I was in much better shape. My running in 2011 has been a struggle (this spring = burn out, lacking motivation, etc) and am just starting to get back in the swing of training. I know I haven't done as many speed and workouts as I could have to prepare for this, but alas, it's a big team points race (we're competing against other area running clubs), so I've got to give it my best. I know I'll probably run slower than last year and I'm trying to accept that….but it's never easy. The goal for this year is to run under 34:00. Eek.
Do you ever run races when you're not feeling pumped up about them? It's tempting to bag the race and just cheer for my teammates, but I really need to work on my speed and racing confidence, especially with the Philly half only 44 days away!