Heh, but really, my middle name is Irene. I've been waiting all weekend to make that joke!
The weather this weekend caused me to shuffle around my running and travel plans. Instead of racing a 5k Saturday morning and then taking the bus to Pennsylvania, I ran an easy long run in Brooklyn and then prepared to greet Hurricane Irene at home. For the first time in the 4 years I've been running in New York, NYRR cancelled races – usually they just turn them into fun runs! To be honest, I wasn't very upset about that. I ran a lot of miles last week and the thought of racing a fast 5k was not appealing. Instead, I headed out into the humidity on Saturday morning and ran 15 miles with some BK based running buddies. It was muggy. It was hot. And then around mile 6.5 I tripped over a root in Prospect Park and made a face-plant into the dirt.
This is my WTF face –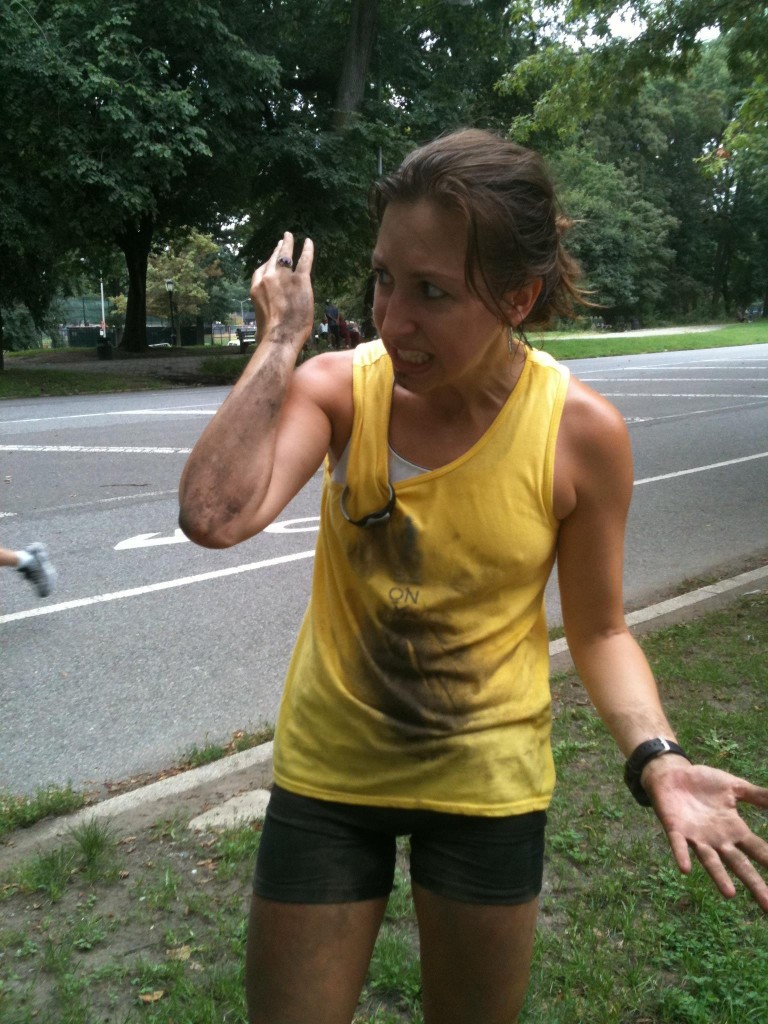 Thankfully I wasn't injured, nor did I knock out any teeth (always a concern of mine). I escaped with only a few scrapes and bruises, but seriously…this is getting to be ridiculous! This is the 3rd nasty fall I've taken this year –
Last July, my foot gravitated towards the edge of the treadmill, I tripped on the moving belt, and slid of the back. That incident left me with a brush burn on my shin and a bruised ego (fellow gym goers definitely laughed…).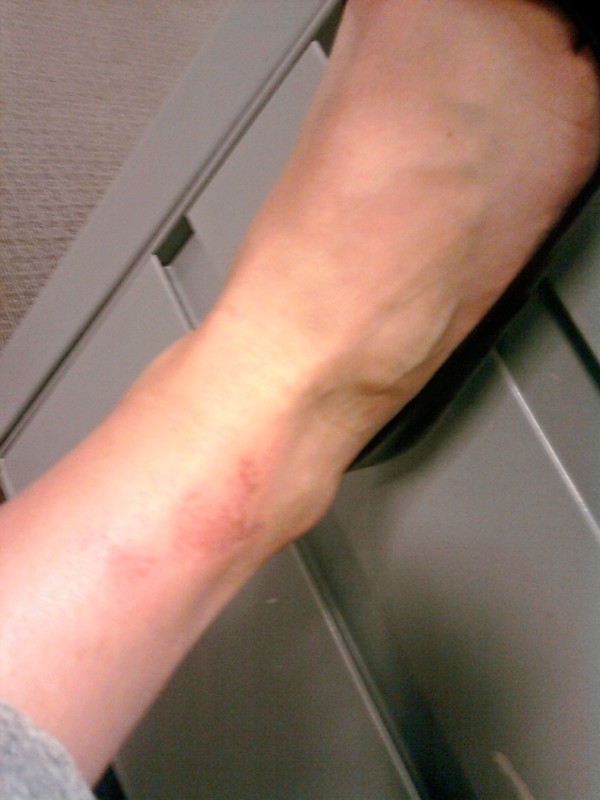 This past March, at the (crowded) start of the NYC half-marathon, I stumbled on a cone and was then pushed down by a dude behind me. The damage? A banged up elbow and a very bloody knee (I still have some nasty scar tissue that aches).
I still haven't washed these shoes…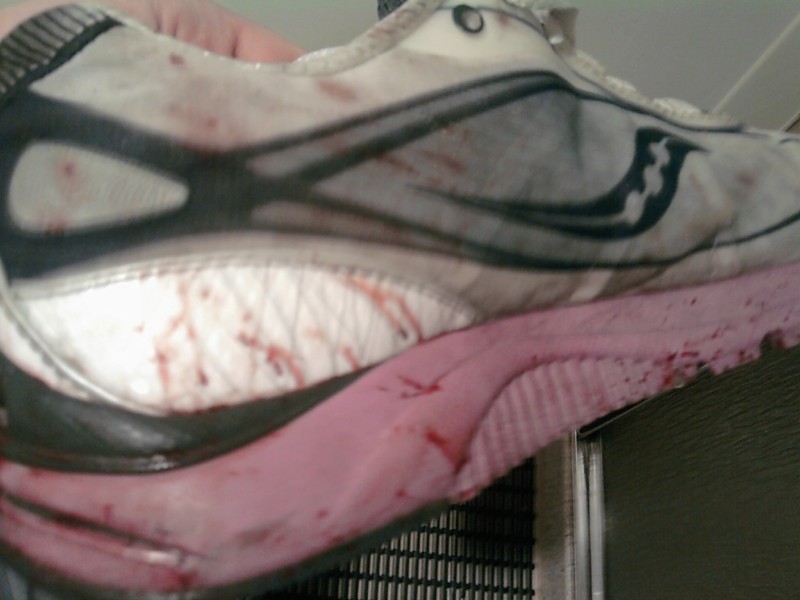 What is going on here? Part of it is probably bad luck, but the other part is me probably not paying attention when I'm running. On Saturday I think it was a combination of 1) getting lost in conversation with my running buddies and 2) shuffling/not picking up my knees enough. I notice this happens when my legs are tired…
Anyway, besides the wipe-out, last week's running was pretty solid. Here's how it went down:
Monday, August 22 – 6 miles easy in the morning
Tuesday, August 23 – 7.25 miles a.m.,  3.75 miles p.m.
Wednesday, August 24 – 6.25 miles a.m., 3.75 miles p.m.
Thursday, August 25 – 6.25 miles a.m., 3.75 miles p.m.
Friday, August 26 – 4 miles during lunchbreak
Saturday, August 27 – 15 miles in 2:12 (8:48 pace), felt relaxed
Sunday, August 28 – 4 miles easy in the afternoon
Total: 60 miles
The pros? My highest mileage in awhile, a solid long run, and my motivation was high.
The cons? I didn't make it to a workout (the 5k was supposed to serve that purpose…oops) and I didn't do any core work.  Always room for improvement!
While waiting for Irene, I spent a lot of time in the kitchen. I had a bunch of CSA veggies to play around with and so this weekend's eats were very veggie-heavy.
Friday night – toasted pita bread, homemade baba ganoush, and chopped Greek Salad inspired by a Real Simple recipe.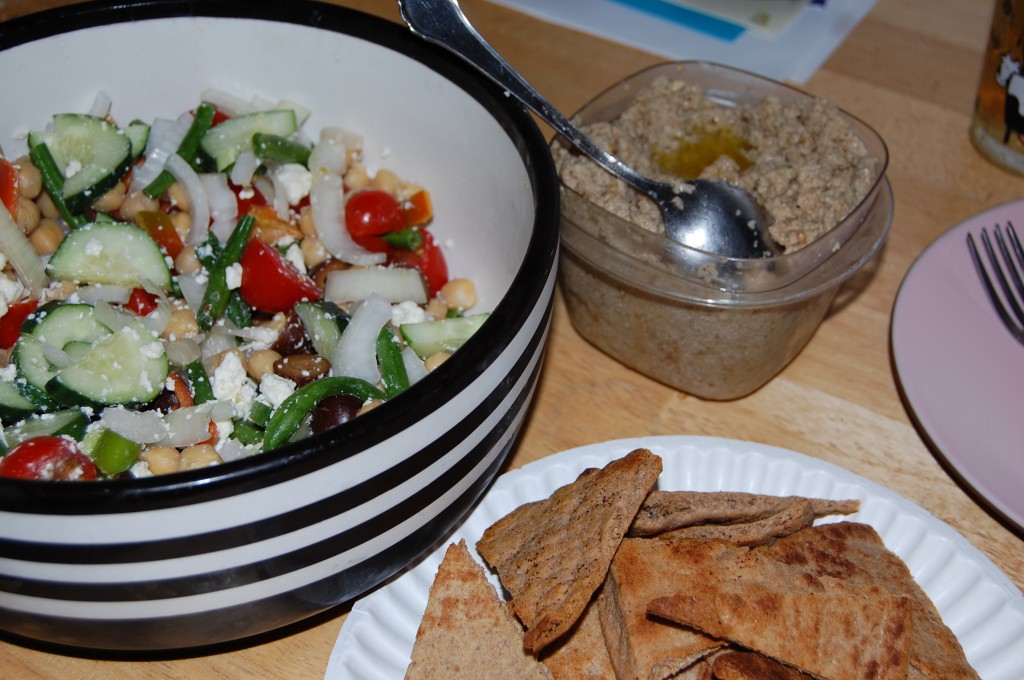 My only change was substituting raw green beans for the lettuce, because that's what I had on hand.
Saturday night – I topped leftover pitas with fresh mozzarella cheese, sliced tomato, black olives, and oregano and baked them for about 8 minutes. Then I finished them off in the broiler so the cheese got nice and melty. Yummm.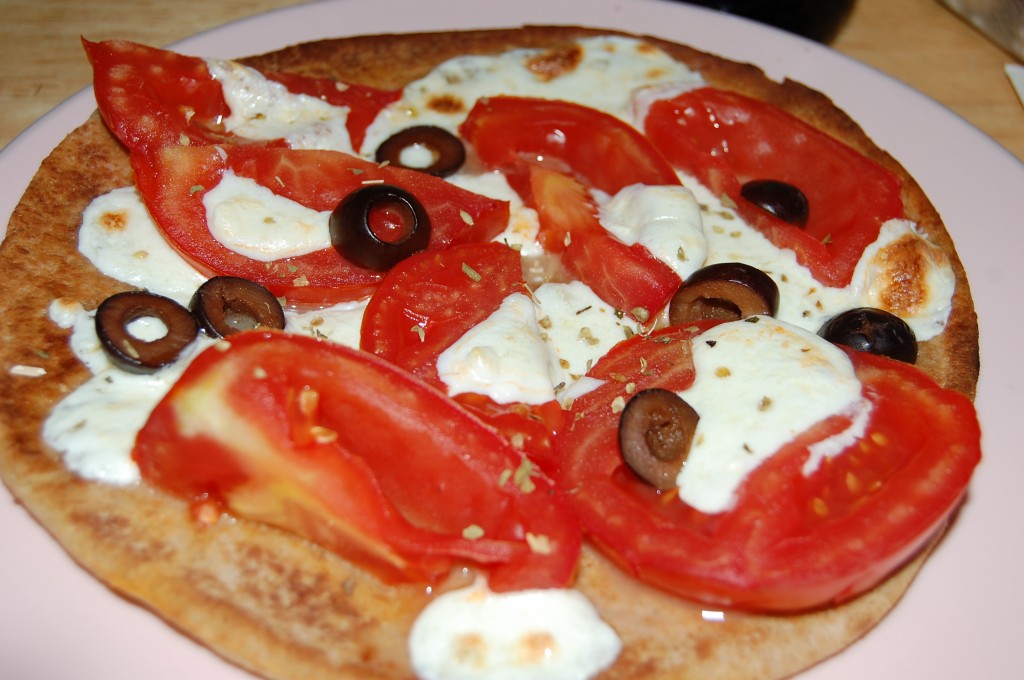 Sunday night – More tomatoes?!? Yup, I had at least 8lbs to use up this weekend. I made an awesome homemade tomato sauce that requires just 3 ingredients – 2 lbs of tomatoes, 5 Tbs of butter, and an onion cut in half. Plus a little salt. My advice – freeze your tomatoes and then let them thaw. It makes peeling them SO easy, no food mill required. I mean, really, who owns a food mill?
Tomato sauce in action!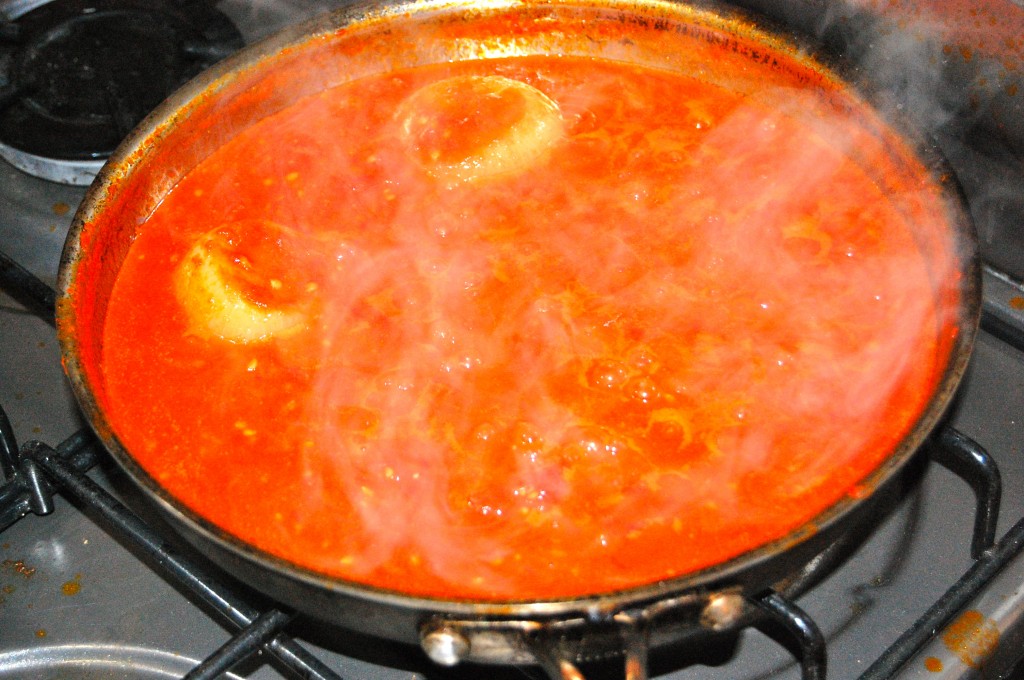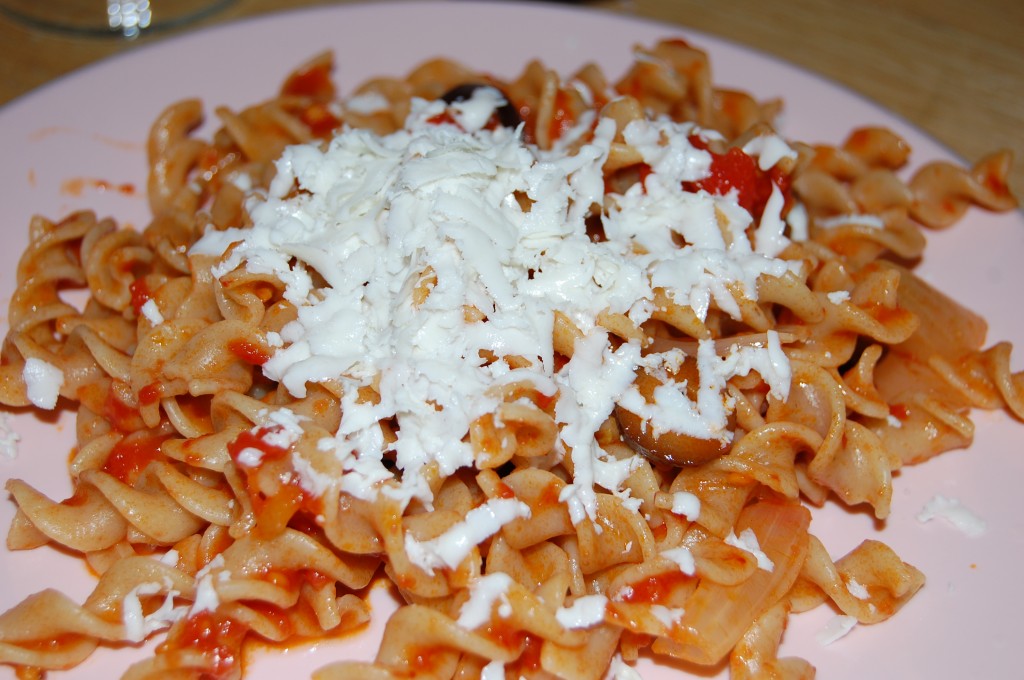 I mixed the tomato sauce with a box of whole wheat rigatoni and then topped it off with some black olives and grated fresh mozzarella. The man-friend is probably sick of tomatoes by now (tomatoes in everything!), but hey, gotta take advantage of the summer harvest!
My final project for the weekend was a batch of carrot cake muffins. Healthy enough to eat for breakfast! I consulted a few recipes, but pretty much did my own thing.
Healthy Carrot Muffins (makes 12)
Ingredients:
1 1/4 cups of all-purpose flour
1/2 cup brown sugar, packed
2 tablespoons of ground flax whisked with about 1/3 cup water (great egg substitute)
2 teaspoons ground cinnamon
1 teaspoon baking powder
1/2 teaspoon baking soda
pinch of salt
1/4 cup coconut oil
1 tablespoon vanilla extract
2 cups of grated carrots (about 4-5 carrots)
6 oz Greek yogurt (I used 2%)
raisins and/or walnuts (optional)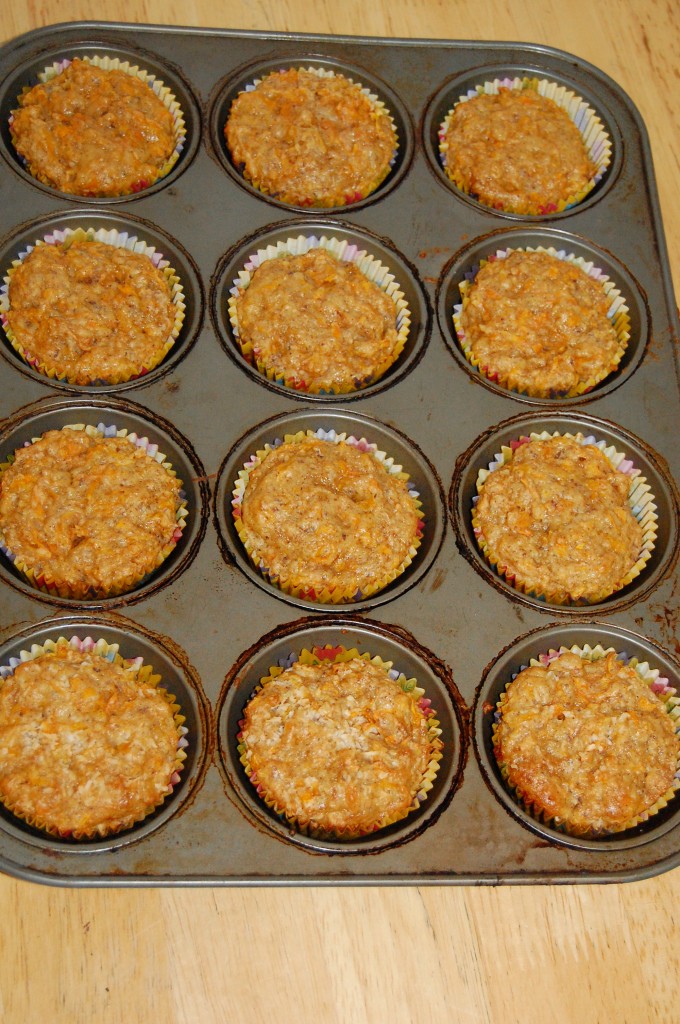 Directions:
Preheat oven to 350 degrees F. Line a muffin tin with paper cups (or coat pan generously with cooking spray).
Whisk flour, brown sugar, cinnamon, baking powder, baking soda, and salt in a medium bowl. In another  bowl lightly combine the flax seed-water mixture with the coconut oil and vanilla extract.
Fold the wet ingredients into the dry ingredients with a rubber spatula. Stir in the shredded carrots and yogurt just until combined. It's going to be very thick batter! Divide the batter evenly among the muffin cups and bake for about 30 minutes, until golden on top. Take out of the muffin pan and cool on a rack (this prevents soggy bottoms).  Great served warm, with a dollop of peanut butter or cream cheese.
Have you ever fallen while running? Do you know why it happened? Was it clumsiness? Not paying attention? Should I just give-in and buy a helmet?