Since Saturday's less-than-stellar race, I have been chugging along with the training. I haven't been feeling awesome, but I've been getting some good sleep, eating the right things, and taking my multi-vitamin. Here's hoping my legs get some pop back into them soon! Last week I hit 49 miles, which was about on target. The plan for this week is as follows:
Monday, August 8 – 4 miles (easy)
Tuesday, August 9 – 7 miles (easy)
Wednesday, August 10 – 8 miles + strides and core work
Thursday, August 11 – CPTC tempo workout (8 miles total)
Friday, August 12 – 7 miles + strides and core work
Saturday, August 13 – 12 miles (fast finish long run)
Sunday, August 14 – 6 miles (easy), hopefully with Angry Runner!!
Total: 52 miles
My quality workouts will be the Thursday tempo and the the Saturday long run. Since I won't have much recovery time between the tempo and the long run, I may end up reducing Friday's mileage. I also plan on making Monday, August 15th a complete rest day – very much looking forward to that!
I'm not sure if I've made an official announcement yet, but barring any disasters, I'm moving to a new apartment in Brooklyn in about 10 days. I'm going to have my own place (the top floor of a brownstone house) and I don't think I've ever been so excited to move! My last two moves have been marked my times of uncertainty. In 2007, I was just out of college and starting my first job in a new city. In 2009, I was coming off a bad break-up and dealing with a a running injury. Not exactly my favorite times.  But now in 2011, I can honestly say I am quite happy with the ways things are shaking out.  I have a strong network of friends, I feel secure with my job (even if it's not my dream career – it gives me the time to do other things I love), and while I haven't been running PR's, at least I'm not injured! I was walking around my future neighborhood the other day and I just felt so happy, so excited to be making this change in my life.
Okay Megan, we get it. You're excited. So what's the point of this post? OH RIGHT. So yeah, between security deposits, first AND last month's rent, uhaul rentals, and new IKEA acquisitions, my bank account balance is pretty pathetic. I've been trying to find little ways to save money ($5-10 here or there can add up over the course of a few months!) and I thought I'd share them on the blog.
By now, everyone and their mother is aware of sites like Groupon, Living Social, and Bloomspot. Every day my inbox fills up with tempting offers – $20 for $40 worth of ice cream! Discounts on pedicures! Two-for-one hotel deals! I usually have to restrain myself from making purchases. Lately, I've been a fan of the "groupon now" deals – you purchase a deal, but then have to use it within the next few hours. I've scored a $1 lunch salad and 1/2 off running shoes this way. Plus it guarantees that you won't buy a deal for a fancy restaurant and then never use it…
Being a social media addict can reap big rewards, last week I scored a huge class of wine for free – just for checking into the bar on FourSquare. Everytime I go to a store or restaurant, I look them up on FourSquare or Yelp to see if they offer a discount or free item for customers.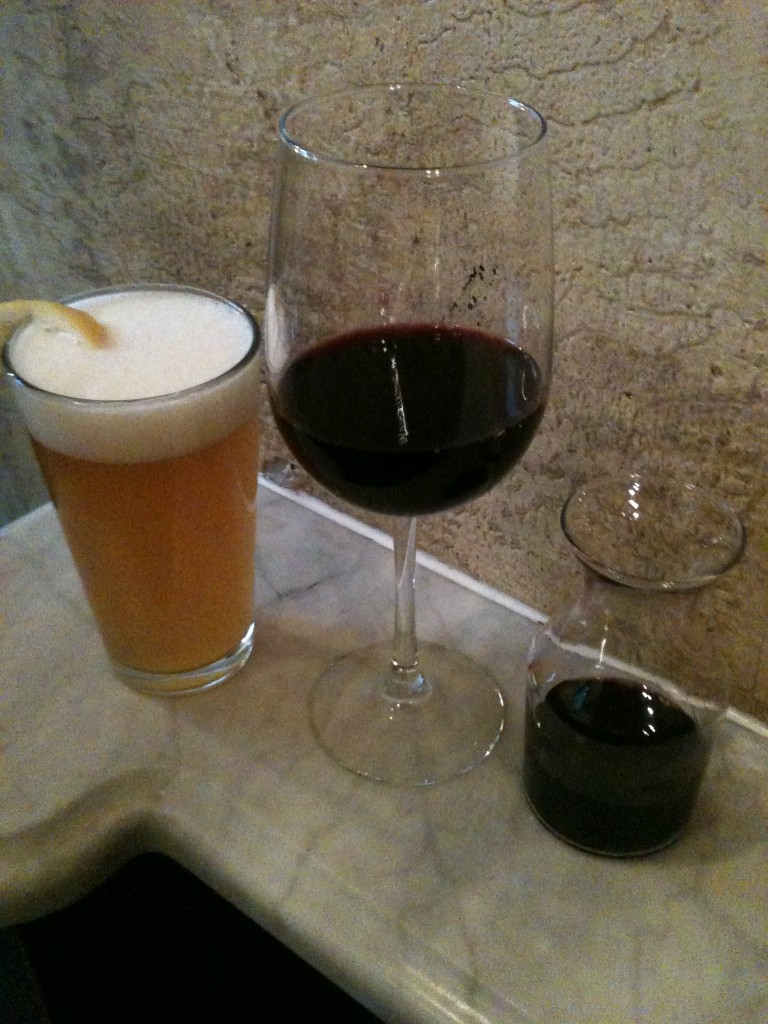 ScoutMob is another great service that offers up 50% discounts for patrons. If you have a smartphone, download the app and then before heading out for drinks or a meal, check and see what deals are in the area. The best thing about this service is that it's FREE. 50% discount – no pre-purchasing of coupons necessary! On Sunday, I visited Luscious Foods in Brooklyn and got a huge sandwich for $5 (instead of $10).
House-smoked turkey, brie, sliced apple, honey mustard, red onion, and lettuce on whole wheat ciabatta bread. YUM.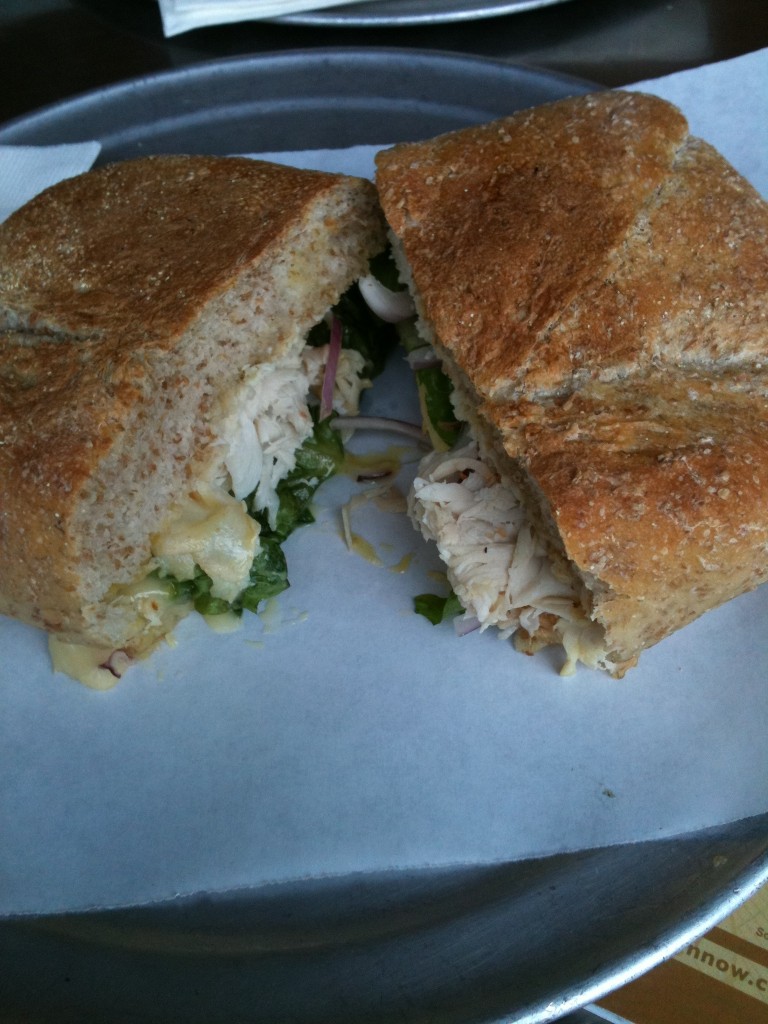 While we were at the cafe, I noticed a flyer for free museum admission. On Sunday, the Brooklyn Museum, Children's Museum, and Botanical Gardens were free for the day. Sweet! The man-friend and I headed over to the BK Museum and saved ourselves $10 each. I'm subscribed to some daily newsletters that advertise free/low cost events in NYC, my favorites are: the skint, Vital Juice, Brokelyn, and Brooklyn Based. Even if you don't live in New York, your city might have similar deal websites!
My favorite piece from Sunday's museum visit:
I am also a fervent "frequent customer card" user. From my favorite salad place (Chopt!) to the corner coffee shop, it pays to ask for the frequent user card. Caffeine behemoth Starbucks has an especially good program – a free drink (any size, any type!) for every 15 drink purchases. They also give you a free drink coupon on your birthday and offer other specials to their frequent customers. Just the other day I set up my gift card to automatically re-load and they gave me a $5 bonus. Not bad for something I was going to do anyway!
My trick for  Starbucks is to order the simplest/cheapest drink when I'm paying on my own (I usually get a tall iced coffee in a grande cup – this leaves room for milk!) and then splurge on more expensive drinks when I have a "free drink" coupon. Common sense? Sure, but I always sort of feel like I'm beating the system. I do the same thing at Chopt – most of the time I skip the fancy mix-ins and just order the basic $6.99 salad, but when it's free? Bring on the $$ avocado and $$$ grilled shrimp!
With my impending move, I've also gotten pretty creative with freezer and pantry ingredients. Instead of a traditional dinner (too hot to cook anyway!), I toasted up some Arnold healthful bread that was in the freezer and topped it with peanut butter, sliced strawberries, honey, and chia seeds. Not gourmet, but it didn't require a trip to the grocery store or a take-out menu!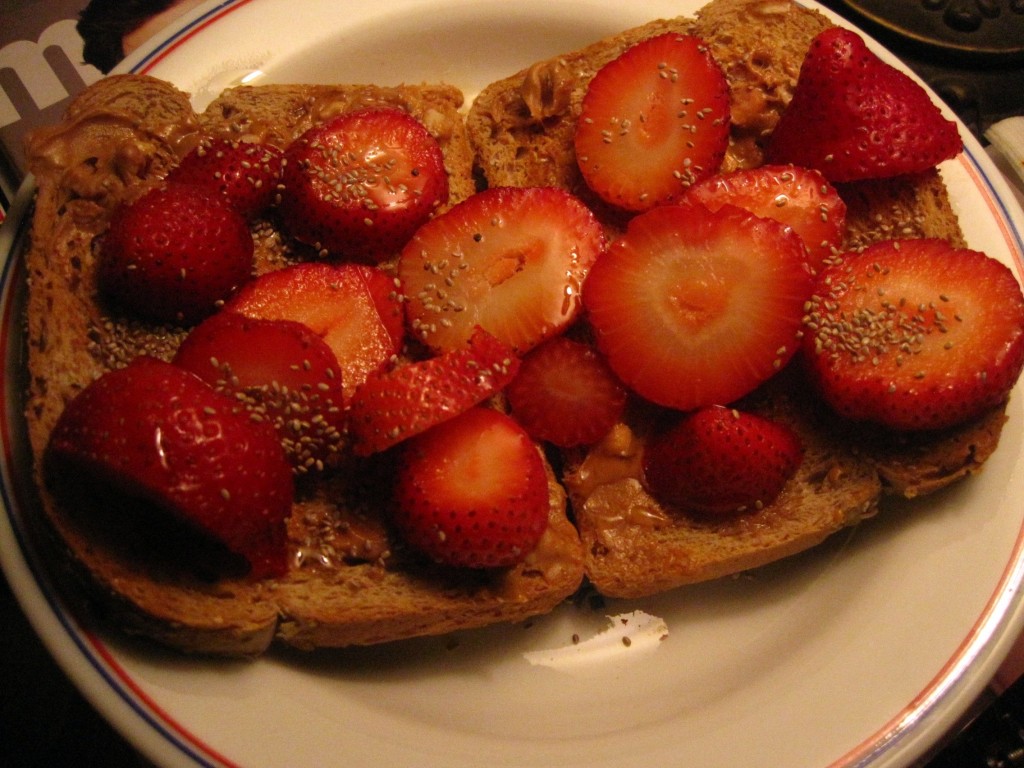 And my biggest tip for saving money? Meet your running buddies for a few miles. Do that once a week instead of happy hour and you'll save at least $500 dollars a year.
What's your best money saving secret (bonus points if it involves yummy food…)?