20-30 years from now, I hope that I can re-read these blog posts and be reminded of how I rolled in 2011. Maybe by then I'll live in a house that I own or a doorman building. Maybe I'll own furniture that isn't from Ikea or secondhand from Craigslist. Maybe I'll have the $$ to hire professional movers. Those things definitely aren't in the cards for me at this stage in my life, but that's okay. Right now, I have things money can't buy – youth, energy, health, and strength. Looking back on this weekend, I'm still not sure how I did it all. My body feels like it could sleep for 15 hours straight!
After a tough tempo run on Thursday night (I really thought I might puke…), I finished packing up the remainder of my stuff. On Friday morning, the man-friend and I picked up the u-haul (I traveled approximately 2 blocks before hitting something…oops) and he and his buddy proceeded to move me out of my old apartment, drive to Brooklyn, and unload everything into my 4th floor walk-up by 1pm. They were so clutch, couldn't have done it without them! While they moved the heavy furniture (bed, desk, sofa, table, chairs, etc), I made approximately 13 trips up to the 4th floor whilst carrying bags and boxes. True story – I am at least as sore today as I was after last fall's marathon. Holy quad muscles. Once we got everything unloaded, Man-friend and I took a quick trip to IKEA for some essentials, assembled my bed, and then headed back into the city for a meatball and beer tasting at the Whole Foods Culinary Center.
These events are such a great (relatively cheap!) activity to do with a date or a bunch of girlfriends. Some of the more hands-on cooking classes are $60, but our meatball and beer tasting was only around $30. For 2 hours, we learned about different types of meatballs and paired them with craft beer from Kelso Brewing Company.
The coolest thing I learned?
Malted barley is one of the main ingredients in beer, along with hops, yeast, and water and you can predict the flavor (and malty-ness/sweetness) of a beer by looking at its color. The brewer compared malt levels to cooking onions. If something has a low malt level, it's less sweet, and lighter in color, sort of like raw onions (example would be an IPA). Then you progress to cooked onions (a bit darker in color, example: a pilsner), caramelized (darker and sweeter), to burnt onions (very dark, an example would be a Stout). Not sure if I explained it as well as Sonya from the brewery, but I wanted to share the beer-cooking analogy. Thought it was pretty interesting!
We tried 6 different meatball-beer pairings, it was a good way to refuel after a long day of moving heavy stuff!
I capped off the night with some Ben & Jerry's Americone Dream and then hit the sheets (in my new apartment!) for a few hours of sleep. I was up early on Saturday with a big agenda ahead of me: long run, clean my old apartment (mopping, sweeping, etc), brunch with some lady friends, unpacking, and finally a friend's party into the wee hours of the morning. Yikes. Dear 50-year-old self, are you reading this?? Remember when you had all this energy?!
But youth and health (and coffee) were on my side, so I got it done! I was sore and tired for most of my long run, but surprisingly still enjoyed myself. I ran solo and had nearly 2 hours to mull over my week, people watch, and occasionally blast some Ke$ha on my ipod. It was one of those times that reminded me why I love this sport. Long runs when I just zone out and feel good don't come every day! Nothing super interesting about this run, I felt relaxed the whole time, so that was nice.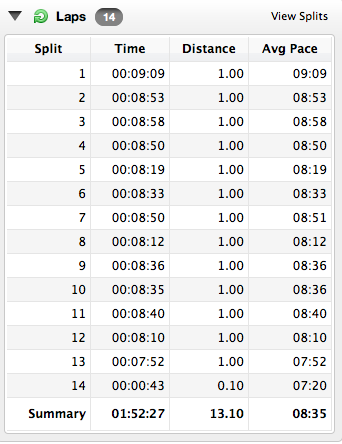 At brunch later that day, I was talking about the move and my run with some lady friends. I'm definitely not a large girl, but I'm also not stick thin. My quads, hamstrings, and calves are sizable. I like to eat well and in large portions.  I'll always look more like an athlete than a runway model, but I wouldn't want it any other way. These muscles schlepped countless bags and boxes up 4 flights of stairs, they ran 13.1 miles the following morning, and then danced until 2:30am on Saturday night. I am proud of my strength, I am grateful for my health and energy, and am fiercely protective of my friends. These are things that money cannot buy and I hope I always remember that. Even when I can finally afford those professional movers or $1000 sofa from Crate & Barrel in 2021.
Thanks for all the good luck moving wishes! Hopefully regular life will resume shortly. Stay tuned.