The first time I experienced a migraine with aura, I thought I was dying (or at the very least, having a stroke).  By now it's happened often enough that I know what to expect, but it still scares the sh*t out of me. Tuesday morning started off well – I woke up at 5:30am to run with a friend, worked on the weekly newsletter for my CSA, and had a really productive afternoon at work. Around 4:45pm, I was in the middle of sending out an email when my keyboard started to look like this:

About 20% of people who get migraines also experience an "aura" before the headache begins. Doesn't that sound kind of freaky and new-agey? My aura usually involves scotomas or blind spots. They come on suddenly and last for about 30-45 minutes. And then the headache pain begins. Once the visual disturbances start, I have to stop whatever I'm doing (typing or reading is impossible) and lie down in a dark, quiet, cool place. It's really scary (I always think I'm going blind or something) and it totally ruins my day. I can forget about running for at least 24 hours.
Luckily I didn't have any plans for Tuesday evening and was able to sleep and eat 1/2 pint of this: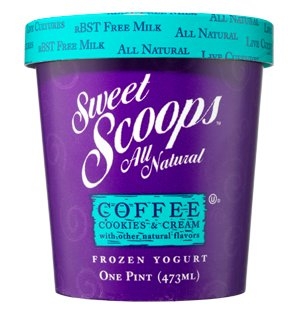 Sweet Scoops Coffee with Cookie & Cream – soo good! It's frozen yogurt so it's a bit less calorie dense than ice cream, but whoaa it tastes just as good as Ben and Jerry's. Promise.
I still don't know what triggers my migraines. This is an exceptionally stress-free week at work, I didn't eat anything out of the ordinary, I've been sleeping well night…it's very frustrating. After the aura and pain, comes the migraine aftermath (called the post-drome) where I feel drained and sort of hungover. Even though I wasn't feeling quite myself, I thought an easy run might make me feel better. I logged 8 miles in Central Park on Wednesday night and while it wasn't awesome, it made me feel semi-functional again.
I felt almost back to normal on Thursday, so I decided I would attempt the evening tempo workout with my running club.
1.5 mile warm-up
6.5 mile "horseshoe" workout
1.5 mile cool-down
Total: 9.5 miles – not bad for a work night!
The tempo began at w. 72nd street. From there, we run up the West side, through the 102nd st transverse, and down the East Side. At the 3.25 mile mark (near Cleopatra's Needle a.k.a. the Obelisk), we turned around and picked up the pace about ~25 seconds per mile. It "sort of" looks like a horseshoe – on a map – that's where the name comes from!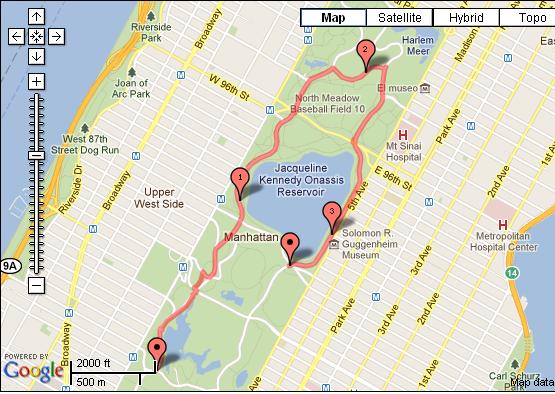 My workout buddy and I kept things comfortable-ish on the first half and then pushed it on the way back. Unlike Saturday where I felt like I was in the "red zone" or "OMG I'm dying zone" the whole time, this pace felt controlled.
The paces were probably slower than they should have been (7:40 average for 1st half, 7:16 average for 2nd half), but I knew going into this workout that I was going to remain very conservative. The main goals for the tempo were to execute it properly (i.e. run negative splits) and give myself a confidence boost. Hopefully next week I can cut those average paces down a bit!
After my cool-down, I headed directly to Ali's Run for the Rabbit Fundraiser where I proceeded to 1) buy a really cool t-shirt and 2) re-hydrate with water gulped from the store's bathroom sink and a glass of wine. Classy.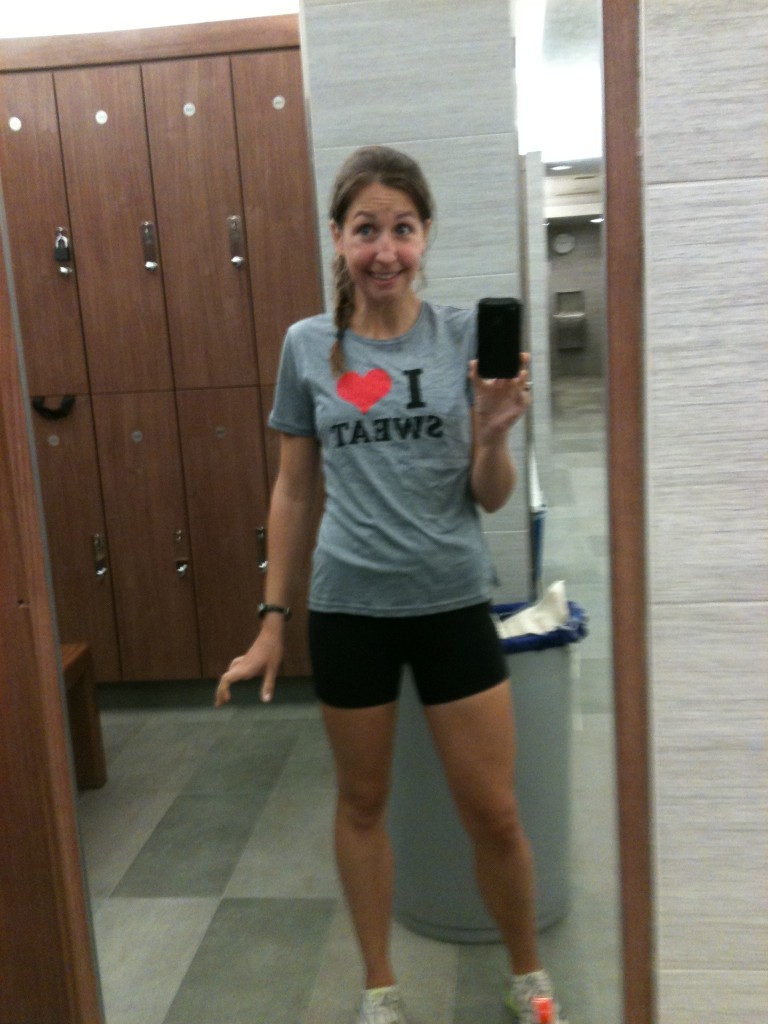 Running a late Thursday p.m. workout and then again Friday morning is always a tight turn-around, but I have dinner plans this evening, so it had to be done. Luckily Susan agreed to meet me on the Bridle Path and I was able to knock out another 7.5 miles before work. You might think I'm joking, but I literally cannot drag myself out of bed in the morning unless I've got a buddy waiting for me…
I'm not sure if it's the mental confidence boost or if the migraine has finally left the building, but I'm feelin' pretty good today. Let's hope this positivity sticks around…Have great weekends! I'll be back on Sunday with an announcement!