Changing gears? Has Megan become a cyclist or something? Hah, nope, I'm referring to a bit of a change in my half-marathon training. The (not so) big announcement that I referred to last week is this – in addition to the Philly Rock and Roll Half Marathon on September 18, I'm also signed up for the Philadelphia Half Marathon on November 20. Same city, similar courses, but the November race will give me an extra 2 months to work on my sub-1:30 goal in case things don't pan out in September.
I'm still planning on racing the Rock and Roll Half, but given my current fitness level and workout times, a 1:32-1:33 finish is more likely than 1:29-1:30. Maybe I'll feel awesome on race day and will run a PR….but it's also possible that I won't. And so, I want to give myself another chance at the race distance this fall. Stay tuned for how I plan on training for this…I'm still working that out. In any event, I'll probably take at least 3-4 days off completely after the September race so that I don't end up burned out by November.
I did plenty of good eating and running this weekend. On Saturday, I met up with fellow CPTC'ers Lindsay and Alex for 12+ miles down Park Avenue and across the Brooklyn and Manhattan Bridges. It took me awhile for my legs to get movin', but after about mile 5 I settled into a groove and most of our miles were faster than 8:30 pace. I'm trying to be more focused when it comes to pace – unless I'm doing a recovery run, I should be running closer to 8:00/8:30 pace vs. 9:00 pace. Meeting up with speedy friends always helps!
It also helps to be well fueled for a long run. I did my part by hydrating with a bottle of red wine on Friday evening. I limited myself to 1.5 glasses…it took strength. Friday evening's wine and food were from a little French bistro in the West Village called Camaje. We also got 50% off the bill (thanks ScoutMob!). I am going to base all of my food decisions based on discounts from now on. 91% serious about that.
So yes, a smooth petit syrah to begin…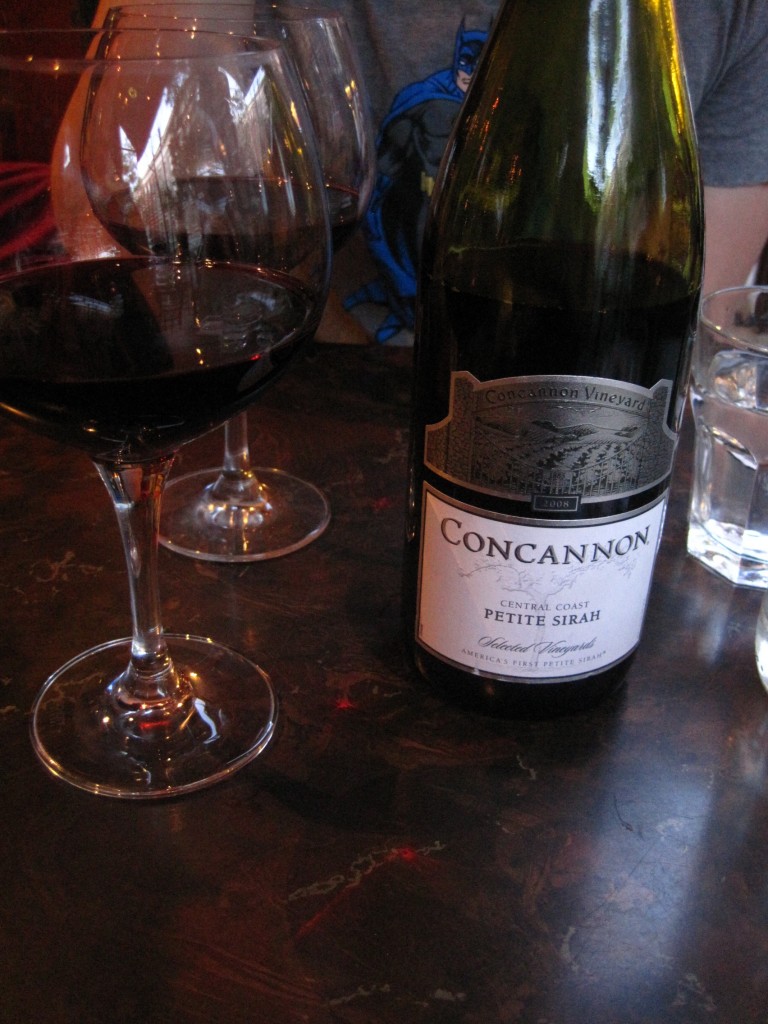 Followed up by the Abigail Salad (mesclun, nectarine, radish, goat cheese).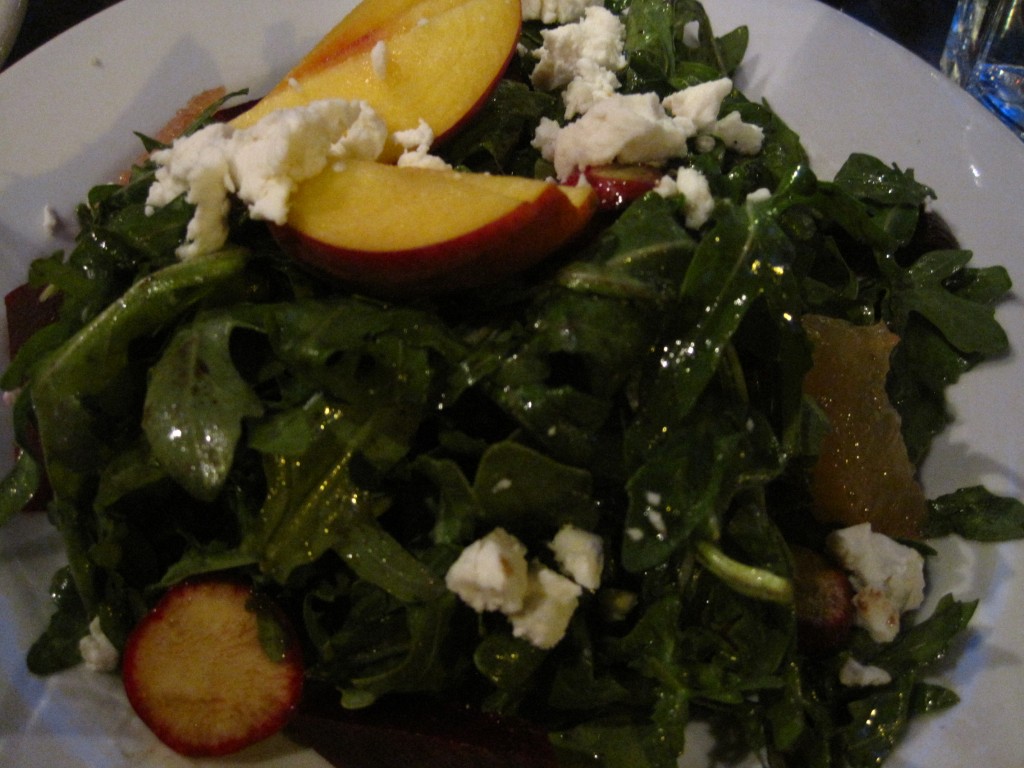 Hot crab dip and bruschetta (split with the man-friend).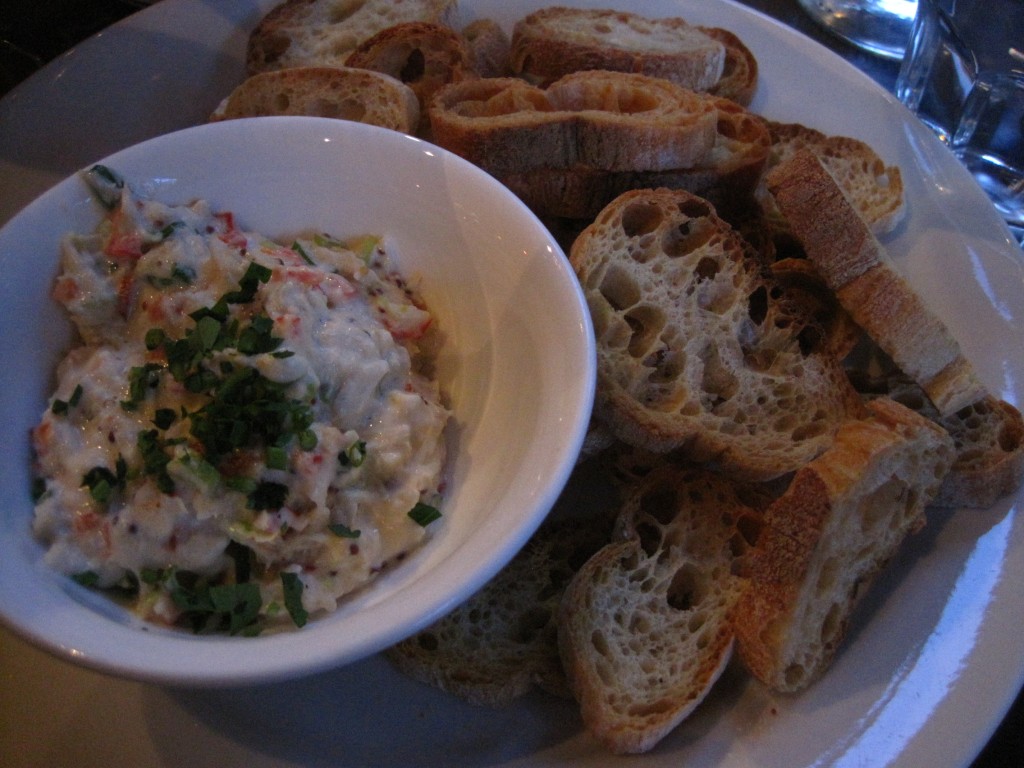 and smoked macaroni and cheese!!!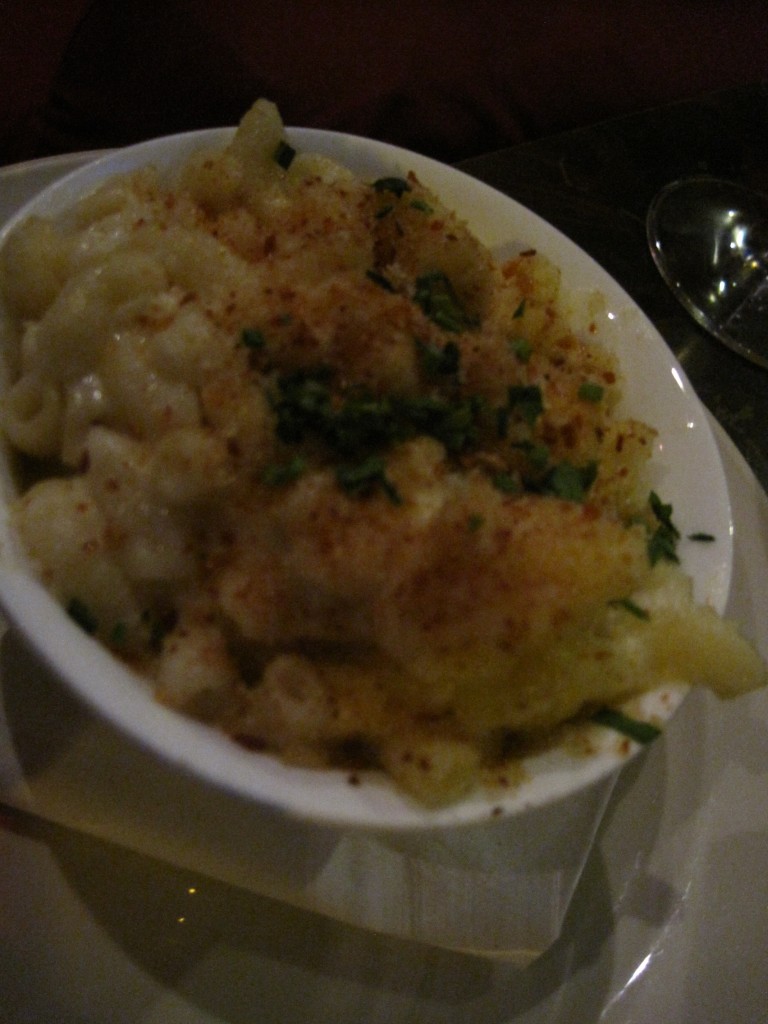 We also unearthed a Gilt Group deal for the Soft Serve Fruit Company (it was technically expired, but I sweet-talked the manager into accepting the certificate at face value…).
Look at how big the portions are – yay! This stuff is gluten and dairy free and made from only 3 ingredients – fruit, water, and a lil bit of sugar. I chose the "crunchy-salty" sundae which was banana soft serve, hot peanut butter, chocolate chips, and pretzel pieces. I don't remember what man-friend got, but it definitely wasn't as good as mine
😉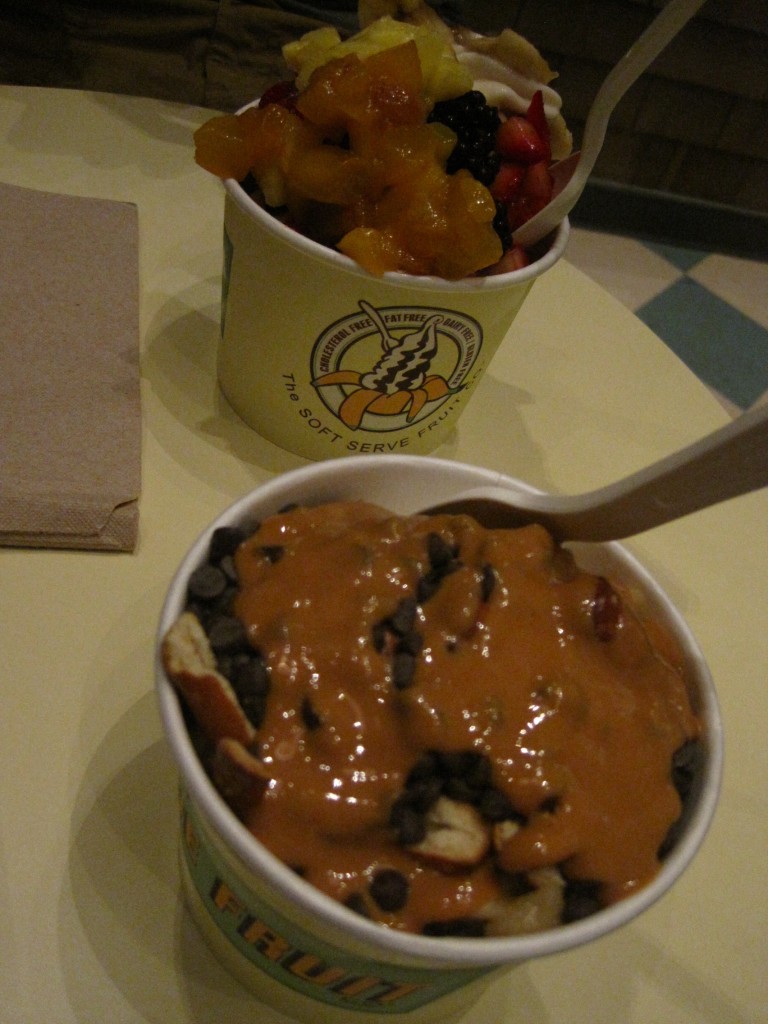 Yes, I was definitely well-fueled for that 12-miler.
After Saturday's run, I only had an hour to eat, shower, dress, and pack for a wedding in New Jersey. I was really worried I was going to forget something vital (shoes?!) or miss the train, but luckily man-friend and I arrived in one piece. And the wedding was a lot of fun! Does dancing count as cross-training? I think I might need to add it to my training log.
Sunday, however, was definitely considered a hungover recovery run. AR was also a wedding attendee, so we braved the wet and wild roads of New Jersey for an easy, rainy 6-miler on Sunday morning.
This is what we were doing 8 hours prior to our run….it was slightly more enjoyable.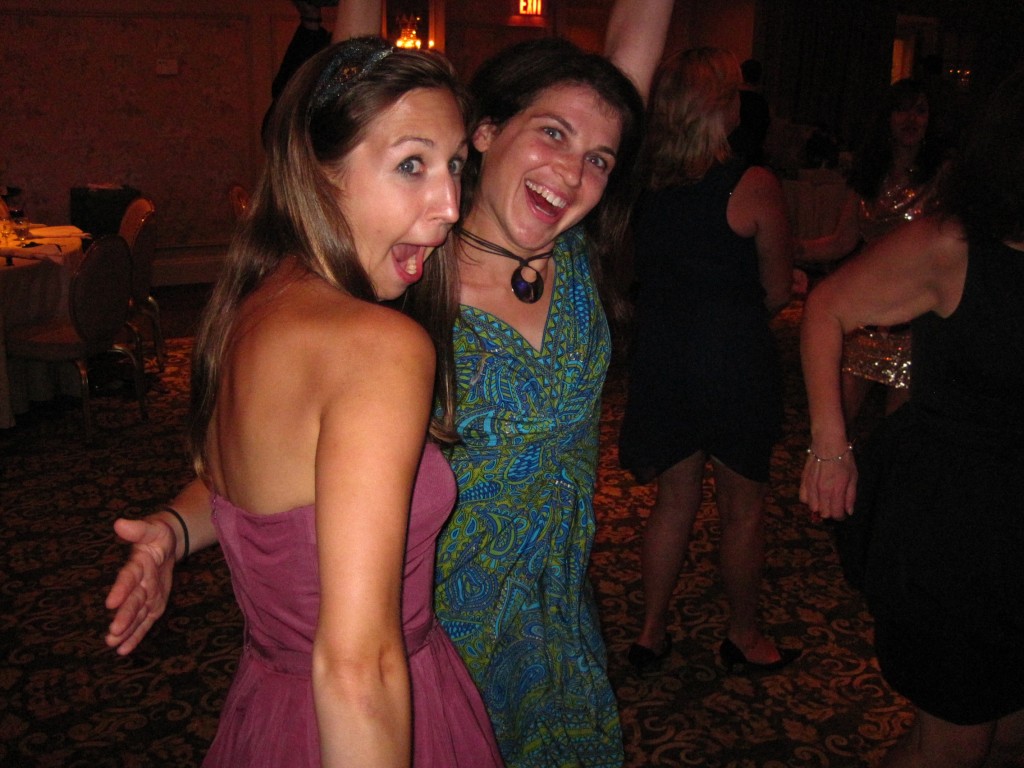 With some rainy miles and a long NJ Transit ride behind me, I was more than ready for some hearty brunch (continental hotel breakfasts never quite deliver). Man-friend and I checked out another ScoutMob deal spot – The Cupping Room – and it didn't disappoint.
Umm, check out his ridic eggs benedict with avocado, melted cheese, and smoked salmon. I was a little jealous.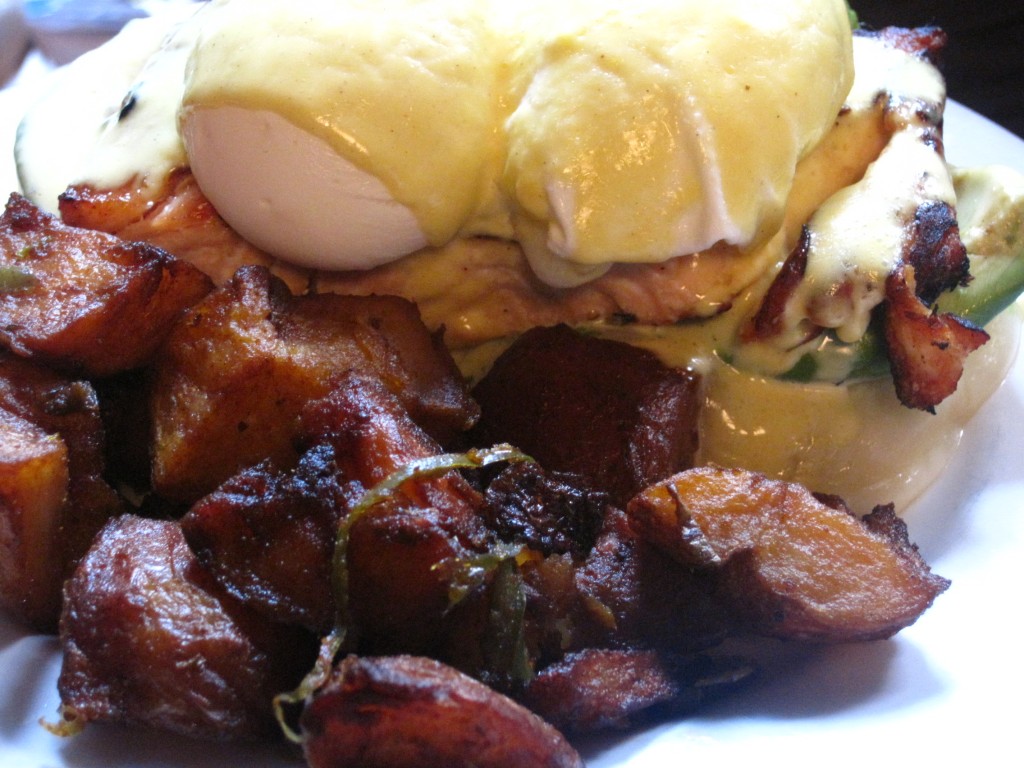 But my avocado, jarlsberg, and sprouts sandwich on homemade foccacia wasn't too shabby. I think they put an entire avocado on this sandwich. And the handcut frech fries were perfect for soaking up the remnants of my hangover!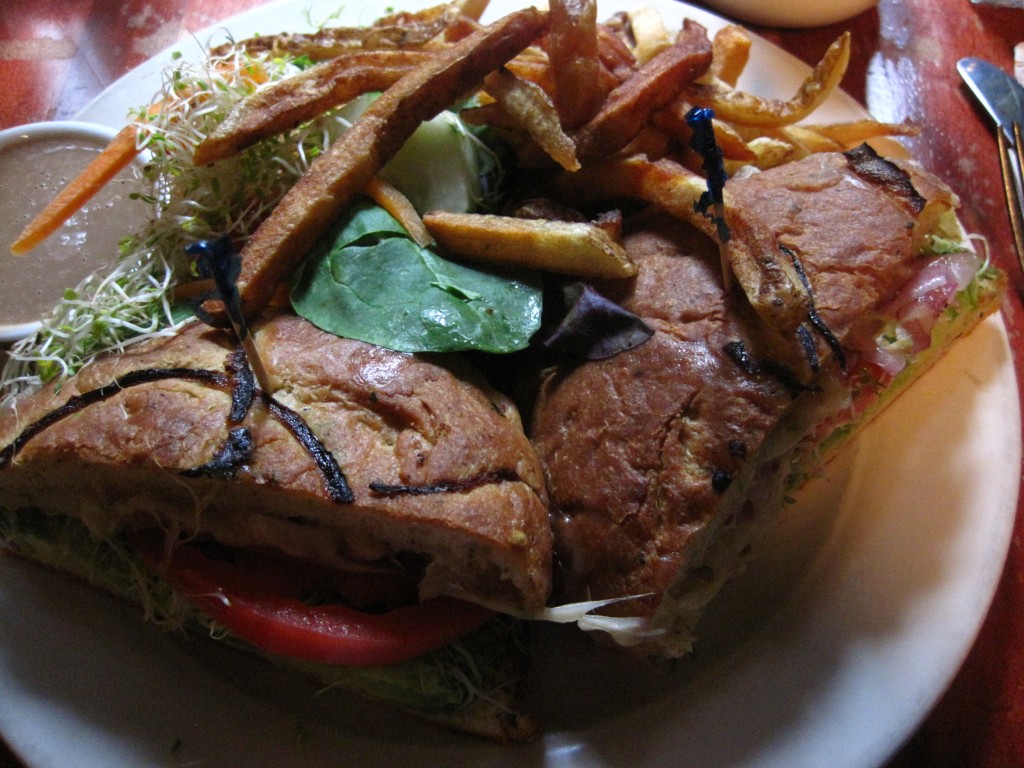 Alright blog friends, I'm off to begin the packing/moving process (omg omg omg). I'm not sure when I will re-emerge. Maybe Thursday. Possibly next week. Please don't forget about me. I promise to be back!
Unless a heavy box falls on me.