I've written about this before (March 2009, to be exact!), but with my recent move to Brooklyn, I'm going to revive the run commute. At my old place, I was only about 3 miles from work, so it usually made more sense to run early, shower at home, and then take the subway. Now, however, I'm about 7-8 miles from the office (depending on the route). Perfect for a morning run! That distance takes me about an hour to run whereas taking the subway would take about 45-50 minutes. By adding just a few more minutes, I can double task and get my run done! It's not feasible to do this everyday (especially when the weather is bad), but I plan to try to run into work at least 1-2x per week. Here's how it went down this morning:
6:30am – wake up, put on running clothes, gather my gear. Note: I've stopped drinking coffee before most morning runs, now I usually wait until afterward and it saves a lot of time. I may not be as peppy without coffee, but I usually get out the door much faster. I noticed that I dilly-dally too much when I sip coffee pre-run!
7:00am – hit the roads and run for about an hour. If I plan things out the day before, I'll leave a change of clothes at my desk. However, this morning I had a doctor's appointment, so I had to carry some clothes with me. I love using mini-drawstring backpacks for running. They key to preventing it from bouncing is to cross the straps over your shoulders – wearing it like a normal backpack will cause it to move around too much. You could also fasten the straps in the middle with a safety pin!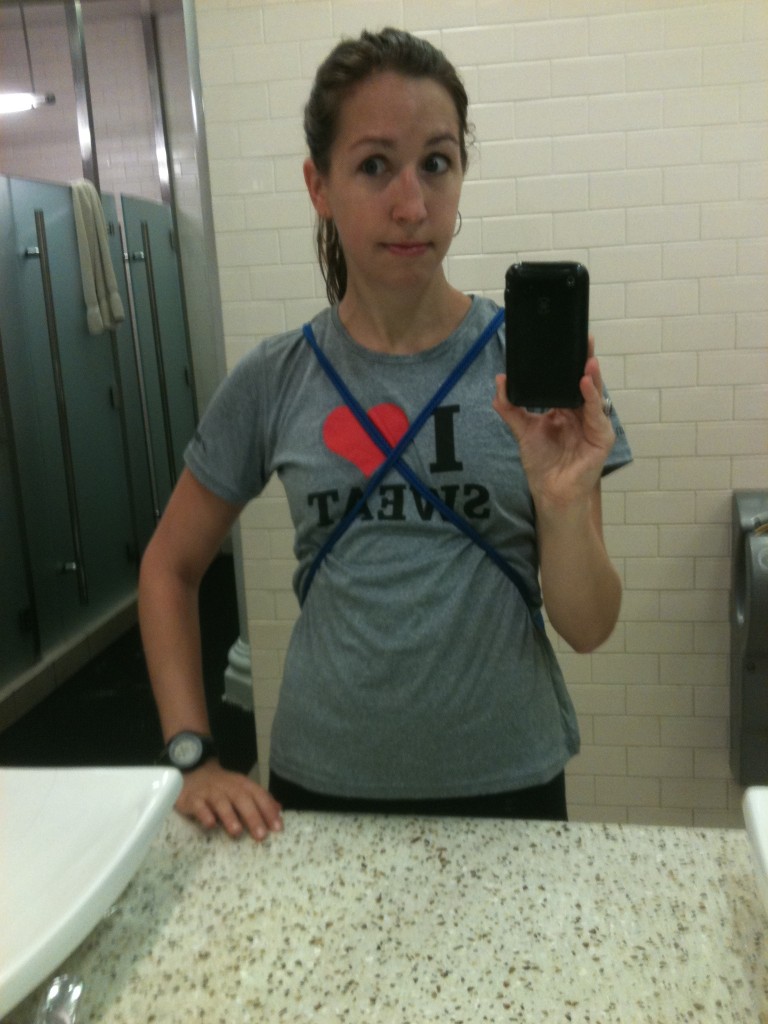 The weather this morning was perfect! Sunny, 65 degrees, a slight breeze, and a gorgeous view of the Brooklyn Bridge. I also listened to an episode of This American Life on my iphone. One of the things I miss most about living in NYC and not having a car is that I never listen to the radio anymore. This morning I pretended I was driving to work, listening to NPR. Wow, that sounds a little dorky.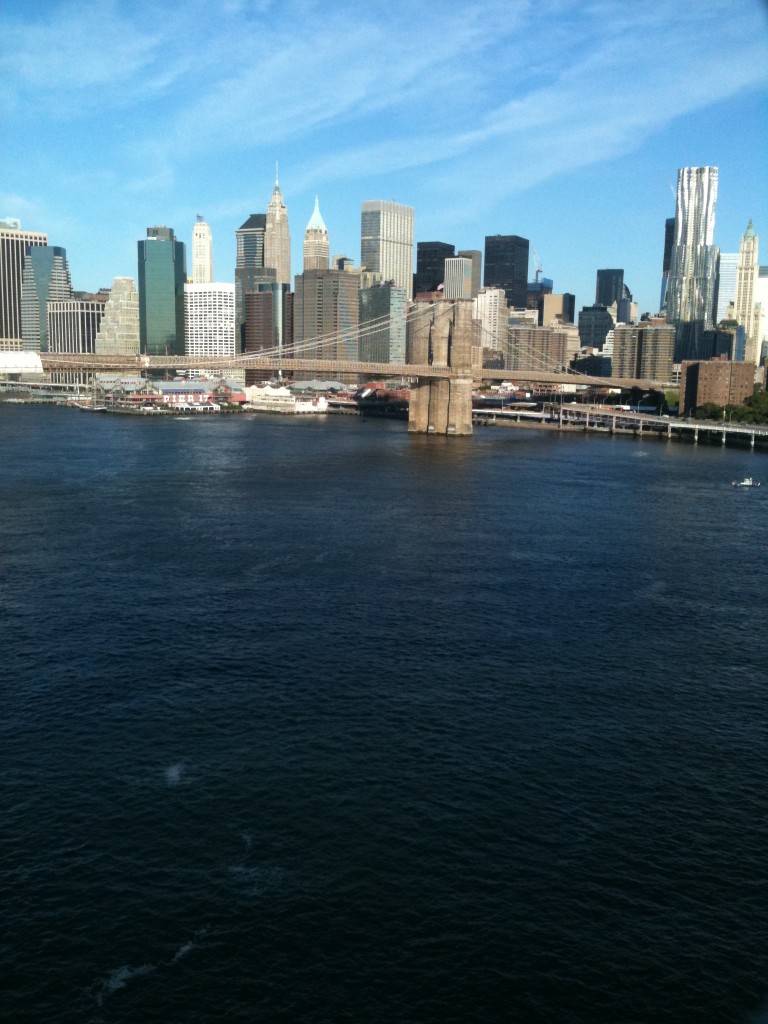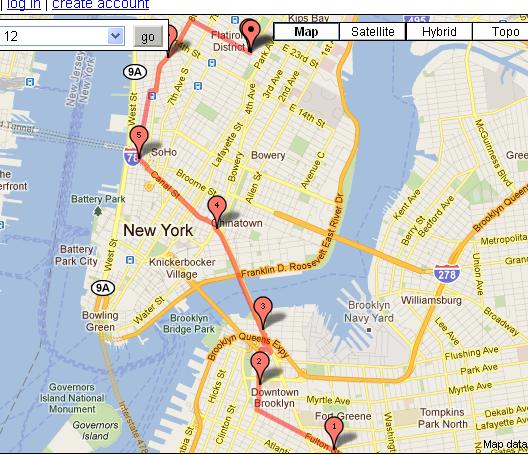 8:01 am – I finished up my run at a gym location near my doctor's office. I packed light so my bag wouldn't be too heavy – top, skirt, underwear, bra, sunglasses, metrocard, ID, cash – that's it! Luckily my gym has shampoo, towels, etc. so I can just bring the basics. If I'm running straight to the office, I usually keep a bag locked in my desk drawer, grab it, and then head straight to the nearby gym for a shower. I keep a blazer and heels at my desk (permanently), so they're always on hand. And yes, occasionally an early arriving co-worker will catch me sprinting through the office in spandex. NBD.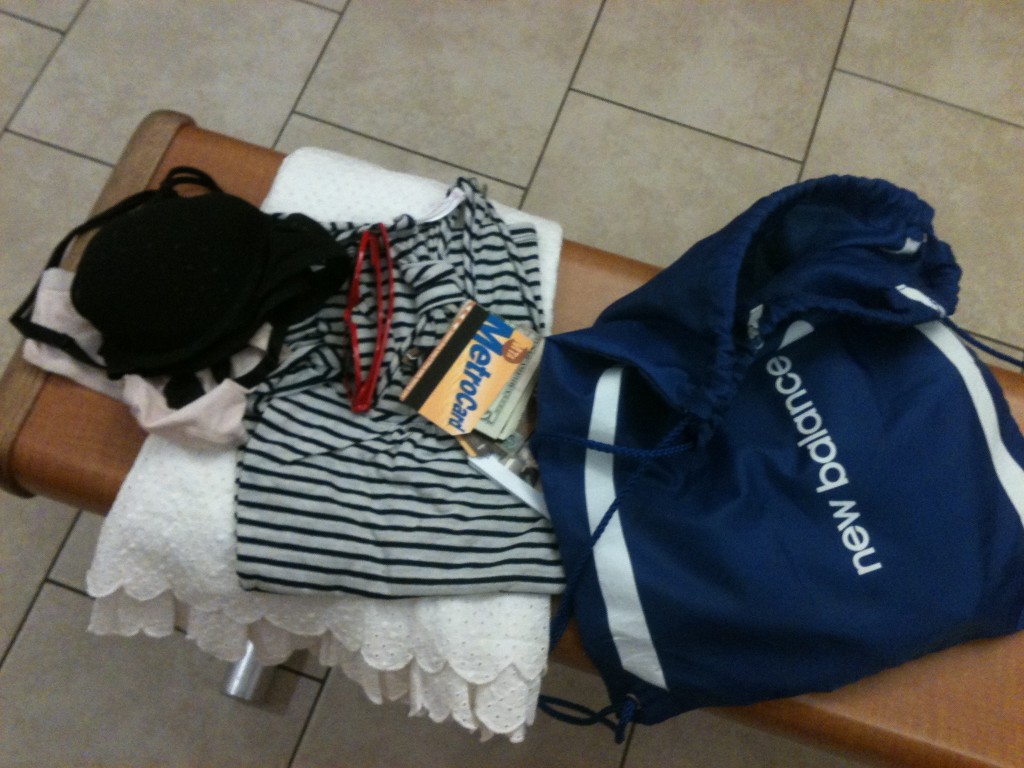 If I know in advance that I'll be running to work, I'll try to bring 2 days worth of breakfast and lunch the day before. If I forget, I rely on my snack drawer (I always have dried plums/cranberries, Clif bars, and dark chocolate in there) and then buy my lunch.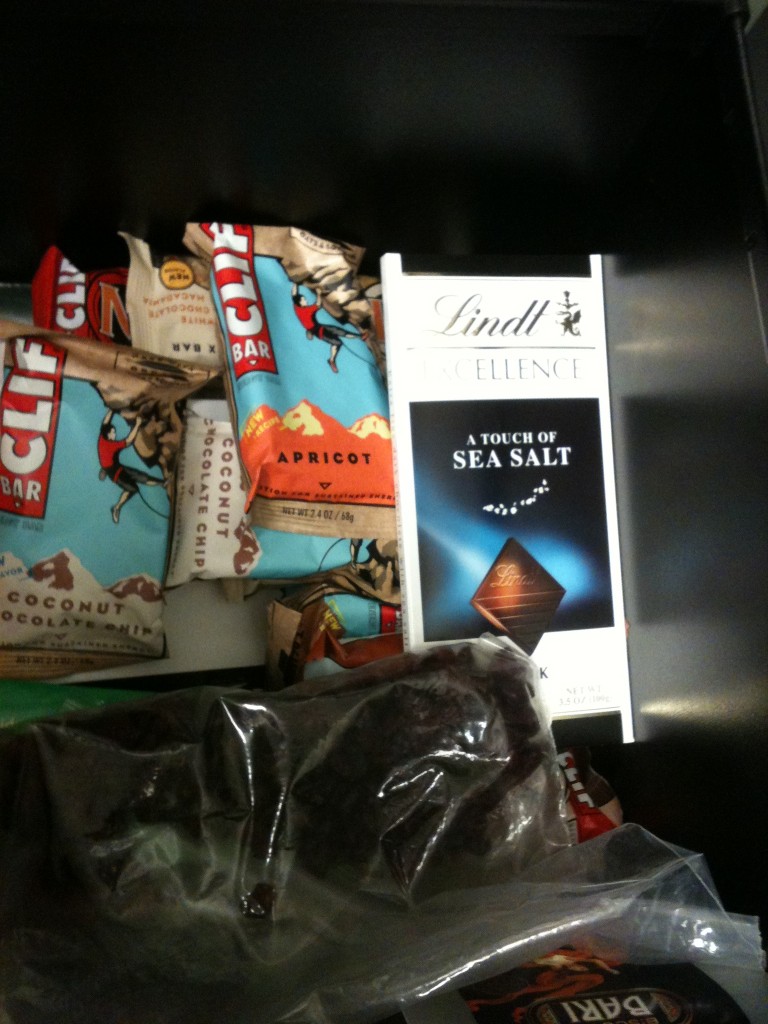 The run commute can also be done in reverse – bring your running clothes to work, lock up your purse, and then head home by foot! That can be a great way to de-stress…
_______________________________________________________________
A few weeks ago, I was contacted by about trying the new SMART STUFF variety of Marathon Bars. I tried them and they're good! Big thumbs up to the crunchy chocolate crisp flavor. They also offered to have their sports nutritionist/RD, Jennifer Vimbor answer some Questions regarding fueling for endurance events. I know a lot of readers are gearing up for marathons, half-marathons, triathlons, and adventure races this Fall, so Jennifer answered some common nutritional concerns.
1) When training for an endurance event, do I need to focus on getting more carbs or protein? Or both?
We need both but, pre-race, focus more on carbs than protein. About 70% of our calories should come from carbs. About 2 hours before the run, go for a balance of carbs and protein.
Post-race, still go for carbs and protein in order to start replenishing the fuel used during the race. I recommend the Marathon Protein Bar. If you don't have much of an appetite, it's still very important to refuel with a small snack.
2) Do you have any advice on what I should eat before/during/after my long run? Ex. soon my marathon training will require 20 mile runs! That's over 3 hours of running, eek.
Regarding eating during long distances, go for simple carbs/sugars such as gus, jelly beans and sports drinks (which are great for both fuel and electrolytes). Don't over-do-it though as eating too much during any run can cause GI distress. Alternate the 'fuel' (sugar) with water.
3) Do I need special vitamins or supplements during marathon training?
Generally, I suggest eating a variety of foods and taking a multivitamin to ensure your body is getting everything it needs. When replenishing nutrients and/or just having a snack, try a Marathon Bar as it has 14-16 essential vitamins and minerals, as well as up to 21 grams of protein!
Obviously this Q&A promotes the Marathon Bar product, but I still think it's sound advice. Full disclosure: Before receiving the free samples, I had bought the Marathon Protein Bar with my own dolla dolla bills.
It tastes like a Snickers Bar, but still has a good mix of vitamins, protein, carbs, fat, and fiber. This is a very good thing if you tend to (temporarily) lose your appetite after a tough run. I try not to eat processed bars everyday, but marathon (and half-marathon) training is a beast and sometimes it's all about getting the calories and nutrition any way you can.
Have you ever done the run commute?
What's your favorite sports nutrition bar (brand and flavor)? Lately I've been lovin' Chocolate Almond Coconut Clif Mojo bars. New flavor!