Sometimes I run twice a day. And you know what? That second run of the day is usually easier (mentally AND physically) than the first. Say whatttt? Before you count me out as crazy, listen to my reasoning.
I do well with higher mileage (50+ mpw), but sometimes that can be tough to reach through singles (once a day runs). I usually only have an hour to run before work (7-8 miles) and since I'm not marathon training, my long runs are usually maxing at out 13-14 miles (vs. 20-22).
With the Philly half less than a month away, I've ramped my mileage up these last few weeks. One thing that's helped me do that is twice-a-day runs. I don't do it everyday, but I find them particularly helpful on workout days or days when I need to "run errands" after work.
What's the point of running twice a day, you ask? Well, like I mentioned before, it helps you increase mileage while also adding in some extra recovery time. If you run 6 miles in the a.m. and 4 miles in the p.m., you're still running 10 miles, but your legs have some down time in the middle. Personally, I think the best part of higher mileage (and doubles) is that it improves running economy. Running economy means you can run faster and longer while using less energy. i.e. running feels easier. And who doesn't want that?
However, you've gotta be realistic. Are you injury prone? Have you recently taken time off from running? Do you usually run less than 40 miles per week? If the answer to those questions is "YES", doubles probably aren't such a hot idea. And that's okay! Sometimes quality >> quantity. But if you've got the itch to get sweaty more than once a day, here are my tips:
1) Start with 1-2 doubles a week. And keep those secondary runs to 20-30 minutes. I really like running an easy 2-3 mile "shake out" run the morning before a tempo or track workout. It puts me in a good mindset for the rest of the day and loosens up my legs.
2) Allow at least 5 (preferably more) hours between runs. For example, if you run at 7am, it's fine to run a few easy miles during your lunch break, but if you can wait until after work – even better!
3) Don't run two hard workouts in the same day (duh) and don't run a double the same day as your long run. Post long run, focus on stretching, refueling, and napping. You've worked hard, don't over do it.
4) For weekend long runs, it's better to do the miles all in one shot. If you've got a 14 miler planned, running 7 miles in the a.m. and 7 miles in the p.m. is not the same thing. You need to train yourself to be on your feet for hours at a time – you won't have an 8 hour break during the actual half-marathon or marathon race!
Want to read more? Check out this Running Times article on doubles.
One of the side effects of doubles? I'm extra hungry! On Wednesday, the man-friend and I headed to one of my favorite places in NYC for a mid-week treat. The Frying Pan is an actual ship that's docked in the Hudson River. During the warm weather months, an on-board bar and grill serves up beer, burgers, sandwiches, and a great sunset view.  We ordered a pitcher of Sam Adams to split and I chowed down on a house-made veggie burger with avocado and lots of ketchup.

Yummmm.
Until Thursday, I had to make dinners that didn't require any sort of heat. My microwave and toaster are in storage in PA and the gas stove/burners in my new apartment weren't set up yet. It was a challenge, but with all my fresh produce I was able to whip up some no-cook dinners.
Monday – Gazpacho.  No real recipe for this. I just chopped up 2 tomatoes, 1 cucumber, 1 red bell pepper, 1/2 onion, and 1 clove of garlic and processed in the blender (in two batches, so it didn't overflow). Then I added salt, pepper, some hot sauce, and generous drizzle of olive oil. I reserved some cucumber and tomato slices to add in to the finished gazpacho. It's a nice way to vary the texture. Top with goat cheese or feta!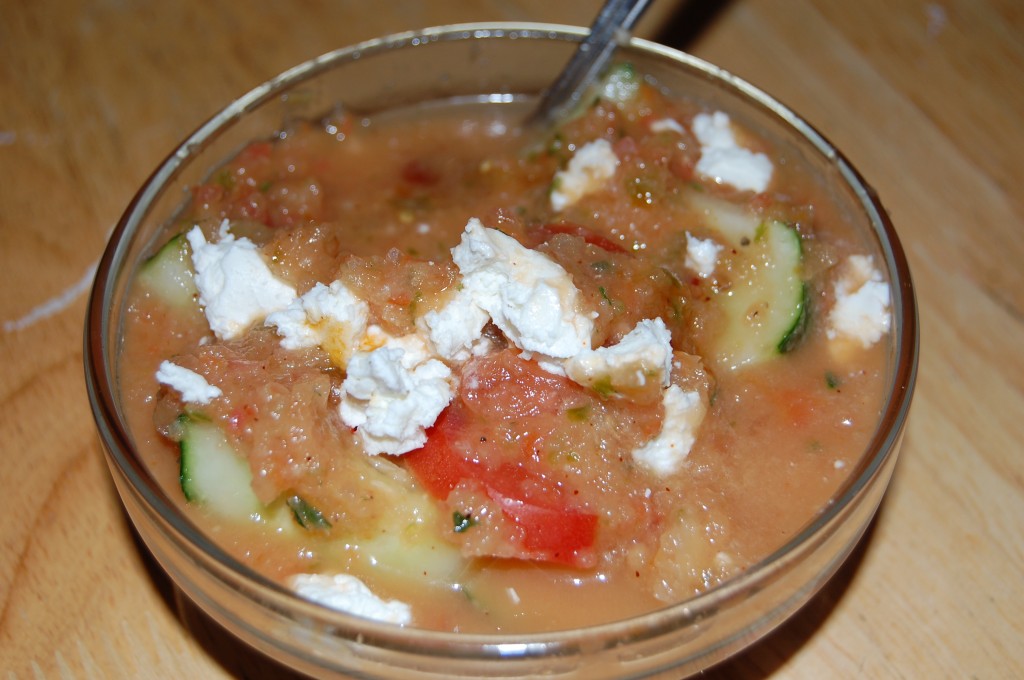 Tuesday – Tuna Salad. Super simple to make. I mixed a can of Wild Planet Foods albacore tuna (soo much better than bumblebee/chicken of the sea!) with a little mayo and mustard. Then, I scooped it on top of salad greens, raw green beans, and goat cheese. I ate toast with tomato, mayo, and fancy sea salt on the side. Yes, I admit. I love mayonnaise.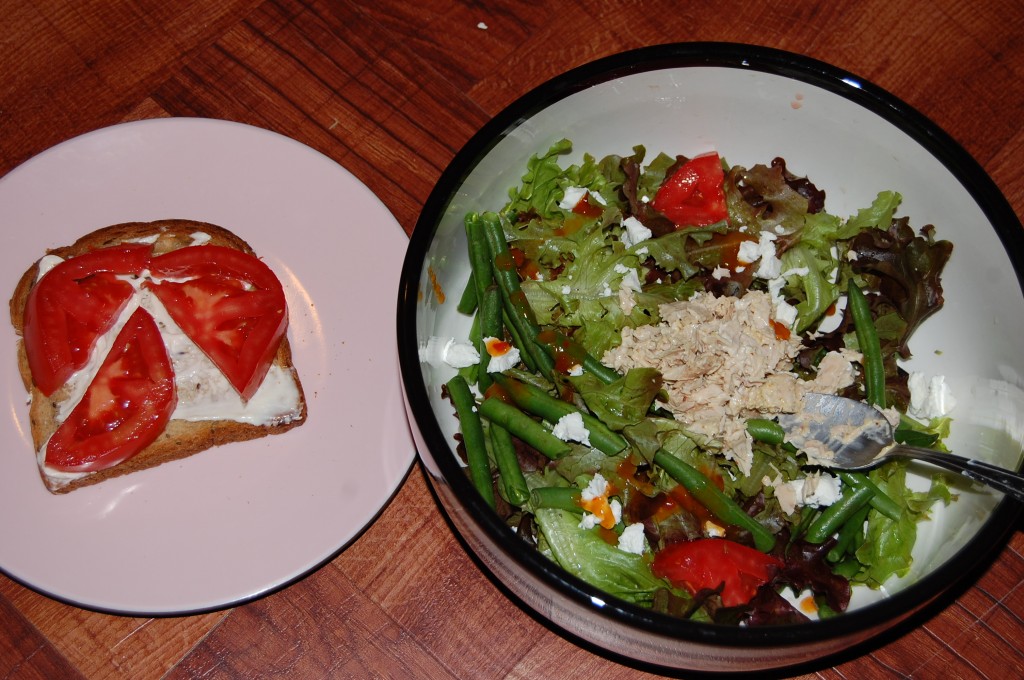 Thursday – Corn, Walnut, and Feta Salad (adapted from Real Simple). I followed the Real Simple recipe to a T, but then added a chopped carrot and some sauteed chard and garlic to bulk it up a bit. Perfect, portable lunch!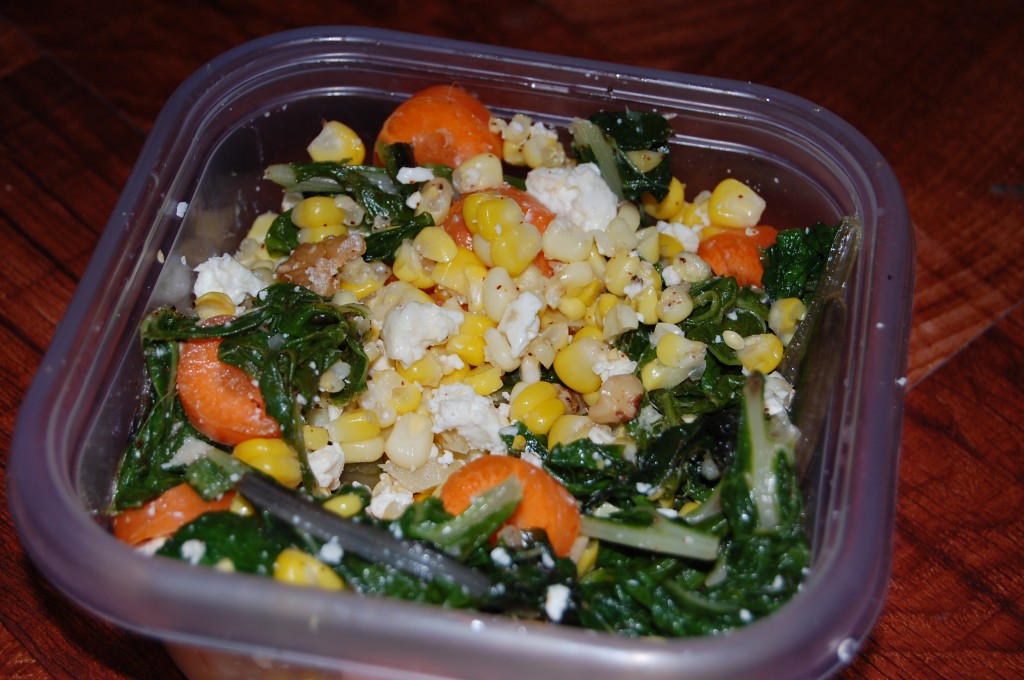 Friday – Baba Ganoush (a David Lebovitz recipe).
This recipe was fairly labor intensive – it called for charring the eggplants over the gas burners before roasting them. If someone walked into my kitchen and saw this, I'm sure they would have called the fire department (yup, those gas burners are on!). But it was worth it for a nice smokey flavor.

Once the eggplant was charred on the outside, I roasted it until tender (30 minutes at 400 F). Then proceeded with the recipe – which basically just involved peeling the eggplant and combining it with the other ingredients in a blender.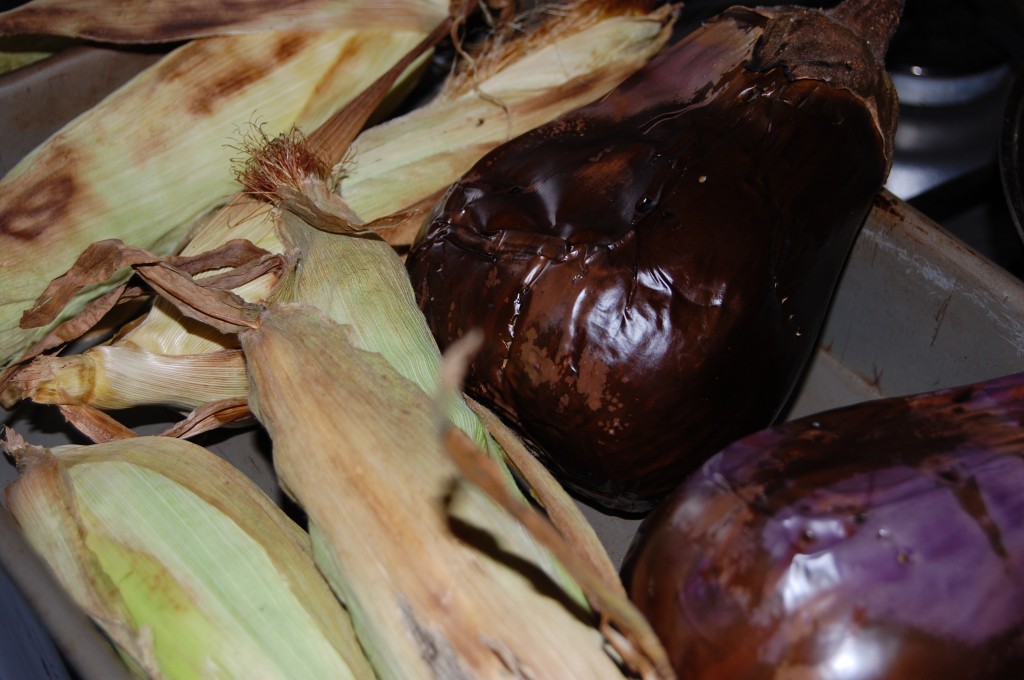 Pita chips, are you ready for this?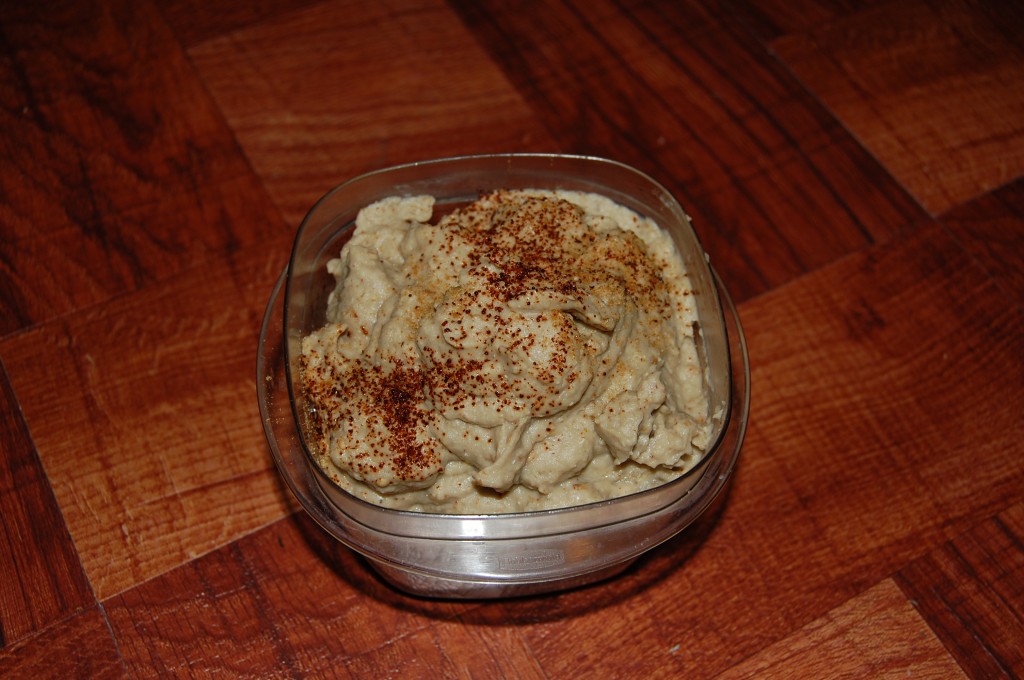 What's your favorite no-cook recipe? It might come in handy if Hurricane Irene shuts off the power…