TGIF! Some thoughts on the week –
After a lovely, but $$$ Restaurant Week dinner with Ms. Leslie (damn those $15 cocktails), I realized I needed to crack down and start being a little more judicious with my spending. I don't make the best coffee in the world, but when it's served ice cold with plenty of whole milk and fun straw, it's palatable. Making my coffee at home for a week = one fancy cocktail. I had a to-die for Rhubarb margarita with smoked sea salt rim from Rouge Tomate on Tuesday!
Runners + pedicures don't mix. A mere 24 hours after I painted my nails, a huge chip was already on my left toe. Womp, womp.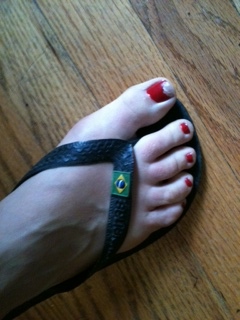 In other news, last night's tempo made me feel out of shape. Okay, maybe not compared to the average person – I mean, I have been running 45 miles/week for the past month. But even though I have a decent base, I haven't been doing enough speed workouts. There are a lot of reasons for this (late nights at work, my own laziness), but if I want to run well in Philly, I need to crack the whip. Last night I ran a 4-mile tempo run with CPTC and while it wasn't awful (~4.05 miles in 28:37, about ~7:03/mile), it seemed much harder than it should have. 8 weeks from now, I want to runner faster than that pace for 13.1 miles. Yikes. Which brings me to "the plan". First of all, big ups to my friend and former blogger Megan M. for creating the original power point template for this plan. It's a beautiful design. Second of all, I have my work cut out for me. I ran the Philadelphia Distance Run (yes, I'm still going to call it that even though it's technically a "Rock 'n Roll" half now) last year in 1:32:22. I hadn't tapered for the race and was in the middle of marathon training, so I think it's possible for me to run 2+ minutes faster this year. Possible, yes. Easy? No way.
My training plan is pretty aggressive – 40-55 miles/week on average including fast finish long runs, track workouts and tempos. I think I'll be fine with the overall mileage and long runs, but getting myself to do workouts will be the toughest part. Once I actually get my butt to the track or to a CPTC workout, I have no problem working hard, but overcoming my own inertia (and late nights in the office) often get in the way. Hopefully I'll be able to fit in the speedy stuff even if I can't make it to an official team practice….
I posted the training plan on Google Docs (anyone with the link can view it), so if you want to take a gander, here it is:
Some notes:
I plan to take a rest day once every 2 weeks or so (instead of every week). Like I said, this is an aggressive plan, it might not be for everyone, but this is what usually works for me. If I'm feeling overly tired or injured, I have no problem taking an extra day off.
Besides some core work and basic arm exercises (triceps, biceps), I don't plan to do any cross-training. If I'm feelin' it, I might hit up a yoga or spin class, but my theory is this – to be a better and faster runner, you need to run.  If I need to take a day off from running, I'd rather take the day off completely (no exercise) than half-ass it on the elliptical. Of course, if you're prone to injury or something, cross-training can be very beneficial, it's just not my jam.
As far as Thursday night workouts go, they are still TBD. The CPTC coach sends out the workout email only a few days before. However, I can usually count on at least 7-8 miles total and my plan is to never run the workout (tempo) slower than half-marathon goal pace.
A main component of this plan is practicing running at goal race pace (~6:50-6:55 pace) at least once a week. I'll start off with 4-5 miles and will (hopefully) be able to run 9 miles at goal pace before race day. I think this will 1) help me to recognize what race pace feels like 2) get better at staying relaxed when the pace is uncomfortable and 3) give me confidence. If I can run 9 miles at goal pace, I'm pretty sure I can run 13.1 miles at that pace, especially if I have a small taper under my belt.
And that, my friends is the plan.
One more thing before I go – I was recently selected as a Yahoo!/FoodBuzz Brand Ambassador for the Share Our Strength program. What does this mean, exactly? No, I won't be getting any free stuff (I opted to donate my $100 stipend to Share Our Strength) or hosting any give-aways. Basically, it just means that I changed my homepage to Yahoo! to show my support and am encouraging you all to do the same (at least for a little while). Yahoo! donated $20,000 to the Share Our Strength program which fights childhood hunger and I think that's pretty awesome. So, if you feeling like giving Yahoo! a thumbs up for donating $20k, make them your home page. Okay, public service announcement over!
Question: What do you think is the most essential part of a half-marathon training plan? I always thought it was the long run, but I'm starting to think that tempos might be key.