For as long as I've been baking, the perfect banana bread has eluded me. Quick breads aren't difficult to assemble (no yeast or rising time required!), but the baking process is notoriously tricky. Whenever I use an 8″ or 9″ loaf pan, the top and sides of the bread get brown and hard while the middle of the loaf remains gummy and under-cooked. Blech. I recently found an Orangette recipe that suggests using an 8″ square pan – genius! I altered the ingredient list a bit (namely, reducing the sugar and using part whole wheat flour), but I followed the recipe instructions to a T. This is probably the best banana bread I've ever baked – moist, perfectly sweet, properly baked, and topped with crunchy cinnamon sugar. Best of all – it's full of bananas, whole wheat flour, and NO oil/butter. The bread is so moist – I almost can't believe it doesn't contain butter! Not that there's anything wrong with butter, I love it. But if I can save a few calories without sacrificing taste, I won't complain.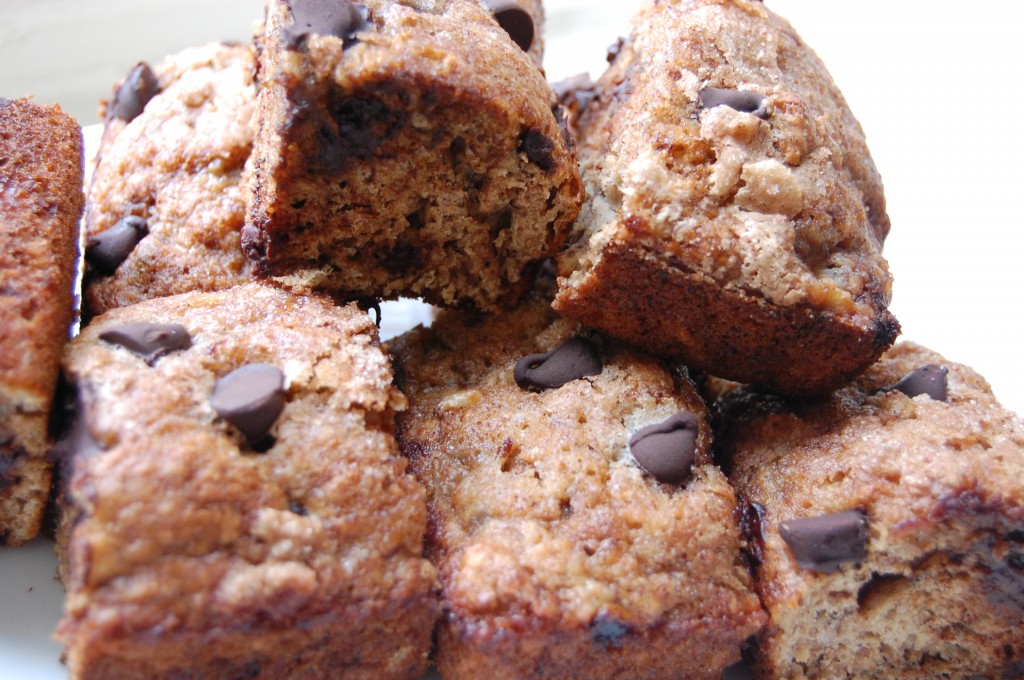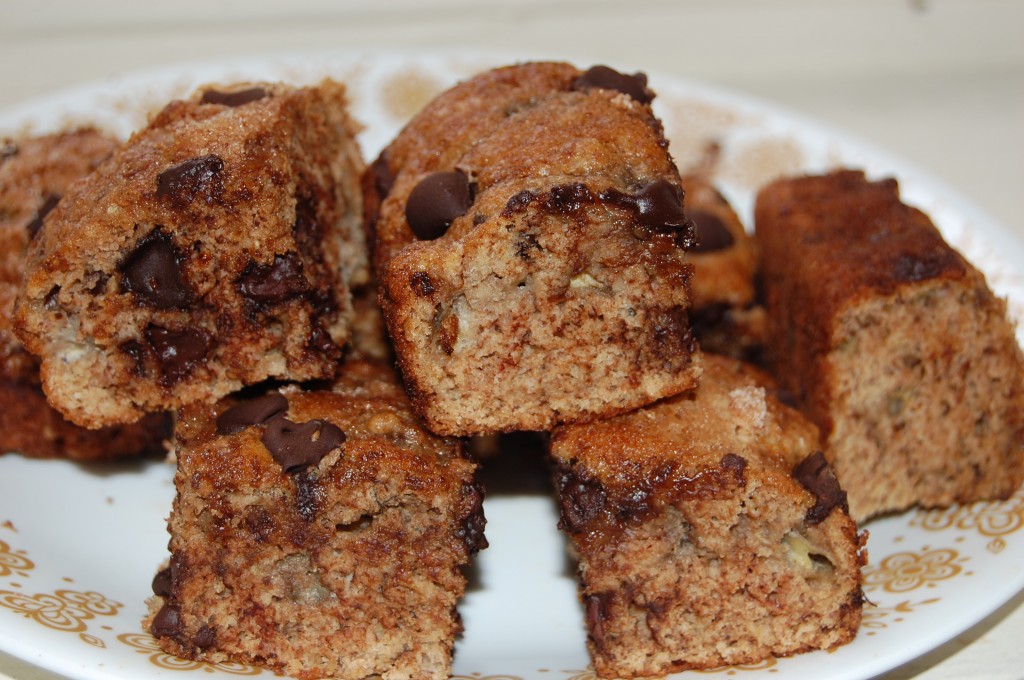 The Best Banana Bread (really!)
Ingredients:
3 very ripe bananas
2 large eggs
1 cup unbleached all-purpose flour
1/2 cup whole wheat flour
1/2 cup granulated sugar
1/4 cup packed brown sugar
1 tsp. baking soda
2 tsp. ground cinnamon
1 tsp. pure vanilla extract
3/4 cup semisweet chocolate chips
For topping:
2 Tbsp. granulated sugar
1/8 tsp. ground cinnamon
Check out the original Orangette blog post for recipe instructions!
Besides, banana-bread baking (um, might need to make it again, disappeared in 2.5 days!), I've logged a fairly decent week of running.
Monday – 3 miles, easy
Tuesday – 7 miles, easy
Wednesday – 8 miles with Lindsay, easy
Thursday – CPTC workout: 1.25 mi warm-up, 4 x 1 mile @ 10k pace (6:47, 6:52, 6:44, 6:51) w/ 400m recovery, 1.25 mi cool-down
Friday – 4.5 miles
Saturday – planned 10-miler
Sunday – planned 6 miler
Total: 46 miles (assuming my weekend runs go as planned)
It's really strange, but the warmer the weather, the more motivated I am to run. Alas, come January all I want to do is hibernate on the couch. Womp, womp. Better enjoy it while I can!
Is there a recipe that's been eluding you? Did you finally master it? I'm still a little scared of making (and carving!) roast chicken.