Hi! My name is Meggie and I blog over at The Thinks I Can Think. I'm a 20-something who likes to run, pretty much like the rest of Runner's Kitchen's readership! I happen to have this thing called "medical school" that often wreaks havoc on my running schedule (its ok, though, medicine is pretty cool, too!). Although I'd love to get my run on in the morning hours like Ali guest-posted about, being in at 6:30 am isn't very conducive to that (unless you can get up at 4 in the morning, which, if you can, I applaud you). So, most of the time, I'm running after a typical 10-12 hour day at the ol' hospital (where you're standing a lot of the day). I'll have to admit, most days, I'm very tempted to climb into my bed and study for school catch up on GLEE. But, I have this slightly competitive side in me that wants to be faster runner, and the only way to do that is to run. So, here are my top 10 tips for getting out the door when you're tired, busy, and would rather nap.
 How to Get Out The Door When You're Super Busy and Tired
Throw on your clothes and shoes before you know what's happening. Sometimes, I lay my clothes and shoes out before I go to work so that when I come home, I can just throw them on and head out the door before I know what's happening.


You can process what when on at work/school. A lot of times, I come home from the hospital stressed and feeling overwhelmed with all I have to do for school. Going for a run helps me process all that I learned that day, organize what I need to do and in what order to do it, and helps calm me down so that I can get my work done more effectively and efficiently. I swear running has made me a better student just because it calms me down. Thank you, endorphins.


Tell people at your workplace you are going to run. Odds are they'll ask you about it the next day (at least I get asked about it.) Wouldn't you rather say "yeah, I got out there an ran 6 miles" rather than "nope, I 

studied

 watched Real Housewives of New Jersey."


Eat a "typical running snack." I eat the same thing before I run in the afternoons (a picky bar), so if I eat it, I feel as if I now have to run as I have fueled myself for it. This sounds completely retarded when I type it, but it works. I guess the association of my snack and running gets me in the running mood when I eat it.


Make plans with friends. Similar to what Ali said about the mornings, making running plans with friends is a great way to make sure you get your run on at some point in the day. It's also a GREAT WAY to catch up with friends that you may not have time to see otherwise. You kill two birds with one stone – get your workout in and have social hour.


Sign up for races and tell people at work/school. I like to think of this as fear-based training, meaning the fear of failure. I mean, do you really want to suck it up in that race? No. So, get out there and run. This is primarily how I motivate myself.


Try on your skinny jeans. Yes, this is sick, but the fear of not fitting into my clothes and having to buy new ones will get me out the door most days. I mean, I love shopping, but not for the next size up.
Join a running club. I know Megan runs for CPTC (there a little, umm, FAST for me!). I happen to run for West Side Y Road Runners Club. We meet at 6:30 on M and W (at 63rd and CPW, if you're interested in joining us). So, if I get out of the hospital in time, I hustle on up there and get my sweat on with a lot of like-minded people. Its fun. I highly suggest joining any running cub.


Remember, you always feel better after you run even if you feel like crap before it. Even if I run a hard workout, I always feel better after I run. I bet you do, too. So, lace up your Nikes and get out there.
Remember, diabetes and hypertension are no fun. Ok, so this may be the medical student in me, but I remind myself that, with the way I eat, if I don't run, I will for sure be headed for diabetes. Metformin and counting carbs does not sound fun. And, I'd like to feel my feet in my 70s (diabetic neuropathy…look it up). Hypertension…yeah….I'm not so into having a stroke either. Another fear-based method, if you will.
 Trust me, once you get out there, its not so bad.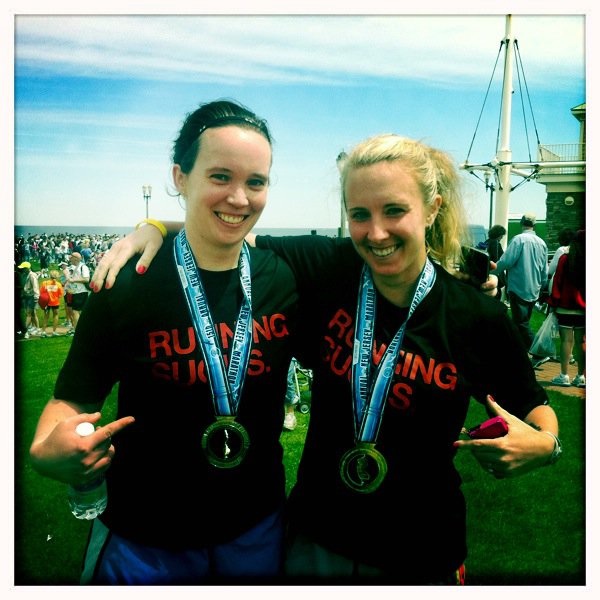 Anyone else have any tips for getting yourself out the door when you're tired?
(Megan says…It is 7pm and I'm still in the office. I haven't run yet and am feeling very tired and cranky. Please send running motivation STAT!)