"The cure for anything is salt water – sweat, tears, or the sea." – Isak Dinesen
Although it may be a little cliche, I really think that quote holds true. I mean, who hasn't felt better after a trip to the beach, a sweaty run, or a good cry?
Some stressful things have been happenin' in Megan-ville as of late. Family dramaz, an impending move (still don't know exactly when or where…), money anxiety (damn, security deposits and 1st/last months rent!), and an increased work load in the office. Tuesday was a pretty shitty day, but a bit of redemption came around 6pm. Due to a combination of work, travel, and CSA veggie pick-ups, I haven't been to a track workout in ohhhh….3 months, but better now than never, eh? I really needed an outlet for all of my pent-up anxiety and frustration and last night that outlet came in the form of 1000m repeats. The intervals didn't hurt any less than usual, but in some way, they made me feel better. As I was chugging along on the track, close to anaerobic threshold, there wasn't time for feeling sorry for myself or worrying about my bank account balance. And so, while I did get a good physical workout in, I'm even more grateful for the emotional benefits. Does running fix everything? No, of course not. But it helps.
After a 2.5 mile warm-up, the assigned workout was as follows:
4 x 1k @ 5k pace with 400m recovery (my splits were very consistent – 4:02, 4:02, 4:02, 4:00 which is the equivalent of about ~6:29 pace)
3 x 300m @ faster than 5k pace, the intention was to focus on our finishing kick, w/ 100m recovery
I finished up with a 2+ mile cool down, bringing me to about 9 miles for the day. I ended the workout feeling spent, but I didn't kill myself on the 1000's. Our coach was adamant that we run the intervals no faster than our current 5k pace, so that's I tried to execute. Better to finish a workout feeling like you could have run faster, than to feel like you've run a race (that's what race day is for!).
Today I'm feeling a little roughed up (I slept for a LONG time), but I have an easy recovery run on tap for later this afternoon. From now until Saturday, I'll just be running easy mileage, and then it's River-2-Sea Relay time! I'll be running a 4.8 mile leg, followed by a 9.2 mile leg later in the day. Projected forecast: 90 degrees and sunny. Woo. Luckily I have some awesome teammates (Sarah, Shelby, AR, Jacqui, Kristan, and Nicole) and the promise of cold beer + beach at the finish.
The other night when I was in the need of some de-stressin', I decided to make a pretty ridic brownie recipe. This is a good recipe for sharing and/or parties – otherwise you may experience sweet tooth overload!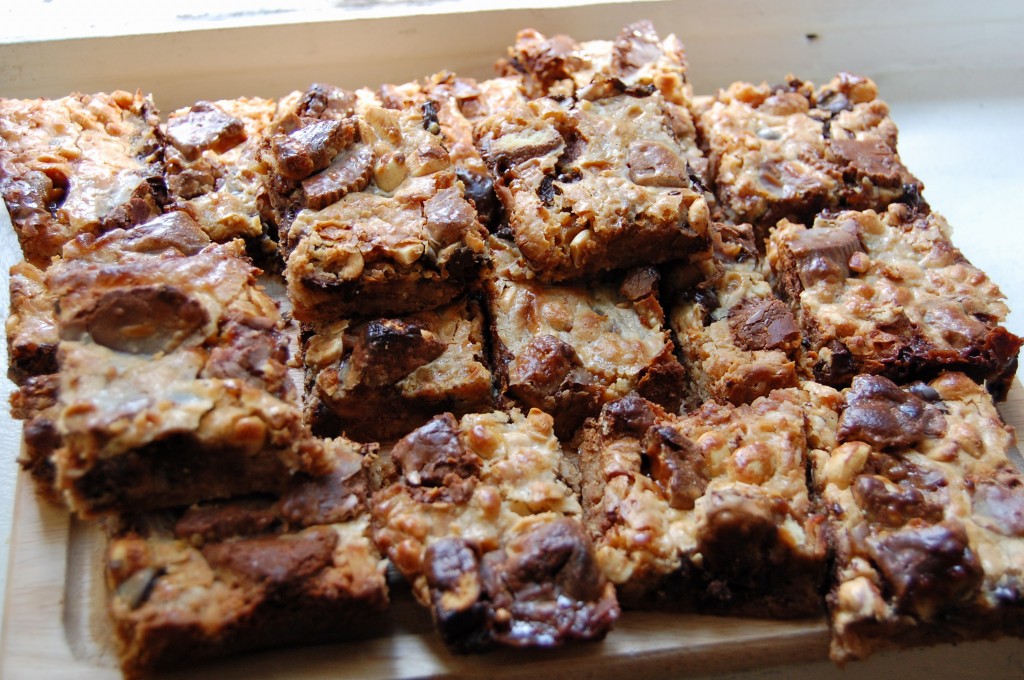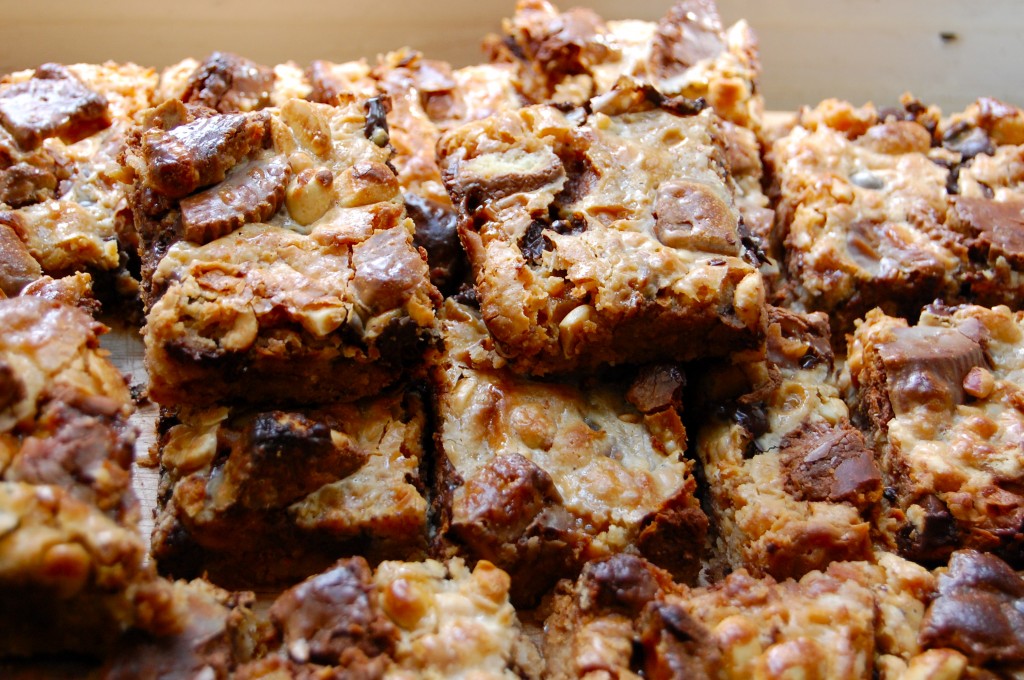 Peanut Butter Candy Bar Brownies (based on a MyRecipes.com recipe)
Ingredients:
1 package vanilla creme sandwich cookies, crushed
1/2 cup butter, melted
1 (14-oz.) can sweetened condensed milk
1/2 cup creamy peanut butter
1 tablespoon vanilla extract
7 Reese's pb cups, chopped
7 fun size twix bars, chopped
1 cup semisweet chocolate morsels
1/2 cup peanuts
1/2 cup sweetened flaked coconut
Preparation:
Combine crushed cookies and butter in a medium bowl. Press crumb mixture into bottom of a greased aluminum foil-lined 13″ x 9″ pan, allowing foil to extend over ends of pan. Bake at 350° for 5 minutes.
Combine condensed milk, peanut butter, and vanilla in a medium bowl, stirring until smooth.
Sprinkle chopped candy bars, chocolate morsels, peanuts, and coconut over crust. Drizzle condensed milk mixture over coconut.
Bake at 350° for 25 minutes or until lightly browned. Remove to a wire rack, and let cool in pan. Use foil to lift uncut brownies out of pan. Peel foil away from sides of uncut brownies, and cut into bars.
Alright kids, I'm out. The roads are callin' for an afternoon run (I have the day off of work!). But before I go – think about making Yahoo! your home page. I'm still working with FoodBuzz and Share Our Strength to give Yahoo! a big thumbs up for donating $20k to fight childhood hunger. Don't worry, google isn't going anywhere…