Today's post title is brought to you by Bob Seger and his classic 70's hit…
Thanks to some awesome lady runner buddies, I've been getting better at this whole morning run thing. I know that if I don't drag myself out of bed, they're going to be waiting for me…and pissed worried if I don't show up. However, work has been kind of crazy lately. Dinner most nights is at 9 or 10pm, bedtime around midnight, and that isn't always conducive to a run the next morning. On Thursday, I planned on heading to a CPTC tempo workout or the gym whenever I left the office, but by the time I busted loose, practice was half way over and the thought of enclosing myself inside a gym, on a treadmill made me feel violent (lolz work frustration!). I re-read Meggie's guest post about getting out the door even when you're busy and tired, but my body and brain were shouting a resounding NO to running.
So, instead, I headed to the nearest pinkberry (the salted caramel froyo is SO good) and ate it while I walked home. After a few hours of decompressing, I finally felt ready to go for a run. The only problem? It was 9:30pm – not exactly a normal time to hit the roads. I know many people run in the morning and I agree – it feels AWESOME to get it done and have your evenings free. BUT if you ever sleep-in and want to fit in some evening miles, I promise it's not as hard as you might think.
I definitely know what it's like to finish a long day at work and feel hungry, tired, and not at ALL like running in the evening. That's okay, normal actually. Below are some things that have helped me get myself out the door.
You don't have to run the minute you leave work. I realize this might not work for everyone, but my 9 or 10pm runs are usually much better than my 6 or 7pm runs. Last night, I took some time to chill-out and a few hours later, my motivation had returned. Obviously, if you eat a huge dinner or drink a few glasses of wine…running late isn't going to work. Make good choices if you want to do a night run.
Try some reverse psychology. Last night, I said to myself  "Okay, you're cranky. You put in some good miles this week. It's fine to take a rest day." Just removing the pressure, the notion that I had to run made it all the more appealing. I told myself I could take a rest day, but in the end, I didn't want to.
For God sake, eat something (even a dessert-y thing if you want!). If you eat lunch between noon and two, you're going to be hungry by 6 or 7pm. Now's the perfect time for a snack! Last night, I treated myself to some froyo with raspberries and chocolate and it made me happy. It also prevented me from becoming a murderous bitch – that occasionally happens when the blood sugar dips. Fun times.
If you go for a run at night, don't be an idiot. Don't carry your $500 Ipad with you. Don't wear headphones (you need to be aware of what's going on). Stick to well-lit paths. Tell someone where you're going and what time you expect to be back. Stick your cell phone in your sports bra or pocket (for emergency calls). But most of all, don't let night time running scare you. Central Park is actually pretty safe these days – they have a good police presence and people are out there biking and running at all hours of the day and night. Central Park circa 2011 is much different from the Central Park of the 80's! I've done quite a few night time runs by myself and have never had an issue.
But, if you do get mugged, you can't sue me, capiche?
Think about what a bad-ass you are. Yo, you just worked a full day. Most people are probably half-way through a pint of Ben & Jerry's, watching bad reality TV on the couch. But you? You're pounding out some sweaty miles on the road. Keep it up, hot stuff. (Yes, these are really things that I think about when I'm running in the evening).
Remember why you do this sport. Is it to stay healthy? Run a PR in your next race? Because it makes you feel strong and less stressed? If you're reading this blog, running probably makes you a happier person. And hey, it's cheaper than therapy. Keep that in mind when you're struggling to get out the door.
After you finish up running, have a real dinner. And beer! Drinking beer after an evening run is more acceptable than after a morning run. Although, I won't judge you if you like to knock back IPAs at 8am.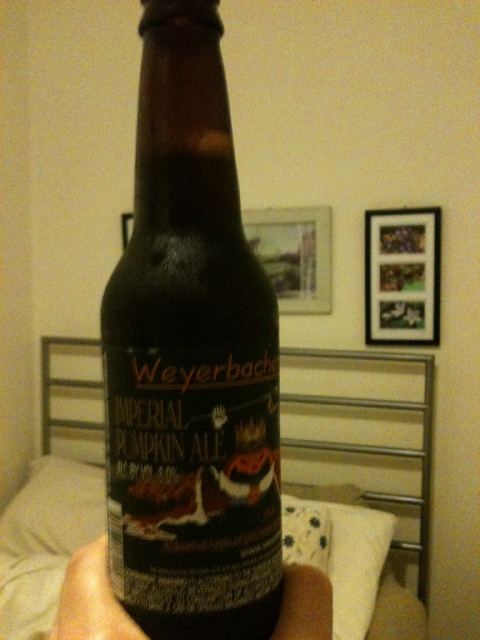 One day this week, I cooked some whole wheat cous-cous and mixed it with a bunch of chopped veggies (Hakurei turnips, cucumber, summer squash, wilted spinach), feta cheese, chickpeas, leftover rotisserie chicken, olive oil, and salt & pepper. It took less than 30 minutes to make a huge bowl (enough for about 3-4 meals) and it's packed with carbs, protein, healthy fats, and fiber. I like to add a big dollop of hummus and some hot sauce before I dig in!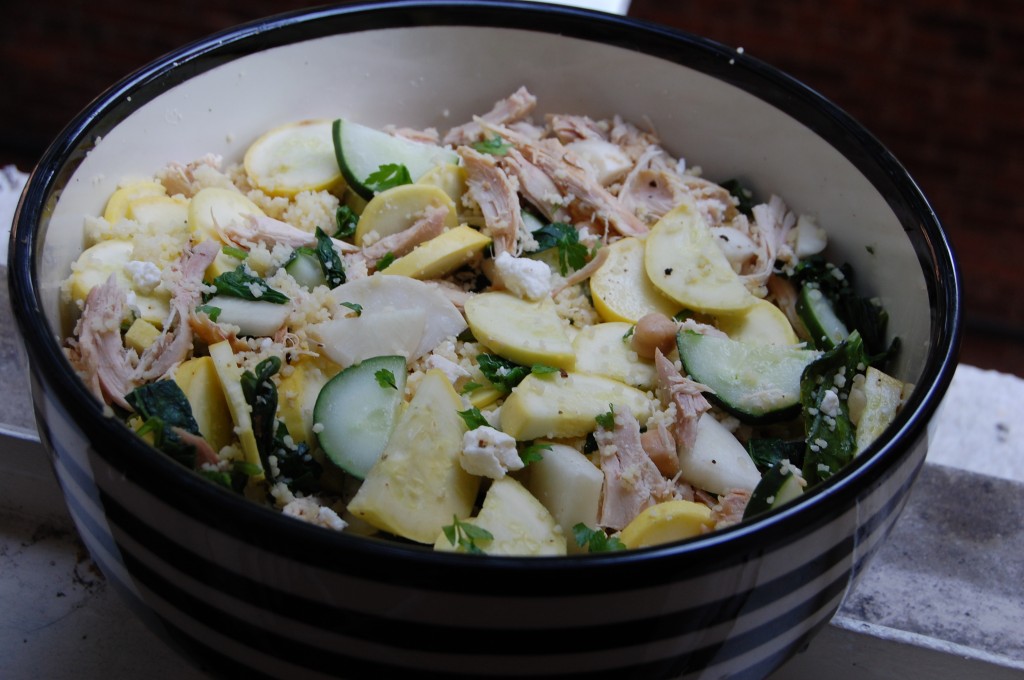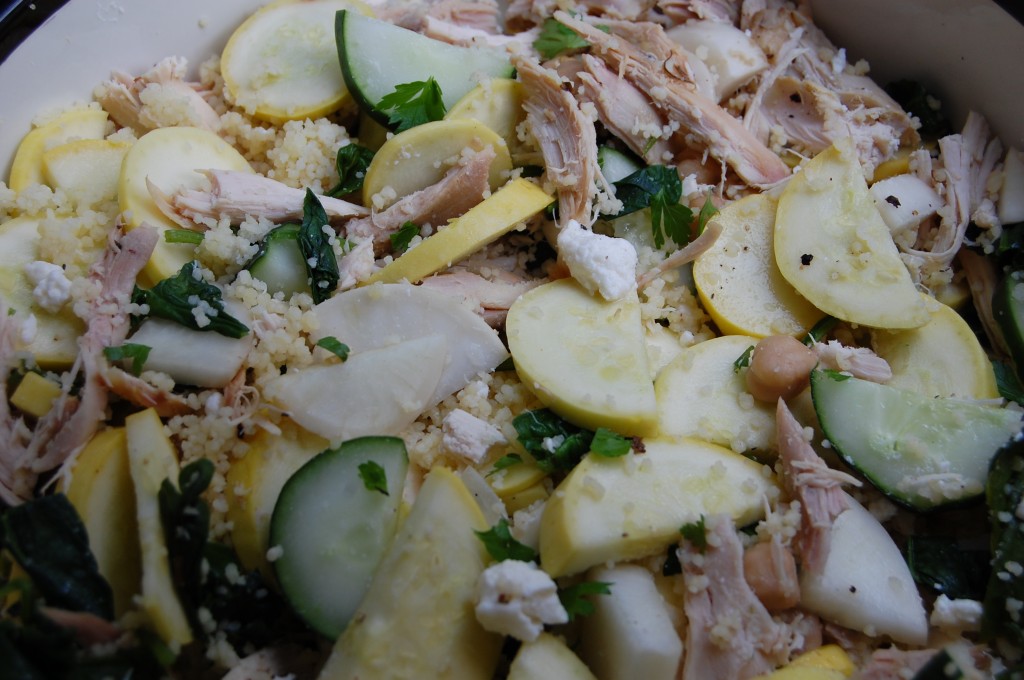 Ta-da! Easy week night dinner.