A very special thing happened since my last post – I became the Four Square Mayor of Chop't!

This NYC and Washington D.C.-based salad place is a block away from my office and the array of fresh, seasonal veggies (plus local meats and homemade dressings) makes it irresistible. It's a bit pricey at $8-10 per salad, so I can't go everyday. However, I've been cutting back on Starbucks and other treats so I can work it into my budget. Going to Chop't and getting a yummy salad really brightens my day, so I think it's worth it. And I mean…if I'm going to spend drop $$ on something, I suppose it could be much worse than salad! And FYI, Chop't isn't paying me to say any of this (I doubt they know I exist) – I just wanted to share the love!
🙂
The salad that earned me my "mayorship": The Middle Eastern Cobb featuring romaine lettuce, cucumbers, pistachios (I usually ask 1/2 portion of the nuts), feta cheese, allepo pepper chicken, and lemon tahini dressing. With whole wheat pita and a Boylan's diet root beer on the side. Best.Lunch.Ever.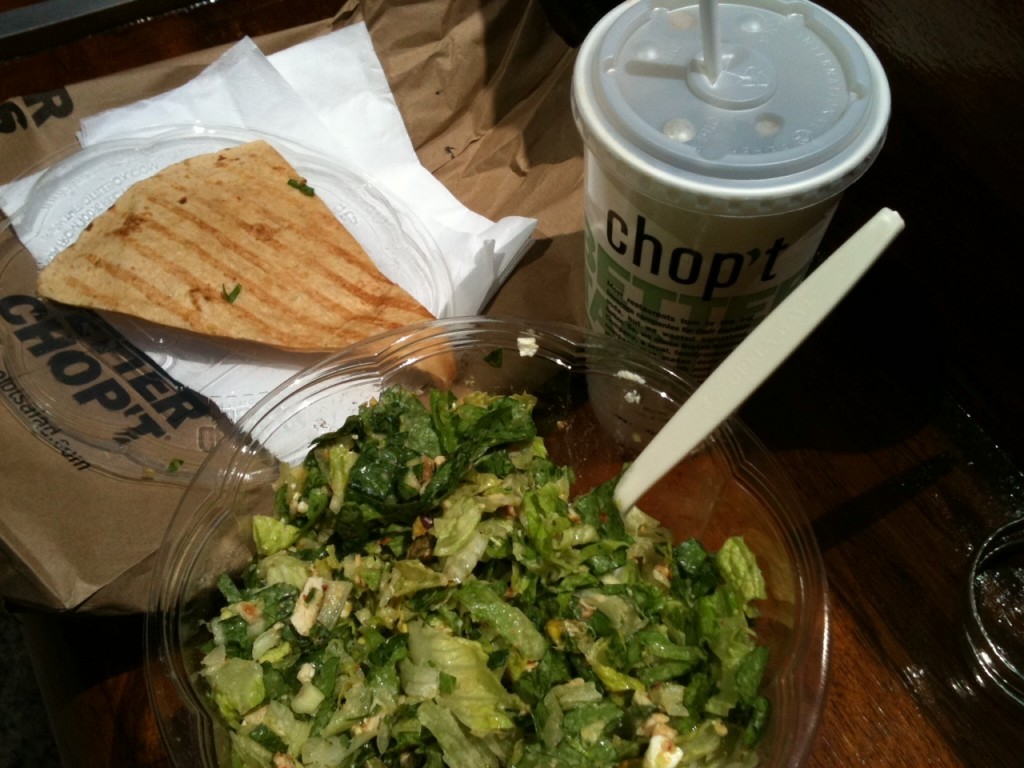 The remainder of my Friday was pretty low-key. I left the office around 8:30pm, carbo-loaded for my long run with a beer (hehe), and went to bed on the early side. As per my 1/2 marathon training plan, the goal for Saturday was to run 13 miles with ~2 at race pace. I don't know what's going on, but lately my legs have been feeling like L-E-A-D (maybe it's the heat?) and my first couple of miles were really slow. It was discouraging to look down at my Garmin and see that I was running over a minute slower than I wanted to be. Le sigh. After about 5 miles on the bridle path, my Garmin watch started running low on batteries, and so I switched to the treadmill at my gym. I felt a bit better for the remaining 6 miles of my run and was able to run a mile at race pace ~6:55, but still…it wasn't the best of runs. I really started doubting myself, thinking that my plan (and race goal) was overly ambitious. It's an awful cycle – when I feel crappy, I lose mental focus and start thinking negatively. And when I'm thinking negatively on a run, it really affects me physically. Ah well. I finished up 11 miles in about 1:37:30 (8:51 pace) which objectively looks fine. But it just didn't feel good. I may need to tinker with my training plan a little more – I'd rather have a less ambitious mileage/time goal for the day and exceed it (and finish feel good!), then set myself up for failure. In the meantime, on to the next one!
After my long run, I trekked out to Brooklyn to look at some apartments (I'm moving next month, eek!). After a few hours of checking out some places (apartment hunting is hard work, yo) I was in need of some refreshment. Ever since Leslie became a Brooklyn-ite, her tweets about the local ice cream offerings have been making really jealous. The only remedy was to get some of my own! The man-friend and I hit up Ample Hills Creamery and the homemade vanilla sugar cone with peanut butter cookie ice cream did not disappoint.
Yum.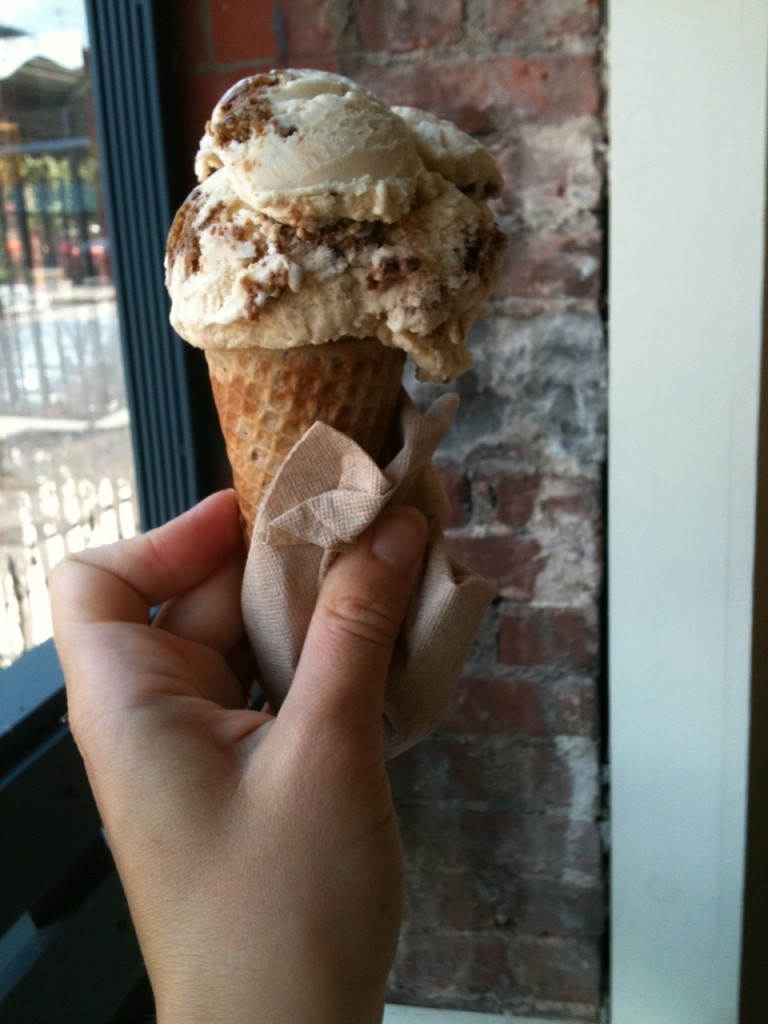 I ran 3 easy miles on Sunday before heading to Ilili for a Restaurant week brunch. Their prix-fixe menu was impressive and I was really happy with my order:
Chakchouka Eggs in Cocotte: spicy tomato sauce, three poached eggs, hash brown dumplings, arugula salad, grilled beets with honey butter, fresh-squeezed OJ, and hot, fluffy pita bread.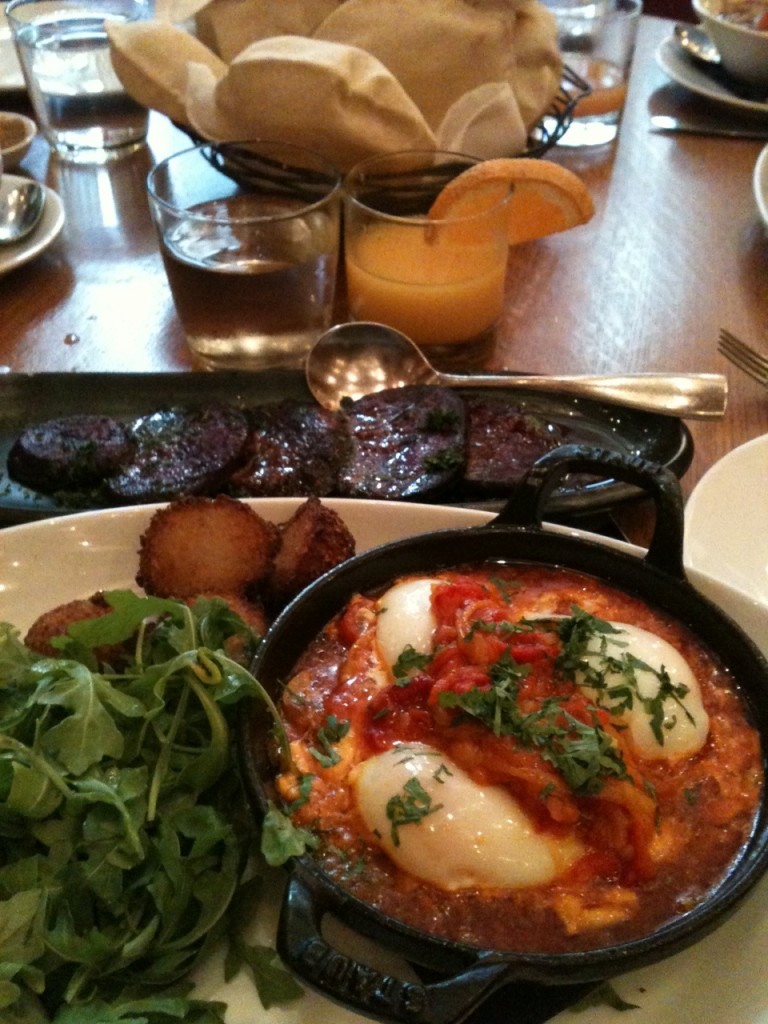 This was delicious! And it kept me full for pretty much the entire day. But not too full for more ice cream! Sunday, July 17th was National Ice Cream day and it would be unacceptable for me not to celebrate!
A scoop of tiramisu for me (and chocolate-pb for the man-friend) from Sundaes and Cones in the East Village.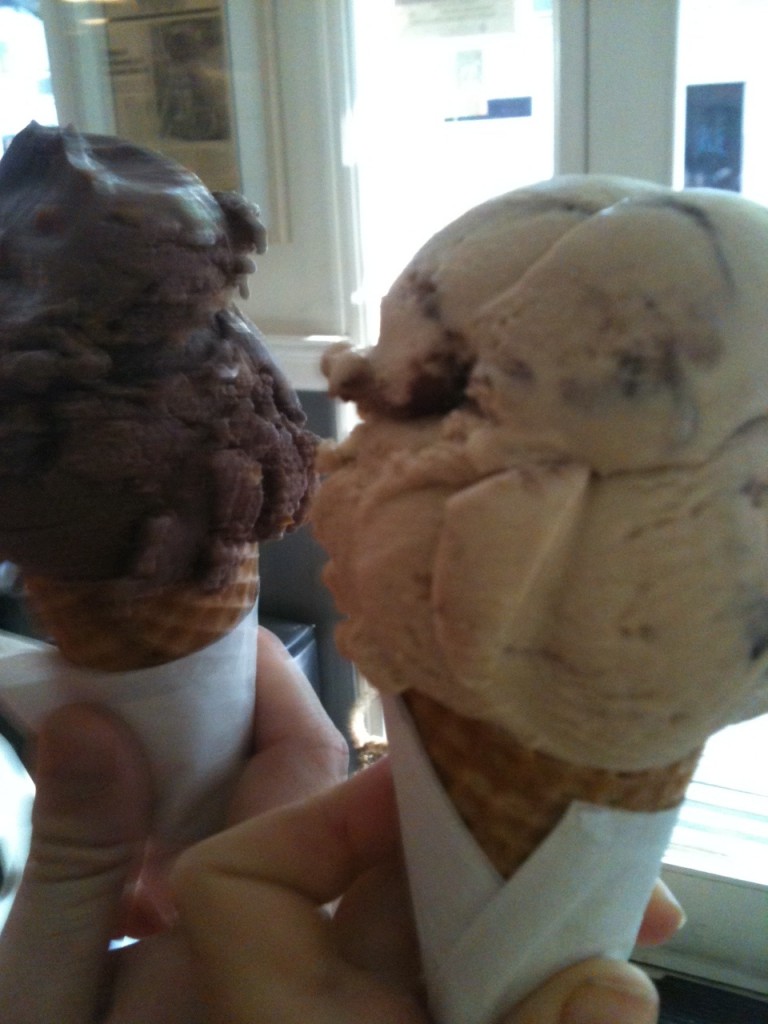 Reason #678657 why I love summer – ice cream!!!
What's your go-to foodie indulgence? And how do you make room for it in your budget? Since I'm getting ready to move (deposits, u-haul rentals, and Ikea purchases – oh my!), I feel like I'm noticing every single dollar I spend.