It's feeling like legitimate Summer here in NYC. It was hot and sunny all weekend and I LOVED it. July >>>> January. The heat does make running a little tougher, but the fact that I can wear only a sports bra and re-fuel with popsicles and frappuccinos makes it bearable. On Saturday morning, I headed out for my longest run in a while. I met Kelly, Ali, and Lindsay for ~10 miles on the bridle path in Central Park, made a quick stop at my apartment to grab my mini-back pack, and then continued for another 4 miles, ending at Randall's Island. I finished up 14 miles in 2:03 (~8:47/mile) – right on target for an easy long run.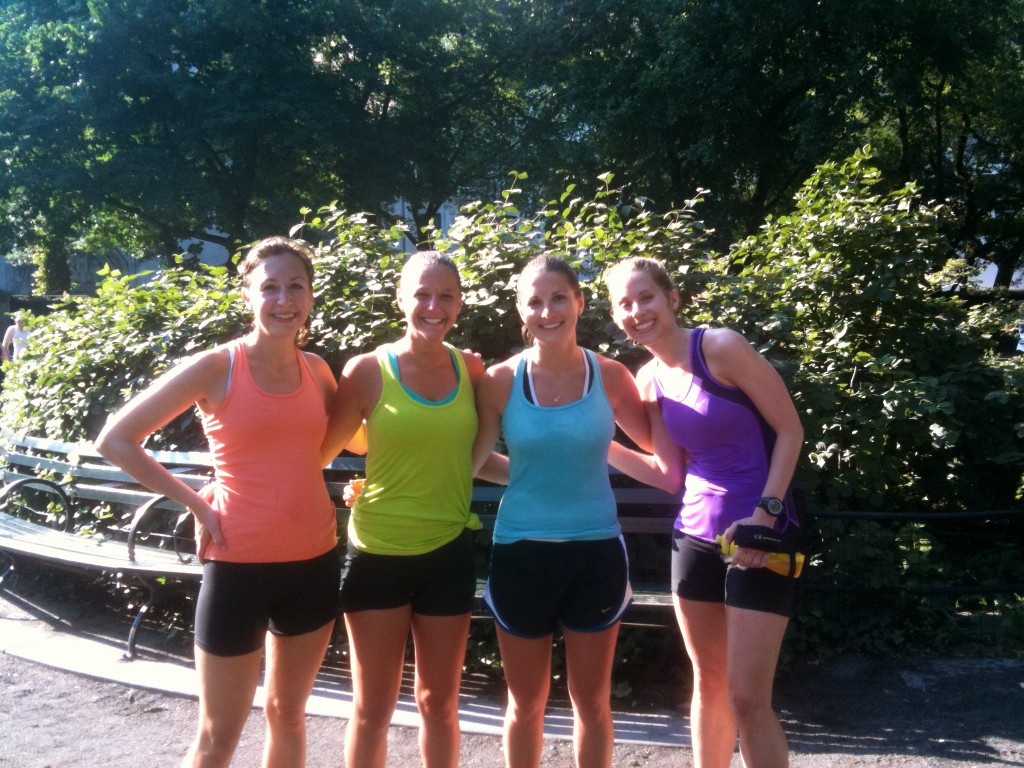 (note: I stole/borrowed/hijacked this photo from Ali's blog)
I spent the rest of the afternoon at Icahn Stadium (USATF National Track and Field Championships) cheering on teammates and volunteering at the Long Jump pit. 4+ hours in the sun, measuring jumps, and raking the sand was hard work and I was toasted by mid-afternoon. Yeesh. I tried counting up the amount of liquid I consumed and by 1pm, I had already drunk 66 oz of fluid. And peed once.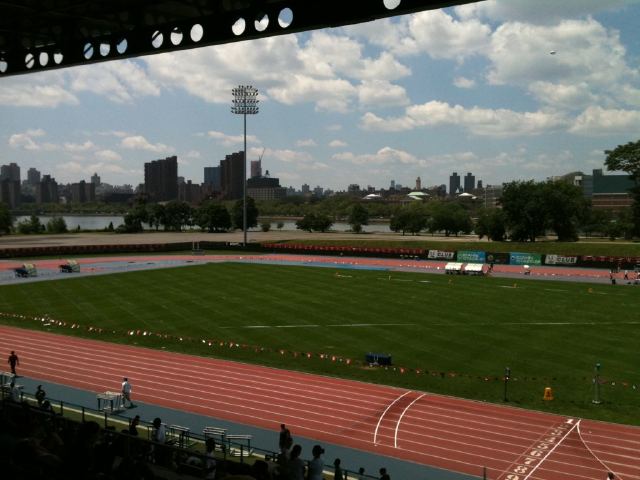 By 3:30pm, I knew I had to get going back to Manhattan in order to shower and make it to my dinner plans. I considered waiting for the bus, but jogging the 2 miles from Randall's Island to my apartment in Harlem just seemed more efficient. I circled around the stadium a few times, but couldn't locate the pedestrian path over the RFK Bridge in to Manhattan. So, in the spirit of efficiency, I ran up the ramp that I guess was intended for vehicular traffic. As I approached the toll booth a rather irritated police man started blowing his whistle and pulled me off to the side. I got a little talkin' to (no running on the highway, M'am), but then he escorted me across the entire 8 lanes of toll traffic and on to the pedestrian path. I felt really special! And by special, I mean, really embarrassed. Luckily he didn't fine me or anything. One police escort and 2 miles later, I was back home with 16 miles under my belt. Lesson learned.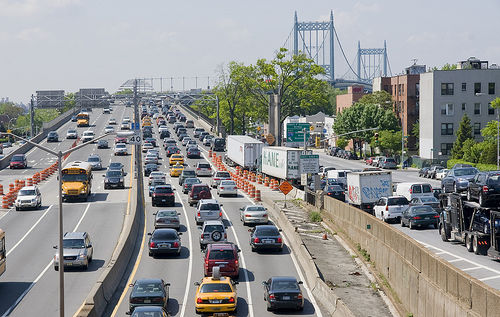 The remainder of my weekend was more low key. I took a much needed rest day from running on Sunday and made some pita pizzas last night. Nothing gourmet, but quick and healthy –
Whole wheat pita bread topped with marinara sauce, steamed kale, kalamata olives, basil and smoked mozzarella. Homemade pizza dough is good, but ready-made pita breads sure do save a lot of time. Next time I'm going to shred the mozz before putting in on the pizza – the rounds just didn't provide enough coverage. More cheese, please.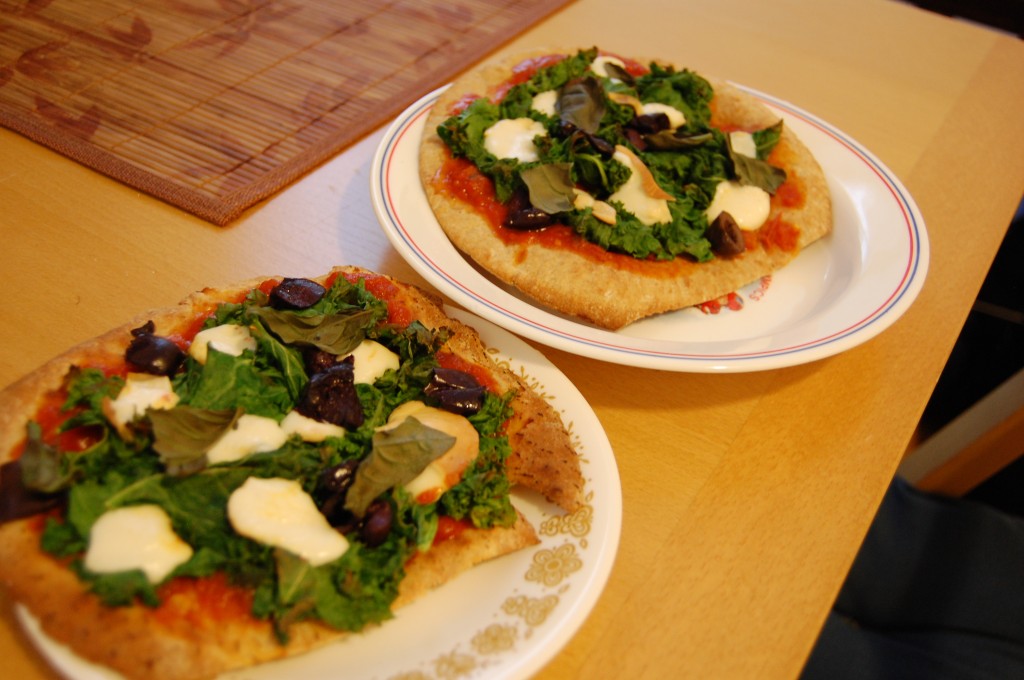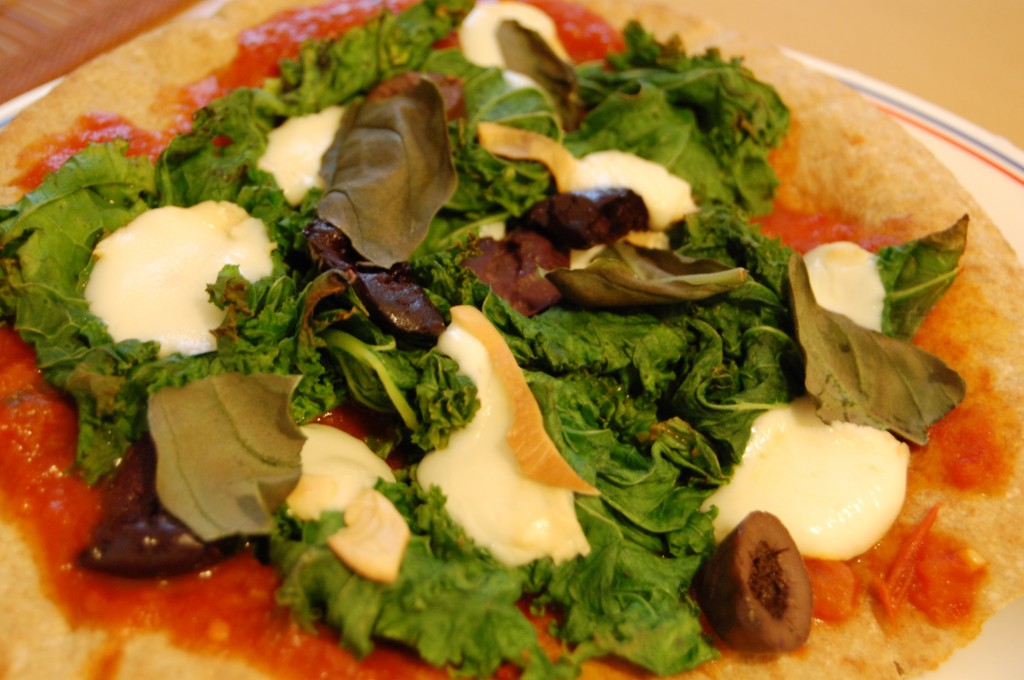 Today I ran an easy 5-miler before work. It was early, my legs didn't feel awesome, but I got it done. Late this week I'm going to post my Philly Half-Marathon training plan. Sub-1:30 or bust!
In other news, I just learned that a co-worker thought I was preggers. WTF?
I will be spending this evening downing a bottle of wine (no bebe for me!) and building a bon-fire for the empire dress I wore last Thursday. FYI people, unless a baby is literally poppin' out of a lady, never ever ever assume or ask if she's knocked up. It's a great way to get a black eye!
The American Eagle dress in question –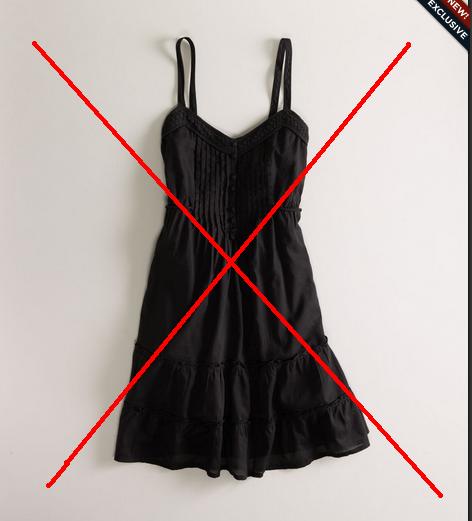 Hope your work week is off to a better start than mine!