I run for a lot of reasons –  because it feels good to sweat after a long day in cubicle-land, because it's a cheap way to socialize, and yes – because it's usually enjoyable. But it's certainly not all fun, all of the time. I was having a conversation the other day with someone who runs every once in awhile and she expressed envy over the fact that I thought running was "fun". "It's just so boring," she remarked. "I can't make myself go farther than a mile or two!" This got me thinking about how I usually feel when I'm headed out for a run or in the midst of pounding the pavement. Do I really enjoy it more than other people? Is it something you can teach yourself to enjoy?
Running certainly gets easier over time (just ask my 15 year old self who could barely run one lap of the high school track…), but very rarely does it come without a struggle. Is getting up at 5:45am to run in the sweaty, summer heat fun? No, not really, all I wanted this morning was iced coffee. Is running 400m intervals or a tempo run pleasant? No, it hurts. Sometimes, a lot. Is the last mile of a race fun? No, I usually feel like vomiting. So why does my brain keep associating running with something that is enjoyable?
I think, like anything that's worth your time and energy, running may not be fun in the moment (unless you regularly get a runner's high, in which case, I hate you), but it's the rewards that make the effort worth it. Grinding through a tempo run might not feel good, but running a PR in your next race makes it worth it. Waking up early and hitting the roads isn't the easiest thing to do, but that feeling of accomplishment you get when you're finished? Golden. So I guess what I'm saying is that the physical act of running isn't always going to be fun, but as runners we can train ourselves to recognize the benefits that eventually follow. And usually, the rewards that we get from running (time with friends, another piece of cake, 4 miles of stress-relief) overpower the temporary feelings of discomfort. Hmm, deep thoughts for a Wednesday morning.
In other news, I've been talking a lot of game about the new one-shouldered sports bra that I just bought. Is it practical? No, not really. But it IS fun to wear. I took it on a test run and here are my thoughts:
Pros:
-Yes, it "works". It has two pretty thick straps (that go over one shoulder), so there was minimal bounce.
-It's fun to wear! I like wearing crazy running clothes – lime green compression socks, one-shoulder sports bras, booty shorts, bring them on!
-It's super cute, so you can easily go from the gym to a date, no changing required! Hah, okay…kidding about that one. Sort of.
Cons:
-It cost $40, you could easily get a functional and cute sports bra from Target for half the price.
-It only comes in one size, so if you're bigger than a B (errr, make that an A), this probably isn't a good option.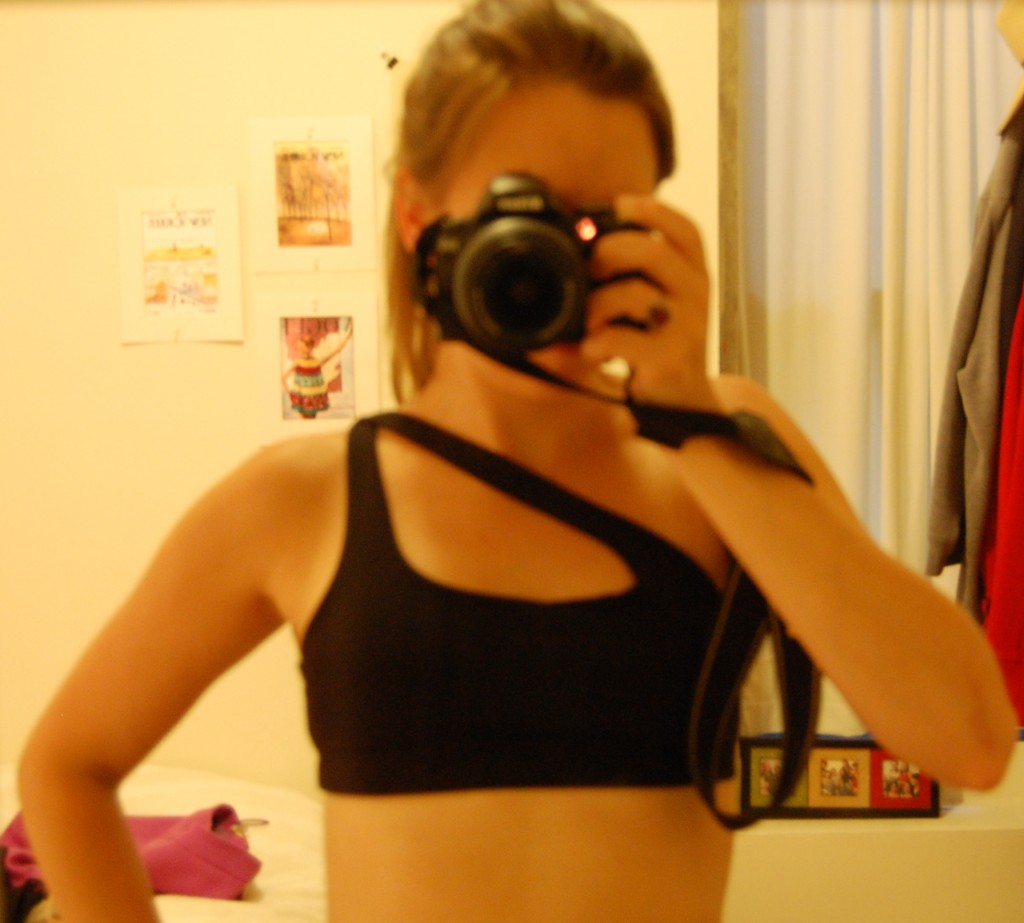 The bra will be making it's official appearance during the River 2 Sea Relay on July 30. Watch out.
On the foodie front, I picked up about 18 lbs of vegetables yesterday and despite sauna-like conditions, spent 2 hours in the kitchen prepping and cooking them for the week ahead.
As soon as I bring home my veggies, I wash and prep them.Because, let's be honest, which are you more likely to eat after a long day at work – greens and squash that have been washed and trimmed? Or ones that are still covered in dirt?
I steamed some kale on the stove and roasted fennel, onion, bell pepper, and bok choy while I cooked a pot of cous cous.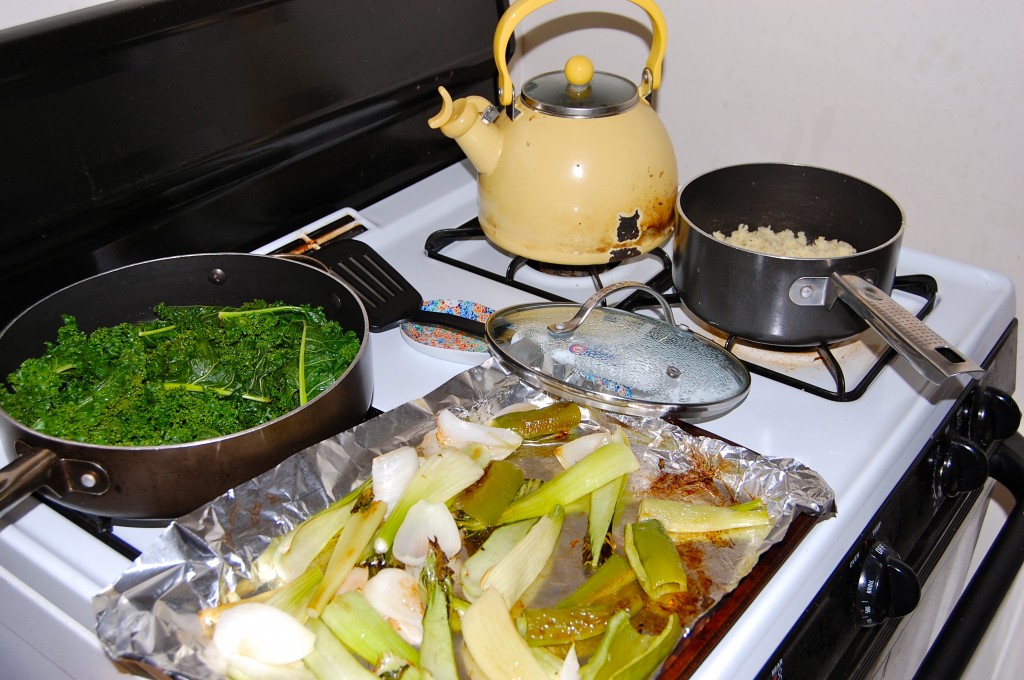 Once everything was done cooking, I mixed the steamed kale, roasted vegetables, chopped squash and cucumber, cooked cous cous, crumbled feta cheese, lemon juice, and olive oil in a big bowl. Done. Lunch and dinner for the week ahead.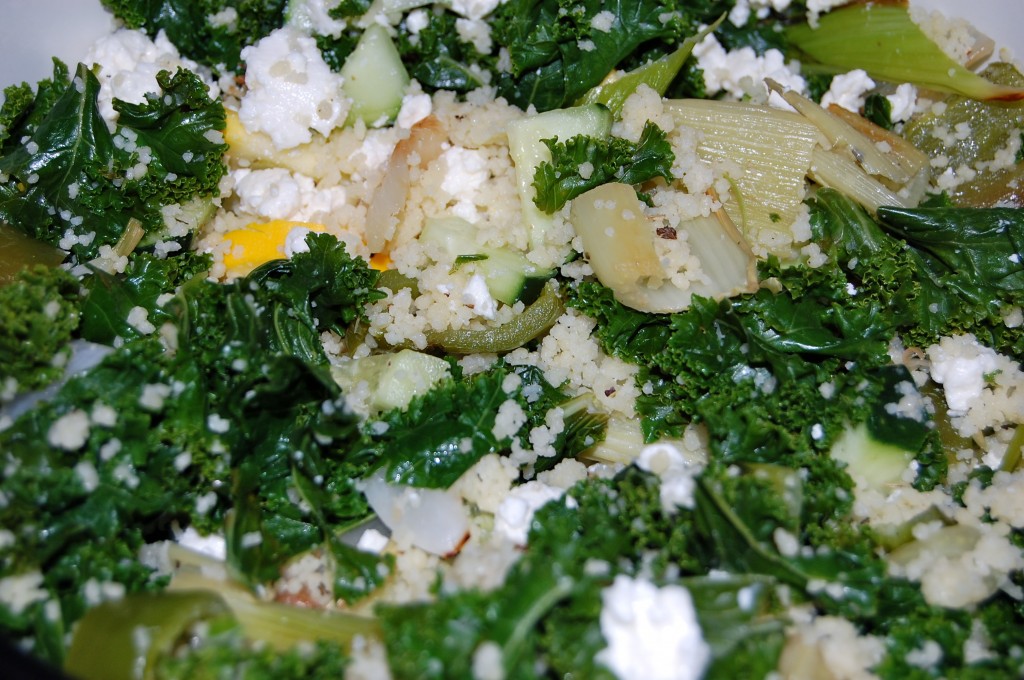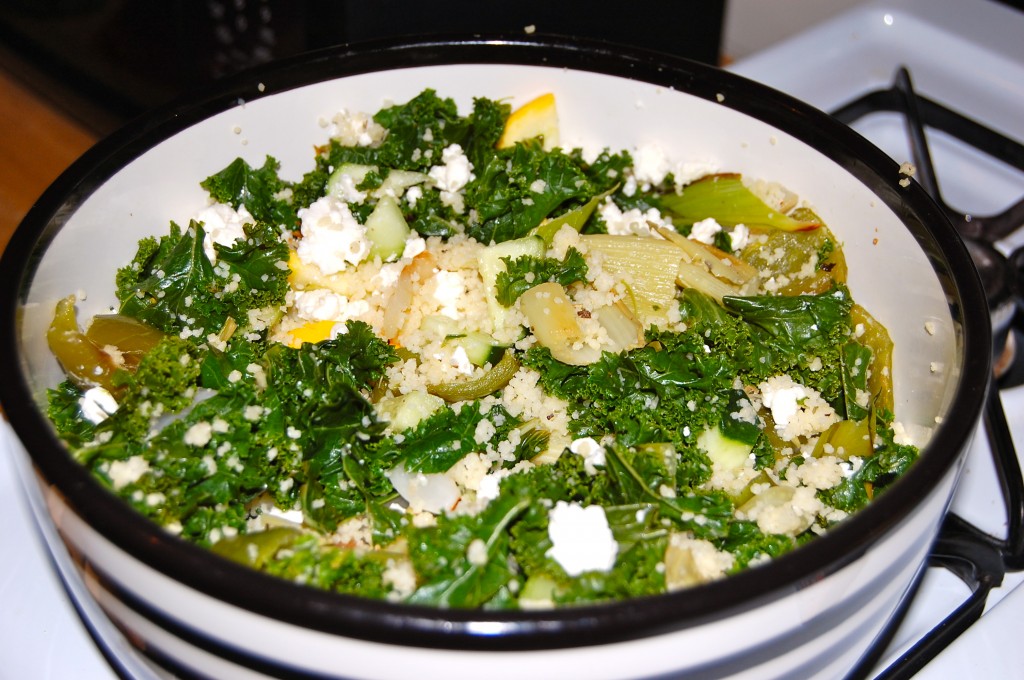 I'll probably be eating this for quite a few meals, so to keep it from getting boring, I'll change the add-ins every time I eat it. Hummus and sriracha sauce, canned tuna, and white beans all make good additions.
Project "save money so I can afford a new apartment" continues – last night I broke out the ice cream maker and made some homemade froyo. I mixed together 3 cups of fat-free Greek yogurt (whole milk yogurt would be even more delicious!), 1/3 cup corn syrup, and 1 Tbs vanilla and poured it into my Cuisinart. 20 minutes later, I had froyo!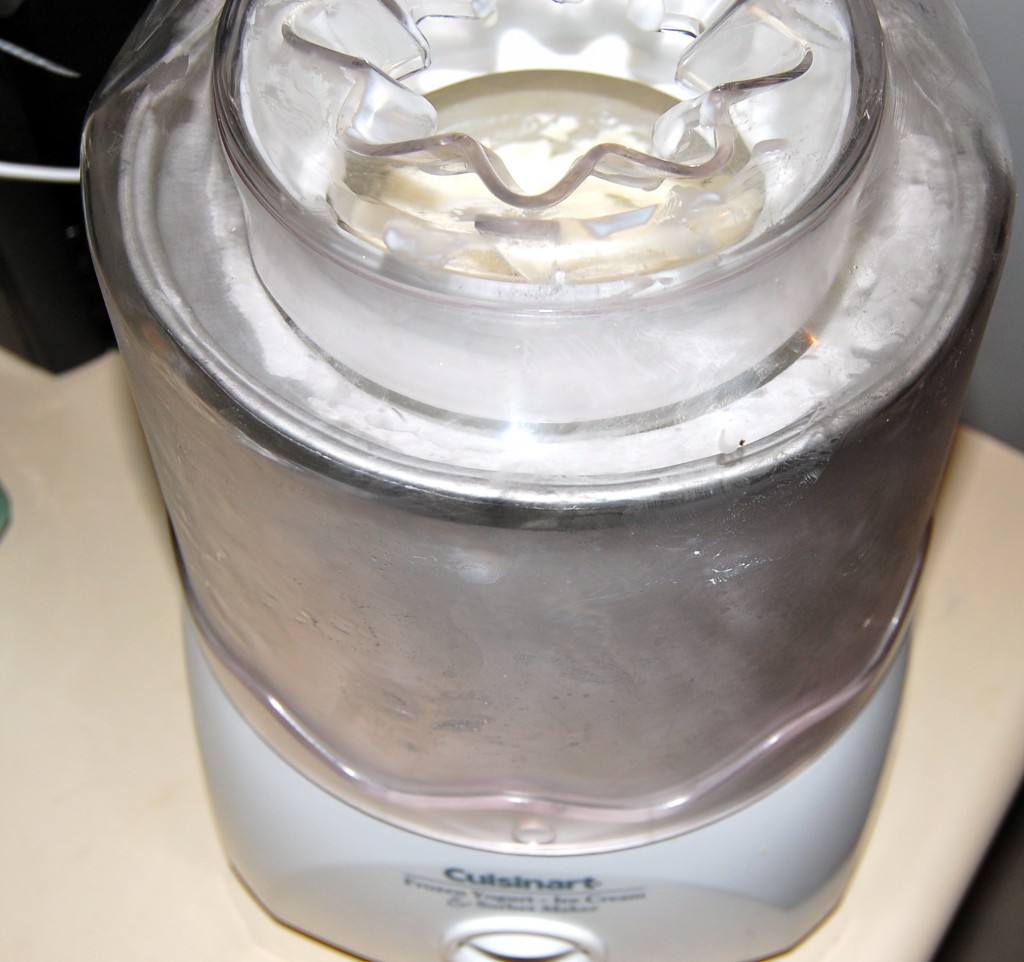 Why the corn syrup you ask? Homemade ice cream and froyo tends to be icier than store-bought, but using corn syrup instead of sugar helps. Corn syrup consists of large glucose molecules and tangled starch chains which interrupt the flow of water molecules as the ice cream is mixing. Since the water molecules can't move as freely, they are less likely to clump together and form ice crystals. (Information on molecules is thanks to an old issue of Cook's Illustrated circa 2008…)
This bowl was about 62% as good as 16 Handles, but A LOT cheaper. The sacrifices I make…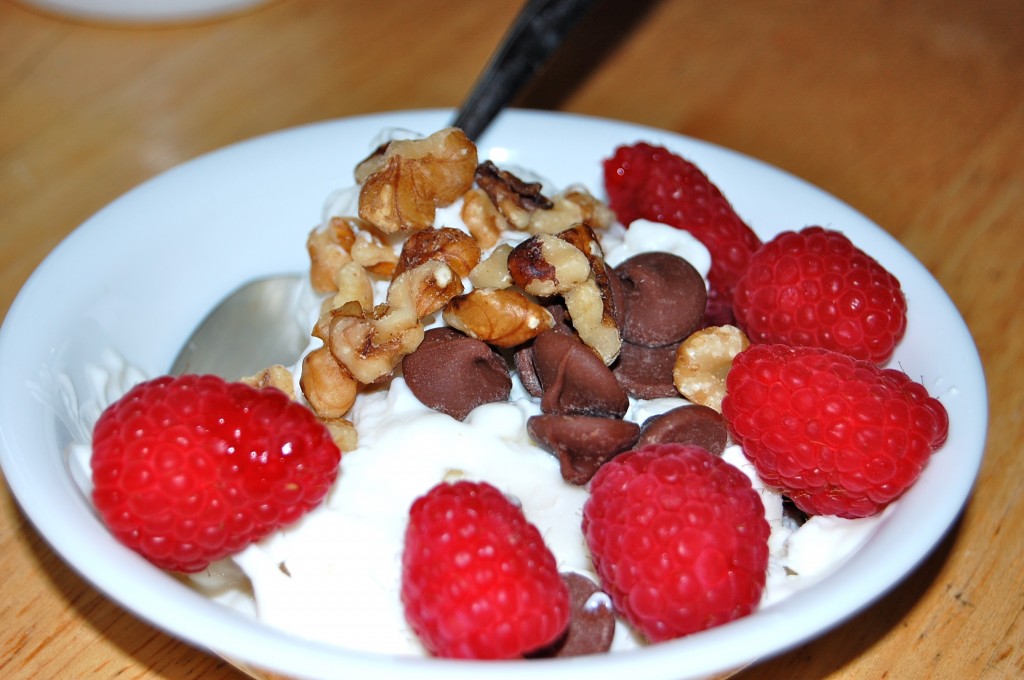 When is running most "fun" for you?