Early yesterday afternoon, the following tweet popped up in my feed:

Whoa, whoa twitter person. Something about this tweet rubbed me the wrong way. I don't see anything wrong with fitting in some miles on the morning of a holiday. Admittedly, every year I run a 9-mile race on Thanksgiving and I have to say that hard-earned pie tastes better than regular pie. BUT, I think the mentality that you "have to run X miles" in order to enjoy a guilt-free holiday is not a healthy message. Worrying about burning off every bite of burger and sip of beer in advance seems like it's creepin' in on disordered territory. And normally this wouldn't bother me so much (live and let live…), but Shape Magazine is one of my favorite periodicals – why the hell are they encouraging this sort of thinking? Why does running 5 miles have to be so closely tied to guilt and burning calories? Instead of encouraging women to run off that pie, how about focusing on how strong, de-stressed, and accomplished exercising can make them feel?
And it's not just Shape Magazine that has been making the exercise + guilt connection. I was at my gym the other day listening to a membership advisor (a.k.a. sales person) tout the benefits of membership. But rather than top-notch instructors, unique classes, or a nice locker room her selling point was guilt.
Membership adviser to potential gym member: "Once you join this gym, you'll start feeling so guilty when you don't work out regularly. Whenever I miss my weekly yoga class, I just feel so BAD about myself. I know everyone in class is wondering why I'm not showing up."
Granted, this membership adviser seemed a little cray-cray, but really, this was her selling point? I should join the gym so that I feel bad about myself if I don't show up? No thanks. That's not why I work out. Sure, fitting into my jeans and be able to eat dessert every day are nice bonuses of running, but if those were the only reasons why I did it, I don't think I'd last very long.
Fact: A 2006 University of Michigan study shows that women who start exercising for body-shape and weight-loss goals alone not only work out less, but also are less likely to stick to it long-term than those who exercise for other reasons.
If people start exercising to lose some weight, that's cool (you do you, imma do me). But when it comes to major fitness publications and gym representatives, I wish the focus of running would be less on making us feel bad and more on making us feel good. Running and chatting with my lady friends or watching the sunrise from the path in Central Park or setting a 5k PR are a hundred times more satisfying than finishing a run just to say I ran off some burger guilt. You hear that Shape Magazine?
Okay, rant over! My 4th of July weekend was actually a good one. Plans for a beach trip on Sunday were cancelled because of rain (womp, womp), but good eats, quality mileage, and the requisite holiday fireworks display made up for it.
I had a bunch of CSA veggies to use up, so I spent a lot of time in the kitchen. I've been eating a lot of restaurant meals and take-out lately, so it was fun to do some cooking. Well, everything except doing the dishes was fun. Cooking at home = 50 million dirty dishes
Saturday night's meal was a pretty simple pasta and pesto dish. I made garlic scape and basil pesto based on a Washington Post recipe. I made a few changes, namely using 2 roasted garlic scapes instead of 8-9 (only had 2) and adding in a bunch of basil to make up for the lack of scapes. Note: roasting the scapes (toss in EVOO and cook at 350 F for about 25 minutes) makes the scapes taste a bit less pungent – a good thing, unless you love having super garlicky breath.
Saturday Dinner: Garlic scape and basil pesto tossed with pasta and crispy prosciutto. Fresh ricotta (made a second batch, I'm obsessed!), bread, and red wine.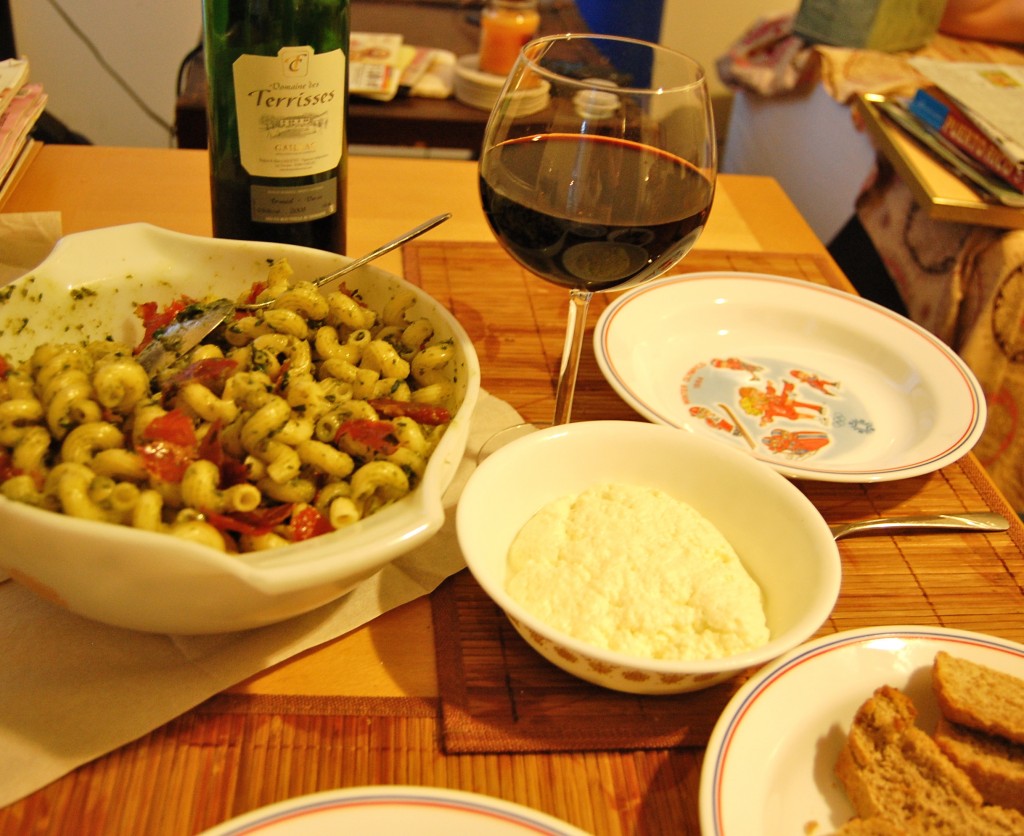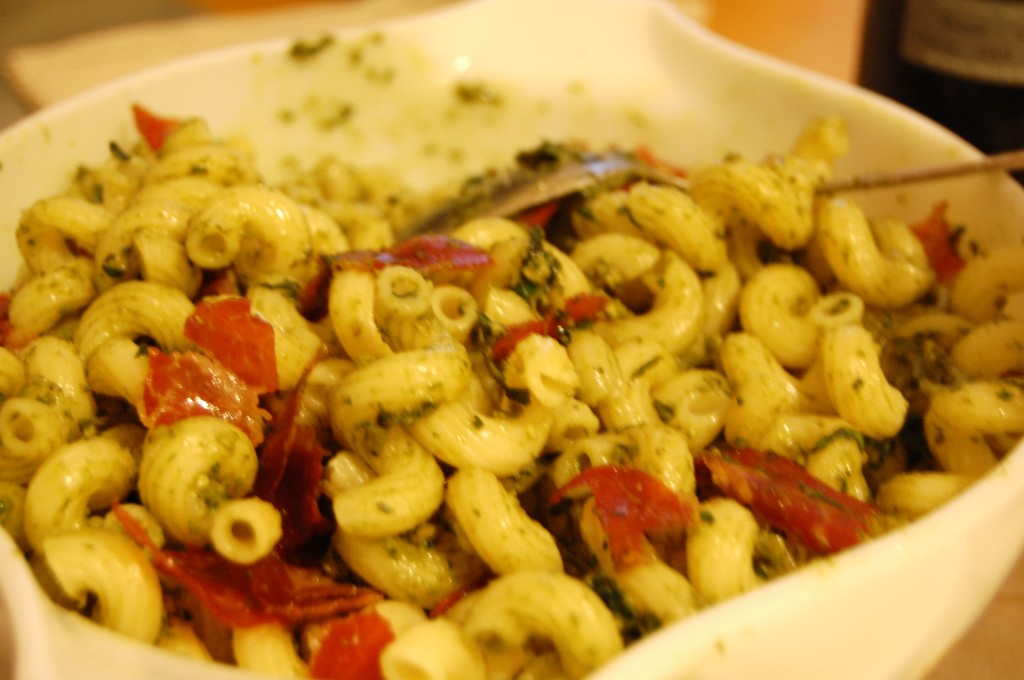 Because it's 4th of July weekend, I whipped up something patriotic for dessert. I followed a Betty Crocker recipe for Brownie 'n Berries Dessert Pizza. The only change I made was using raspberry jam instead of apple butter and putting the jam on top of the cream cheese instead of using it as a fruit glaze. This dessert came together really quickly (boxed brownies, FTW) but it still looked impressive enough for a holiday picnic.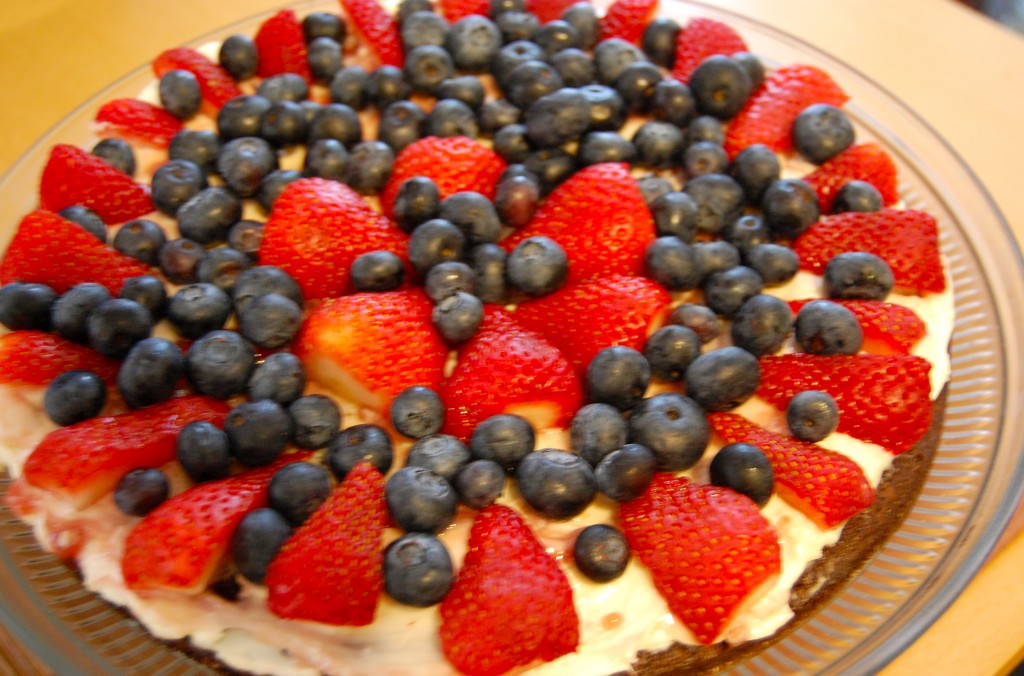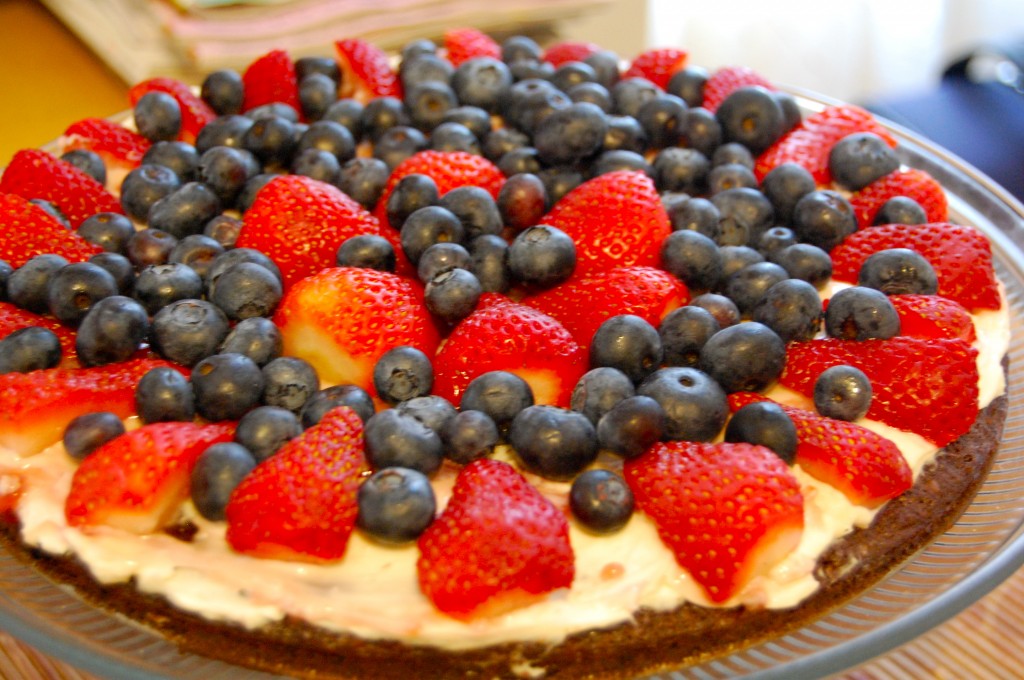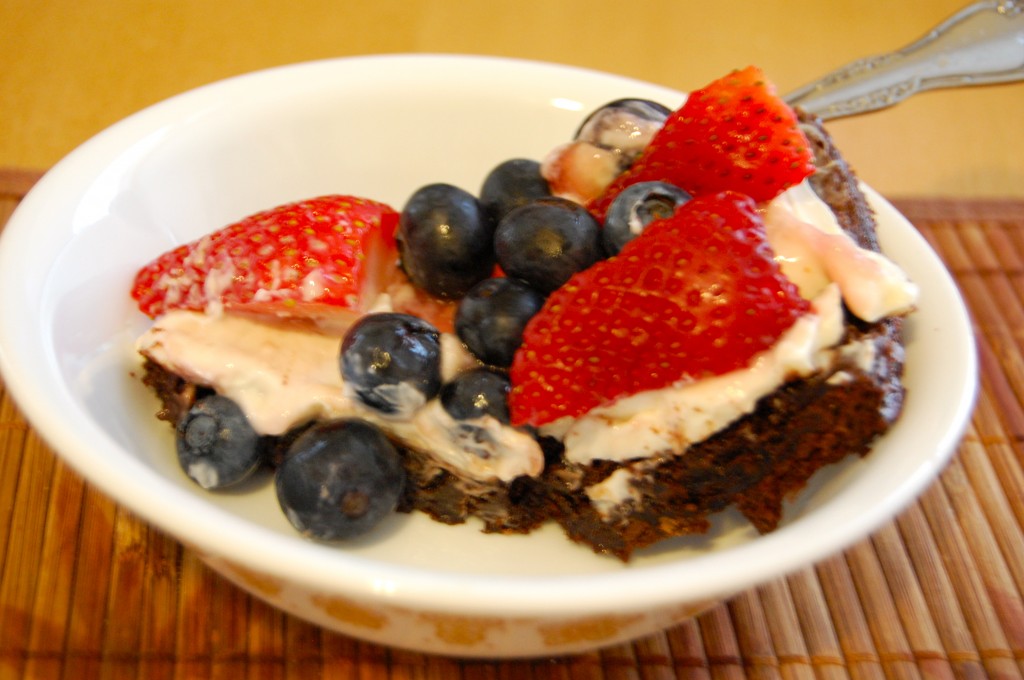 Sunday night dinner: chopped romaine, cucumber, dried cranberries, shredded rotisserie chicken, and TJ's spicy peanut vinaigrette. With white wine and the remaining fresh ricotta and bread.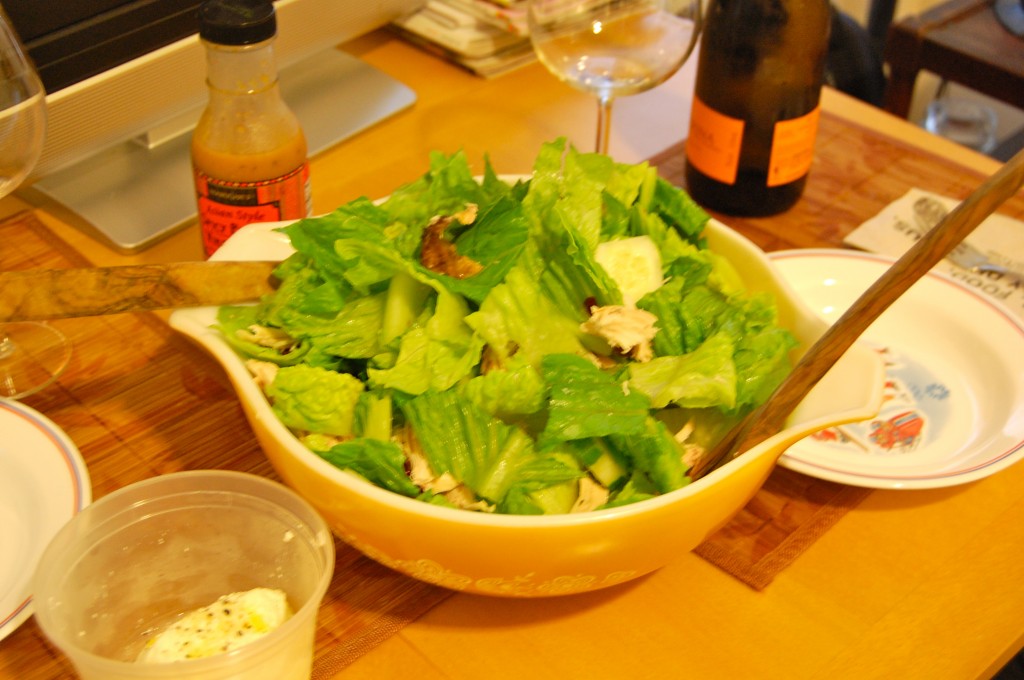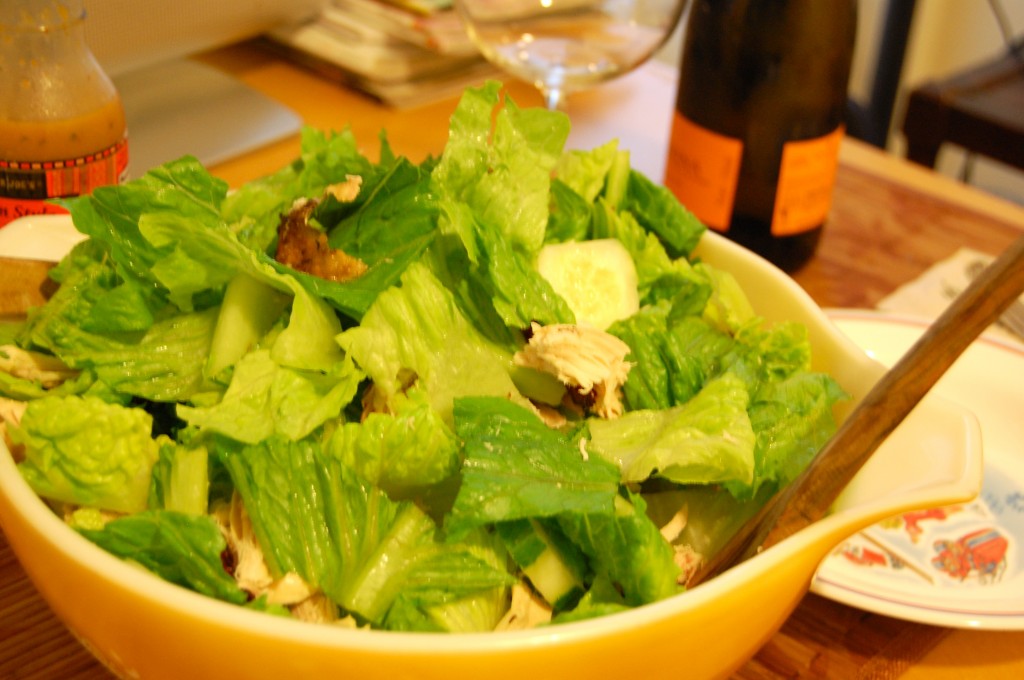 The final thing I prepared this weekend was crostini with roasted kholrabi, herb gremolita, and fresh mozzarella. The original Food 52 recipe was a little fussy, so I simplified it. You're probably thinking kohlrabi, gremolita, WTF? But it's not that crazy, I promise. kholrabi is a root vegetable that tastes sort of like a cabbage-broccoli hybrid. I had a bunch in last week's CSA shipment that I needed to use up, so that's why this strange veg is making an appearance. And a gremolita? Basically, it's just a paste made of olive oil, salt, garlic, and herbs. I was worried about how the kohlrabi would be received at the picnic (I mean… Sofia and BT were bringing bison sliders and homemade apple pie!), but surprisingly people gobbled it up. I think the copious amounts of truffle salt and fresh mozzarella may have contributed to it's success.
Monday pic-nic fare: Crostini with herb gremolita, roasted kholrabi, and fresh mozzarella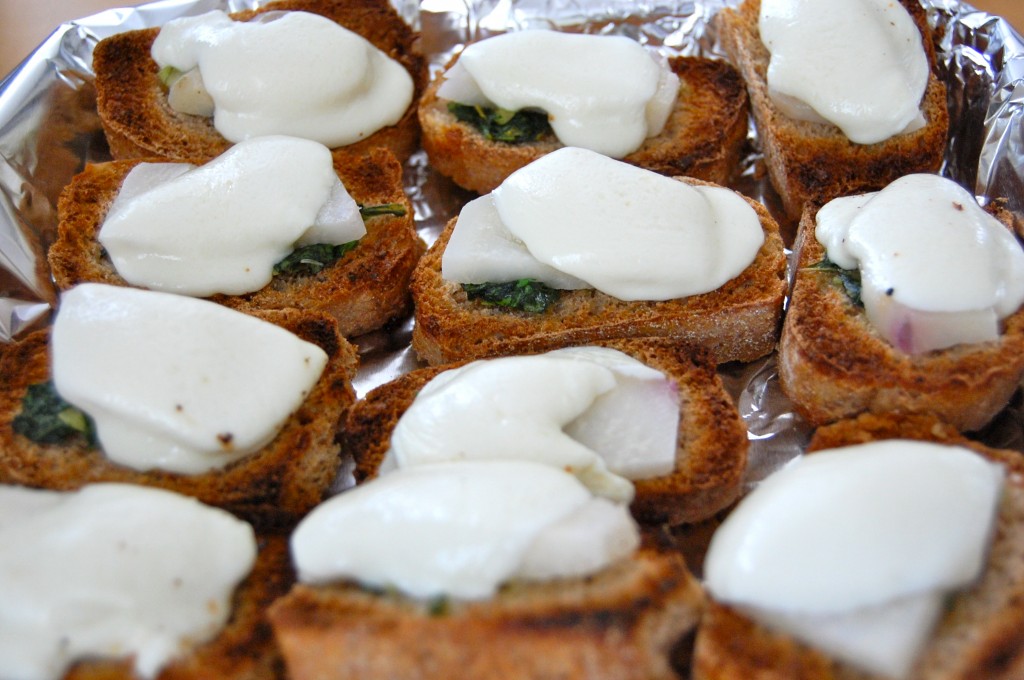 Thoughts on the whole exercise-guilt trip thing? Are your main reasons for exercising and running weight loss? Or something else?