Pet peeve: When people diss on ice cream. "It's so f-a-t-t-e-n-i-n-g, I could never eat it every day!"
However,  Imma keep doin' my thing. I'm not trying to lose weight, I run a lot, and at least ice cream has calcium and protein. So if anyone tries to knock my daily ice cream/froyo/gelato consumption, they can STFU.
Woo, I'm feelin' saucy today!
But yeah, anyway, this weekend was hot. Like, 102 degrees, but feels like 115 degrees hot. So what's a girl to do? Seek out the cold stuff!
The man-friend and I hit up Birreria on Friday evening. It's touted as a beer garden on top of the Mario Batali-owned Eataly market, but it's not really a beer garden. The brews were good (I drank a Hop Sun from Southern Tier Brewing Co.), but I was disappointed in the atmosphere. When I think of beer garden, I think of long tables, lots of drinking, and maybe some low-key food like Bavarian pretzels. Birreria is more of a restaurant with a bar. And yes, it's on a rooftop, but since it was so hot, the retractable roof was partly closed over, so I couldn't really see anything. I'm glad I checked it out, but next time I won't believe the hype until I see it.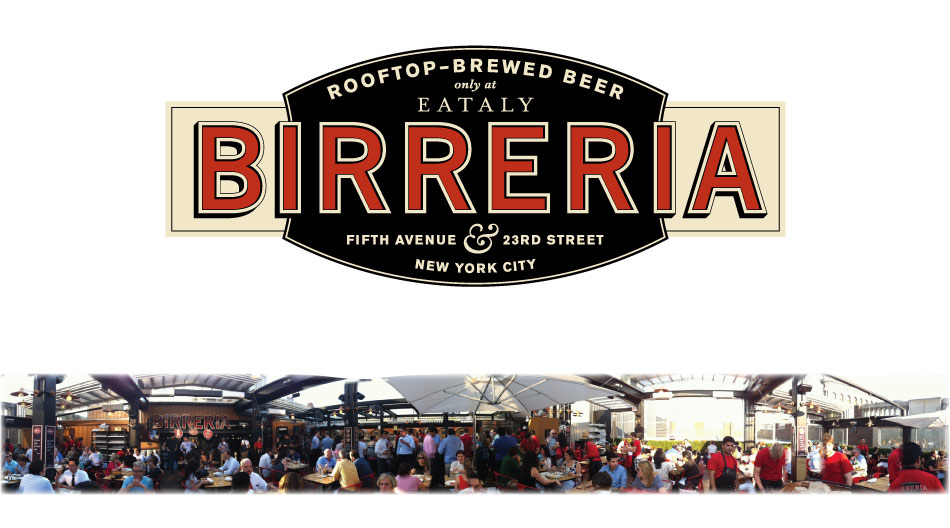 When we finished our beers, around 8 o'clock, the temps were still in the mid-90's and all I wanted was a popsicle. The La NewYorkina cart on the highline, a purveyor of Mexican popsicles, has been getting mad-love from foodie blogs, so I had to try it for myself. My mango chili popsicle was pretty awesome – before I was even finished with it, I was brain-storming ways to re-create it at home!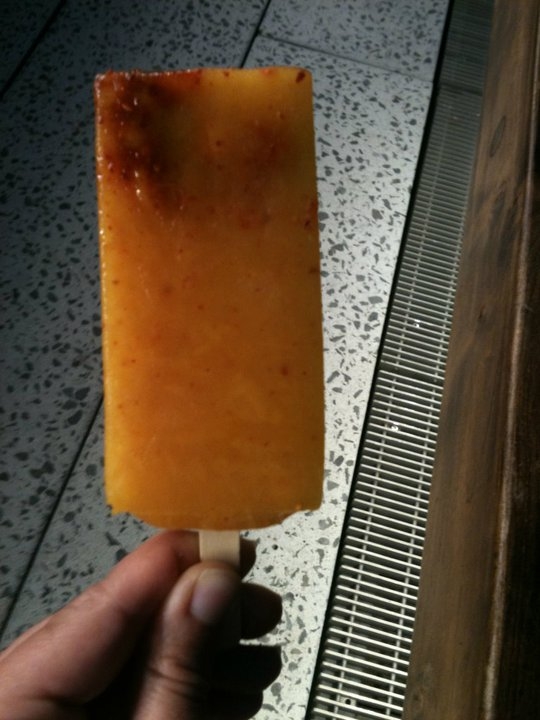 My Saturday was pretty chill (so so glad I got my long run out of the way on Friday morning!) and after a 6-mile run, I headed to a long-lost favorite – Bay Ridge Diner. This makes the best spinach-feta omelets and home fries. Yum.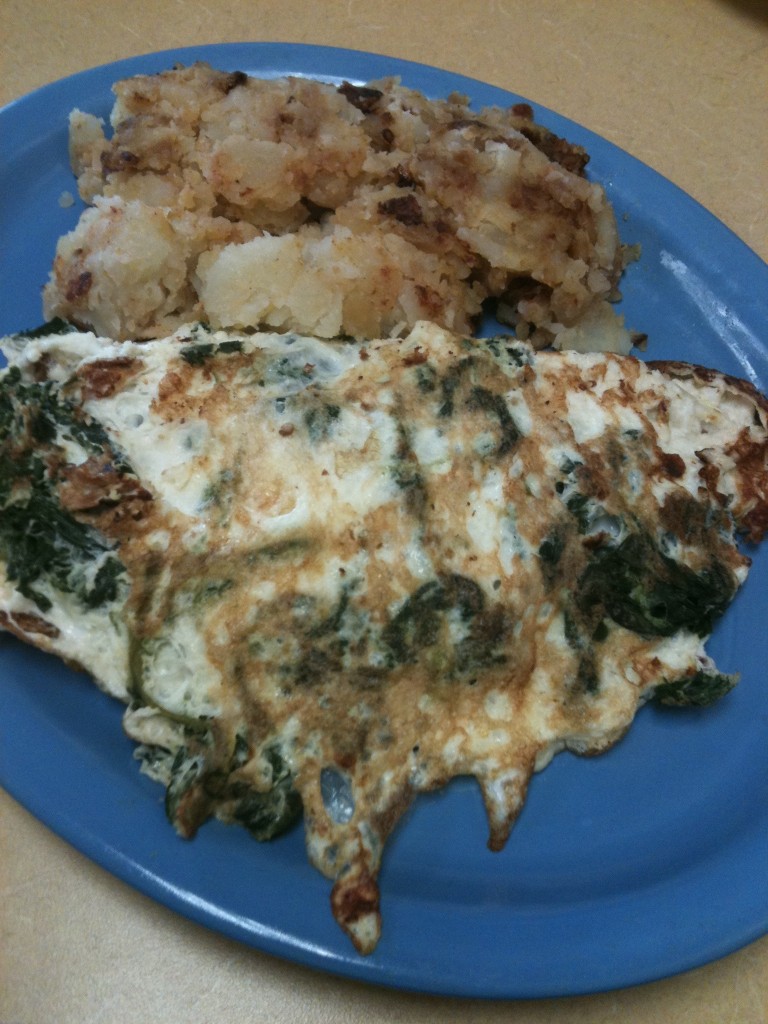 I ate some other delicious things on Saturday, but my best weekend eats resulted from a trip to Far Rockaway Beach (NY Times reports it's now a hipster destination – watch out!).
Fresh watermelon-pinapple juice and a bean, guac, pickled vegetable tostada from Rockaway Taco (note: their boardwalk outpost doesn't sell tacos, WTF).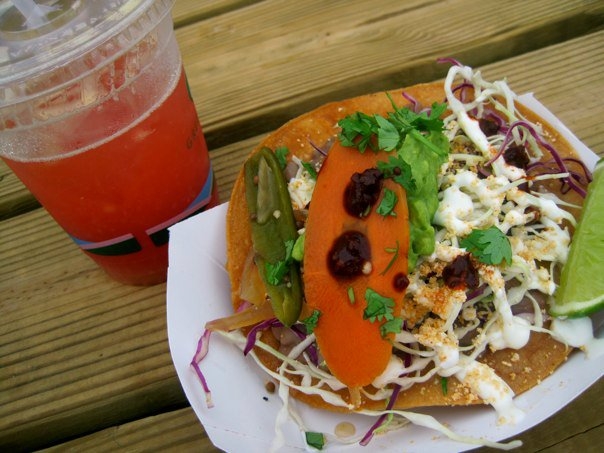 Followed up by a chocolate covered frozen banana covered in sea salt and peanuts.  Sarah and I very much enjoyed them. And get those dirty thoughts outta your head, right now!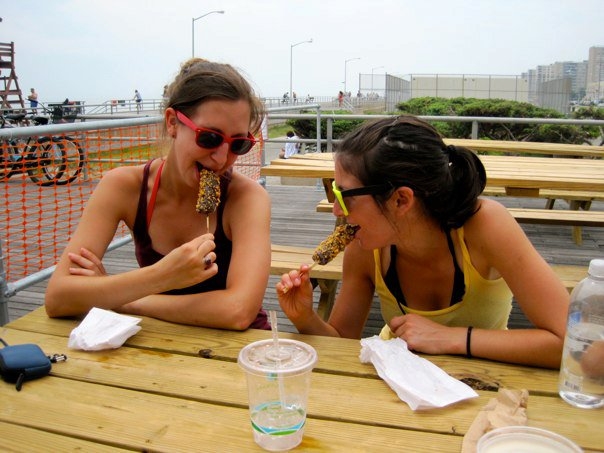 Sunday was a rest day from running, so I was happy to stroll along the boardwalk and move my legs a bit. It felt weird not to run.  I know it's necessary, but my routine sort of felt out of whack.
The goodies in Far Rockaway just kept coming – there's a Blue Bottle coffee outpost near 106th st and even though this stuff isn't cheap, I couldn't resist a cold-brewed iced coffee with milk and chicory. I think they called it 'New Orleans' style. YUM.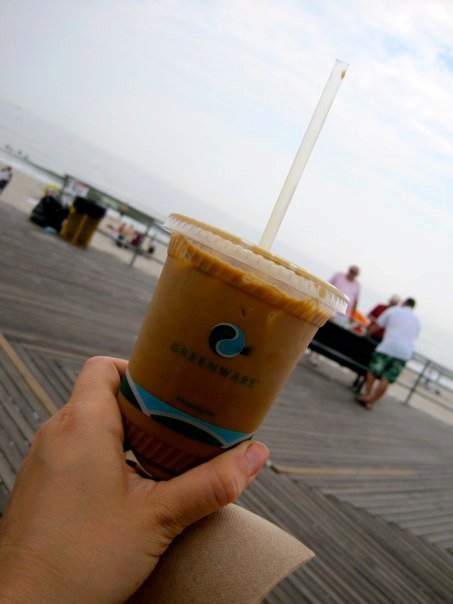 Post-beach adventure, I explored the Brooklyn-hood where I might be moving (just got some good news, but don't want to jinx myself!). Of course, ice cream from Ample Hills was necessary. If you live anywhere in the tri-state area, GO HERE. The eggs, milk, and cream are locally sourced and the owner is the only ice cream maker in New York to make his base (vs. buying it pre-made). And with flavors like Otis Stout-Pretzel, Salted Crack Caramel, and Peppermint Pattie (with homemade peppermint patties!) – you really can't go wrong. It is maybe, the best ice cream I've had in NYC. Or at least in the top 3. Yesterday's pick – vanilla malted (with huge chunks of chocolate malt balls!) in a homemade sugar cone.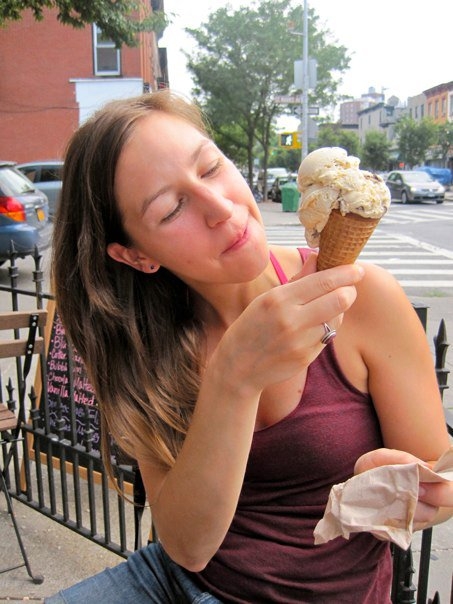 After resting yesterday, I was ready to get back on the roads (streets?) this morning. I had some awesome company and before I knew it – 8 miles flew by. If I move to Brooklyn, the #1 thing I will miss are my Central Park running buddies. Major sad face.
Oof, I can't think about that yet.
Thanks to Mr. President Reagan, July is National Ice Cream Month.  So tell me – what's the best ice cream you've ever had? Be specific, I might make it my goal to try every kind listed in the comments. I'm serious.