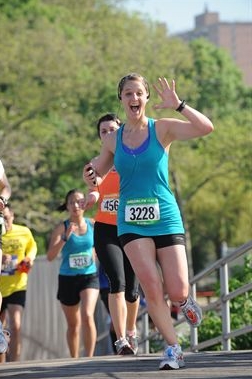 Hi Runner's Kitchen readers! I'm Ali and I blog at Ali On The Run. I'm excited to be guest blogging for Megan because I think she's one of the coolest, most badass runners around. She doesn't just run races, she wins races, and that makes her awesome.
It's crazy to me to think that Megan struggles with anything, but she tells me that she has a hard time avoiding the Snooze button in the morning.
Me, on the other hand? I'm up at 5 am, no problem. I'm currently training for my first marathon and getting my run done in the morning is the only way I can get through the day. I know a lot of people thinking working out before you go to work is crazy, but I assure you it's not. So I now present to you: 10 Reasons You Should Put On Sneakers Instead Of Hitting The Snooze Button.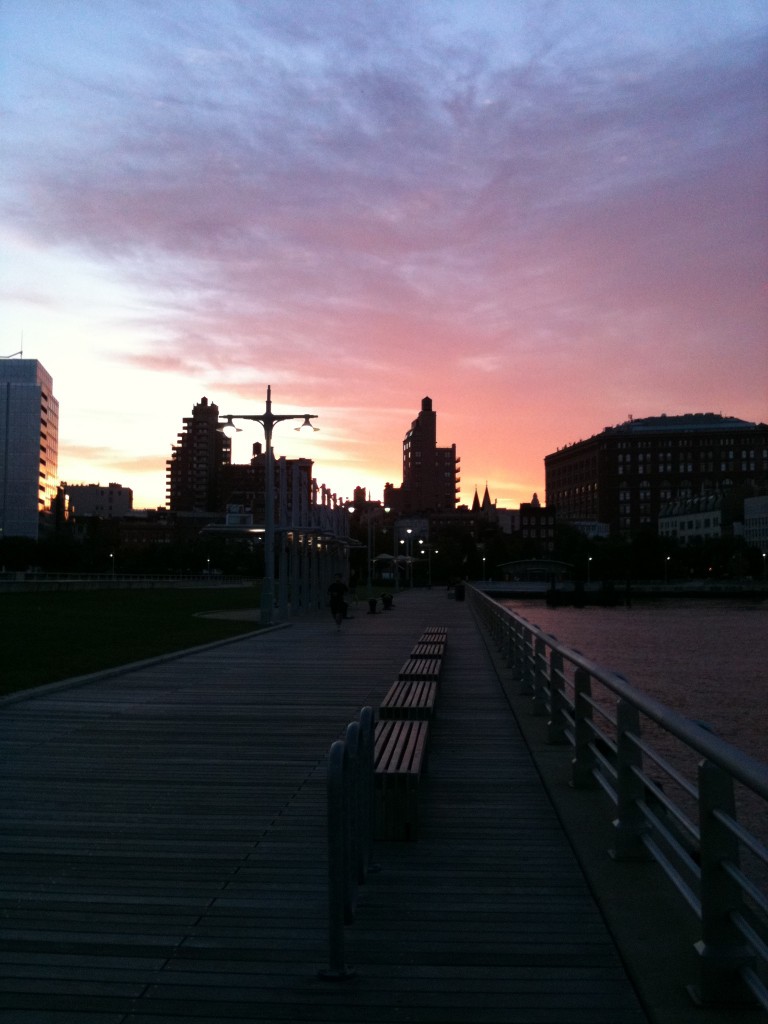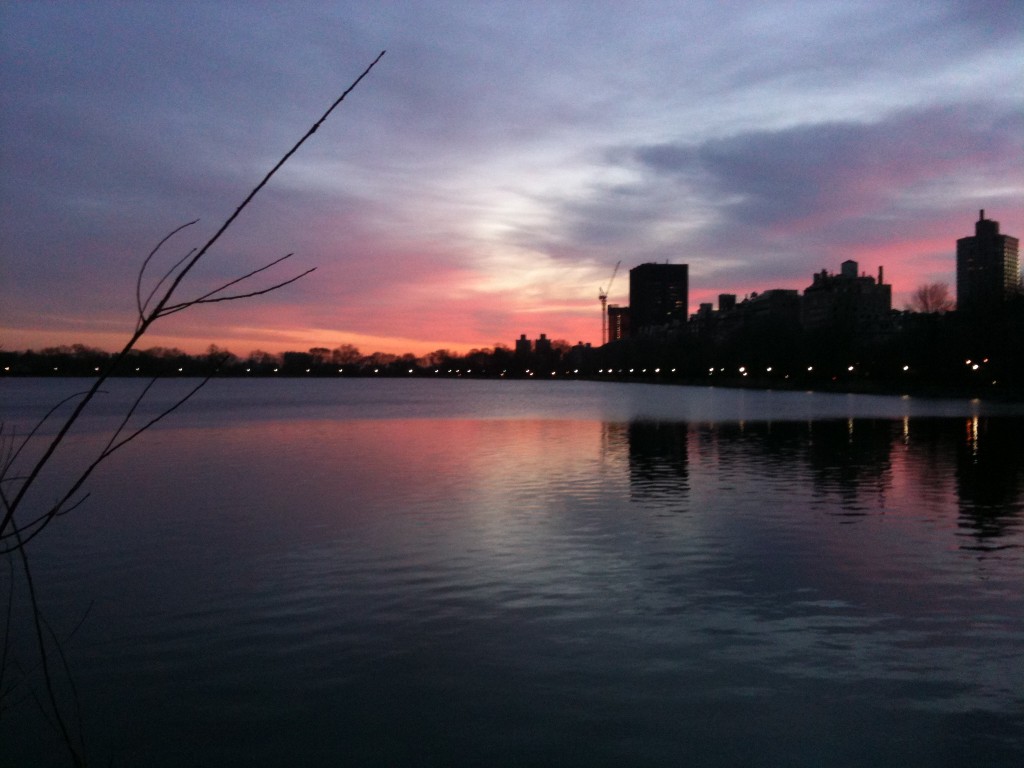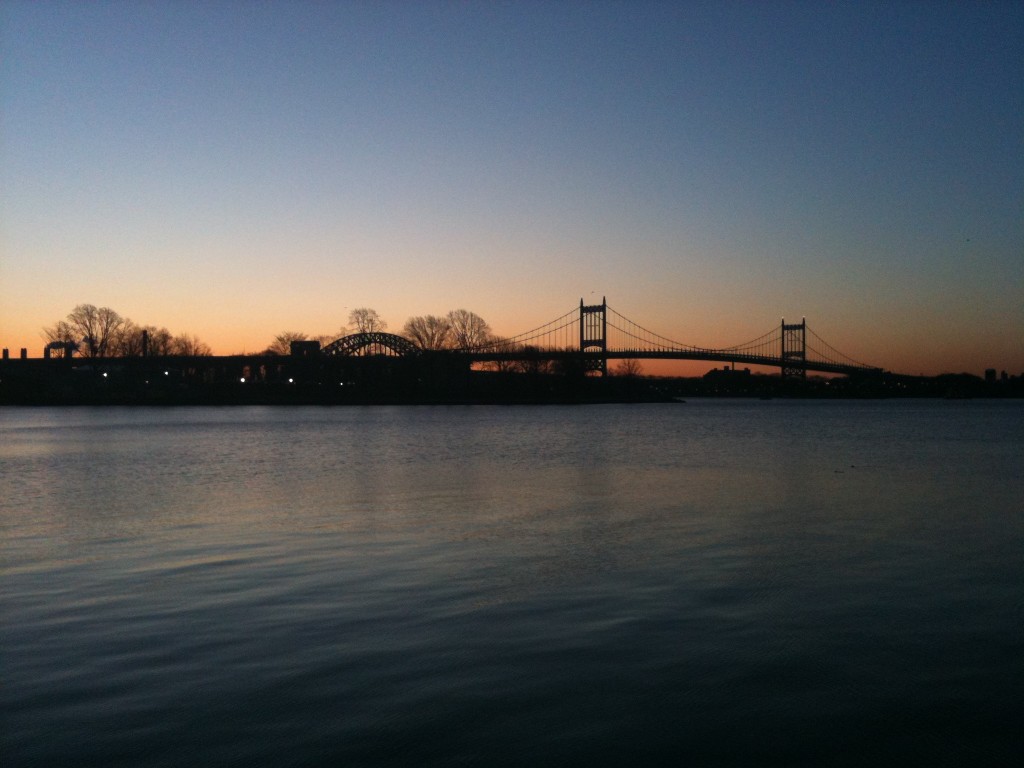 1. You get to see the sunrise. I like to think of the morning as a competition between me and the sun. If I hit Snooze, the sun wins. If I get right up, I can usually get outside before the sun is totally up. (Note: This competition is far more challenging in the summer. That sun wakes up early in the summer.) The more competitive you are, the better. But seriously, I used to love sunsets (preferably viewed from a beach with a slight strawberry daquiri-induced buzz kicking in). But I've learned that sunrises are even prettier, and they hold way more potential. You literally get to see the day starting. It's awesome.
2. Places are less crowded in the early morning than in the evening. Here in New York City, Central Park will always be filled with runners and cyclists. But if you manage to get there before 9 am, you'll find that the roads are way more manageable. The before-work crowd is a get-it-done set—these people have a deadline because they have to get a workout in, shower (debatable) and get to the office. The post-work group is more leisurely. The morning crew has a cutthroat mentality and I dig it.
3. It may be less crowded, but you don't have to be alone. I've made many morning running friends, including Megan! Embrace the buddy system. It'll motivate you to get up. Trust me. Let's say Megan and I have plans to meet in Central Park at 6:20 am. I'm not going to be very excited if I drag myself out of bed and she doesn't show. Make a date. Stick to it. Get up. Break a sweat. That is an easy concept, don't you think?
4. The first thing you get on won't be public transportation. There's nothing like fresh air in the morning. Whether you go for a run outside or walk to the gym, you're still keeping your hands off the subway poles immediately after getting out of bed.
5. You have time to yourself. The main reason I run in the morning is because I need to be alone before I spend my day in meetings and working with lots of other people. Don't get me wrong, I adore my coworkers. But I like to have some Ali time before I get into the "Did you get this project done yet and what time are we meeting to talk about this article?" time. When I run in the morning I think about lots of things, and sometimes I think about nothing. Either way, I'm the only person that matters during those miles.
6. You get your workout done. You get to spend the rest of the day shamelessly stuffing your face with awesome food ("I worked out this morning!" you can excitedly tell your friends and colleagues) and then you have your entire evening to do fun things like run errands, shop, or extend happy hour from 5 pm until midnight.
7. You get on an earlier schedule. When I go to the gym after work, I'm there until 7 or 7:30 and don't get home until 8ish. Then I'm not eating dinner until 8:30, and that seems late to me. Maybe I'm an old lady at heart, but if you eliminate your post-work gym routine, you can eat earlier and maybe even get to bed earlier (or get to the bar sooner).
8. Getting dressed is more fun. Maybe this is just me, but I feel way better picking out my work outfit for the day when I've just spent an hour of so sweating.
9. You see a totally different set of people. If you're always working out at night, you probably see many familiar faces. Switch it up and sweat in the a.m. and you have a new window for people watching. Most mornings I see "Crazy Chihuahua Lady," "Happy Asian Boy" and "Short Lady Who Looks At The Ground While She Runs." It's fantastic. And they probably go home and tell people that, yet again, they saw "That Girl With The Obnoxiously Bright Running Outfits."
10. You have another purpose. I always hated waking up and going right to the office. I didn't like feeling like my only purpose each day was to go to my job. Again, I love my job, but it's not the only part of my life. When you wake up and do something immediate besides work, your day just might feel more well-rounded and fulfilled.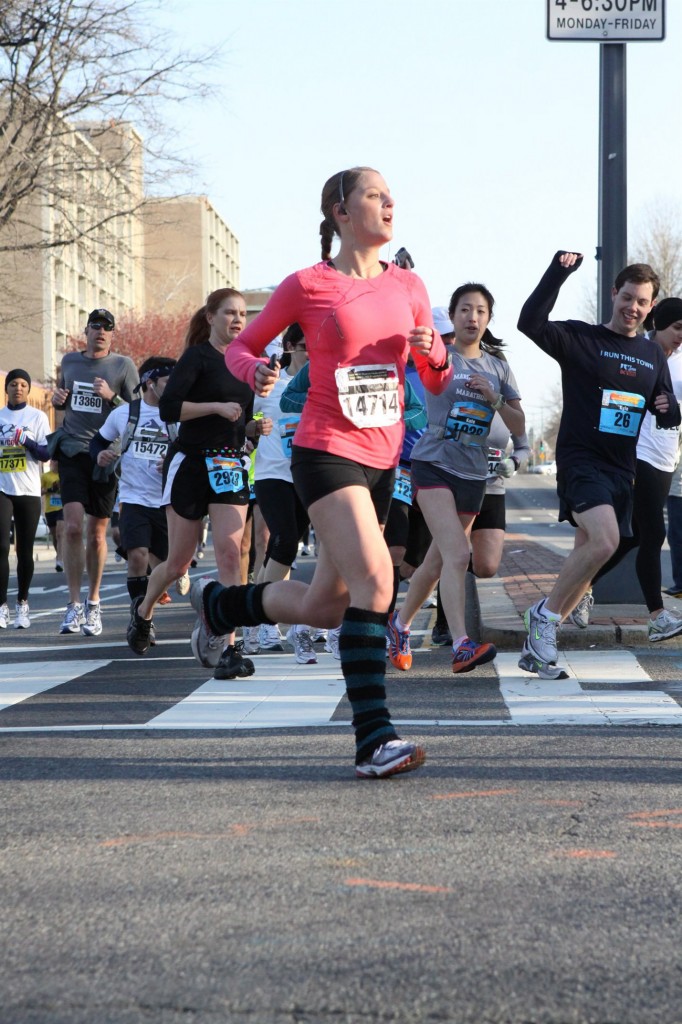 When do you exercise? Are you a morning, noon, or night runner?