I try to do most of my mileage outside, but there are occasions when the treadmill comes in handy (late at night, unsafe weather conditions, etc). I always thought running outside and running on the 'mill were pretty much equivalent. I've heard that you're supposed to set the machine at a 1% incline (and admittedly I don't always do that), but really – how much different could running be? Well, today, that difference was made quite clear. I hit the roads for my long run around 9am, met up with my girl Jacqui, and ran about 11.25 miles in Central Park and on the Bridle Path (we basically stalked Bernard Lagat during his long run – it was AWESOME). We finished up at the gym and I decided to tack on another 1.25 miles to reach 12.5 (my original goal for the day). I hopped on the treadmill (0% incline), dialed in 8:30 pace, and whoa! After running outside on hills and the dirt bridle path, my legs felt really weird. When you run outside you have to propel yourself forward, but on the treadmill it's more about keeping pace with the belt as it's moving beneath you. I felt like I didn't have to work as hard to move myself forward – my running stride seemed more vertical. I'm sure this realization isn't groundbreaking, but I guess I needed to experience it for myself before it sank in! I'll still use the treadmill when necessary, but maybe I'll up the incline and increase the pace to make it more equivalent to outdoor running.
Today's Long Run deets:
12.5 miles in ~1:55 (9:12 pace per mile). I felt sluggish at the beginning (my calves have been super tight lately), but ended the run feeling pretty good. Jacqui and I stuck to mostly soft surfaces, which was nice for such a long run. Hopefully my legs won't be too beat up tomorrow!
Before the run, I fueled up with coffee (so essential) and a clif bar – nothin' crazy. Post-run fuel included a Mango Mantra smoothie from Jamba Juice (OJ, peaches, mango, dairy base) and thennnn a peanut butter froyo with blueberries from Forty Carrots.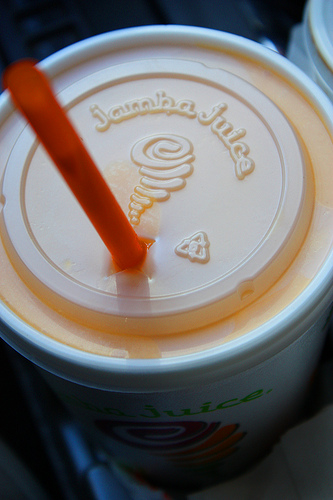 I honestly don't know how the froyo thing happened…I was on my way to the subway at 59th Street and the next thing I knew, I was on the 7th floor of Bloomingdale's in line for frozen yogurt.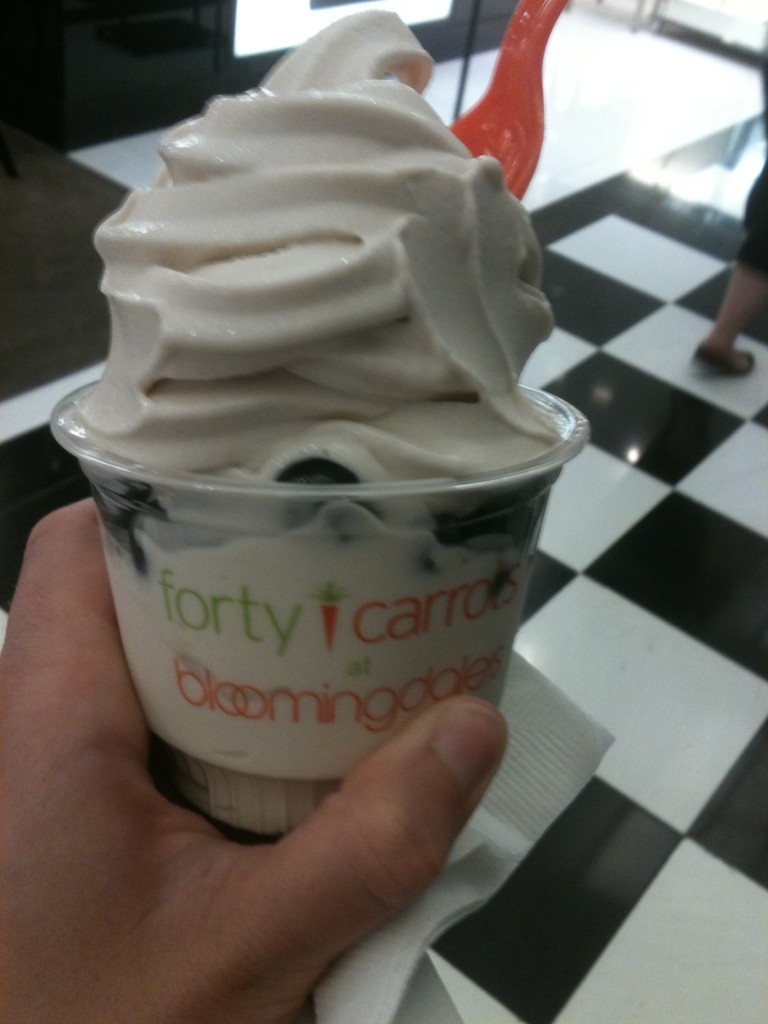 I've spent the remainder of the day eating more (obviously), napping (of course), and tallying up my weekly mileage. I scraped by with 40.5 miles for the week, not as much as I was hoping for, but not too bad considering I took Monday off from running and only had time for 3 miles on Wednesday. This week is going to be another busy one – first CSA pick-up, Corporate Challenge race, and then the man-friend and I are headed to Puerto Rico on Friday. Wheee! It's a good thing I was able to get caught up on sleep this weekend…
Congrats to the winner of the Zico coconut water give-away!
Congrats on the race Meg! That's so awesome!!!! I plan on getting lots of exercise (not running, sadly) and eating lots of fresh, local foods this summer to stay healthy! I liked Zico, too! I wanna try the Chocolate Zico SOOOO BAD!!
Maren – email me your shipping info at runnerskitchen [at] gmail [dot] com !
Question: Have you noticed a difference between running outside and running on the treadmill? Do you have a preference? My preference can really depend on my mood – sometimes it can be great to run outside with friends, other times I really enjoy getting sweaty (and running fast!) on the 'mill.