As much as I loved visiting my family outside the city, there are many reasons why New York holds a special place in my heart. The diverse food and restaurant season is one of those reasons! On my first evening back in town, I joined Danielle, Katie, and Leslie for a ladies dinner at the modern Thai restaurant, Kittichai.
Rather than choose a single entree, I opted for two items from the tapas/appetizer menu. It was a little untraditional, but it ended up being the perfect amount of food. My first dish was a mango and green papaya salad with cashew-chili dressing served in a pineapple half.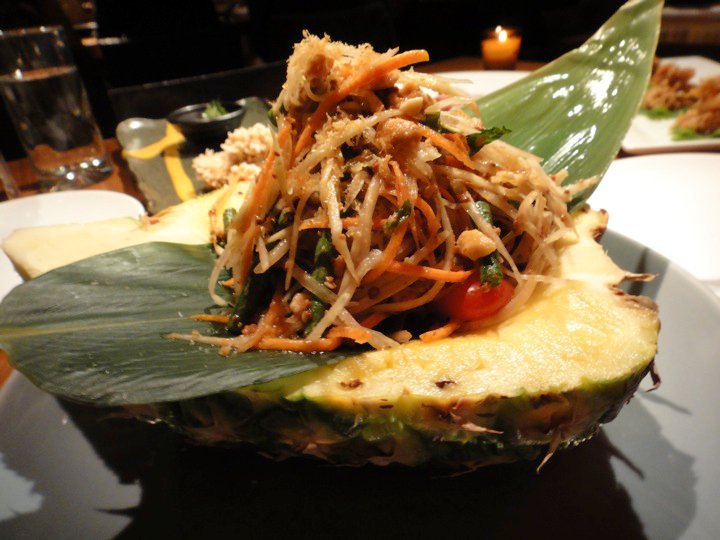 Followed by coconut chicken with mango salsa, chili-lime hoisin dipping sauce, and lettuce wraps. I was expecting sliced chicken, but the ground chicken and coconut mixture was extremely flavorful.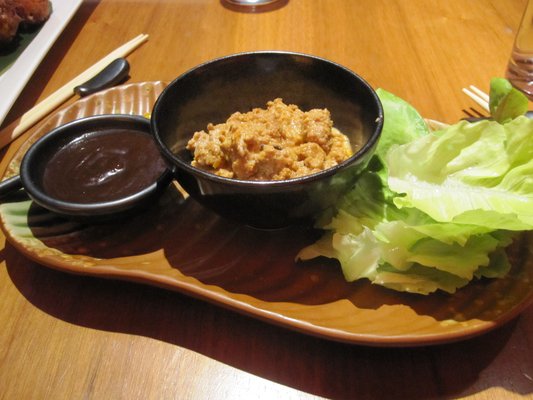 This place is usually kind of $$$, but luckily we received 30% off through a Village Vines deal. I use this website to make almost all dinner reservations – the discount even applies to alcohol! The only downside is that you sometimes can't make reservations on the weekend.
After dinner, we popped over to newly opened Victory Garden for chocolate goat milk soft serve topped with maple marshmallows. It was an interesting experience (goat milk soft serve!), but I'm not sure I'd go back. My only gripe – the portion was small for the price.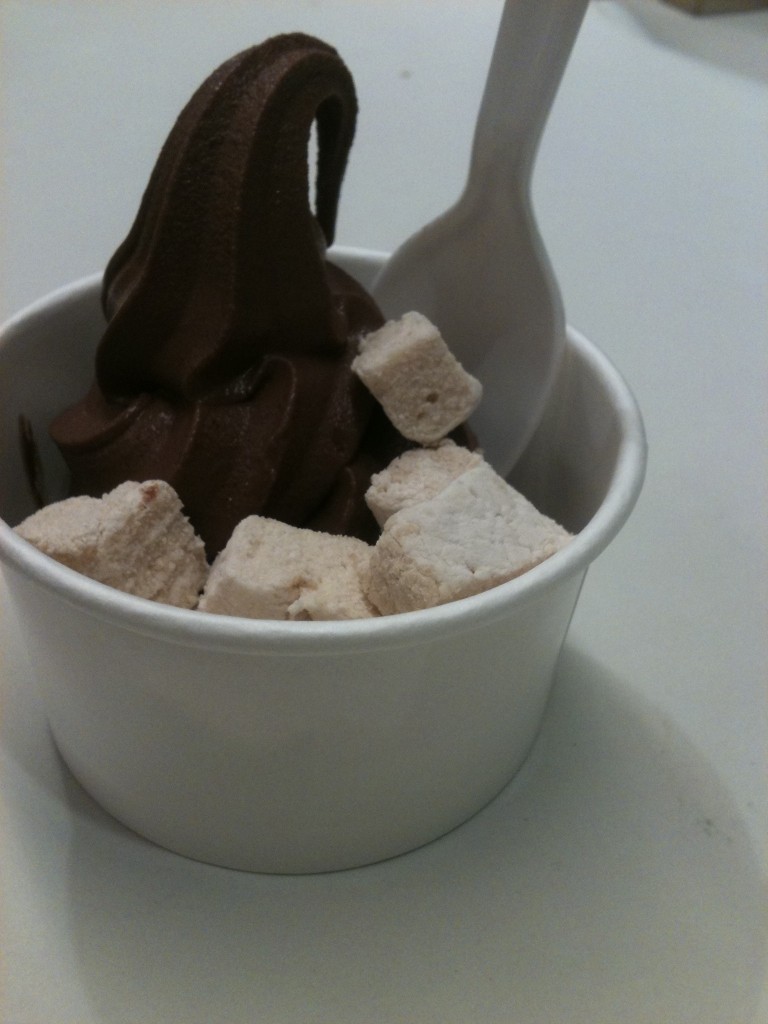 I had a rough day/night at work earlier this week, but when the man-friend surprised me with dinner at Dirt Candy, I couldn't help but feel better. We ate a very late dinner at 10pm (it's tough to get reservations!), but luckily I was able to stay awake through the entire meal. The chef, Amanda Cohen, does such amazing things with vegetables…easily one of the top 3 restaurant experiences I've ever had.
By the time I arrived at the restaurant, the man friend had a bottle of wine and jalapeno hush puppies waiting for me…
Oh.My.God. I wanted to eat that maple butter with a spoon. So good! The dinner was a surprise, so I didn't have my camera with me. I took a few iphone shots, but they didn't do the meal justice,  so I borrowed these photos from the restaurant (photo credits are linked below).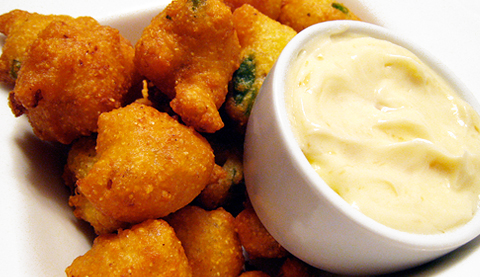 [jalapeno hush puppies with maple butter photo source]
Appetizer #1: Steamed carrot buns with BBQ carrot inside and cucumber and sesame salad. The man-friend and I split the appetizers, so we could try a bit of everything.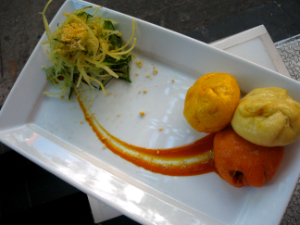 [steamed carrot buns photo source]
Appetizer #2: Celery salad with Oyster mushrooms and cheese curds.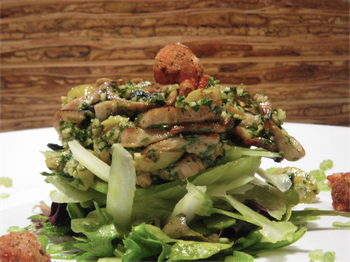 [celery salad photo source]
For my entree, I chose cucmber with coconut poached tofu, shiso galangal sauce, salsify, and hearts of palm. There was some sort of crispy decoration on top – I think it was fried onion?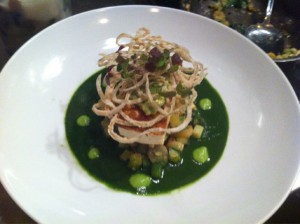 [cucumber and poached tofu photo source]
I was pretty full by the end of the meal, but still found a little room for dessert. Even my sweet pea and mint nanaimo bar (a cookie-ice cream type thing) had veggies in it!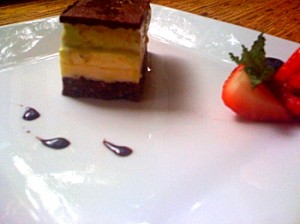 [sweet pea and mint nanaimo bar photo source]
This was a really fun night, my mood was lifted, and all those veggies left me feeling really good inside. Thanks man-friend!
I continued the veggie consumption at a Whole Foods demonstration, lecture, and tasting on Wednesday night. I'm not vegetarian, but (obviously) really enjoy vegetables and healthy-ish food. The co-founder of Candle Cafe and Candle 79, Joy Pierson led a discussion about the restaurant's food philiosophy and we were able to sample some signature dishes.
Tomato gazpacho soup topped with avocado slice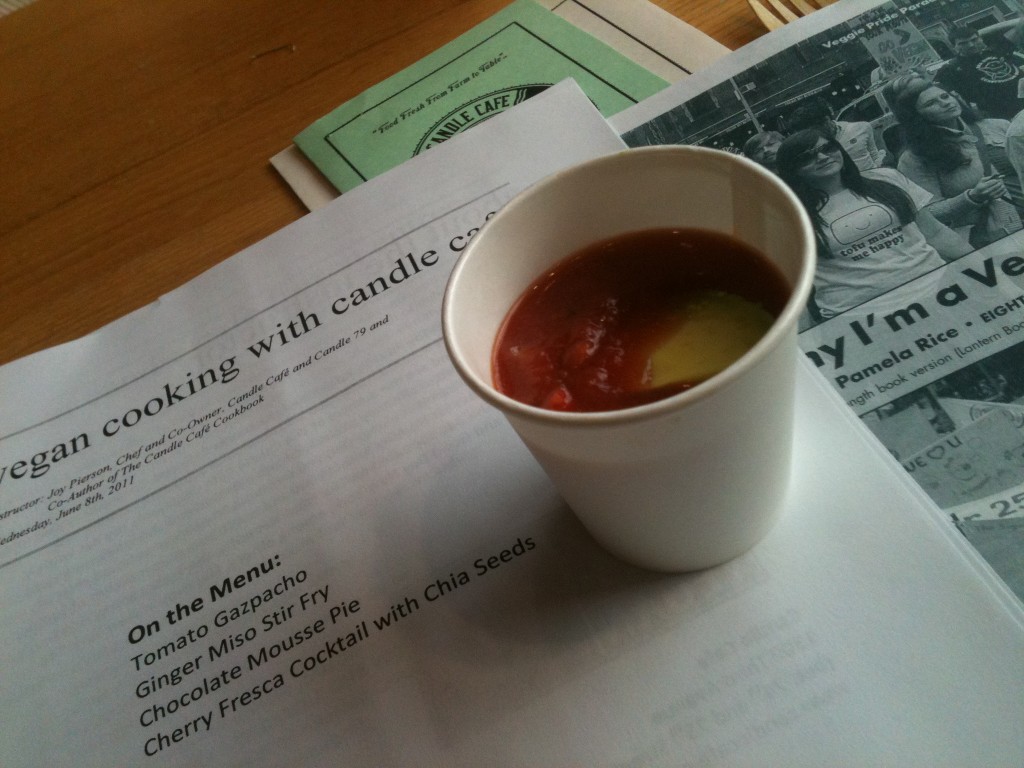 Ginger-miso stirfry with tofu, veggies, and sesame seeds (I think this would be a great recipe to use once my CSA veggies start rollin' in…)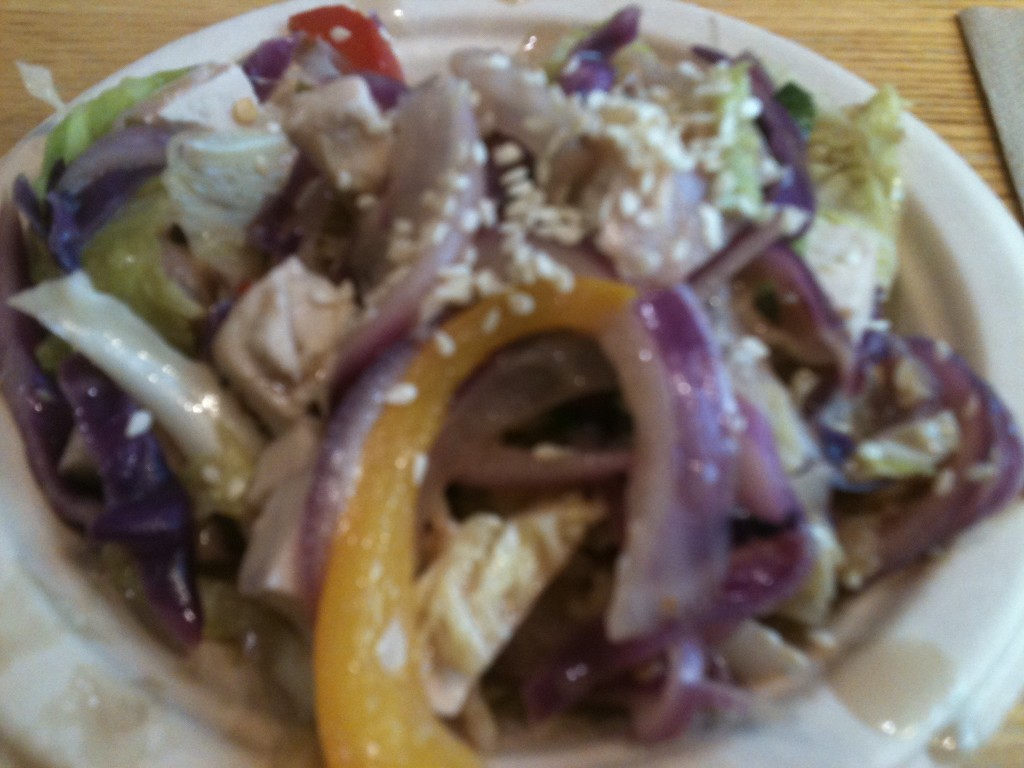 Berry fresca with hydrated chia seeds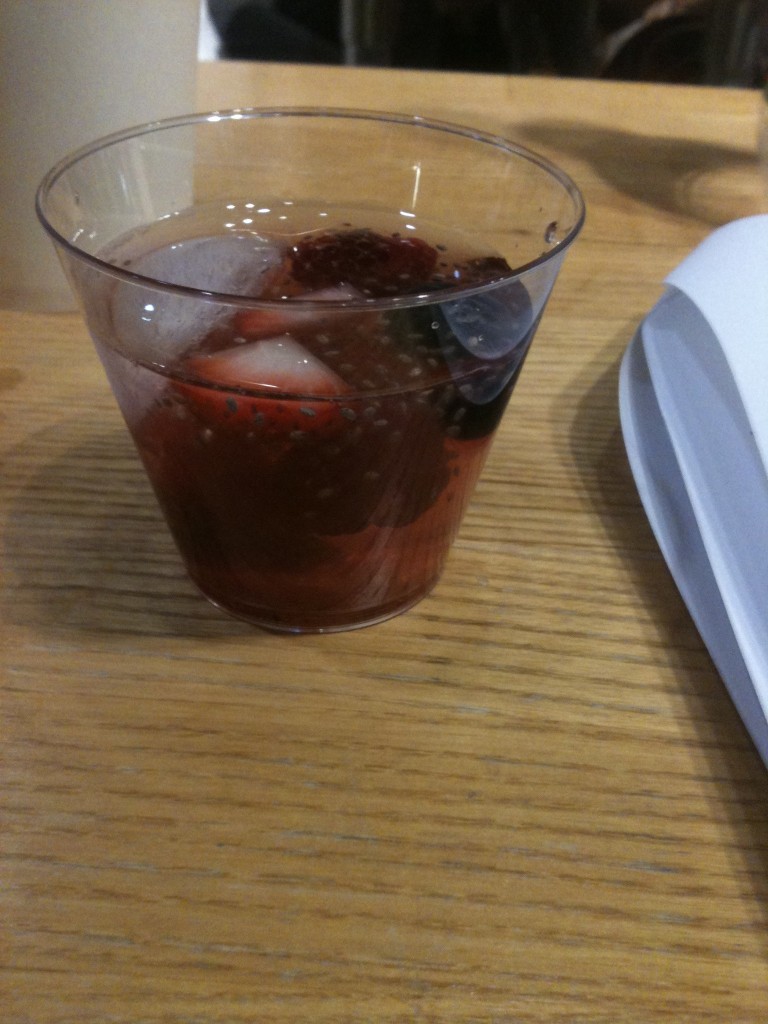 All followed up by a few cocktails at nearby Verlaine. My first drink featured homemade cucumber and hot pepper vodkas, passionfruit puree, and lime juice. In retrospect this was probably not the best way to hydrate for an early morning run…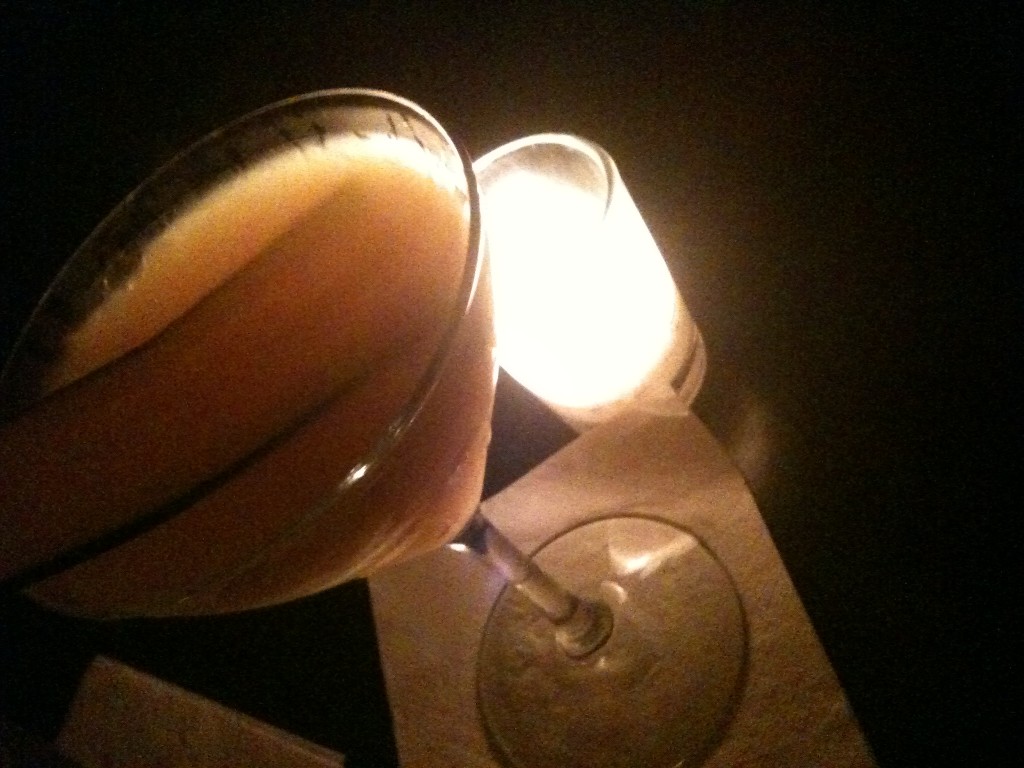 The running this week has been going so-so. I've been swamped at work and my nights have been packed with activities – I'm really looking forward to catching up on some R&R this weekend (and, um, finally unpacking!). My best (albeit sweatiest) run so far was a ~7-miler this morning with Maria, Kelly, and Ali. We hit the roads bright and early (6am) to avoid the heat, but I still ended up drenched and dreaming of iced coffee. Despite the cocktails from the night before and less sleep than I would have liked, knowing I was going to have good company during my run helped get me out of bed. Seriously, I could not run in the mornings without these run-dates. Thanks ladies!
Do you have a favorite restaurant in NYC (or elsewhere)? I'm making a list of "must-go places", you know, in case I win the lottery or something!