Happy Monday! In case your weekend ended up being a little more crazy than you expected, my interwebs friend Angry Runner is here with some good advice. I first read Angry Runner's blog way back in 2009 when she wrote an awesome post about why she disliked running skirts. It took about a year for us to actually meet in person (surprise! she's not a middle-aged dude OR a serial murderer) but the wait was worth it…
-Megan
About AR: While she's not drinking beer, complaining, or running…AR IS…hm. Good question.
The Dos and Don'ts of Hangovers
Megan and I have lots in common. We run a lot! We have similar PRs! We like cupcakes! We both enjoy a good cocktail! Or a beer! Or wine! Or vodka!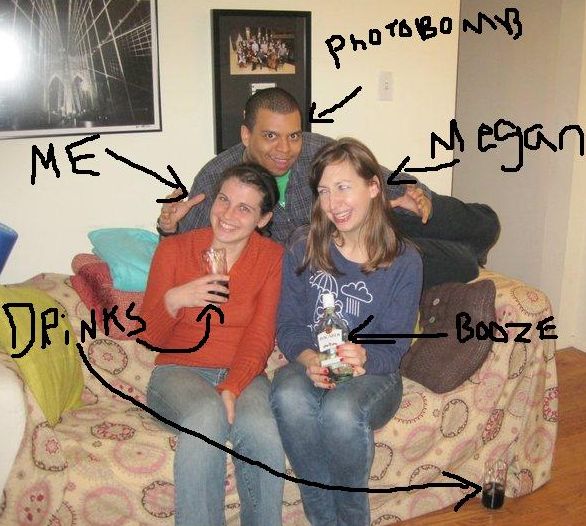 Ok, so a lot of people could say the same thing.
And that, Runners Kitchen readers, is why I'm here today.
Because who among us *doesn't enjoy a cocktail?* Or a beer? Or wine?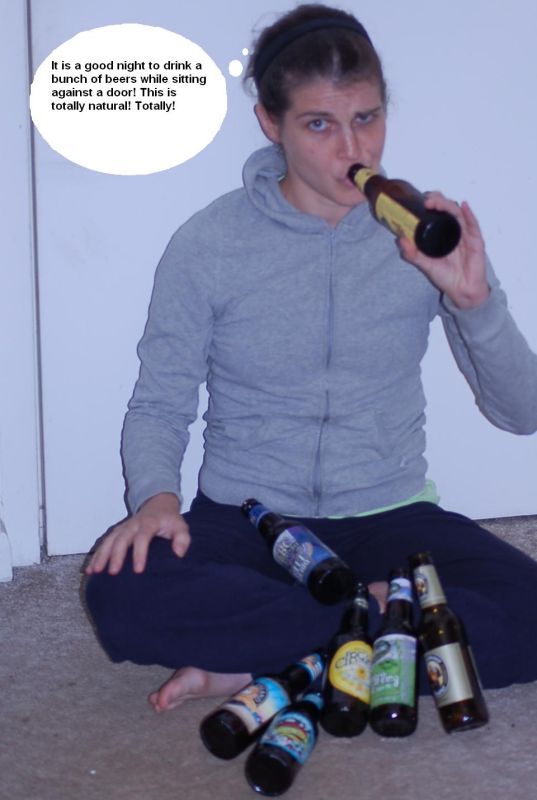 Totally not staged. Totally.
Who among us has had one too many good cocktails? Or beers? Or glasses of wine? Especially in the summer when we can enjoy happy hour outside? (Well,  assuming you're not still holed up in your office at that time. Like I am right now!) If you're not raising your hand? Well, you should try harder. (And I should use less question marks.) At any rate, I'm going to guess that all of you have gotten drunk at some point in your life. Some of you more than others. And if you've been drunk, you know this can lead to a hangover.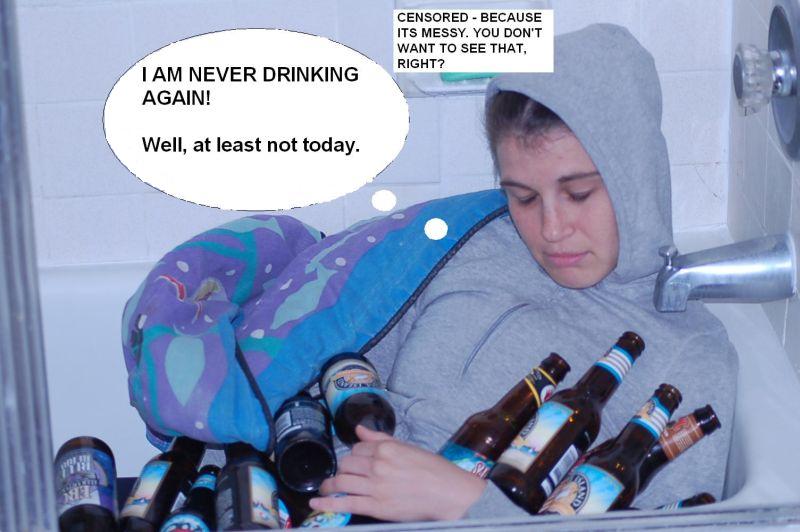 The question is, how do you deal with it? Here are some tips with the disclaimer that I'm NOT a doctor…I'm just a drunk. (Kidding! Kind of.)
Do: Hydrate! Hangovers are, in large part, caused by the dehydrating effects of alcohol.  It is why you can get REALLY DRUNK REALLY QUICKLY if you drink after a marathon.  It is also why you can minimize the damage by drinking water while you're drinking alcohol.
But let's be honest: sometimes when you're drinking you don't remember to do that.  You can do damage control by rehydrating yourself as soon as the hangover hits. Start with water and move to something with electrolytes.  I prefer Nuun and Coconut Water. Nuun isn't as sweet as Gatorade and is easier to drink when queasy. Coconut water has been really helpful, though if I'm really queasy it is a bit too thick to get down without gagging. (Which is what she said?)
Don't: Hydrate too fast! You can only reabsorb so much fluid at time. Alcohol, in particular, irritates your stomach lining so drinking too fast could end up making you puke. And it probably won't reabsorb. So drink SOMETHING right away, but sip.
Do: Take Milk Thistle! Ok, I realize this probably sounds stupid. But I swear, I have no interest or stock in any company that sells the shit.  Milk thistle has been used to treat liver disease for centuries. While I doubt it is going cure hepatitis anytime soon, it has helped me get through the workday more times than I should probably admit. You can find it in capsule or extract form the herbal section of your friendly local Walgreens/Duane Reade/CVS,etc.  It will help your liver function despite the damage you've done to it. Look for Milk Thistle with a high % of silymarin; it'll be more effective. Make sure you take it as soon as the hangover hits. (I've tried to look into the science behind it and sadly, can't find much. But it's the one bit of witch doctor I rely on.) Like I said, I'm not a doctor – I'm a drunk. So take this for what it's worth.
Don't: Take any pills of any kind until you are pretty sure you're not going to puke. This should be self explanatory. If you've ever thrown up the trifecta of bile, ibuprofen and water you know it hurts. And what's more, you've got no idea how much of the pills you've absorbed making taking anything else potentially risky…especially since it could further irritate your already testy stomach lining.
Do: Start bland, then greasy and/or protein. Play this one by ear. Once you are reasonably confident that you aren't going to puke, get something in your stomach.  To start, try something bland like Cheerios or a bagel. Then add something greasy to absorb the rest of the bad stuff. (I like a bagel with egg.)
Don't: Go outside without sunglasses. I don't care if it's overcast. Have them. If you are going into work you might not want to take them off…especially if the lights where you work are bright!
Do: Go for a run. Once you're out and about and mostly walking straight…go sweat out the alcohol. You may have to start slow. You may end up moving slow. But you'll probably feel a lot better once you do. (Another thing Megan and I have in common? We've both raced well while hung over.) And you should probably stick with an outdoor run. The fresh air can make you a bit more nauseated at first, but its less jarring than the repetitive motion you might feel on a dreadmill or stairbastard.
Don't: Say "I'm never getting drunk again!" Because you will. And you'll probably be hung over again at some point in your life.
Do: Remember how horrible a hangover feels. At the very least, you might remember to slow down and drink some water the next time you're out enjoying a few drinks.
Do you have any Dos? Don'ts? Horror stories? Let me hear them. That'll distract me from the fact that I'm very jealous that this post only exists because Megan is off frolicking on a tropical island.