One-Day Relay Tips
Hi there, my name is Page and I blog over at Twenty-Six and Then Some. While Megan is off enjoying her exotic adventure (actually I'm back,but swamped with work whomp whomp), I thought I'd stop by and babble on for a bit with tips on running a one-day relay.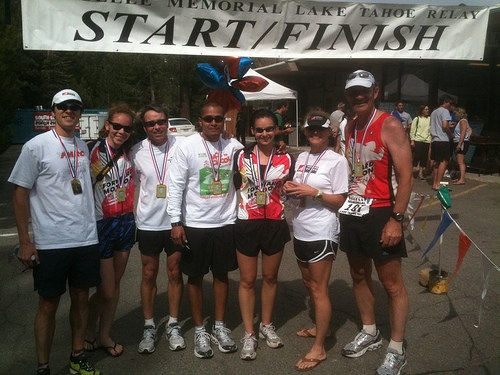 Recently, I experienced my first-ever, one-day relay at the Lake Tahoe Relay. From what I've heard, the worst/best part about the weekend-long relays are the fact that you get little to no sleep, you OD on PB&J, and you just smell like shiz. Well, helllllllllo one-day relays, you are my new best friend. You only have one leg (albeit they are usually longer), you don't need to sleep in a corner of a van, and you still have enough energy to party at the end. So here are 10 tips to making the most of a one-day relay:
1. Get Some Shut Eye
This one seems like a given, but the more sleep you get the night before, the more energy you'll have for the post-race party…and that's what we're really all about anyways!
2. Time Your Eating
If you're the first leg, your pre-race fuel is pretty standard. Eat as you would for any race. If you are running any of the other legs throughout the day, it's easy to overeat, graze, or not pay attention to what you're fueling yourself with as you cheer on your team. Pack your food in advance and have a game plan of when you will eat.
3. Bells, Bells, Bells
You know how you always get those cow bells during a big race, but given that you're running, you never have a reason to use them? Well now you do! Bring them out of storage and give them new life for your fellow team members.
4. Baby Wipes
You run, you sweat, you smell. It's a fact of life. But just because your leg is done doesn't mean that your day is over – you have some hard core cheering ahead of you and no shower in sight. The best kept secret in the running world is to stock baby wipes like you actually have a lil' tot. With a quick wipe-down after the run, you'll be spankin' fresh and ready to ring that bell will passion.
5. Push It!
One of the great things about running is that you can tailor every run to be solely based around you. Feel like crap? Go ahead and take it easy. Want to stop and walk? Sure thing. But when you join a relay team, suddenly the sport that is focused on the individual is a team effort and you don't want to let your buddies down. So if you're feeling like total dog meat, just remember that you have your crew waiting for you, cheering for every step that you take. Thus, this is the moment to run until you puke. Push it hard. Run for the team.
6. It's About Them
Despite all of the preparation you put into YOUR race, a relay is never solely about you – it's about your team. Your sole job is to cheer like you're watching the Olympics and make as many stops along the course to cheer as you can. Your teammates are depending on you!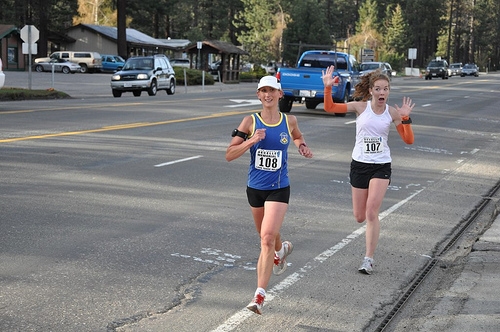 Happy running and see you in blog land!
Megan says: Have you ever done a relay? Any extra tips? I'm signed up to run the one-day, 92-mile River to Sea relay next month with an A+ team of lady runners. We just finalized our legs and my final 9.25 mile leg is described as "long, hard, and brutal". Hmm.