Hello, Runner's Kitchen readers! My name is Sofia and I blog over at InsightfulAppetite.com, where I chronicle my adventures as an avid restaurant goer, yoga explorer, and sometimes amateur chef. I've been reading Megan's blog for a couple of years now as I used to be a big runner myself, but when we met a year or so ago I was already struggling through a nagging stress fracture that has left me incapable of running at the level that I used to. Fortunately, Megan is a multi-faceted girl who is not only an awesome runner, but also an adventurous eater with a love of cocktails. And so, to represent for the Kitchen (and cocktails) part of Runner's Kitchen, I'm going to share some tips on entertaining.
I love having guests over. Cooking food for others, sipping delicious wines with friends and mixing cocktails at home with a crowd bring me great joy. I'm not sure how I got this way as a twenty-five year old, but I figure I might as well work with what I've got. So I've been finessing my entertaining skills and have learned a few things.
1. Use high-quality ingredients – there is greater chance that whatever you make will taste good.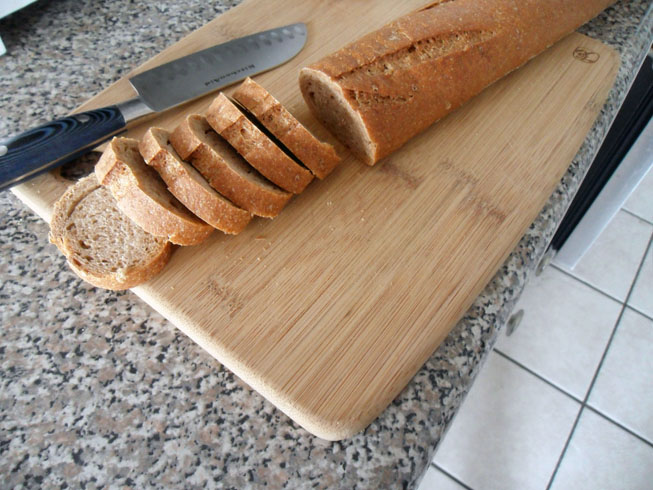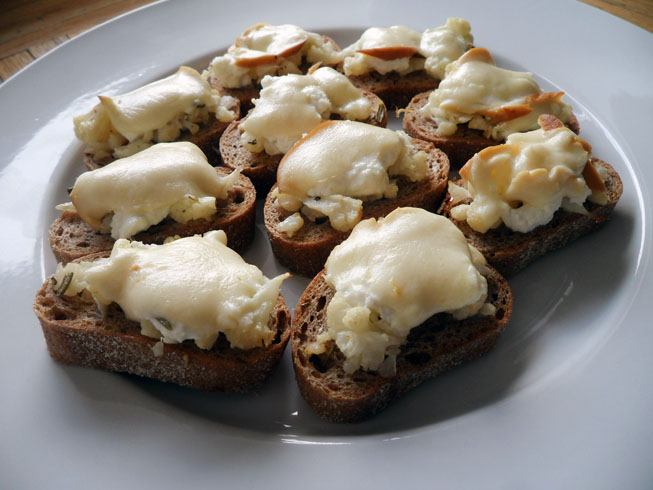 Pictured above are whole wheat crostini topped with roasted cauliflower, local whole milk ricotta, and local smoked mozzarella. Roasting veggies for about 15 minutes in the oven (at 375 degrees) with olive oil, salt, pepper and hot red pepper flakes make them even taster and perfect atop crusty bread. Lesson learned: pre-toast your baguette slices with olive oil; it's worth the extra richness. Sure, this wasn't the biggest hit with my guest of honor, but it certainly was tasty because I used real, whole foods. Nothing was low-fat or processed, which I think is an essential piece to any runner's (or active non-runner's) diet.
2. Maintain a well-stocked bar. Your thirsty guests will thank you.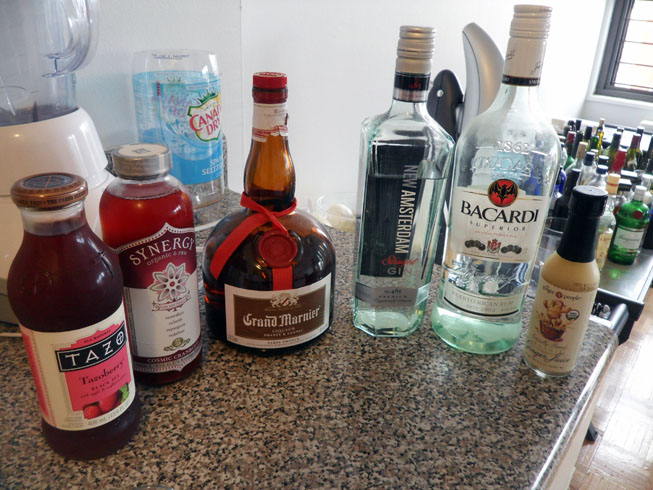 Bottles of booze are infrequent purchases that will last you a long time, because let's face it – as a twenty- (and thrity-) somethings we're probably eating and drinking out more often than entertaining at home. As for mixers, I like to keep things simple and wholesome: naturally sweetened juices, and even some kombucha to spice things up. I also keep a lot of lemons and limes around to make fresh squeezed citrus juice, which is a key ingredient to many delicious drinks.
3. Have the right tools on-hand. It'll make the cocktail creation process much
smoother.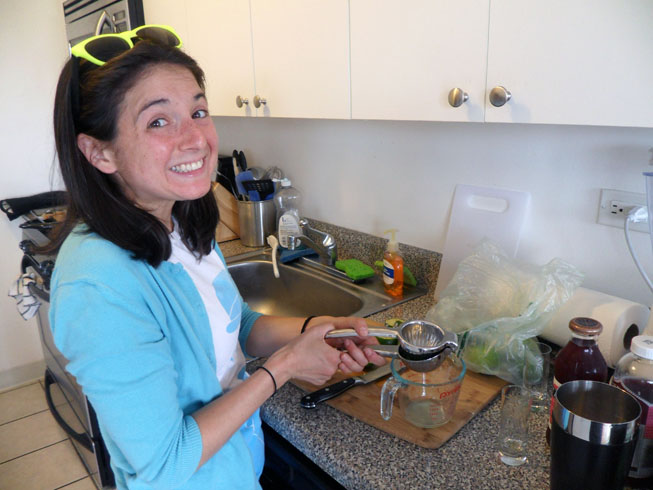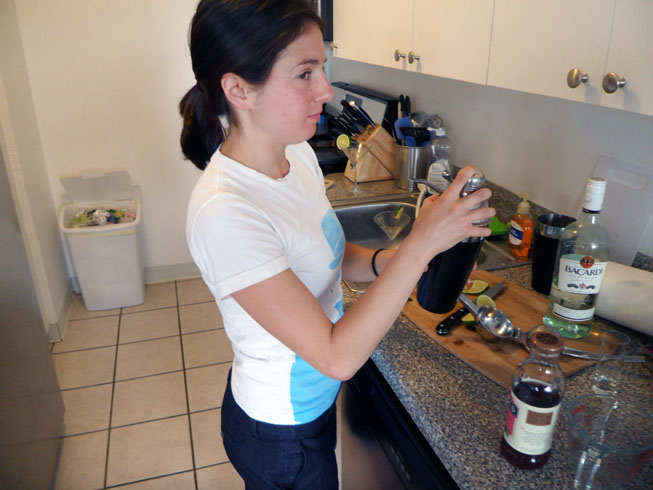 You're gonna need a shaker. And a simple juicer. And some nice glasses are fun, too.
4. Keep experimenting. You might make a drink (or snack) that turns out to be absolutely revolting. Don't be discouraged; your friends will be happy to consume your creations, regardless of the bitter taste at the tail end of a drink you made that time you went angostura bitter-happy.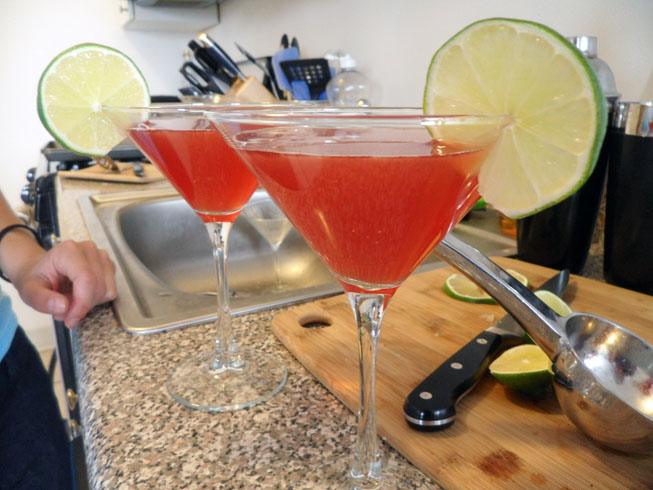 5. Don't take yourself too seriously. Ever. We're not mixologists or professional chefs. Remember: we're into this entertaining stuff to spend time with our friends, eat delicious food and imbibe potent drinks. And for the a few good laughs.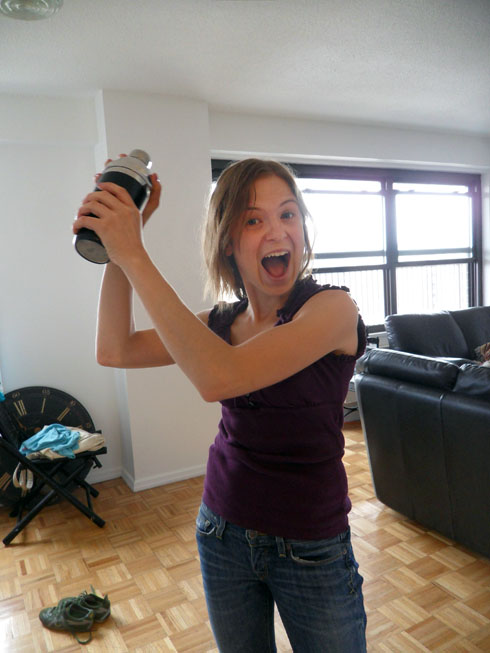 Recipes
GINgerberry Fizz
3/4 cup berry-flavored kombucha
1/3 cup fresh squeezed lime juice
1/4 cup ginger juice
2 shots gin
1 shot grand marnier
3 ice cubes
Combine all ingredients in shaker. Shake gently so as to not disturb the fizzy
kombucha quality. Pour into two glasses and garnish with lime slices.
Spicy roasted cauliflower
1 head cauliflower, chopped finely into small pieces
2 tbsp olive oil
1 tbsp chopped fresh Rosemary
2 garlic cloves, minced
Salt, pepper and hot red pepper to taste
Two-Cheese Cauliflower Crostini
1 whole wheat baguette, sliced into 1/2-3/4 inch pieces
Olive oil, to taste
1/2 cup spicy roasted cauliflower
Fresh ricotta cheese
Smoked mozzarella
Truffle salt
Pre-heat oven to 350 F. Drizzle olive oil on baguette slices and toast in oven for five minutes. Remove and sprinkle with cauliflower, ricotta cheese and smoked mozzarella. Put crostini back in oven for another 7 minutes. Remove from oven, and sprinkle with truffle salt, if desired.
What's your favorite drink and appetizer to serve guests? Bonus points if it's inexpensive (ish) and can be made in under 20 minutes!