Whoa, I can't believe this is the 4th year that I've run the JP Morgan Chase Corporate Challenge with my company. Time flies, I suppose! Every March I sign up with grand thoughts of co-worker bonding and a fun evening race. And every June, I am reminded of how crowded and disorganized this event is (30,000 runners divided into 2 nights). However, things are improving – we finally got chip timing in 2010 and this was the first year that they instituted a corral system. Although I was assigned to the second corral, actually getting there was quite difficult.
I headed to the starting line about 20 minutes before the gun went off and I needed every minute to travel the approximately 400 meters. The walkers and slower corrals completely clogged the West Drive of the Park (15,000 runners is A LOT of people) so I had to leap fences, crash through brush, and climb up the side of a rocky hill just to make it to my corral in time. Actually, as much as I complained, that part was kind of fun!
For an urban area, Central Park has an awful lot of trees and prickly plants –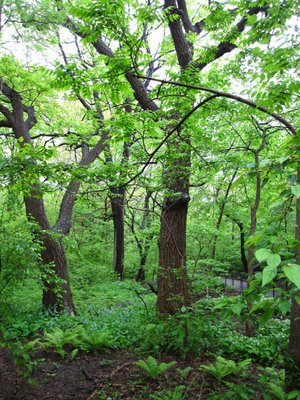 Once I got to the starting line, I didn't have much time to think about my race plan. I haven't been doing too many track or tempo workouts (oops), but my mileage has been hovering around a respectable 40 mpw and I have posted some good efforts in the last month (Brooklyn Half-Marathon and Clinch River 5.5k trail race). I didn't have many expectations beyond giving myself a good, hard workout. The new corral and wave start system reduced the crowding dramatically and I was able to start off at a solid pace. I covered the 3.5 mile distance at about 6:55 pace (miles were pretty even, a little slower on the uphills, faster on the downhills). I felt uncomfortable during the race, but it wasn't an "all out" effort. I suppose it was somewhere between tempo pace and race pace. The time was also over a minute faster than last year, BUT I couldn't help thinking 6:55 pace was awfully slow for a 3.5 miler. At some point (maybe in 2012…) I'd like to run sub-7:00 miles for the half-marathon, so I've got a ways to go.
I ended up finishing 39th out of 7,488 females, so that was kind of cool! I was also the first female for my company and the second finisher overall (I was about 15 seconds behind our #1 runner). This isn't a very serious race, but it's always a good workout, and it's fun to hang out with co-workers that I wouldn't normally interact with. Next June, you can bet I'll probably be toeing the line again….
2008 – 26:02 (~7:20 pace) (Race effort)
2009 – 30:27 (~8:42 pace) (Injured and out of shape, booooo)
2010 – 25:15 (~7:12 pace) (Tempo effort)
2011 – 24:13 (~6:55 pace) (Somewhere between tempo and race effort)
Company uniform! (a.k.a. a t-shirt that was two sizes too large)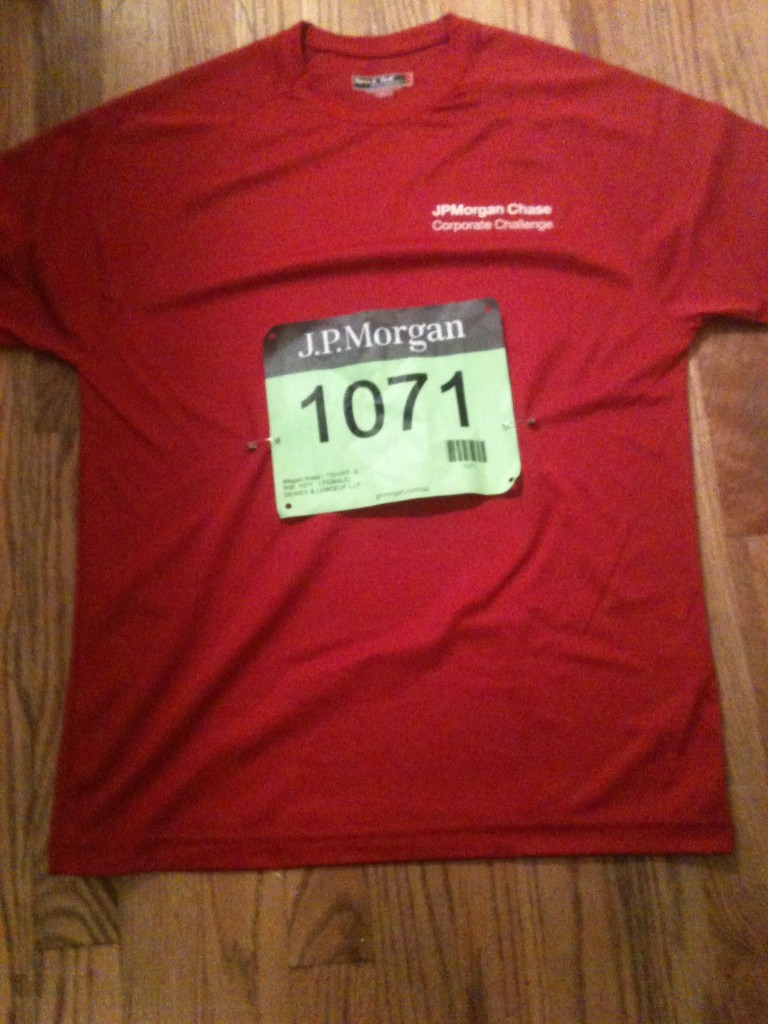 During last night's race/tempo run/whatever you want to call it, I did something I haven't done in a long time. I actually raced somebody. Usually the races I run are big enough that place doesn't matter – it's more about beating my own time and setting a PR. But yesterday evening as my co-workers and I congregated before the race, a middle-aged executive lamented being beaten by a woman on the "administrative staff" last year. For some reason the way he said it rubbed me the wrong way and at that moment, I put a target on his back. I ended up catching middle-aged exec (herein referred to as MAE) around mile 1 and then pulled my signature intimidation move – small talk. My theory is this – if I can sidle up to my competition and ask them a few questions such as  "what are you training for?" or "brutal humidity, eh?" they'll think I have a ton of energy and will get scurred. Once they start to lose confidence, I make my move (increase the pace for ~400m), and put some distance between us. Luckily, this tactic worked like a charm last night! And I chatted MAE early enough in the race that I was still able to spit out a few sentences. That wasn't happenin' after mile 2. Administrative Staffer – 1, Middle-Aged Exec – 0
Boom.
When you race, do you do it only for time? Or do you try to beat specific competitors? What are your tactics (unless you want to keep them secret, hehe)?