Running and I have had a rocky 6 months. After racing the NYC Marathon in November, I was mentally and physically wiped out. I took a few weeks off, but I don't think I counted on needing such a long recovery period. By Thanksgiving, I had jumped back into workouts and racing and by early Spring I was feeling blah, burnt out, and un-motivated. I thought about taking a few weeks (or even months) completely off from running, but ultimately I realized that exercise and running are an important part of my routine. Instead of taking a break from running, I decided re-adjust my goals for the remainder of 2011. Instead of pushing myself to go to track workouts and run PR races, I just ran easy mileage. When the spirit moved me, I went to a track workout, but I stopped telling myself that I *had* to go. I also decided to lower my expectations for my summer and spring races.
Sure, I love competing and setting Personal Bests, but that's not the only reason why I run. The goal for my spring and summer races (Brooklyn Half-Marathon, JP Morgan Corporate Challenge, River 2 Sea Relay) is to simply have FUN. I need to remind myself of why I get up and run every day, why this activity makes me happy.
Back in May, I saw a tweet about the Fairfield Half-Marathon and got the itch to sign-up. I knew I probably wasn't going to race it (mid-June is not exactly PR weather for long distances), but the fact that the race ended on the beach (!) and would guarantee a long run sealed the deal. It's been awhile since I've done a race "just for fun" . Usually I feel like it's a waste of time and money to participate in an event if I'm not going to race 100% or at least make it a hard workout. But you know what? Last Sunday's "just for fun" race was probably one of the best runs I've had ALL YEAR. From the 5:45am Metro North train (a.k.a. the "drunk train") to my pre-race popsicle to the 13 miles of chatting I did with Elyssa – I had fun. This event reminded me that waking up at 5am to run 13+ sunny, Summer miles is really one of my favorite ways to spend a morning (yeah, that sounds a little crazy). Elyssa and I kept the pace relaxed and finished in 1:46:13. ~8:00 pace is a little faster than what I usually do my long runs at, but I felt controlled the whole time.
Finishing this run and feeling so positive and happy really got me excited about racing hard again. I have a few short races in the books for July and August (River 2 Sea Relay, a 5-mile team race and a 5k), but the next big "goal" race is going to be the Philadelphia Distance Run (aka Philly Rock n Roll half-marathon) on Sept 18. After months of feeling meh, I am finally (finally!) wanting to run high mileage and go to workouts again. Maybe I needed to be reminded of why I do this or maybe it's the weather (I love summer), but in any case, the mojo seems to be creepin' back.
Highlights of Sunday's trip to Connecticut, included:
The Weather!! Yeah, 80 degrees and sunny isn't ideal for half-marathon racing, but I love summer so so much. Give me sun and heat over snow anyday.
$5 plastic sunglasses = my new running sunglasses. I'm sure I could get a pair that cost 20x as much, but these worked out just fine.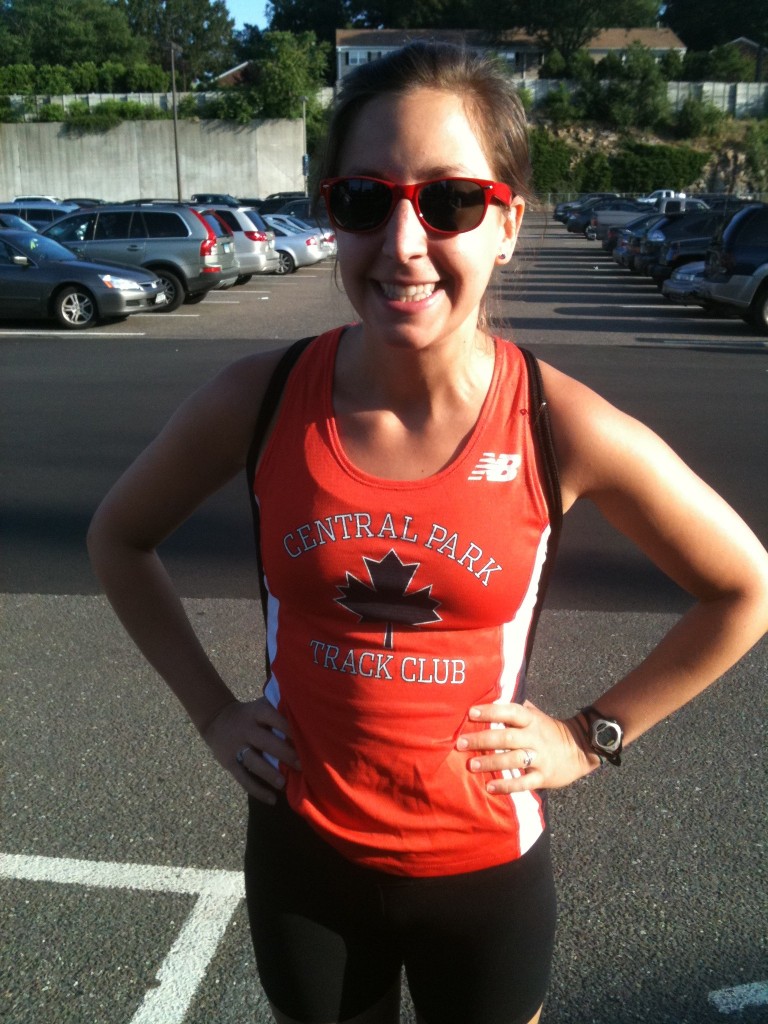 The free popsicle I snagged on my way to the starting line. I'd never had a pre-race popsicle before, but it was actually kind of awesome. Hydration + 40 calories of pure sugar = good starting line fuel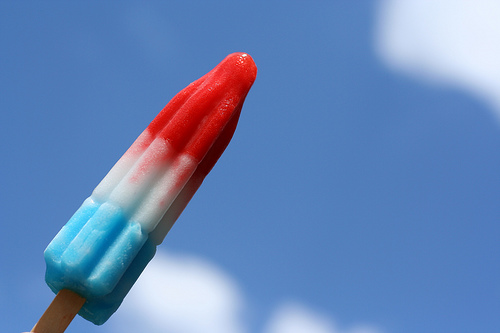 Having Elyssa as my running buddy – 1 hour and 46 minutes seriously felt like 46 minutes!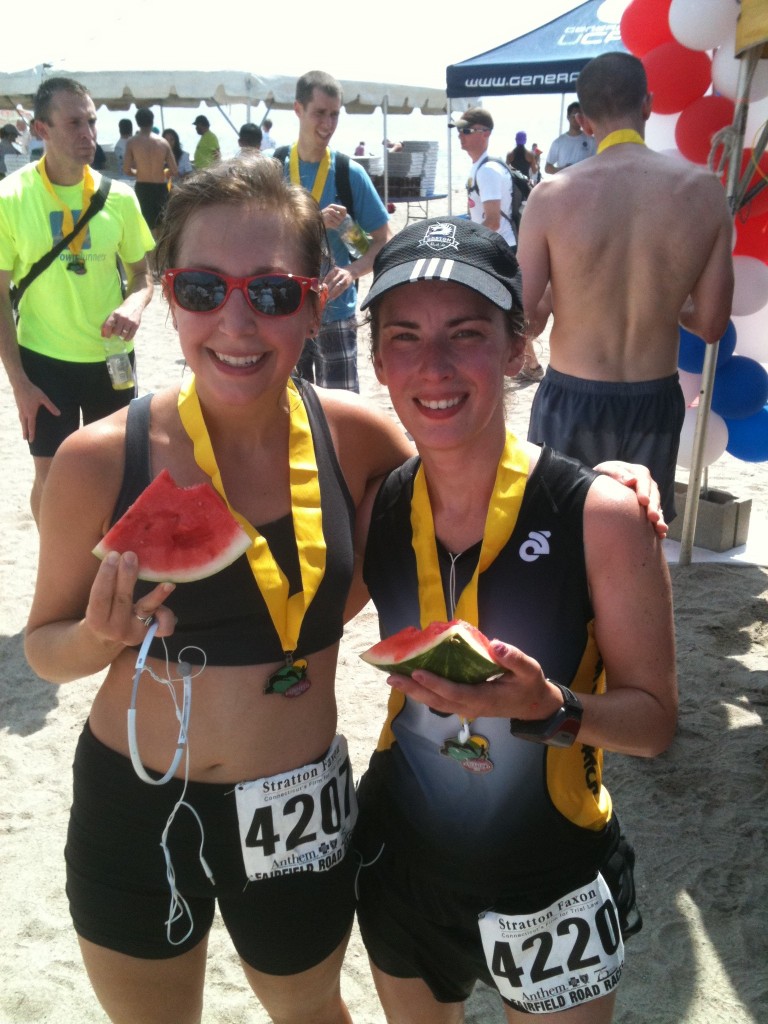 Post-race, the man-friend and I headed back to the city for an easy, chill dinner. I un-corked a bottle of refreshing Rose wine and we dined on homemade ricotta (I used Smitten Kitchen's recipe, so easy and delicious!) with whole wheat baguette and prosciutto. I also tossed together an arugula salad and topped that with prosciutto wrapped mango slices. Melon is usually paired with prosciutto, but the mango was a fun change! This dinner was really tasty and required no oven time – perfect for summer!
Homemade ricotta drizzled with olive oil, salt, and fresh ground black pepper with grilled bread and prosciutto.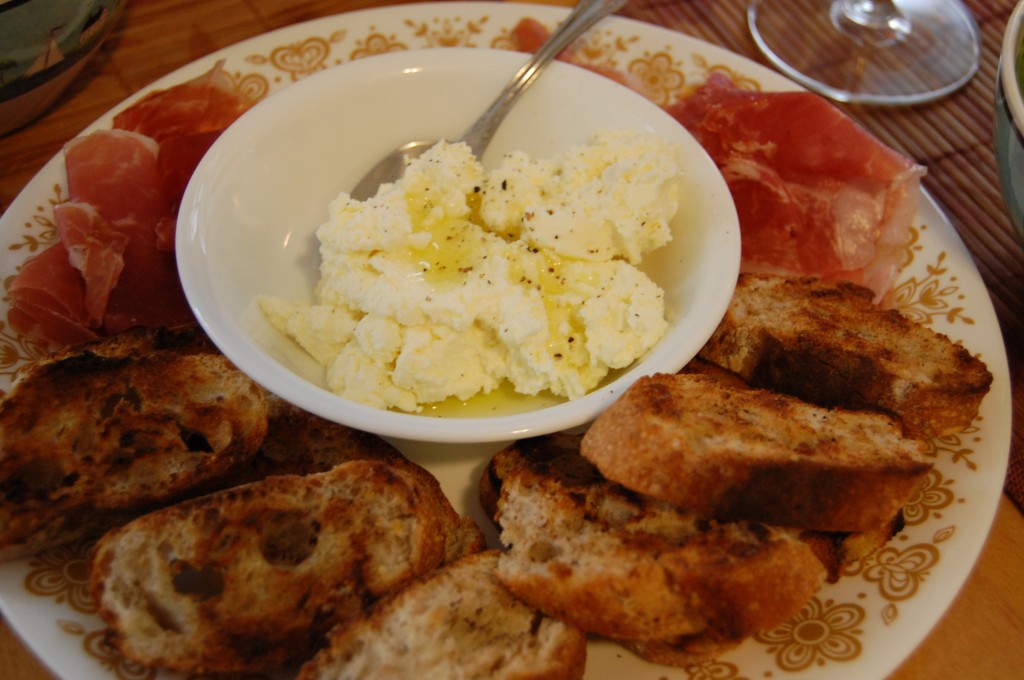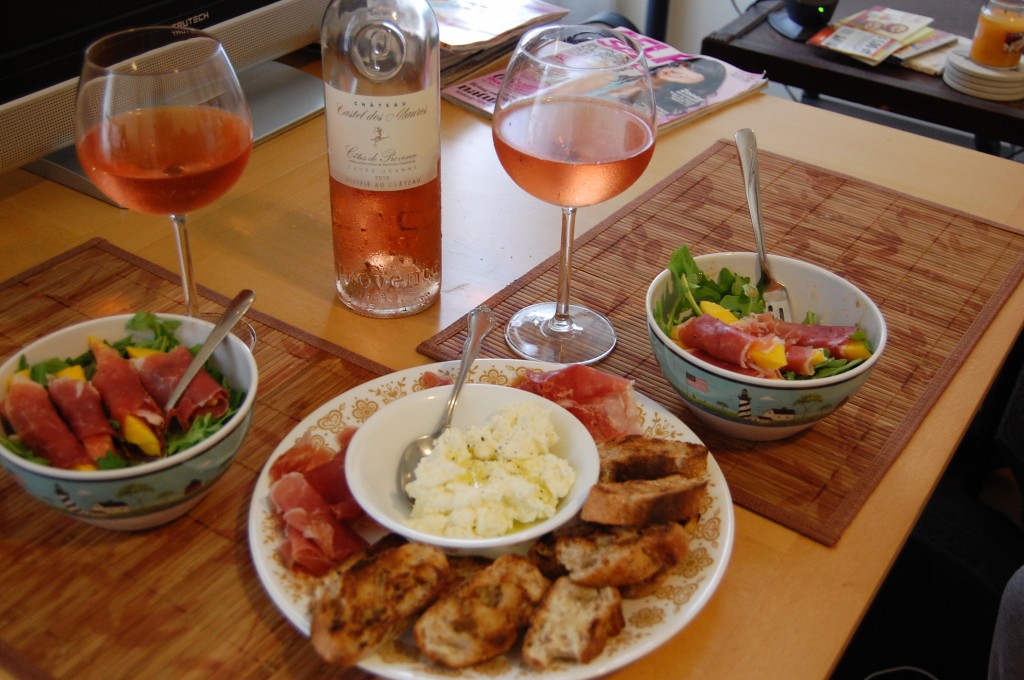 Prosciutto wrapped mango slices.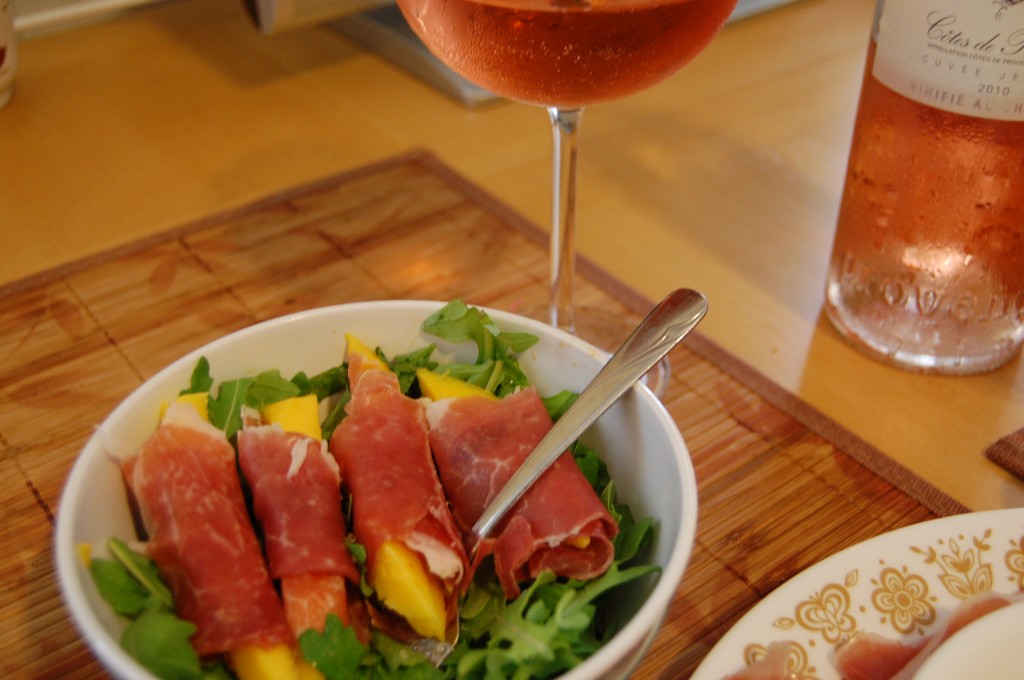 If you've ever experienced a running funk, what eventually helped you get through it? Running is such a big part of my life (for both social and individual reasons) and I want to make sure I keep enjoying it for a long time.