Living in a city as diverse as New York means that I'm always meeting and hearing about awesome, talented, and motivated individuals. And the running world is no exception. Even if I were to run a sub 1:30 half marathon at an NYRR race, I would still barely crack the top 20 in my age group. If I knock out a strength training workout at my gym, there will always be a model wannabe with more envious abs. And even if I get myself out the door for a pre-work run, there will always be someone who is out there earlier, running faster and farther.
It's easy to get caught up in the comparison trap (I know other bloggers have dealt with this as well) and sometimes it's not a bad thing. The accomplishments and motivation of others can be contagious and can give me that extra kick in the pants that I need. But other times, I can start feeling like what I'm doing isn't enough- not running enough miles, not doing enough core work, not sleeping enough, not eating healthy enough, and on and on. And that's no bueno. I wish I had an easy answer for how to deal with this, but I don't. I do know that every person is different and the type of mileage or breakfast that might work for my running buddy or another blogger or a teammate, might not work for me. We all have different genetic predispositions, work schedules, and sleep requirements that come into play when we run. It also helps to remember that what appears on a blog (including my own) is not always the whole story. When I start feeling inadequate, I try to remind myself that eventhough my running life might not be perfect, I've got other things going on for me. I am a person who loves running and I am a runner, but I'm also a sister, a girlfriend, a daughter, an employee, a roommate, and more. And as much as I'd like to be a perfect example of all of the above, I'm not. I'm human. Sometimes I skip runs in favor of happy hour, sometimes I flake out on a friends, but all things considered I think I'm doing a pretty good job at being me. And that's all I can ask of myself, not perfection, but the best I can do on any given day.
If you're still reading, kudos to you! Sometimes I start thinking about these deep thoughts and before I know it, I've typed out a rambling  blog post. Just like running and wine, writing it all down can be therapy, right?
 In any case, there have been some exciting things going on this week. Tuesday night was the inaugural meeting of a newly formed cooking club – Katie, Leslie, Sofia, Kelly, Rebecca, and I gathered around a table to share a homecooked meal and wine. We're trying to make this a monthly occurance in the hopes that we can expand our cooking repetoire and (of course) spend more time with each other! Tuesday was tapas themed and Rebecca did an awesome job serving up an array of Smitten-Kitchen inspired dishes.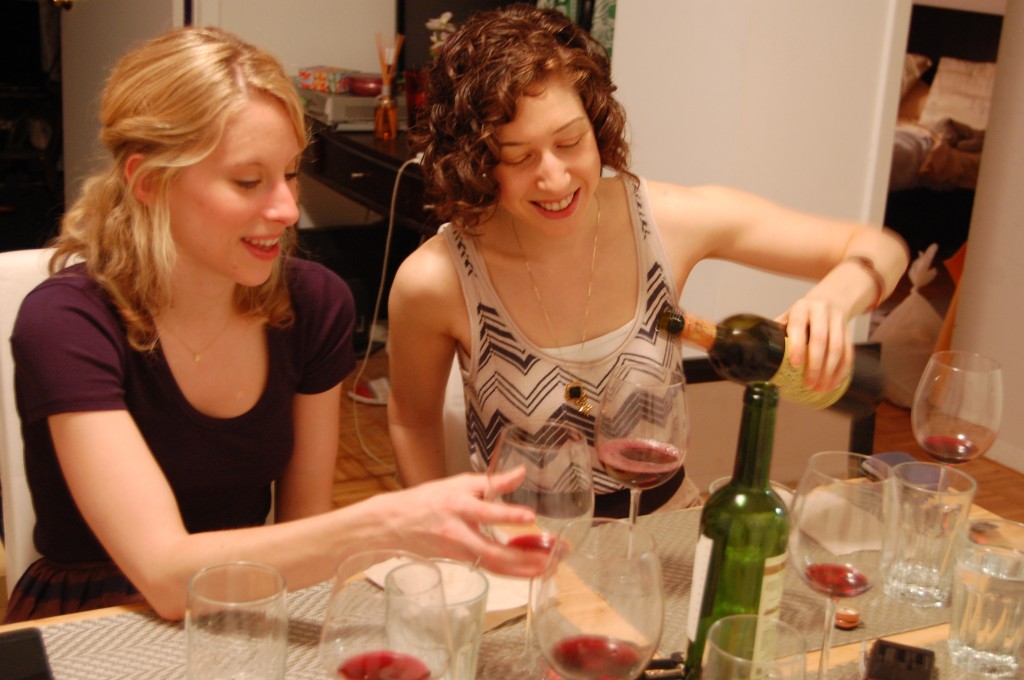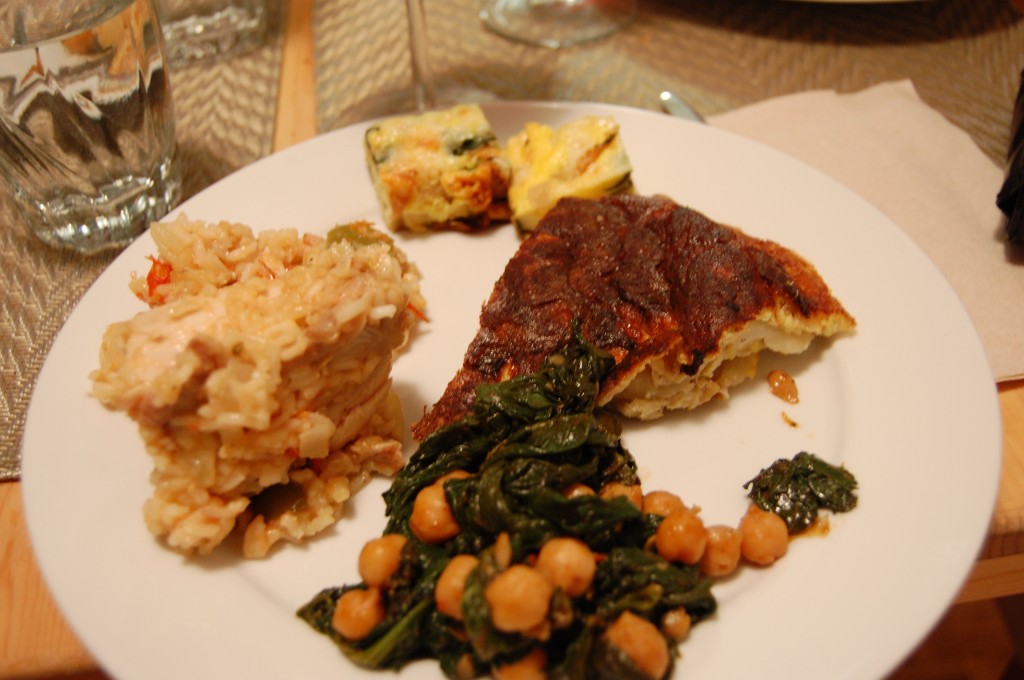 I brought along a spinach, caramelized onion, and gruyere frittata that I had made on Sunday. Can I just wax poetic on frittatas for a minute? First of all they are easy to make (mine took less than 40 minutes including cooking time), infinitely adaptable (use whatever veggies and cheese you've got on hand), and very versatile (eat 'em hot, cold, room temp, for breakfast, dinner, whatever!). Okay, anddd done. But I really do love frittatas.
Caramelized onion, spinach, and gruyere frittata (serves 4)
1 Tbs canola oil
1 large onion, sliced
2 giant handfuls of spinach
8 eggs
splash of cream or milk
salt and pepper, to taste
about 2-3 oz of gruyere cheese
Preheat the oven to 400 degrees. Heat the canola oil in a large, oven safe skillet. Add the onion slices and cook over medium-high heat until soft, transparent, and slightly browned (~10 minutes). Add the spinach and stir until wilted.
In a medium bowl, whisk the eggs, cream, and S&P. Turn off the heat and add the egg mixture to the veggies. Stir once and then grate the gruyere cheese on top. Put the skillet in the oven and bake for about 18 minutes (or until puffy and slightly browned). Voila! You're done.
And of course, we had an awesome array of goodies for dessert –
Blondies made with chickpeas (I had no idea they contained chickpeas…)
Peanut and chocolate chip oatmeal cookies
Coconut-Banana Bread with lime glaze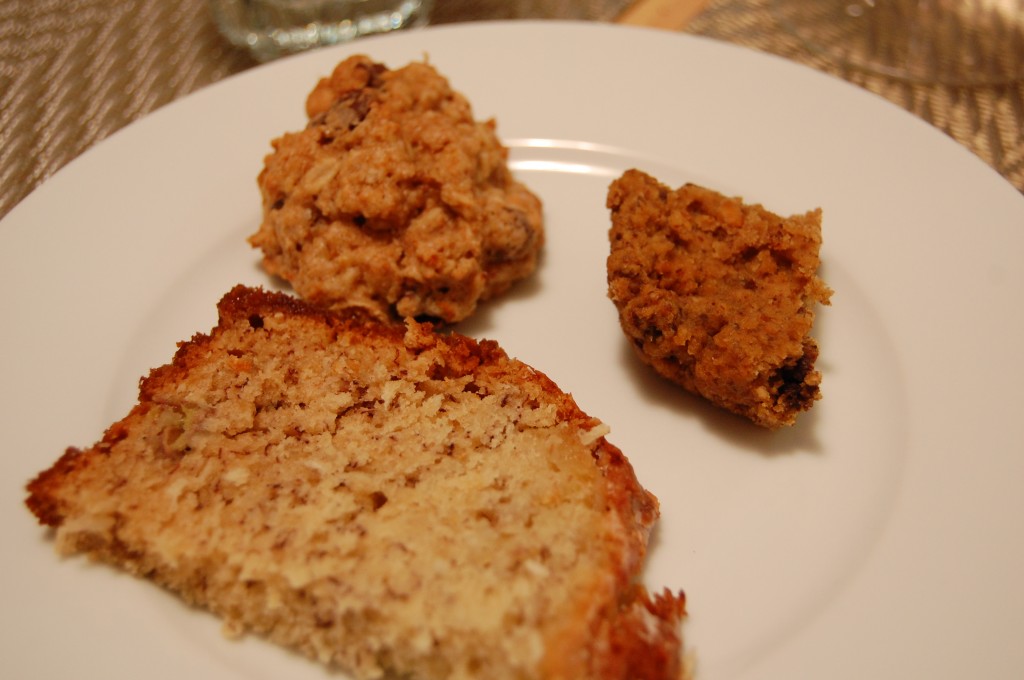 I think it's safe to say that the first meeting of the cooking club was a success!
When it comes to running or careers or what have you, how do you halt the comparison trap in its tracks?