8:30am Sunday morning. I wake up, look outside to see pouring (pouring!) rain, and end up postponing my Central Park run with Ali. Instead, I tell myself I'll head to the gym and run on the treadmill. I drink some coffee and eat a banana with peanut butter to prepare.
9:30am Ehhh. Nevermind, I'm going back to bed.
Noon. I finally feel motivated enough to leave my cozy bed. But not quite motivated enough to go to the gym, hehe. I convince the man-friend that we should go get brunch and run later.
12:30pm Popover Cafe!
This is one of my favorite brunch places on the Upper West Side – I'm pretty sure this warm, flaky, buttery, popover with homemade strawberry butter is the best thing I've eaten all week. Plus fresh-squeezed orange juice. I die.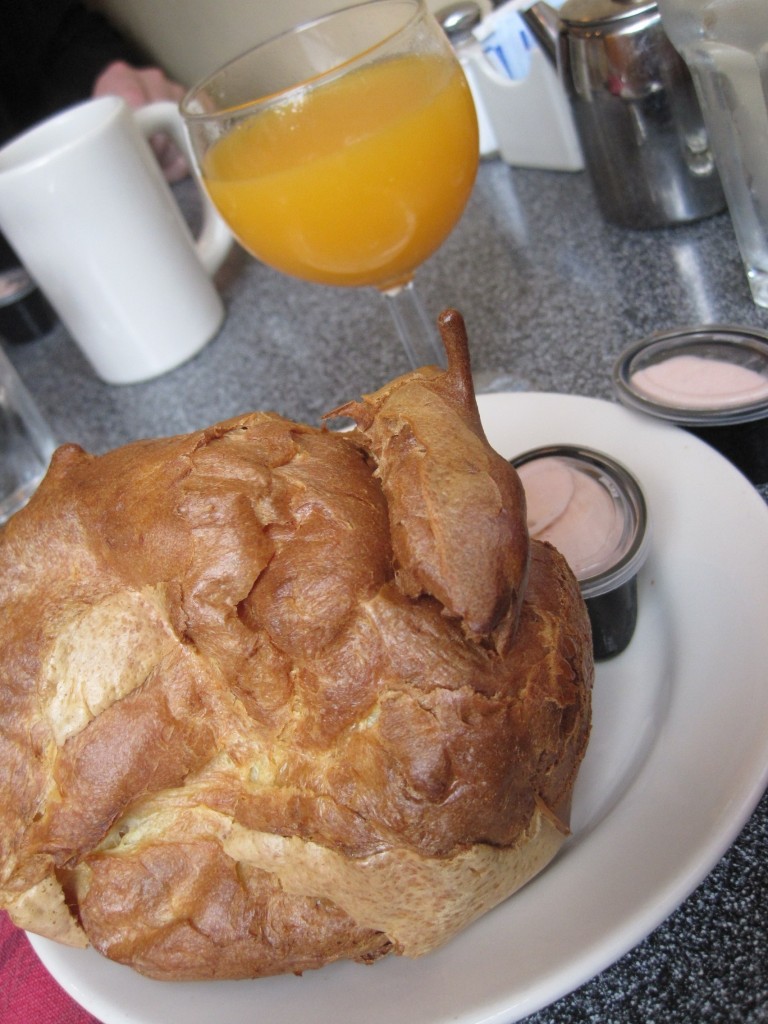 My entree was also good (although nothing quite compares to the popover…) – I ordered an egg white omelet filled with spinach, mushrooms, and goat cheese.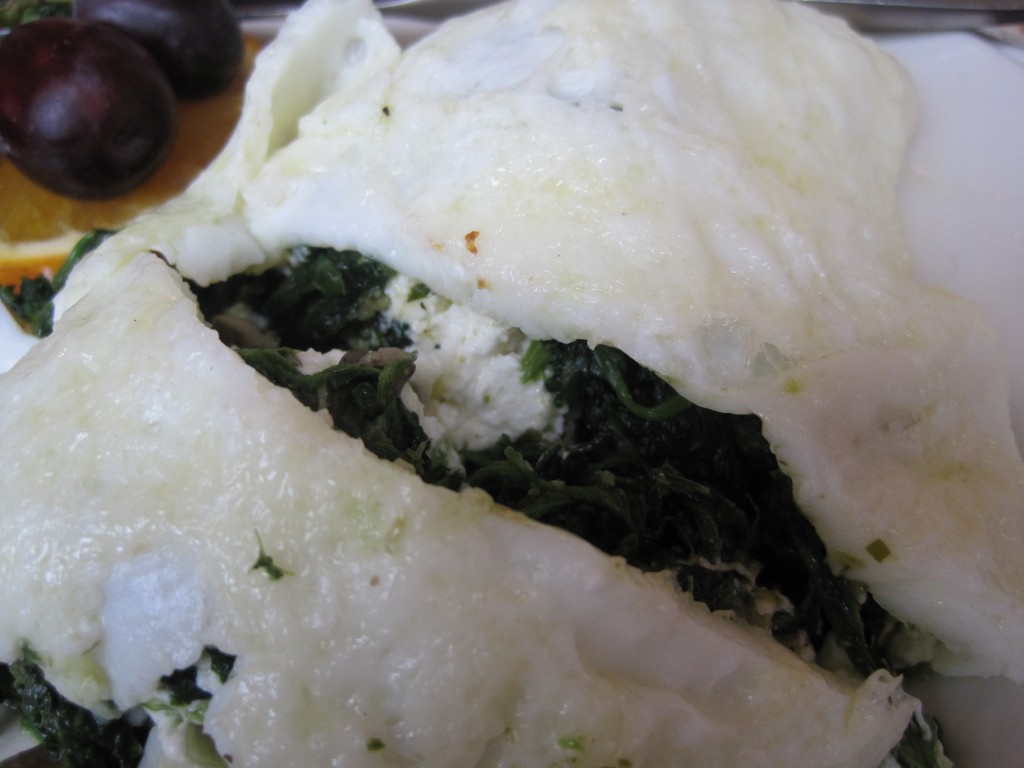 The man-friend and I walked the ~2 miles or so home and stopped to do a few very important errands (wine shopping, cupcake buying, etc). Before I knew it, it was almost 5pm and I *still* hadn't gone on my long run. As much as I like getting my runs out of the way in the morning, I'm the type of person who can pretty much run anytime of day. Sure, my motivation may wax and wane depending on the hour, but if need be, I can get my butt out the door in the evening.
When I started my run, the weather was actually holding up quite nicely – high 60's and little bit of sun. However, by the time I hit mile 9 – thunder and rain were rolling back in. I started off my run easy, but then picked up the pace. The latter half was what I would call "up-tempo", but I finished feeling good.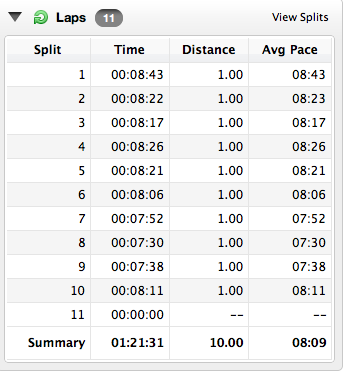 10 miles on the bridle path + puddles = muddy legs
I actually had a lot of fun dodging and jumping over and through the puddles! I love when running feels more like play.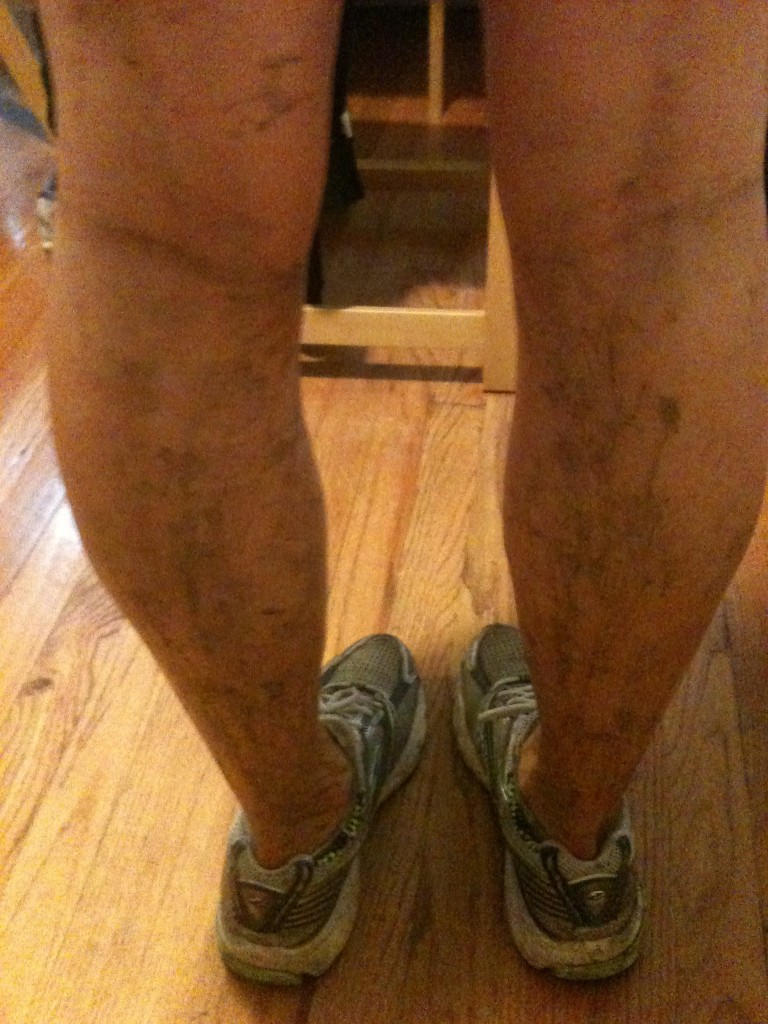 The man-friend cycled a few loops of the park while I was out running and we were both pretty hungry upon our return. We kept it classy with chinese take-out (tofu, rice, steamed veggies, and a spring roll for me!) and a nice bottle of wine from the Finger Lakes. Fact: our wine cost twice as much as dinner. Heh.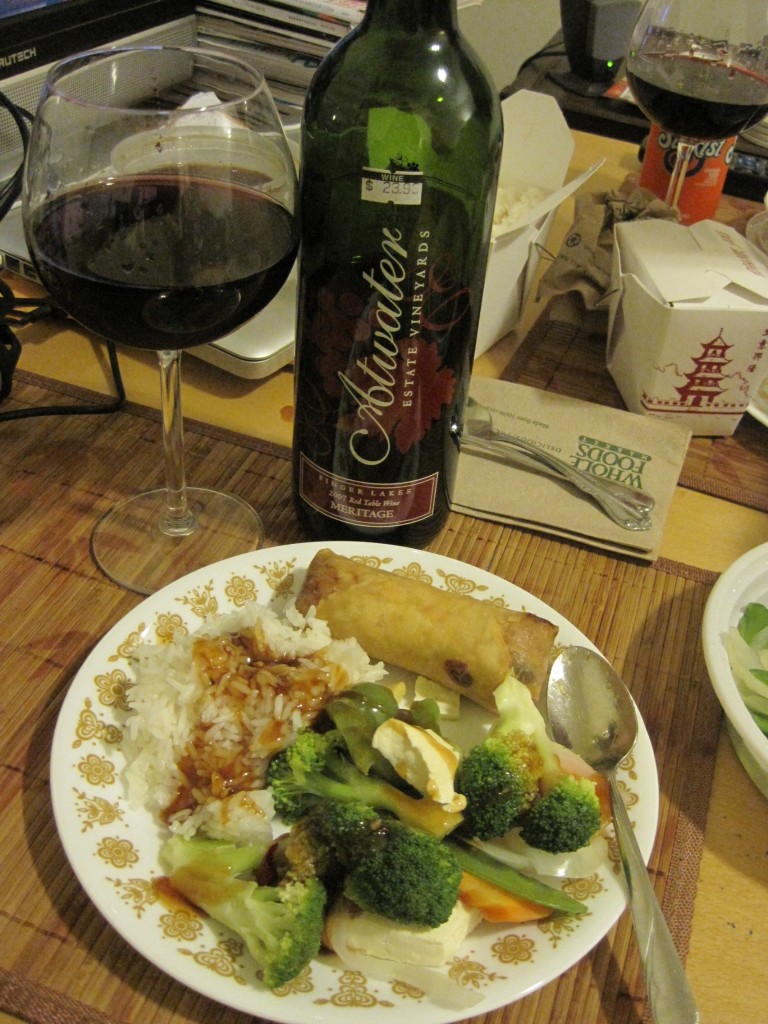 Finally, I wanted to tell you guys about a new deal site for fitness/outdoor enthusiasts. Once you sign up for Planet Gear (it's free!) , you'll have access to sales on top outdoor-gear, apparel, and travel destinations at up to 70% off retail. There are new sales every week, for example – starting this Tuesday (May 17) the site is hosting a sale on running shoes and apparel from K-Swiss. FYI -Planet Gear isn't giving me free stuff  or paying me to write this – I just genuinely think it's a cool site and wanted to share with you all. Happy Shopping!
What's your favorite deal site? In addition to Planet Gear, I'm currently loving Scout Mob!