It's Memorial Day weekend, it's 80 degrees and sunny, I'm eating ice cream non-stop. Summer 2011: It begins!! This is my favorite season and even though it makes running a little tough, I've promised not to complain about the heat. Instead I'm going to power through – wear as little as possible whilst running, refuel with popsicles, and hit up the treadmill when necessary. The last few days have been full of some solid running (and it's a good thing considering all the yummy eats I've been partaking in…)
Running
Thursday – I felt like I was recovered enough from the Brooklyn Half-Marathon to run a workout. Time was limited (the man friend and I had a froyo date in an hour), so I hit the treamill for a tempo run-
1 mile warm-up 8:50
2 miles @ actual HM pace 7:19
2 miles @ goal HM pace 7:03
Total: 5 miles in 37:34
Friday – Even at 7am, this run was sweaty and humid, but it did include a surprise concert featuring Lady Gaga (she was performing in Central Park as part of Good Morning America's Summer concert series!) 6 miles, easy in ~54:00
Saturday – I have a busy week coming up (visiting my Mom in PA Sun through Wed and then visiting my Dad in the Appalachian Mountains Thurs-Sun), so I needed to get a long run done this morning. I mixed in some faster paced miles to turn the run into a mini tempo workout (and make the time go by quicker!)
Miles 1-3 (~8:40 pace)
Miles 2-5 (~8:30 pace)
Miles 6-7 (~7:30 pace)
Mile 8 (~8:40 pace)
Mile 9 (~8:30 pace)
Mile 10 (~8:00 pace)
Total – 10 miles in 1:23:30
Finished up feeling good! The weird piriformis/hamstring pain I was experiencing in my left leg has gone away (still don't know what that was all about…) and I am getting excited about what's on my racing schedule this summer. I promise to post about that soon.
Food!
The man-friend and I have been eating very well…On Friday we made it our mission to use up a collection of Groupons that we had accumulated.
First stop – Salty pimps from the Big Gay Ice Cream Truck! We waited in line for an hour and I would do it all over again. Doug (the owner/operator of the truck) is a genius.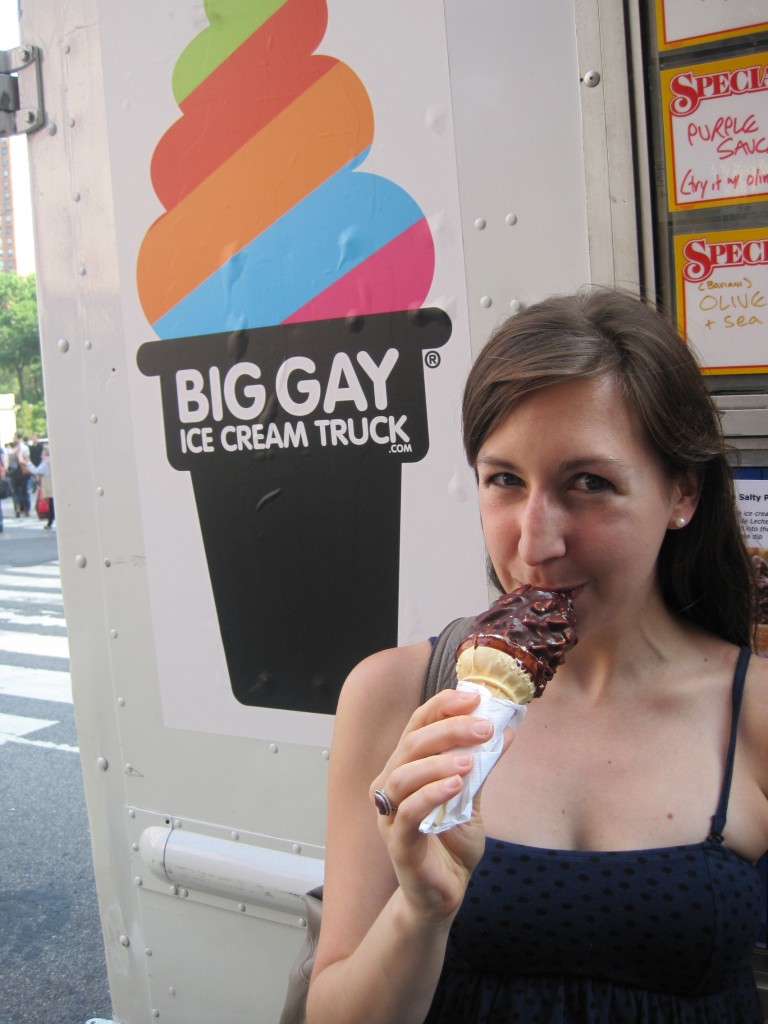 Next up an afternoon viewing of the movie Bridesmaids, followed by a visit to Bare Burger in Greenwich Village.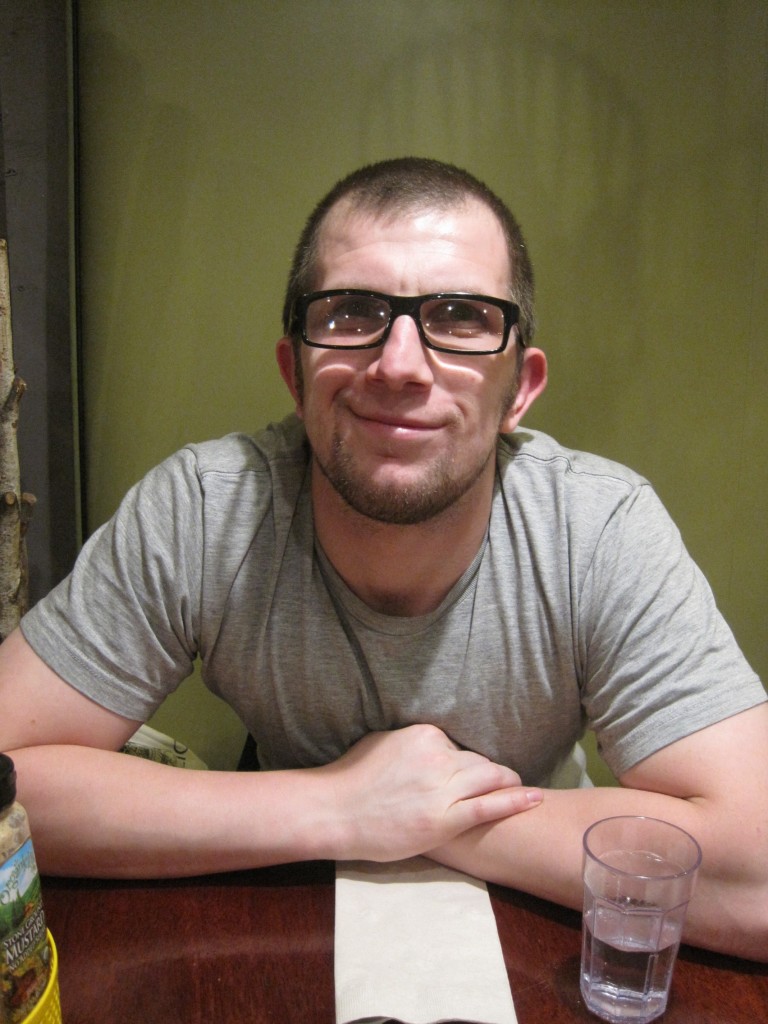 There was cold beer from Six Point Brewery…
Organic bison cheeseburgers!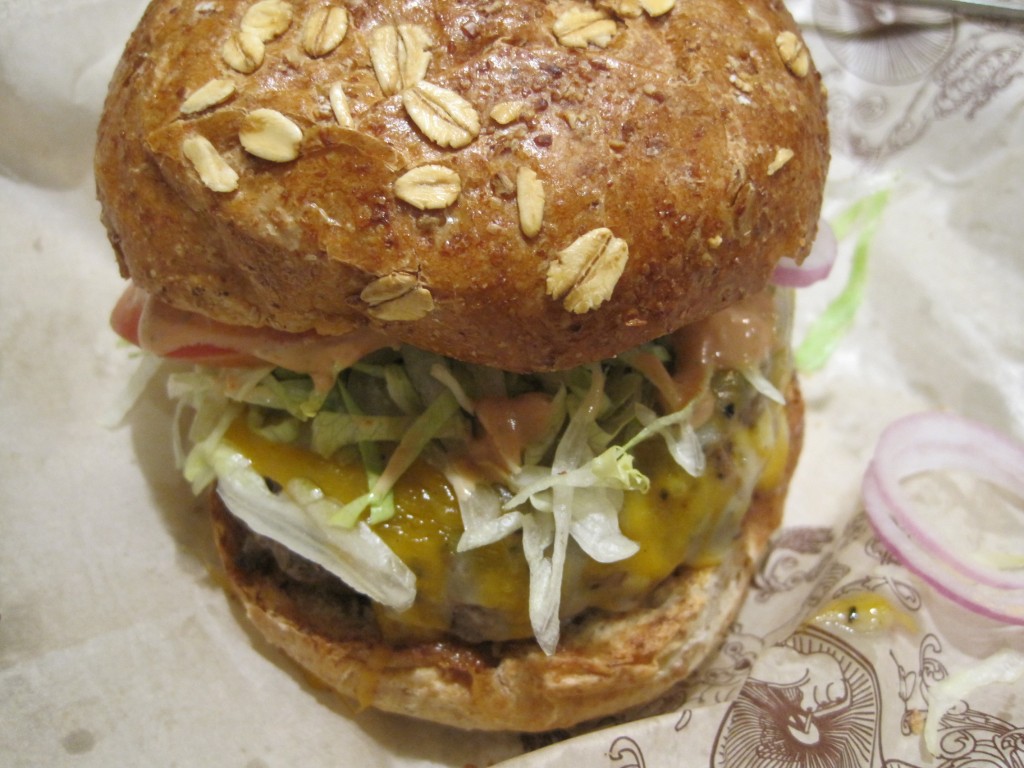 Extra crispy french fries with chipotle mayo, curry ketchup, chipotle ketchup, and special sauce…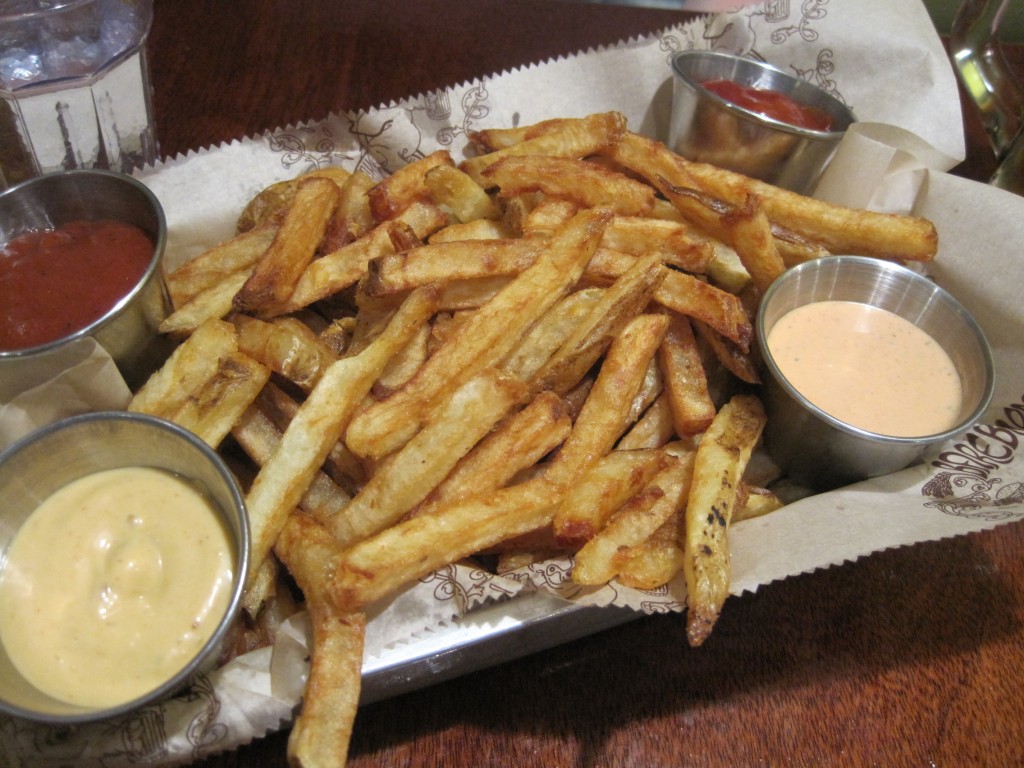 Andddd more ice cream from Emack & Bolio's for dessert. My chocolate and heath bar covered waffle cone was filled with cosmic crunch ice cream.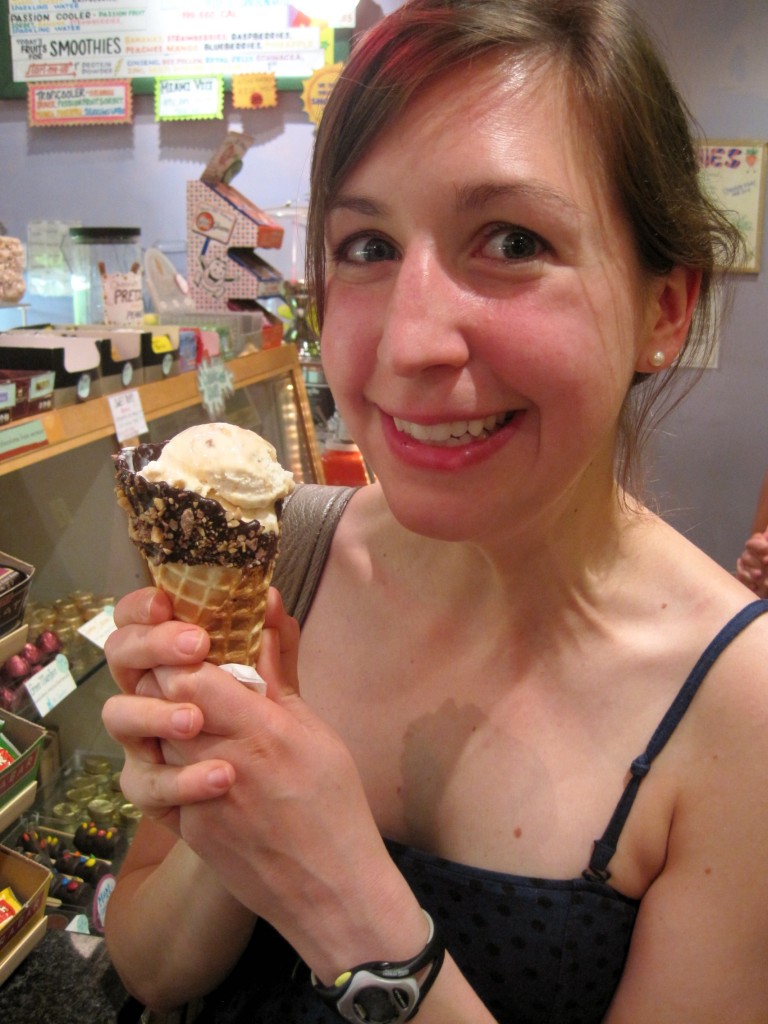 At the end of the day, my leggies were tired from all the running and walking that we did and my belly was full of ice cream, burgers, and beer. A girl could get used to this!
What is the most amount of ice cream(s) you've had in one day? My record is 3 (including gelato) – Barcelona, Spain Spring Break 2006. That was a good day.