I'll tell you a secret. In junior high (and okay, high school also) I would make lists of all the people who were my friends. Admittedly, I was kind of a bookworm and wasn't the most popular of teenagers. For whatever reason, these lists re-assured me that I did have friends, that I wasn't a social outcast. I was pretty insecure about my social life – worrying that I wasn't cool enough, that I wasn't going to have anything to do on the weekends, etc. So much of my self worth was tied up in my relationships with other people. During my (college) semester abroad in Italy, I was quite homesick for the first few weeks. I had just begun to form tenuous friendships and was starting to feel like Florence was becoming "home". And then some plans I had made with friends fell through and all those old insecurities and doubts came rushing back. I remember calling my mom from my cell phone ($1 per minute on my international plan….) and tearfully telling her how lonely I was in this country, so many miles away.
Why am I telling you this? Well, despite (finally!) having a strong network of girlfriends from college, blogging, my running club, and the office – those insecurities about my social life still linger. And so now when a friend asks me to go running, or grab a drink, or check out a yoga class – I have a very hard time saying no. A little voice in my head says "Don't let this chance pass you by! You've gotta keep your friends, be social!" And don't get me wrong – I truly do enjoy spending time with my lady friends, but often times I overextend myself and end up making more plans and promises than I can realistically keep. Trying to work full-time, maintain the blog, train for half-marathons, have a relationship with the man-friend, sleep enough, eat well, and keep up with social activities can sometimes leave me feeling a little overwhelmed and cranky.
Recently, I've been feeling more time-crunched than usual and have had to cancel on some friend-time. I'm trying not to feel guilty when this happens, but it's a work in progress. So friends, if I end up bailing on you – apologies in advance. I'm still trying to figure out how to fit everything in and sometimes I just get so excited about the prospect of making plans that I don't stop and think about how busy I already am. Case in point – I had promised to meet Kelly for a 6am run this morning, but after running a workout the night before and only getting 6 hours of sleep, I realized I needed to get a bit more shut-eye (the Brooklyn half is days away!!! ahh) and fit my run in a little later.
Ok enough of my #whitegirlproblems complainin' !! Last night I grouped up with Jacqui and Lindsay to run a final interval workout before this weekend's half-marathon. At this point, I'm not going to get much of a training benefit from a hard workout, but I think doing something fast helps the legs from feeling too flat/boosts confidence for race day.
1.5 mile warm-up + drills
3 x 1000m @ 3-5k pace w/ 2:00 minute jog recovery
My splits were – 3:51, 3:58, 3:51 (thanks Jacqui! for mapping out the 1k route ahead of time)
4 mile cool-down
7.5 miles total for the day
After Sunday's long run, I took a rest day on Monday, and hence was feelin' pretty fresh for this workout. My plan for the rest of the week is to keep the mileage low (4-6 miles/day) and go to a yoga class this evening.
When I got home, I made myself eat "real food" (i.e. a banana, yogurt, and cereal) eventhough I really just wanted to eat the delicious brownies I had baked the night before….
I was inspired by Amy's blog a few days ago – she made Jessica's infamous "Better Than Crack Brownies" and they looked amazingggg. Usually I'm a quite critical of my baked goods, but these might be the best thing I've made all year. Fudgy brownie base, melt-in-your-mouth peanut butter & chocolate layer, all topped with peanut butter rice krispies.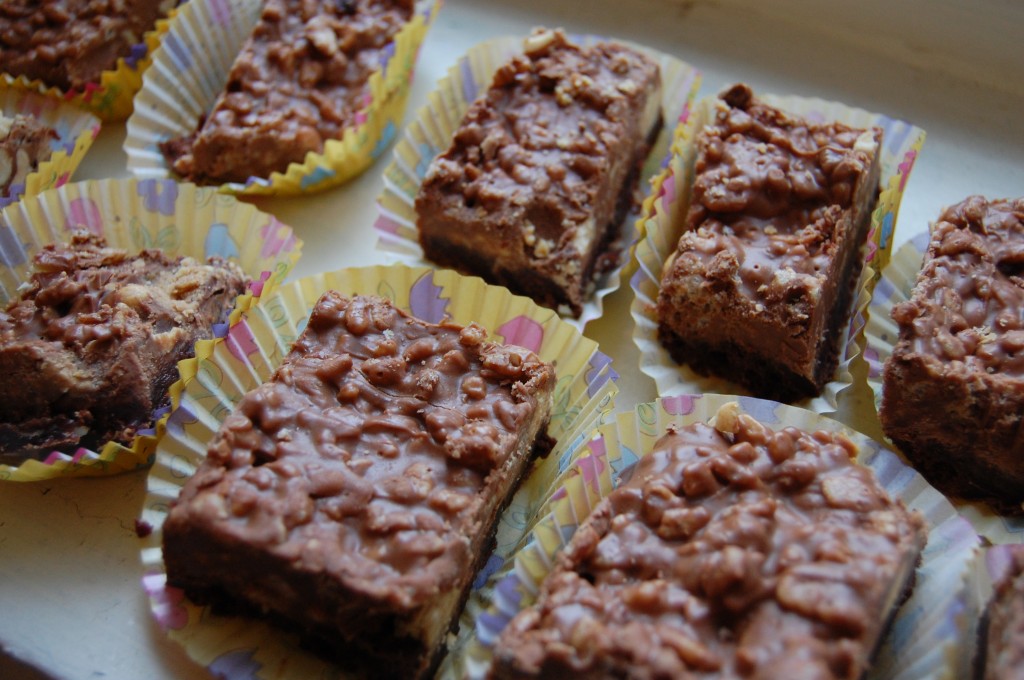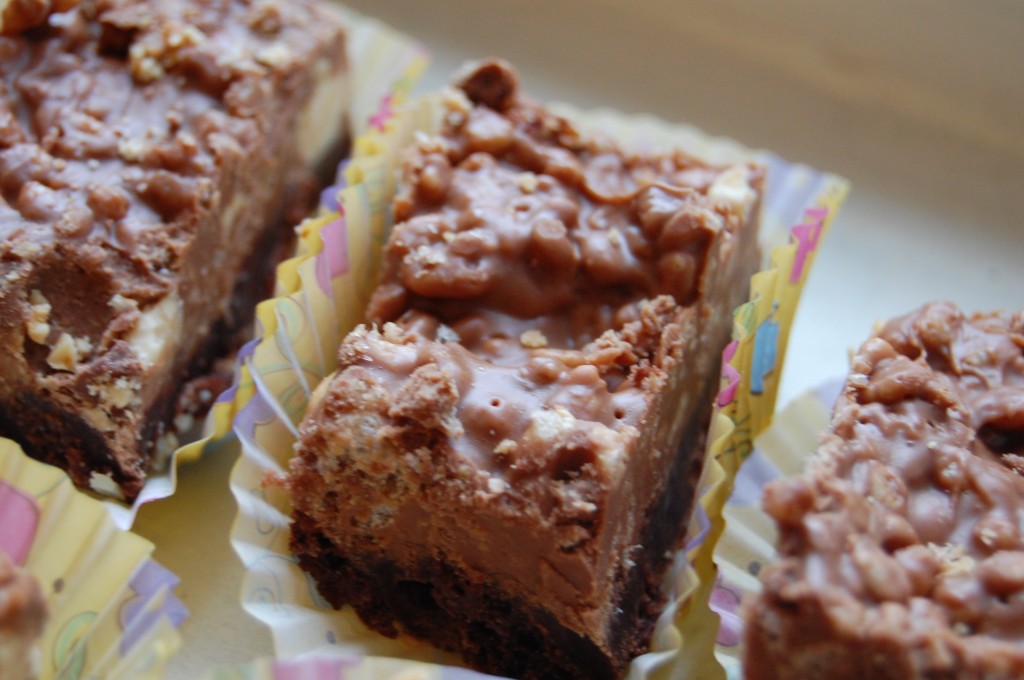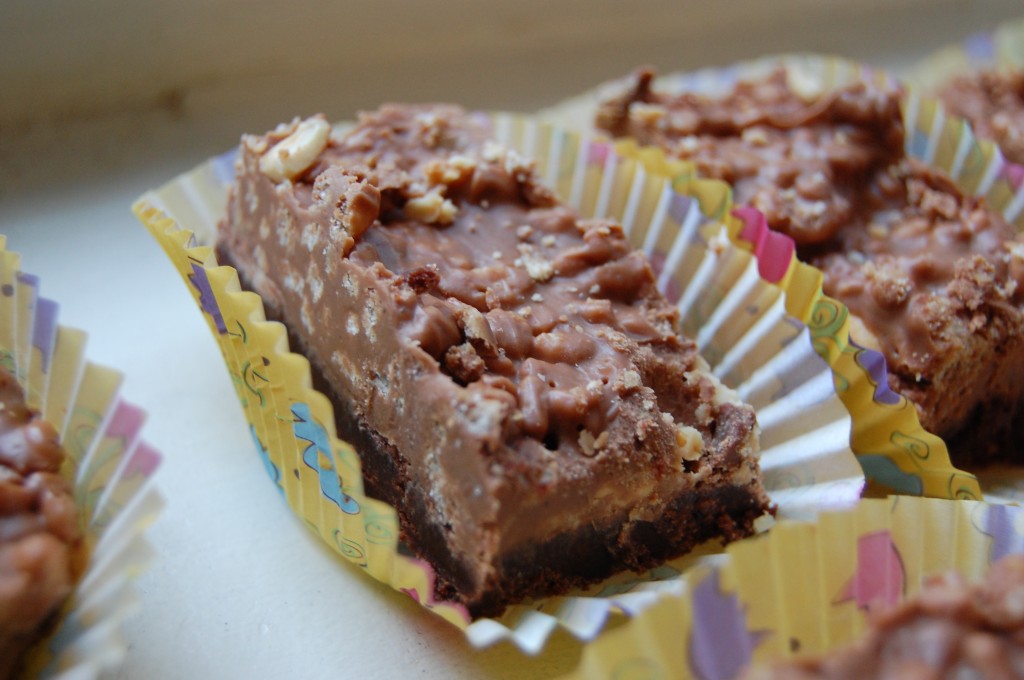 I created my own brownie-base recipe and made a few modifications to the original recipe –
Megan's Version (inspired by Jessica's Better than Crack Brownies)
Brownie Base
1 stick unsalted butter
4 ounces  unsweetened chocolate, broken into pieces
1 1/2 cup sugar
 big pinch of salt
1 teaspoon vanilla extract
2 large eggs
1 cup all-purpose flour
1. Preheat the oven to 350°F, spray a 9″x13″ baking pan with cooking spray, and position a rack in the middle of the oven.
2. Melt butter in a medium saucepan over low heat. Turn off the heat, add the unsweetened chocolate, and stir occasionally until melted and combined. Set aside and cool slightly.
3. Stir the sugar and salt into the warm chocolate mixture. Add the vanilla and eggs, one at a time, mixing well after each addition. Stir in the flour until just incorporated. Pour the mixture into the greased pan and bake for about 20 minutes.
Better-than-Crack-Topping
1/2 cup salted peanuts
1 cup chopped mini Reese's peanut butter cups
1 1/2 cup milk chocolate chips
1 cup Peanut Butter & Co. Bee's Knees Peanut Butter
1/2 tablespoon butter
2 cups Rice Krispies Cereal
1. After brownies have baked for 20 minutes, remove from oven, sprinkle peanuts and Reese's cups on top, bake for another 4-5 minutes.
2. Meanwhile, microwave chocolate chips, peanut butter, and butter in a bowl (30 second intervals) until melted. Stir in rice krispies cereal.
3. Remove brownies from the oven and pour chocolate-pb-cereal mixture on top. Allow to cool slightly and then refrigerate for at least a few hours (or overnight). Cut into bars and place each piece in a cupcake wrapper (this looks pretty and will keep things from getting too messy!)
I gave the man-friend about 75% of the batch (he ate 3 for breakfast today!), but I made sure to save a few for myself and the roomie. They were the perfect post-workout reward!
These are not healthy AT ALL and I am loving every bite. Happy Wednesday!