First, the winner of the SELF magazine workout in the park tickets is…
Allie from FitnessClassFanatic
My fave class is still STEP! I started in high school and even though it isn't trendy or cool, especially in NYC, it's still the best to me. Double step… all the steps in a row… it comes from my love of dance but add the extra up and down element & it rocks!
Congrats Allie! Email me your mailing address at runnerskitchen [at] gmail [dot] com !
Andddd now for today's public service announcement (mostly to myself): Just because you're running most days of the week, doesn't mean you're in race day shape.
Last Thursday I headed back to my first team tempo workout since February. It was hard. Ever the glutton for punishment, I decided to go to this week's Tuesday track workout. Since I had been on a bit of a workout hiatus, my coach suggested a short workout of 3 x 800m's at about 3k race pace. (Note: 800m = 1/2 mile, 3k = a bit less than 2 miles). After a 2 mile warm-up, I toed the line with my workout buddies. My goal was to run about 92 seconds per 400m (one lap around the outdoor track). That's the equivalent of about 6:08 pace. Piece of cake, I thought to myself. I mean, hey, I've run a whole 5k at that pace (lolz, like 4 years ago…). But anyway, I was feeling confident, thinking these 800's would be a breeze.
About 200 meters into the first repeat, I can't even type the expletives that were going through my mind. I finished this first repeat, bent over, and whimpered as my workout buddy encouraged me to "jog it off". The next two 800's were slightly better, but I was still pretty spent by the end. Lesson learned: doing speedy workouts will make you fast, not doing them will make you slow. In the end, I suppose the workout was executed well, but it just felt really awful.
2 mile warm-up

3 x 800m w/ 200m recovery jog – 3:05, 3:04, 3:03

2 mile+ cool-down
I embarked on my cool-down (interrupted by an emergency bathroom visit – THAT was fun) and finished up with about 6 miles total for the day.
I hit the roads for some early morning miles today and I felt alright. If the legs don't hate me tomorrow (Thursday), I may attempt a tempo run. Hmphh. Training for races is hard.
On to less cranky ramblings….Lately I've been obsessed with the website FoodGawker. I could literally waste my entire day on that site ogling recipes and food photos. Last weekend the man-friend and I cooked up some dinner inspired by FoodGawker recipes.
Asparagus Chicken Sausage & Gruyere Tart (inspired by Scarpetta Dolcetto)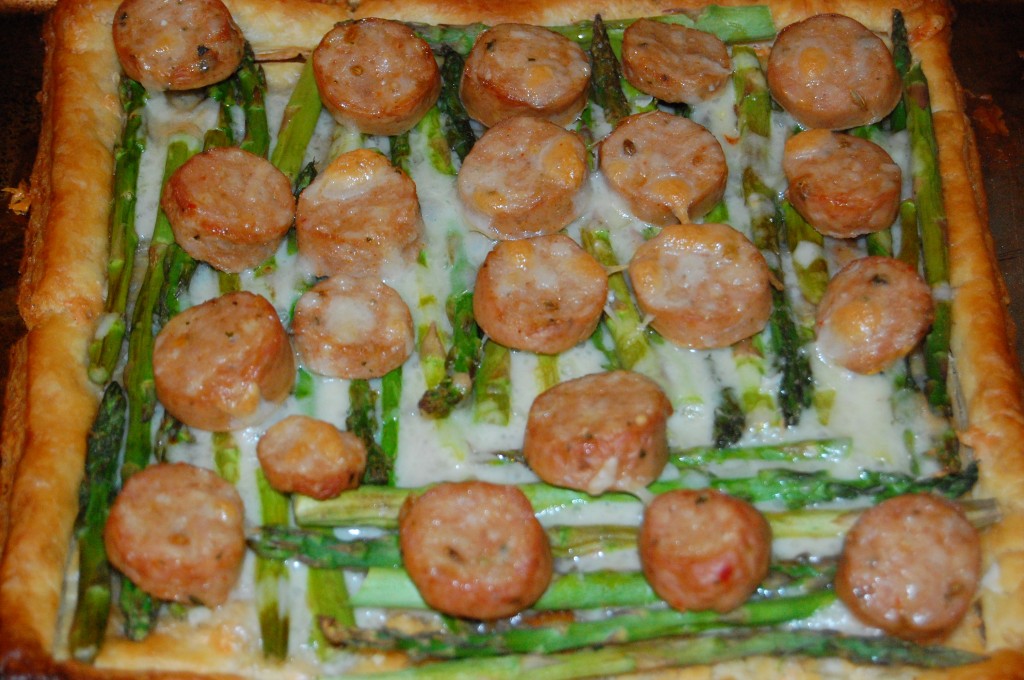 And a ridiculously decadent Chocolate Loaf Cake with homemade Sea Salt Caramel Sauce (inspired by How Sweet It Is). I made some changes to the original recipe, so my version appears below.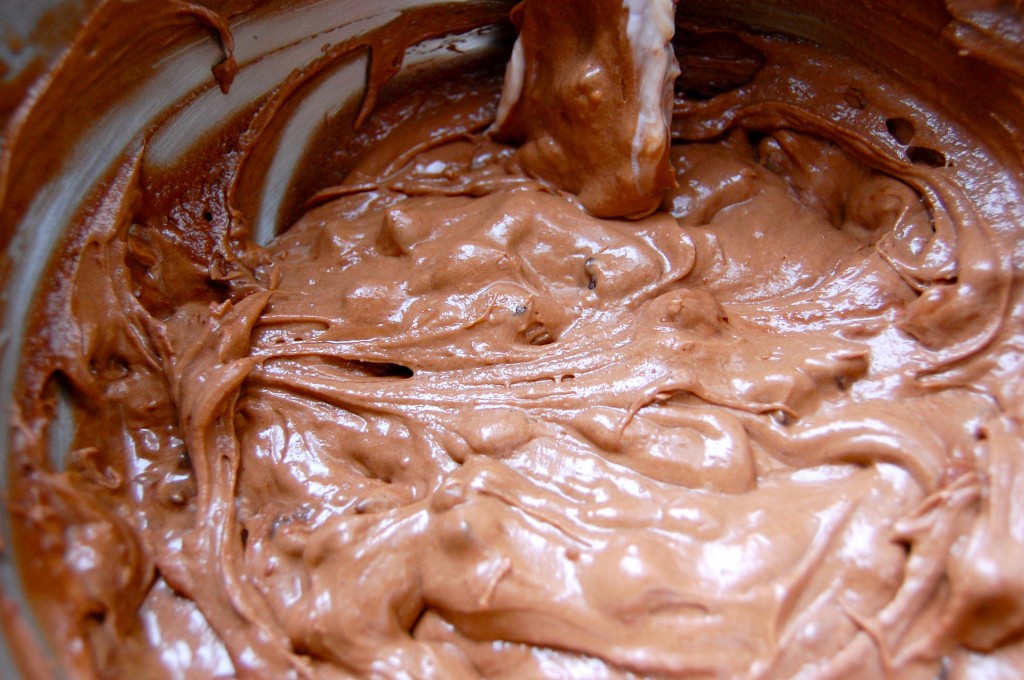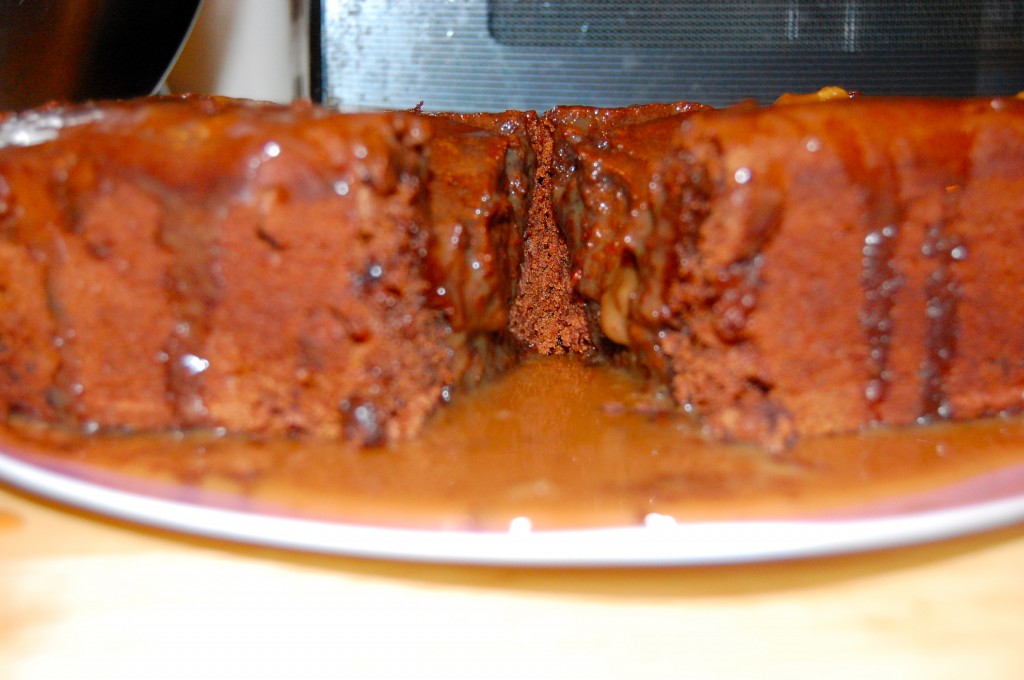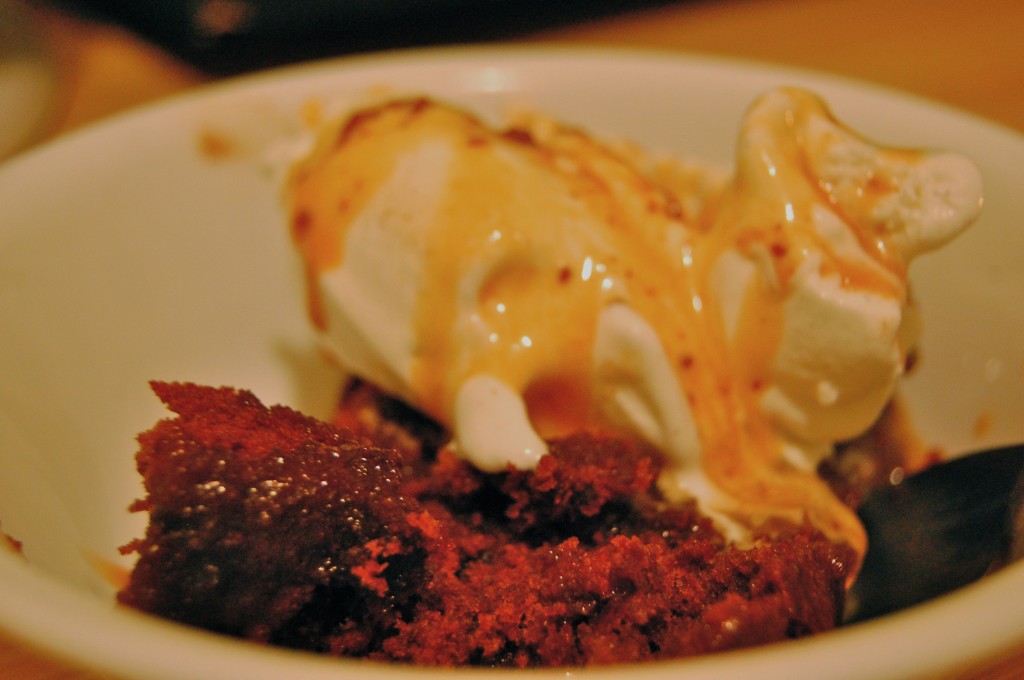 Homemade Sea Salt Caramel Sauce (make this first)
Ingredients:
1 and 1/2 cups granulated sugar
1/3 cup water
1 cup heavy cream
1/4 cup milk
1 giant splash of vanilla extract (I allowed the man-friend to help and he had a heavy hand with the vanilla extract)
1 teaspoon sea salt
Directions:
Mix water and sugar together in a saucepan. Heat over low heat without stirring until sugar dissolves. Increase the heat to medium-high, allowing the mixture to come to a boil. This will take about 5-7 minutes, and you can occasionally swirl the pan to stir. (Note: I like that is recipe does not require a candy thermometer!) Once the sugar mixture is golden in color, remove heat, and add cream, milk, vanilla and salt. It will bubble up – don't freak out. Turn heat back down to low and stir continuously with a spoon until mixture is smooth. Remove from heat and let sit in saucepan at room temperature for 2-4 hours until it thickens.
Chocolate Loaf Cake
Ingredients:
1 and 2/3 cups all-purpose flour
1/2 teaspoon baking soda
1/2 cup cocoa powder (unsweetened)
1 and 1/3 cups sugar
1 and 1/2 (12 Tbs) sticks soft unsalted butter
2 eggs
1 tablespoon vanilla extract
1/3 cup greek yogurt
1/2 cup boiling water
1 cup chocolate chips
Directions:
Preheat the oven to 325 degrees and place a baking sheet on the middle rack.
Combine the flour, baking soda, cocoa, sugar, butter, eggs, vanilla, and yogurt into a stand mixer and combine until smooth. Scrape down the sides and mix again while streaming in boiling water. Use a spoon to mix in the chocolate chips.
Scrape and pour the batter into a 9″ loaf pan (lightly coated with non-stick spray) and put into the oven on the rack. Bake for 50-55 minutes. When ready, the loaf will be risen and split down the middle. My cake started to get brown on the edges before the middle cooked, so I covered it with tin foil after about 30 minutes.  Let cake cool, then poke holes throughout the top with a chopstick or knife. Drizzle caramel on top – you want it to sink down into the holes! Serve with vanilla bean ice cream and extra caramel sauce. You'll probably have a lot of  caramel sauce leftover. It's delicious, use it wisely.
And don't forget to take your insulin.
Did you ever think a run or race was going to be a lot easier than it actually was? I definitely under-estimated the ferociousness of  last night's track workout. Wah.