In every training cycle there are workouts and long runs that feel nearly effortless, inspire confidence, and make you feel like you're a bad ass.
Saturday's 14-miler was definitely NOT one of those runs.
It could have been the gin gimlet and Corona I drank the night before. The accumulation of the previous week's mileage. Or maybe the warmer than usual temperatures. But whatever it was, the run was difficult and I more or less felt like crap. The first 8 or so miles were run on the dirt bridle path in Central Park and then I headed West to the Hudson River Path. I was feeling sort of fatigued at this point, but figured I could bust out the last 4 miles at half-marathon pace. Meh. That didn't quite happen. I ended up running miles 11 & 12 at a pace about 15-20 seconds slower than half-marathon pace and decided to just take it easy on the final two miles. I was mad thirsty, my legs were tired, and I was generally feeling cranky about my run. I'm not going to lie – this run was not a huge confidence booster. Unless some drastic change occurs over the next 2 weeks, I think I might need to run Brooklyn as a tempo instead of racing it at full speed as I originally intended. Ah well. At least I know I'll be able to finish the race!
The splits weren't as bad on paper (on screen?) as they felt at the time:
Anyway, enough of the womp-womp! This past weekend was generally awesome in many other respects. Sunshine, 70 degrees, Pancakes.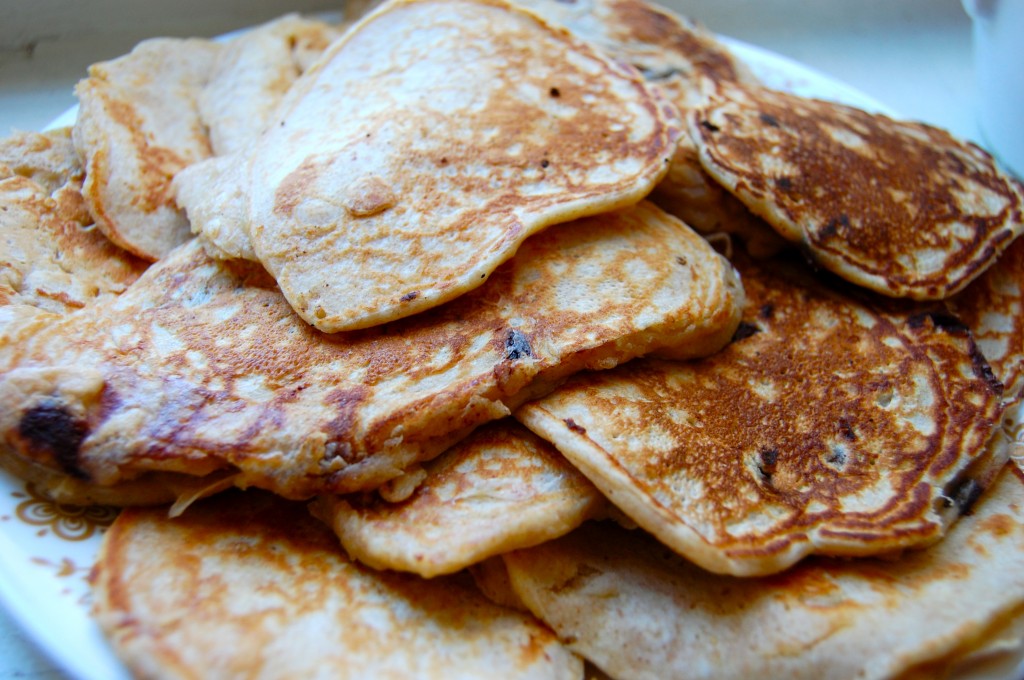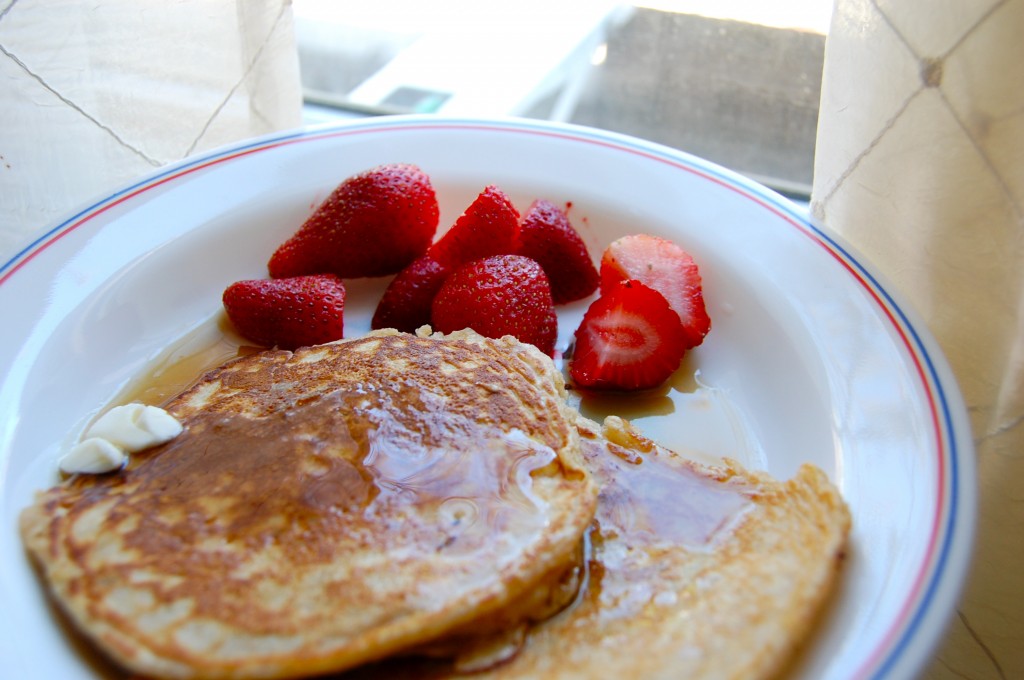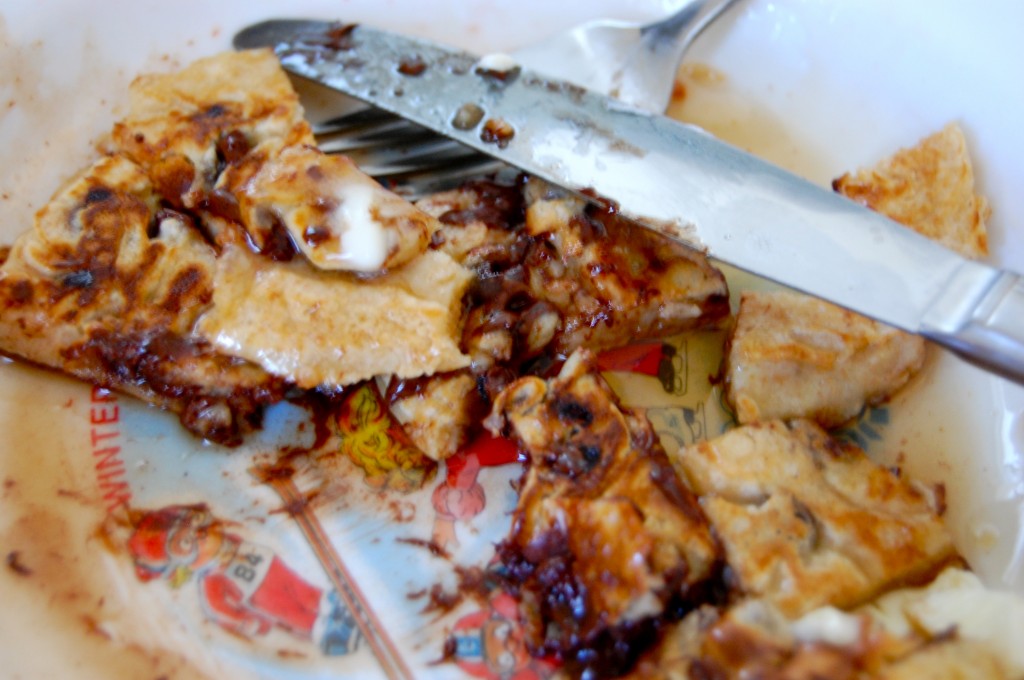 I'm usually not a huge pancake fan, but after reading about Gweneth Paltrow's recipe in the latest issue of SELF magazine, I had the urge to whip some up. However, I made a few changes (1/2 whole wheat flour, skim milk, etc). And chocolate chips! The pancakes had a nice fluffy texture which was surprisingly considering the whole wheat flour that I used. I would make these again, for sure.
Sunday Morning Pancakes (serves 3-4 OR 1 Megan and 1 hungry Man-friend)
Ingredients:
1 cup whole wheat flour, 3/4 cup all-purpose flour
3 tablespoons sugar
1 3/4 teaspoon baking powder
1 teaspoon salt
3 organic eggs
2 tablespoons unsalted butter, melted and cooled slightly
1 1/2 cups buttermilk (I made my own buttermilk by adding 1.5 Tbs white vinegar to 1.5 cups of skim milk and letting it sit for 5 minutes)
cooking spray for the pan
chocolate chips, strawberries, maple syrup for topping
Directions:
Combine flour, sugar, baking powder and salt in a bowl.
Whisk eggs, meltedbutter and buttermilk in another bowl. Stir wet ingredients into dry ingredients until just combined. Don't overmix or the batter will become tough!
 Put batter in the fridge. Go for a 4 mile run.
When you come back from your run, heat a large nonstick skillet over medium heat. Spray with cooking spray and spoon batter onto pan (I use a 1/4 cup measuring cup to ladle out batter).
Cook until surface of pancake is covered with bubbles, about 3 minutes. Flip and cook the other side until golden brown.
Top with maple syrup. Devour.
The pancakes were just the beginning of my Sunday, however. After months and months of cold, windy, snowy, dreary weather (have I mentioned how much I dislike winter?!?), Warmth has finally returned to the Northeast and I am determined to enjoy it to the fullest. Leslie and I made a pact that no matter how hot and sunny it gets this Summer, we.will.not.complain.
I frolicked a bit in Central Park while drinking an iced coffee (a.k.a. life blood).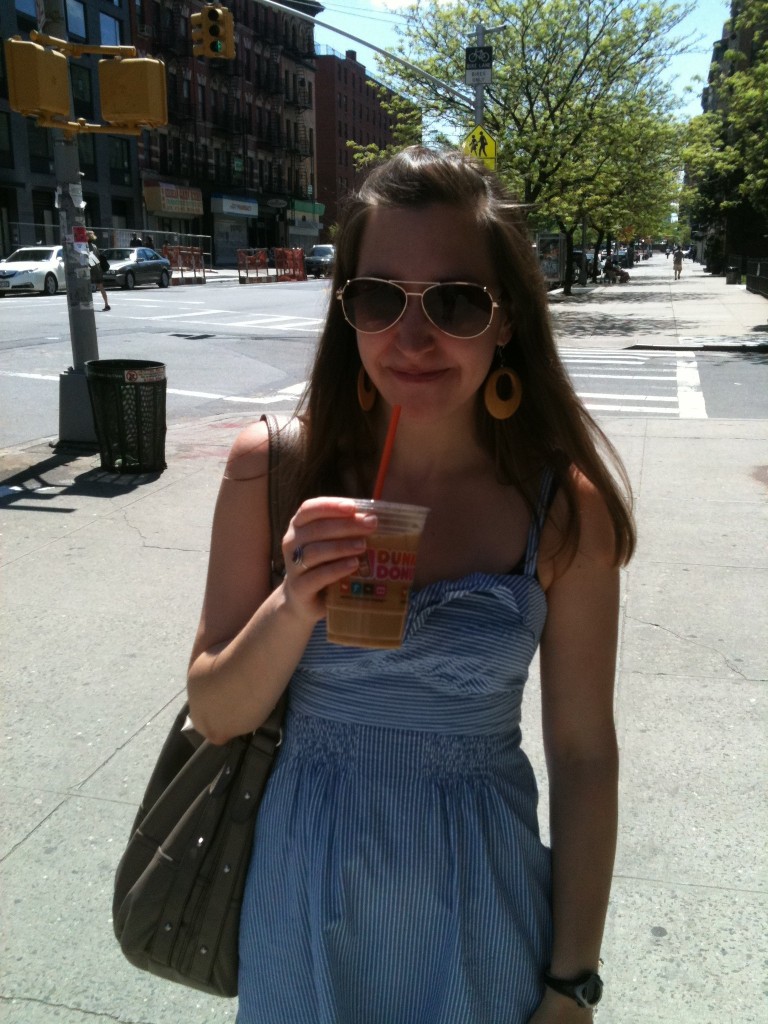 And then ate Bloomingdale's frozen yogurt with granola for lunch. It tastes just like plain Fage 2%!! I'm convinced it is a nutritious meal choice. Don't try to convince me otherwise.
The man-friend prefers his froyo to be of the chocolate/coffee variety. I had to help him finish his dish. (Someone needs to step up their froyo game, ahem).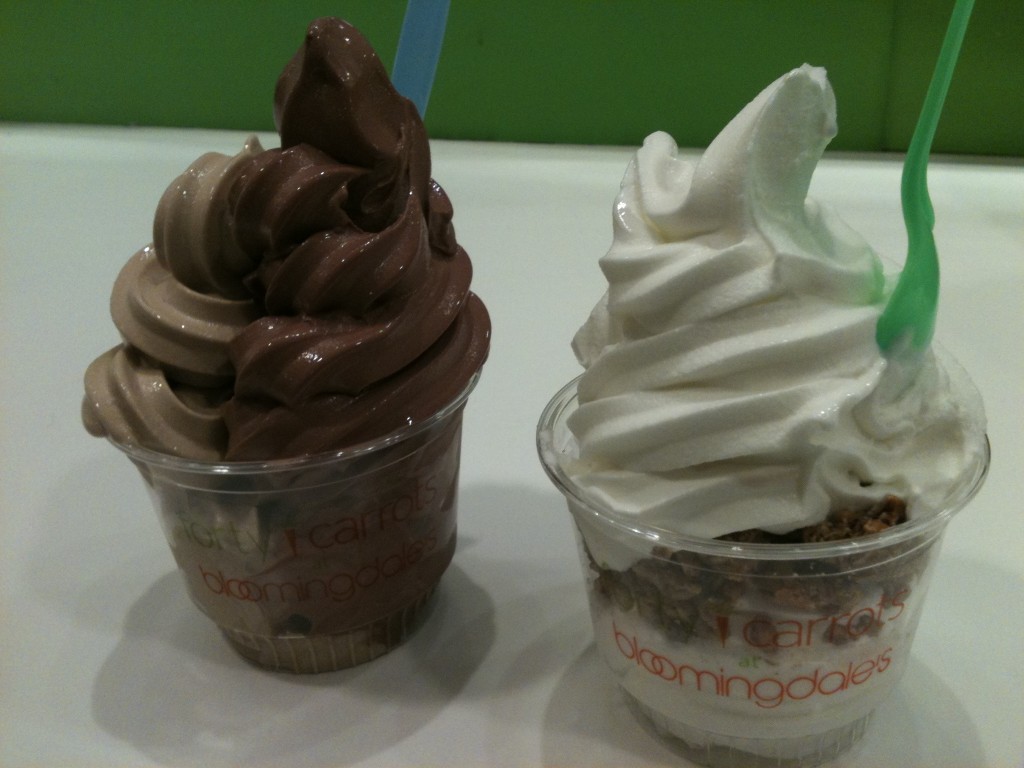 The day of good eats continued at a guacamole recipe contest at The Bell House in Brooklyn. My lady friend Sofia whipped up a crazy delicious Indian-inspired guac and a big group of us congregated to show our support. I drank Brooklyn lager, sampled at least a dozen different kinds of guac, and hung out with a mix of running buddies, blogger friends, and college pals. Plus the man-friend. If I could pick an ideal way to spend a Sunday evening, I'm pretty sure this would be it.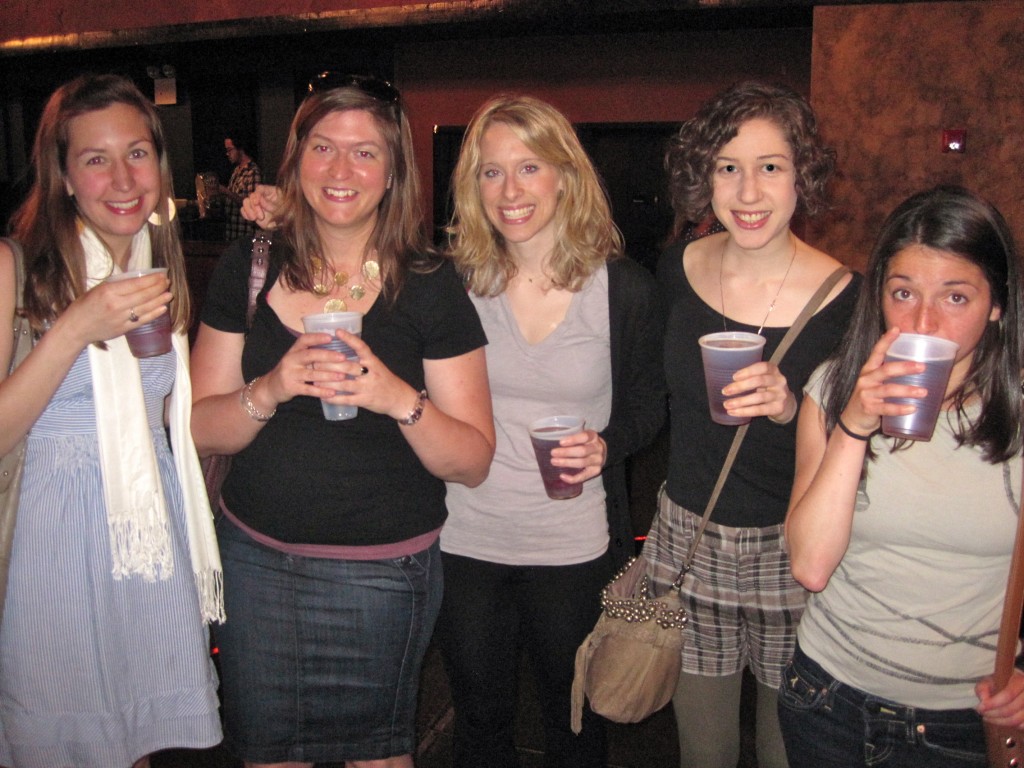 Even better news?? Sofia and BT's coconut-curry-raisin guac (don't knock it till you try it) won the People's Choice Award.
Holy Guacamole!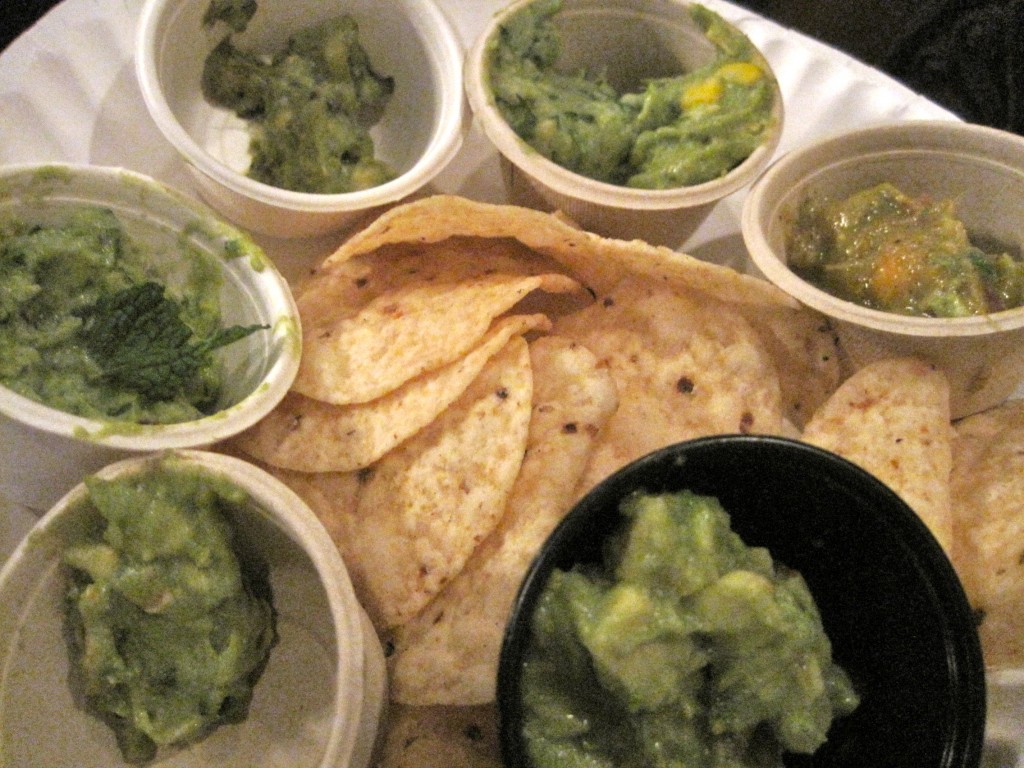 What are your thoughts on confidence boosting workouts/runs? Are the weeks leading up to a big race an indicator of how you'll actually perform? Help.