Last night I hit up the East River track for quite possibly one of my favorite speed workouts. I've been running 12 x 400m since high school and it always gives me a confidence boost – probably because it's rhythmic, controlled, and plays to my strengths. The key to executing the intervals properly is 1) keeping the pace under control – we were instructed to run 5k pace – no faster! and 2) making sure the rest stayed short, about 200m jog, no more than 90 seconds. It was tempting to run the intervals faster than 5k pace, but luckily I had a good workout buddy to keep the numbers steady (Thanks J!). We ended up running 93-96 seconds per 400m, which is right around target 5k pace or ~6:12-6:24 per mile.
1.5 mile warm-up
form drills and strides
12 x 400m @ 5k pace with 200m jog recovery
1 mile cool-down
7 miles total for the night
True story – I carried a pen with me and wrote my splits on my forearm. I have a lap function on my watch, but I always end up forgetting to save the splits, so the old-fashioned pen method is a little easier for me.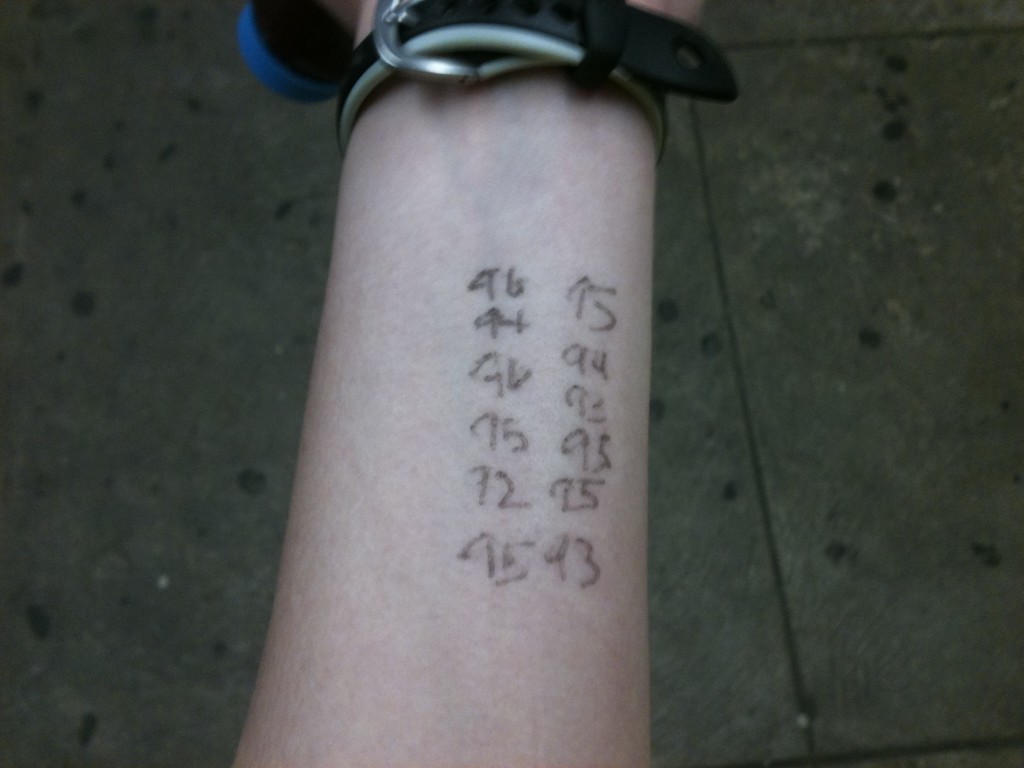 Now that the weather is a little nicer and spring/summer racing season is upon us, more runners are heading to the track for workouts. If you're new to the track, there's a few things to keep in mind:

Track Etiquette 101
1) Most outdoor tracks are 400m, so if you run in lane 1, 4 laps = (approximately) 1 mile. I say approximately because a true mile is 1609 meters and 4 laps is 1600 meters, but the difference is almost negligible.
2) When running speed workouts, try to stay in lane 1. Running in the outer lanes will cause you to run longer – not a good idea if you're trying to hit specific splits. For example, if you run in lane 4 instead of lane 1 – you'll end up running more than 20 extra meters!
3) If someone yells "TRACK!", it's runner lingo for "Hey, I'm running fast, get out of my way." If I'm running in lane 1 when I hear this, I usually hop into the infield and let them pass me on the right.
4) General etiquette rules – always always pass on the right. Never try to pass a runner on their left, it's awkward and can cause a fall if they're not prepared. To avoid getting run over, faster intervals should be done in lane 1, while cool-downs and recovery jogs are best run in the outer lanes.
After the workout, I stopped by Whole Foods to pick up a bottle of fresh-pressed juice by the folks at BluePrintCleanse. I don't think I would ever want to do a juice cleanse (trying to run 45 miles a week without eating solid food sounds like a TERRIBLE idea), but I did want to see what it tasted like. Also, the body can absorb nutrients in liquid form easier and quicker after a tough workout. My juice contained beets, carrots, apples, lemon, and ginger and it did a good job holding me over until I was able to get home and eat dinner.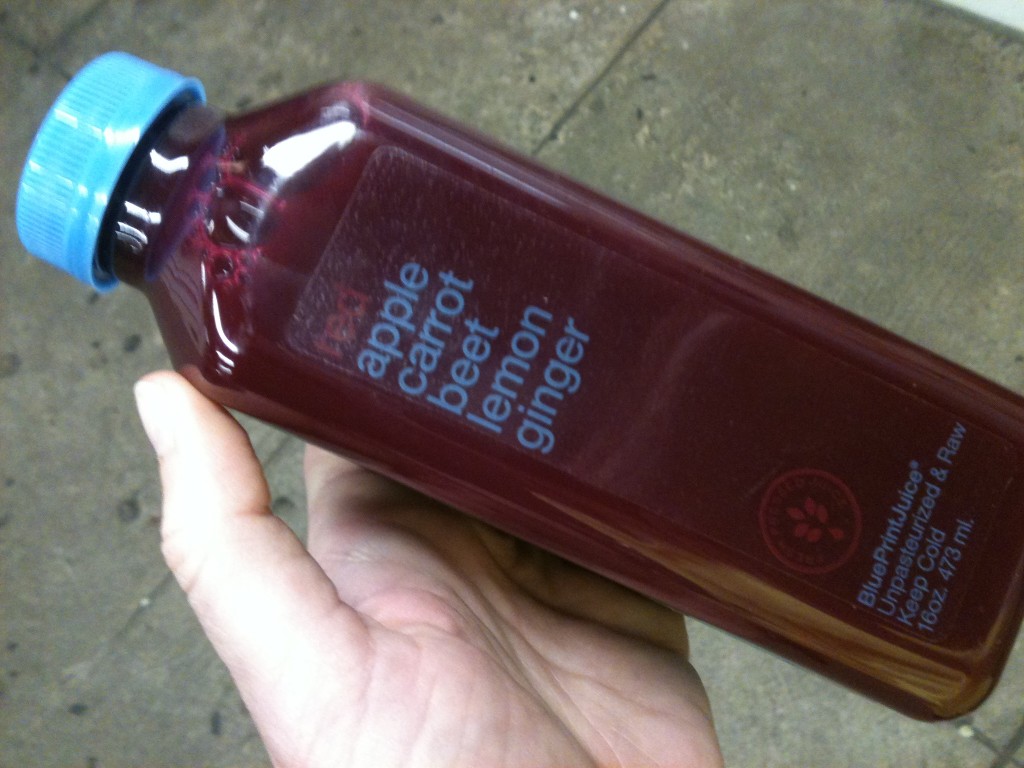 On nights when I'm looking for a quick dinner, I usually heat up a veggie burger and eat it with a big salad, but this week I got a little more creative. I boiled 1/2 box of whole wheat linguine and added 1/2 bag of frozen veggies and a bag of mung bean sprouts during the last 2-3 minutes of cooking. While the pasta and veggies were cooking, I whipped up an easy spicy peanut sauce: 2 heaping spoonfuls of peanut butter and generous splashes of rice vinegar, soy sauce, and sriracha. After I drained the pasta, I combined everything together in a bowl, and topped with a little more sriracha. This "recipe" makes enough for about two Megan-sized dinners. If I had tofu or shrimp, I probably would have added some, but I figured the whole wheat pasta, peanut butter, and bean sprouts provided a fair amount of protein on their own.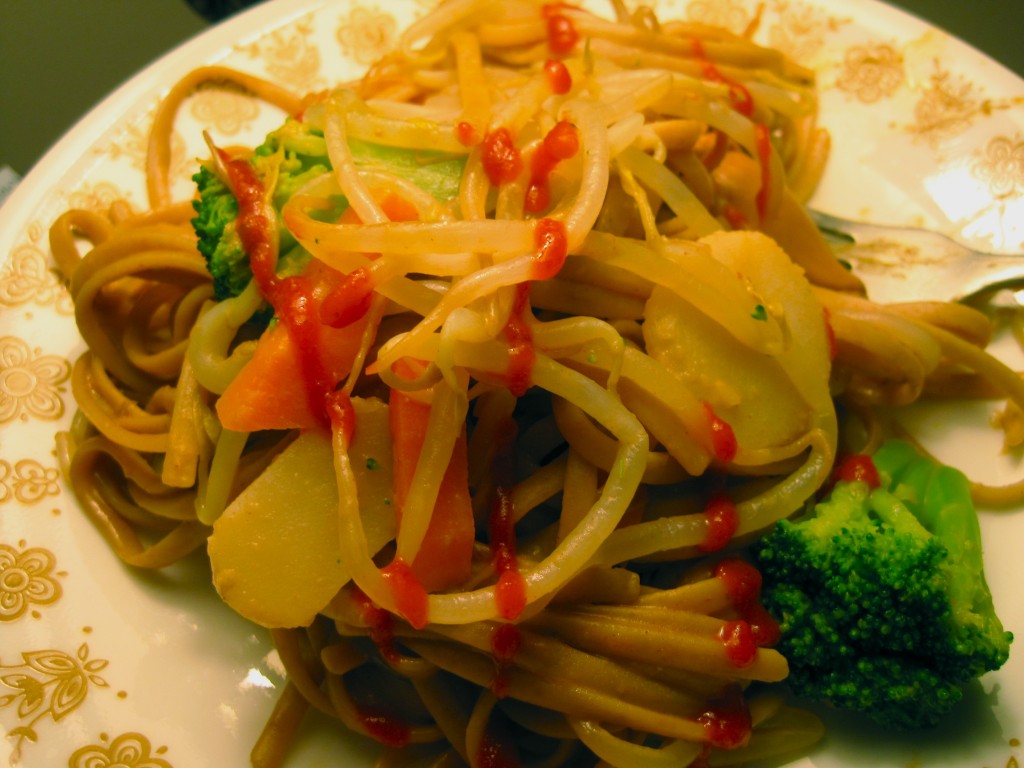 Plus ice cream for dessert!!!
What's your go-to dinner on nights when you only want to spend 10 minutes in the kitchen?
Do you have any "track rules" to add to the list?