Last week I found out that I was selected to take part in FoodBuzz and Kelly Confidential's Are You Party Ready? Campaign. And it was good timing – the fam and I decided to have a last minute Memorial Day cookout. I'm not sure if I'll be able to visit Pennsylvania (where my family lives) for the 4th of July or Labor Day, so I wanted to include all of my summer favorites at this party.
I didn't have time to make everything from scratch, so we bought our potato and macaroni salads from the local deli and I devoted my time to a homemade Arugula, Watermelon, and Feta Salad.
Mom and I shopped for all of the party ingredients on Monday morning (doing things last minute runs in the family…)
Arugula, Watermelon, and Feta Salad with homemade citrus dressing (inspired by Ina Garten's recipe)
Ingredients:
1 bag of arugula
1/4 small, seedless watermelon cut into 1″ cubes
6 oz feta cheese, crumbled
juice of 1/2 lemon
1/4 cup orange juice
1 shallot, minced
1 squirt of honey
1/2 cup of canola (or olive) oil
salt and pepper to taste
Directions:
In a large bowl, combine the arugula, watermelon, and feta – toss gently
In a small jar or tupperware container, combine the juice, shallot, honey, salt, pepper, and then gradually mix in the oil, whisking continuously.
Give the bottle or container a good shake to make sure the dressing is combined.
Keep salad chilled until ready to serve and then drizzle with dressing.
Seriously, so easy!!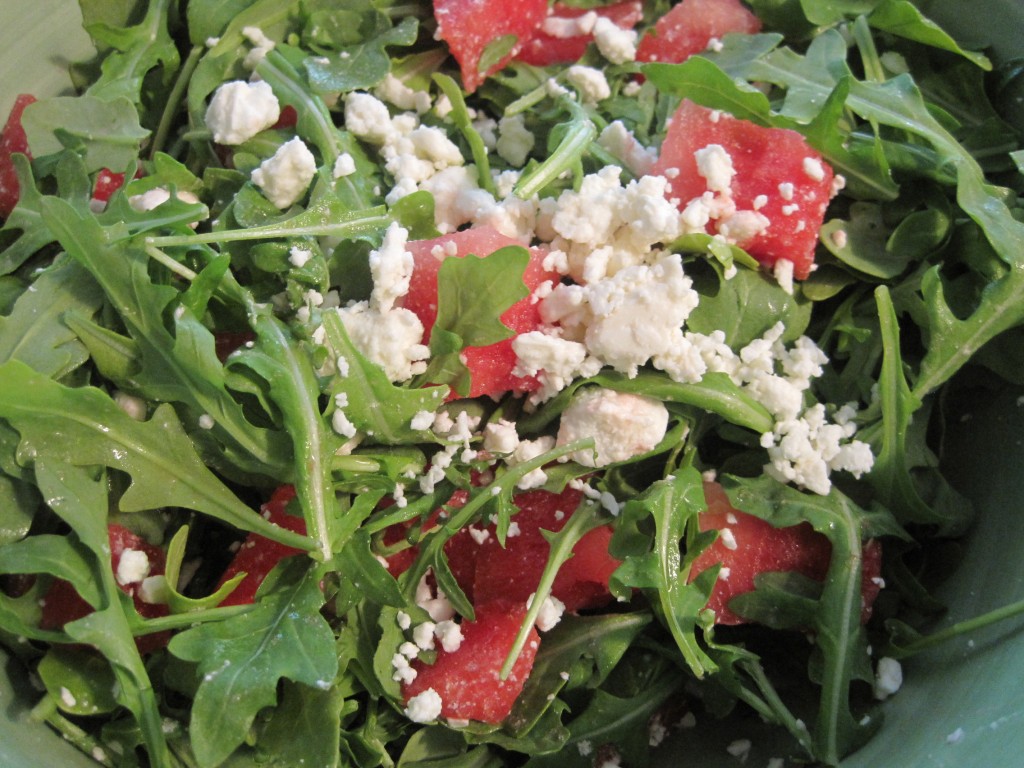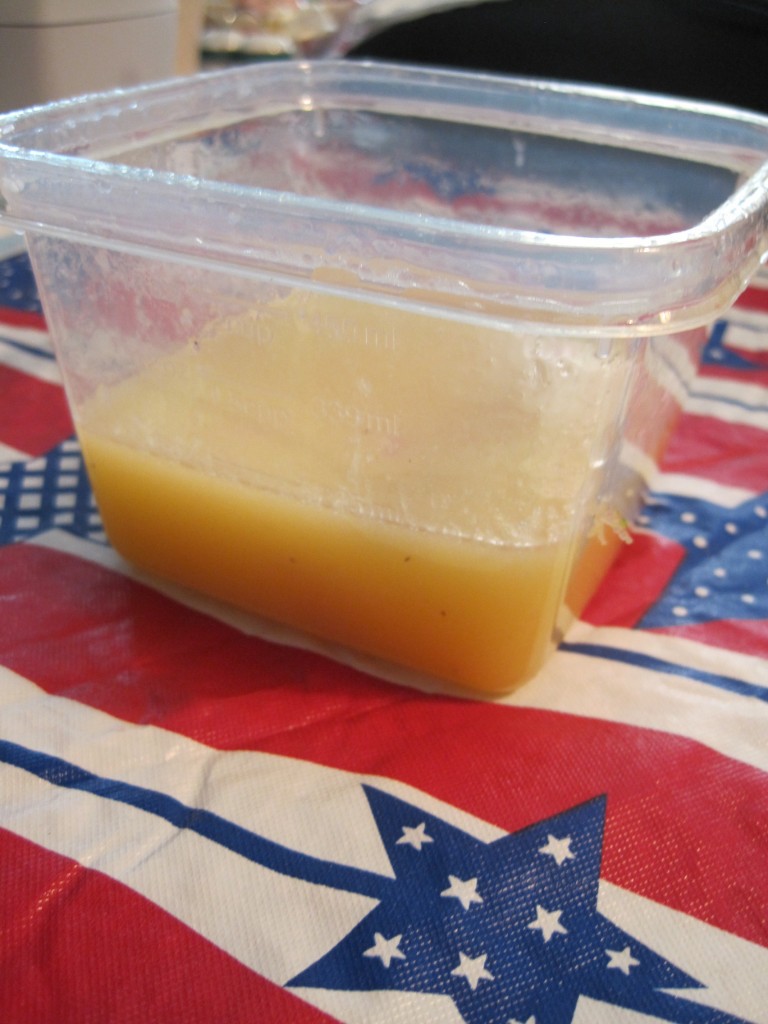 My family doesn't *love* vegetables, but everyone (!) ate the salad and liked it. Even, hard-to-please Grandma.
Alongside the deli salads and the arugula-watermelon-feta salad, we grilled 92% lean burgers and topped them with fresh mozzarella, raw onions, tomatoes, lettuce, and ketchup. I'm not a huge white bun fan (I'd rather have my carbs in dessert form…), so I ate my burger in a lettuce wrap.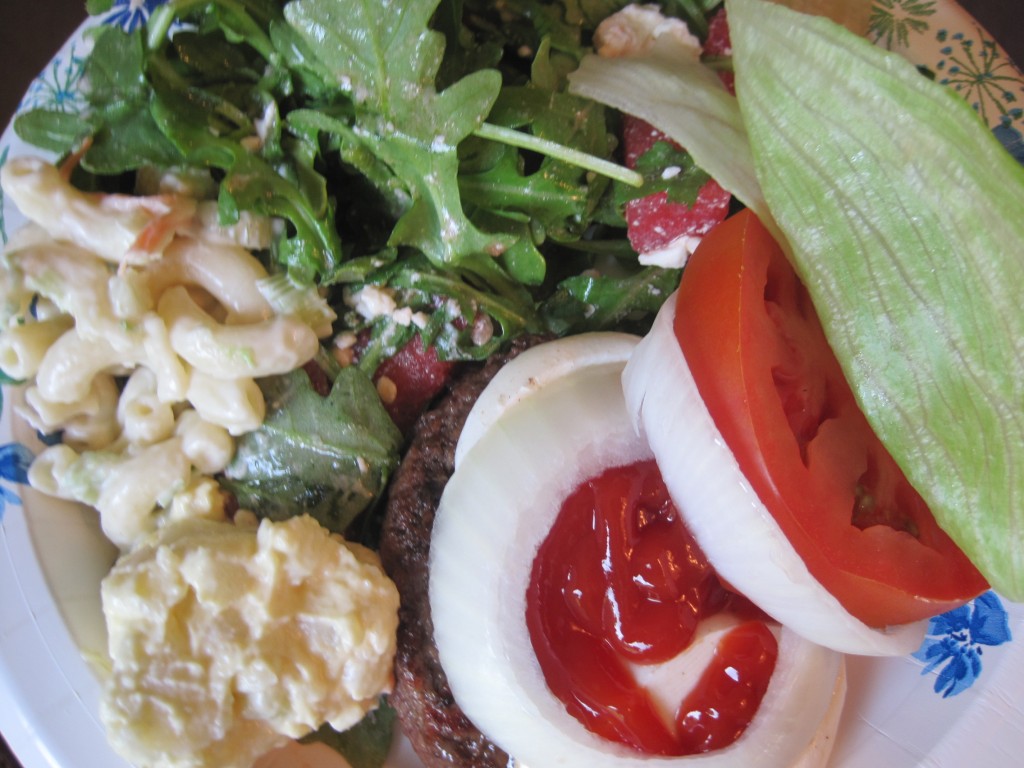 And for dessert, Mom visited the local bakery and picked up strawberry shortcake with whipped cream!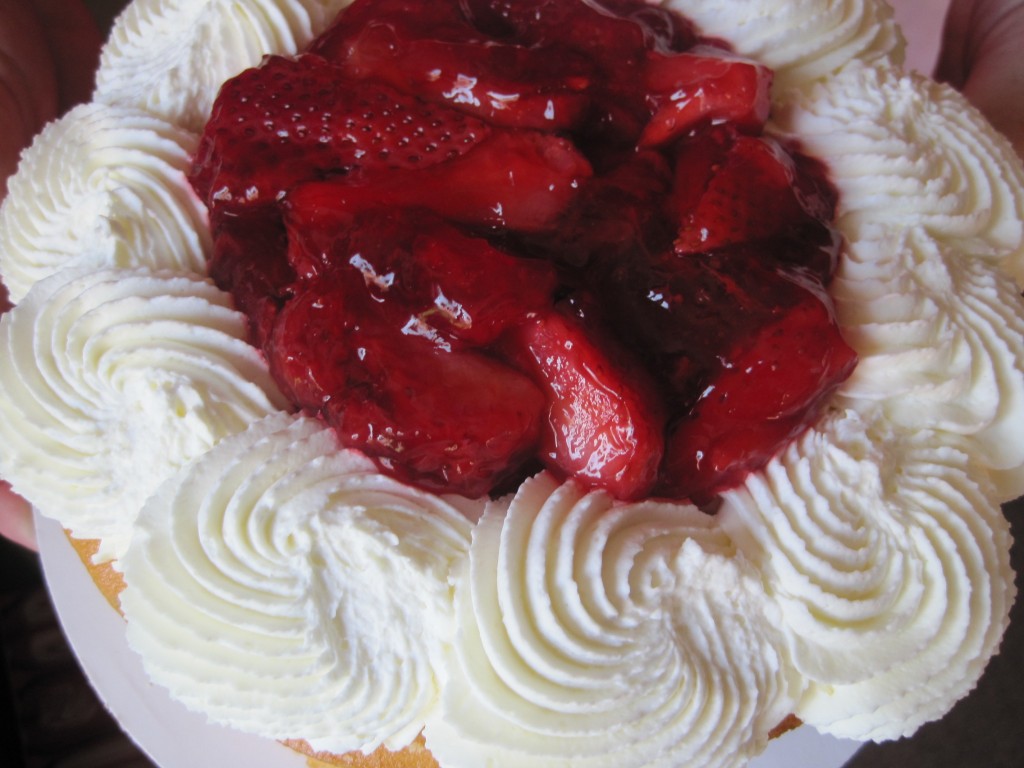 In an ideal world, I'd make everything from scratch for a family get-together, but when time is tight, buying already prepped food from trusted delis/bakeries is just as good.
The sun was HOT yesterday, so it really felt like summer. While we chowed down on burgers, I played my summer music favorites –
1. Summer Love by Justin Timberlake
2. Summer Girls by LFO (I stand by my decision!! This is a good song, hehe)
3. In the Summertime by Mungo Jerry
4. Summer in the City by Lovin' Spoonful
5. California Gurls by Katy Perry and Snoop Dogg
6. Cruel Summer by Banarama
Things on the running front have been going okay, 5 miles on Sunday and another 4 miles on Monday. If I can gather the motivation (and not die from heatstroke) the plan is to run 3 x 1 mile @ 5k pace w/ 400m recovery later today. Stay tuned.
Until then, I leave you with a photo of my very summer-y breakfast. This was my first time putting berries (instead of jam) on top of my peanut butter & honey toast and it was surprisingly refreshing!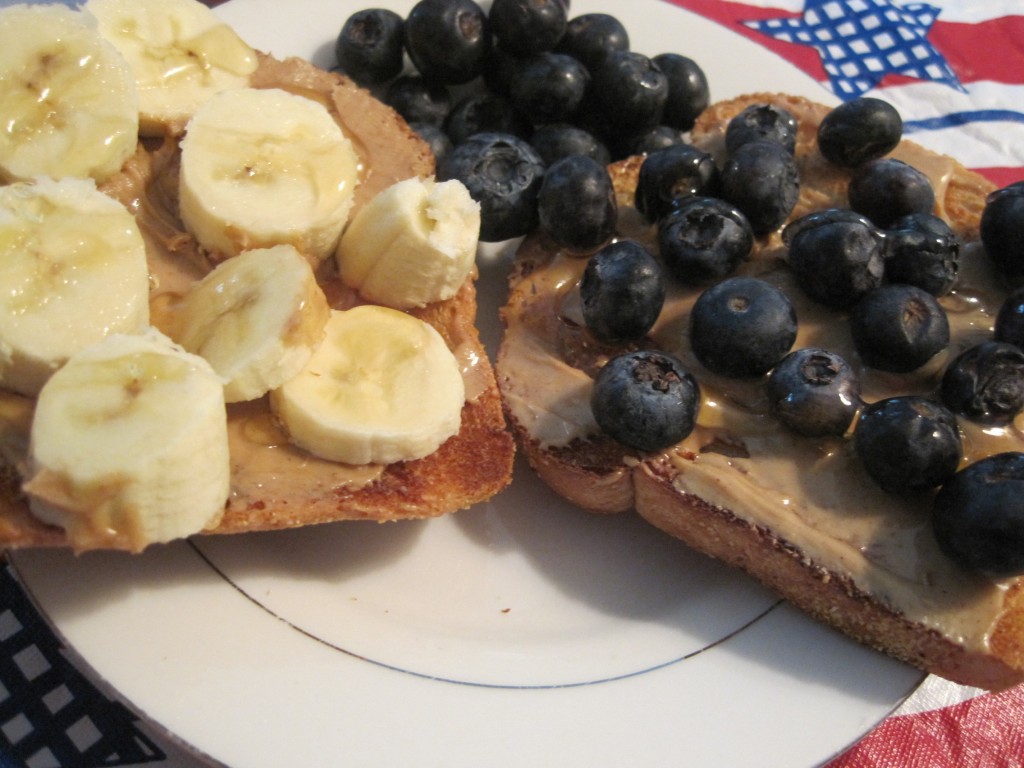 Do you have any summer party/entertaining tips? I have a lot of fun get-togethers planned for the coming months and I'm always looking for ways to make things easier and healthier.
Bonus – If you go share your tips on Kelly Confidential, the site will donate $1 to the Ovarian Cancer Research Fund and you'll be entered for a chance to win an Electrolux refrigerator. Can you tell I like entering contests?!