I don't do well with big overhauls. I would fail terribly on any sort of regime that asked me to give up coffee, wine, or sugar. BUT I do know that certain things make me feel good (big, lunchtime salads!) while others make me feel tired, bloated, and blah. I've been implementing small changes lately and am hoping they'll produce good results in the long term.
I've been dating the man-friend for a few months now and while the dating life is fun, dinners out and lazy weekends can take their toll on healthy living. On date night(s) we usually split a bottle of wine and a decadent dessert, so on the other days of the week I've been trying to fill my plate with extra nutritious things.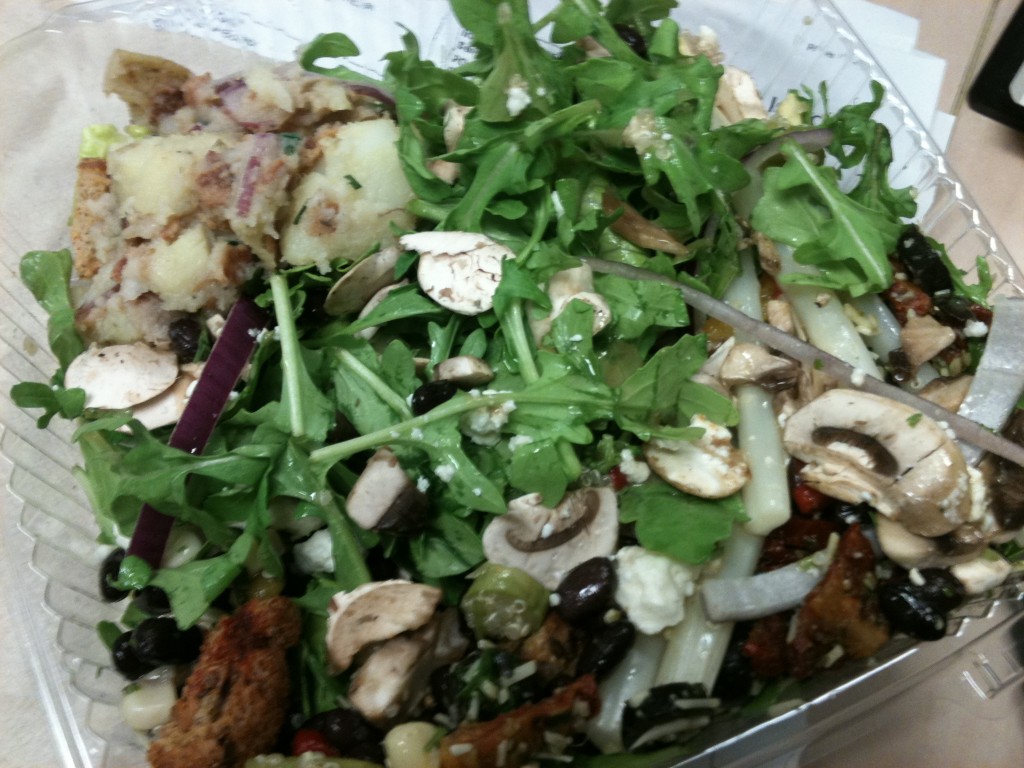 I usually eat a salad for lunch, but on nights when I dine alone (i.e. not at a restaurant), I'll try to have a second salad for dinner. This isn't wimpy iceburg lettuce, however. I fill my bowl with lots of veggies, protein, and a source of healthy fat (olive oil based dressings, avocado, etc). Making sure I get my fill of veggies on these nights gives me a little more wiggle room on the nights I eat arepas, pizza, and burgers with the man-friend.
Instead of afternoon chocolate or sunchips (my fav salty snack!), I've started eating a yogurt parfait made with plain yogurt, berries, and a bit of granola.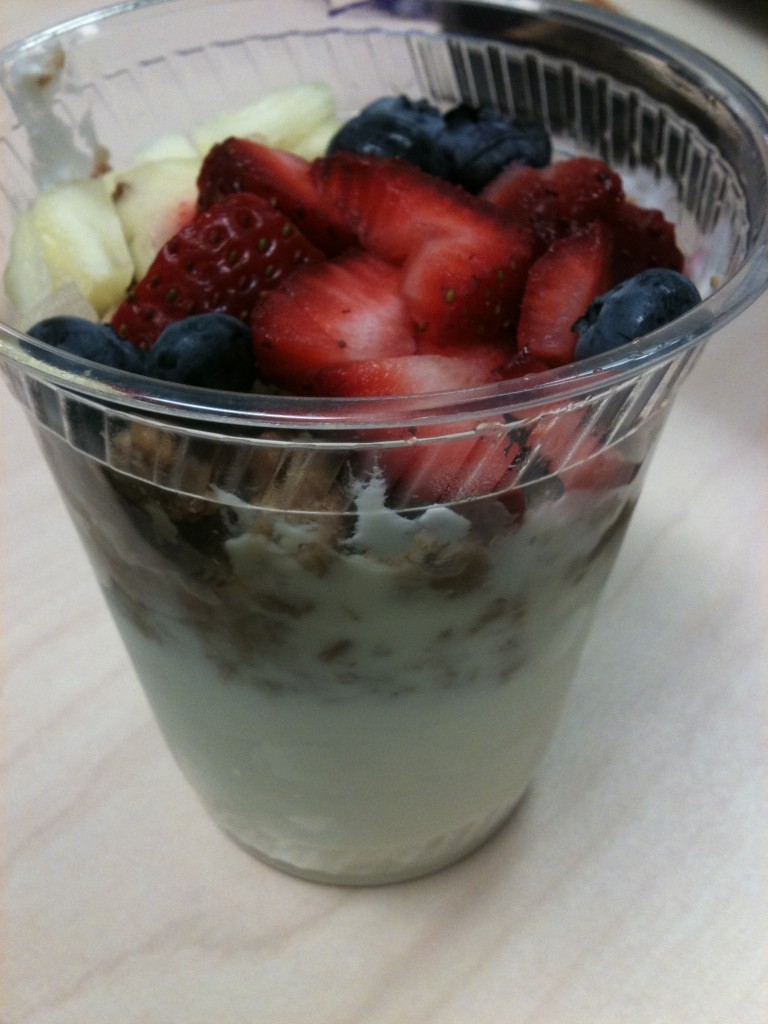 In the evenings, I sometimes replace tiramisu and cookies with a cup of The Lite Choice. Usually I'd shy away from anything with "lite" in the name, but this stuff is actually pretty good. It's made with real milk and there's no high fructose corn syrup or artificial additives/preservatives. My favorite flavor is peanut butter – they grind the peanuts on-site and swirl it into the vanilla soft serve!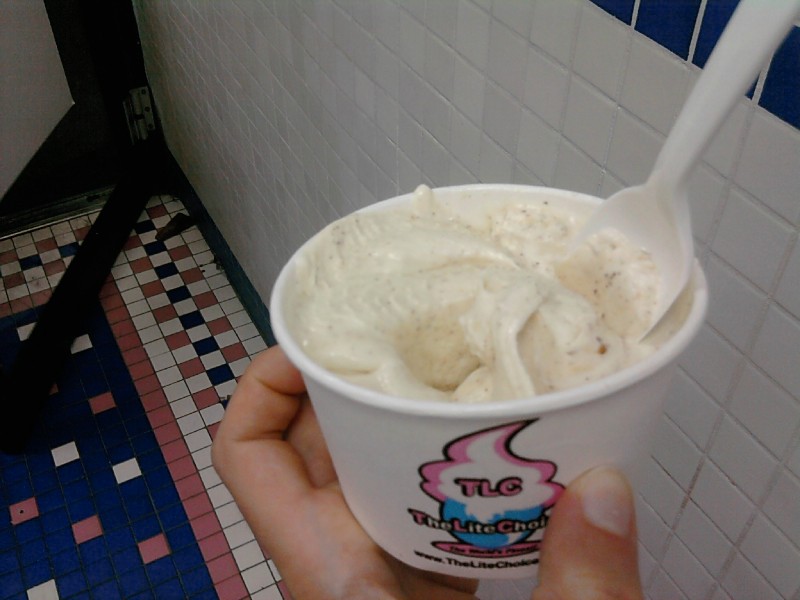 I briefly mentioned this before, but I'm making (attempting?) a return to strength training. Last week I performed a "super set" workout – basically that means I performed sets of strength exercises back-to-back without rest. The workout is from Women's Health Magazine and they posted it online – Superset workout with cardio. It's a good one! I already have pretty strong quads and calves from running, but I'm always looking for ways to balance out my weaker areas (ahem, core/arms). Some days I only have time for a few sets of lunges, but even doing a little something makes me feel like I'm on track. Secret – if I'm stuck at my desk during lunch, I'll sometimes go to an empty conference room/restroom later in the afternoon and do some squats and lunges. Yeah, I might look like a crazy person if someone walks in, but I'll take the risk.
The tentative running plan for this week:
Monday: 7 miles a.m. w/ the roomie, 3 miles p.m.
Tuesday: 6 miles p.m. w/ Megan M.
Wednesday: 4.5 miles p.m.
Thursday: 8 miles a.m. with Kelly and Maria 🙂
Friday: 4 miles a.m. before leaving for Vermont!
Saturday: 10 miles a.m. in Vermont (hopefully early…before everyone wakes up!)
Sunday: Rest Day
Total: 43 miles
Do your healthy living habits change when you're single vs. when you're dating someone? How do you make it work, any advice? I'm definitely not the kind of girl who can order dry salads and seltzer for dinner!