Happy Monday! I'm alive. Apologies for the lack of posting last week…I'm really trying to stick to a MWF schedule, but sometimes real life stuff (like drinking beer and going on dates and running and work) get in the way. Last week was a good week in terms of running – after venting about my lack of motivation, I felt a huge weight lift off of my shoulders. I'm still taking it day-by-day, but in general I feel like that spark is returning. I think a few thing have probably contributed to my mood's turn-a-round:
*I started Desogen (hormonal contraceptive) again a few weeks ago. For the first week or so, I felt absolutely crazy with mood swings, but now things have kind of evened out and I'm feeling more like "myself".
*The weather seems to have turned the corner. Eventhough it's not exactly beach-like here in NYC, most days are above 50 degrees and I think the snow is gone for good (fingers crossed)!
*My body has gotten used to the time change – I don't have any real evidence to back this up, but I notice a serious drop in mood every time we go through Daylight Savings Time (even if it means more light in the afternoon). It's weird, I can't explain it, but it happens every Fall and Spring.
*I've been making lots of running dates with friends – one of the main reasons why I run is because it allows me to be social + healthy + frugal all at the same time. Meeting a friend for an after-work run is a lot cheaper than two glasses of wine (not that I don't enjoy that as well…). I definitely crave my alone time, but when it comes to running, 90% of the time I'd rather have company.
*I've been trying to make small positive changes (starting strength training, cutting back on unnecessary junk food, etc) and in turn it's helped me feel better about my running. Positivity yields positivity, right?
Last week's stats (mostly for my own record as I occasionally get lazy with the running log):
Monday, April 11 – easy 3 miler during lunch
Tuesday, April 12 – off! went to my fav bar for happy hour instead…
Wednesday, April 13 – 4 miles a.m., 1 mile warm-up and lifting p.m.
Thursday, April 14 – 7 miles a.m., 4 miles p.m.
Friday, April 15 – 7.5 miles a.m.
Saturday, April 16 – 60 minutes elliptical
Sunday, April 17 – 6 miles a.m.
Total: 32.5 miles + lifting/cross-training
On the cooking front-
The man friend was prepping for a big race this weekend and so eventhough I'm not usually a big pasta eater, I made a traditional pre-race dinner for the two of us.
On the menu –
Wine (mostly for me! the spectator…)
romaine lettuce and red bell pepper with the best dressing ever
Tom Cat Bakery multi-grain bread with olive oil
pasta with marinara sauce and turkey meatballs
grated parmigiano-reggiano on top of everything!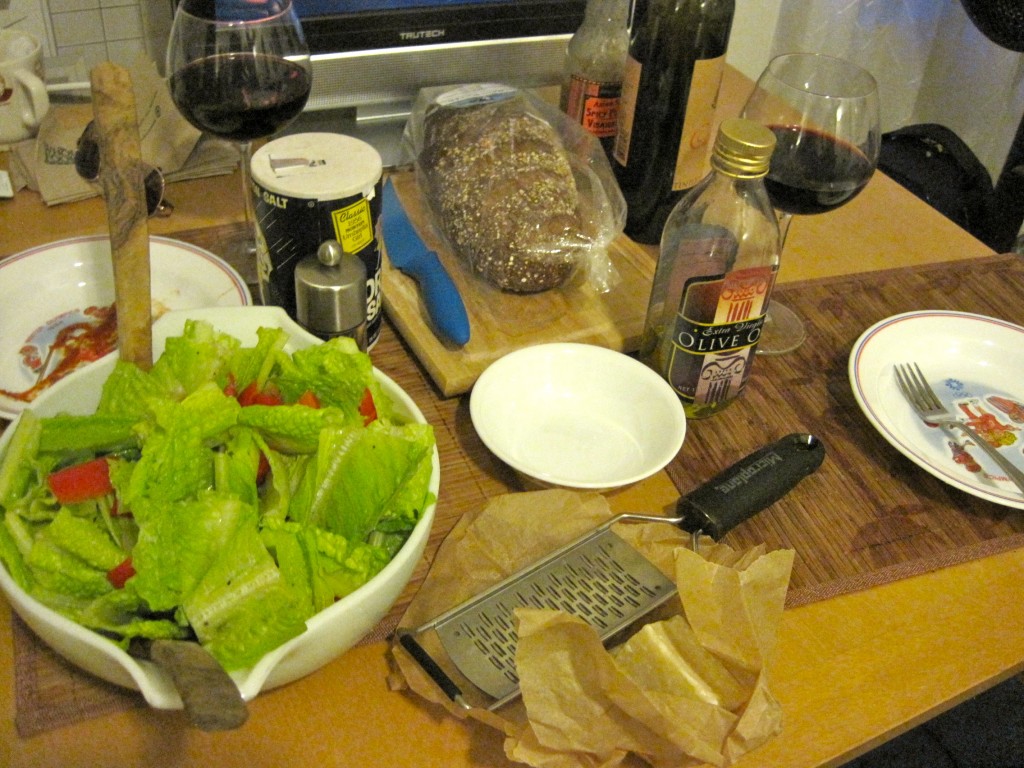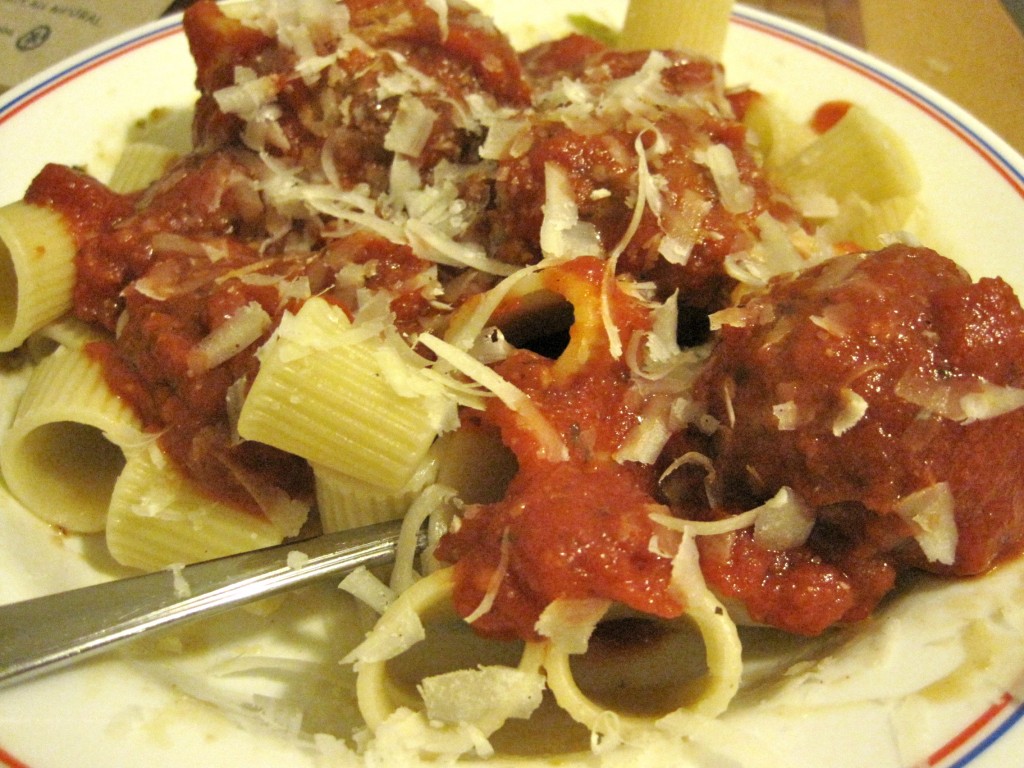 I can't remember the last time I ate a "traditional" Italian pasta dinner, but I actually really enjoyed myself!
Also, BIG congrats to today's Boston Marathoners, especially to my awesome interwebs friends and my new girl crush Desiree Davila. Davila was the 2nd female overall, coming in a mere 2 seconds after the winner. Her 2:22:38 finish was the fastest time EVER run by an American woman in Boston. Huge PR. Gutsy race. How can you not be inspired on a day like this??
It made me a little nostaligic for Boston 2009 – minus the dry heaving on Comm Ave and the part when I thought I had kidney failure. Lolz.
Do you eat a traditional pre-race meal (i.e. pasta) or something a little of the ordinary?